Here's a free road trip packing list printable so you don't forget anything before you leave! What to bring on a road trip with kids and how to make your trip more fun! Believe me we have forgotten essentials on vacation and it's no fun. This road trip checklist has helped immensely and I use it to pack every time now.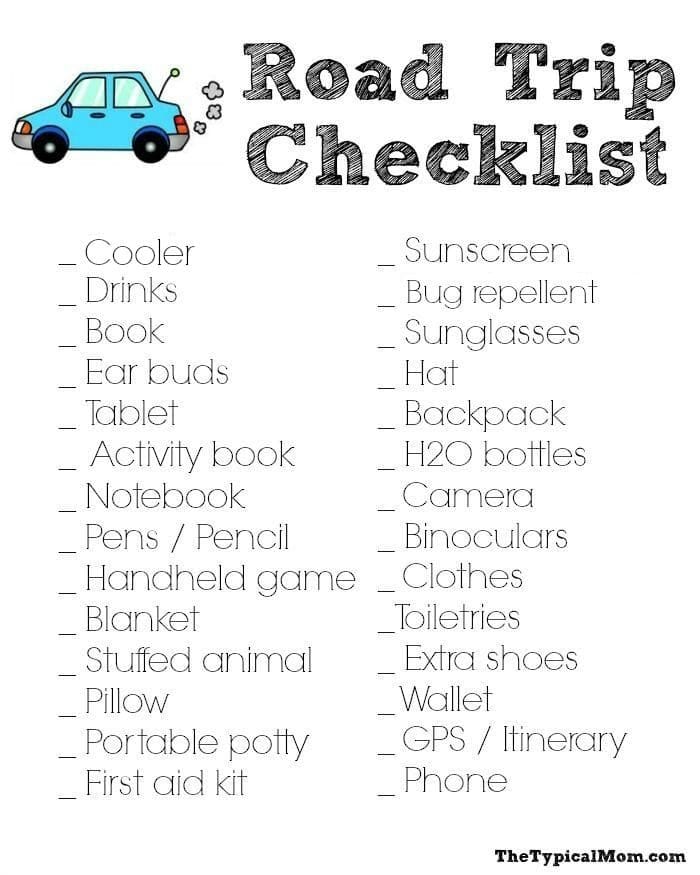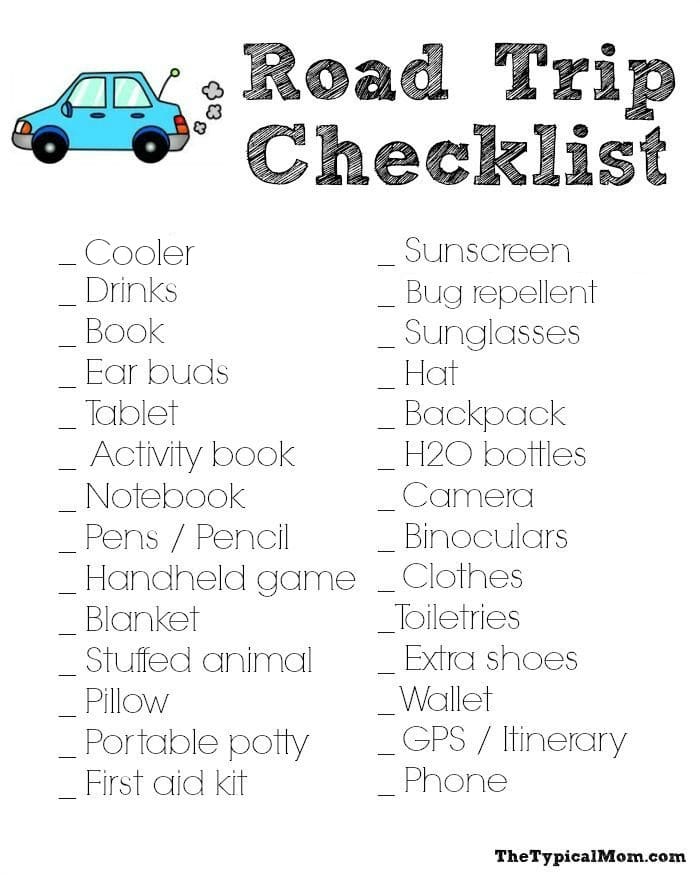 We LOVE going on road trips each year, and visiting National Parks are our favorite places to go hiking! It's a great way to unplug as a family, but it does take some preparation to get ready for the long drive. To make things a bit easier we made this road trip packing list so we didn't forget a thing, hopefully this helps you in your planning too! This and many other family travel resources are listed on our road trip blog post for you to enjoy. 😉 This is a sponsored conversation written by me on behalf of Banana Boat® and OFF!®. The opinions and texts are all mine. (originally published 6/16)
What's on our Road trip packing list
If your family loves road trips I'm sure you've forgotten things a time or two! On the left side of our road trip packing list are comfort items to keep in the car in order to keep your kids busy and allow them to take a bit of a nap too (you can thank me later for that). Items on the right are things you definitely don't want to forget when you're headed out for a long road trip….especially if you're on a hiking trip. We have been on countless road trips and there's nothing worse than arriving at your destination only to realize you forgot the sunscreen, bug repellent,…or something else important.
There's a spot next to each one so you can check them off as you pack each of them. I suggest bringing one of each thing for each person so if something breaks you will have a spare.
Print out this free road trip checklist so nothing important is forgotten
Keep the items on the left in your car
Pack the items on the right side of this checklist
Make sure each person in your family has their own items listed above (extras are always better than not enough of something when you're on a road trip)
To make your trip smoother pack a road trip busy bag for each child too…you'll thank me later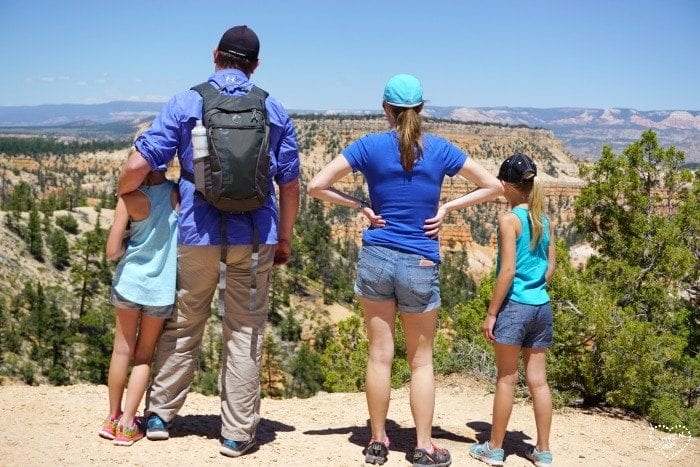 When you begin to pack for a road trip first look on the list and pack the things you already have at home. Check them off and then head to Walmart for anything else you need to pick up. I usually have everything other than the food we are going to bring, and stocking up on more Banana Boat® SunComfort and OFF!® bug repellent. I have very fair skin and most of my girls do too so we tend to buy sunscreen in bulk, especially when we're going hiking! 😉
This summer our road trip took us on a weeklong trip to several National Parks, including Bryce Canyon and Zion. Each morning we lathered up with sunscreen to protect us from UVA rays, and then brought our bottle of Banana Boat® SunComfort with us in the backpack with water, snacks, and our camera of course so we could reapply throughout the day (make sure you don't miss the nooks and crannies of their necks, ankles, and the tops of their ears, that can be painful if burned). We use OFF!® personal repellents to protect against pesky bugs. Always reapply according to label instructions
If you haven't taken a long road trip with your kids before I HIGHLY recommend it! Our first one was when my youngest was about 3 and we've been on one each year since. We started with shorter distances but as time went on we lengthened the time in the car and now we typically drive 7-9 hrs. each way. It's not just about the destination but what you find and see along the way.
It's fun to talk about the animals you see, the towns you pass thru, and it's a great way to review things they learned in school like "what type of rocks are those", when you visit National Parks. On my road trip packing list I also include ideas for keeping them busy in the car. Of course there's time for talking, eating, and sight seeing but you will need some other activities to keep them busy too. Books are great for school aged children, and even if they aren't big readers at home they will usually pick one up in the car. Keeping them busy (and having some quiet time) are essential to making your road trip a successful one….believe me! 😉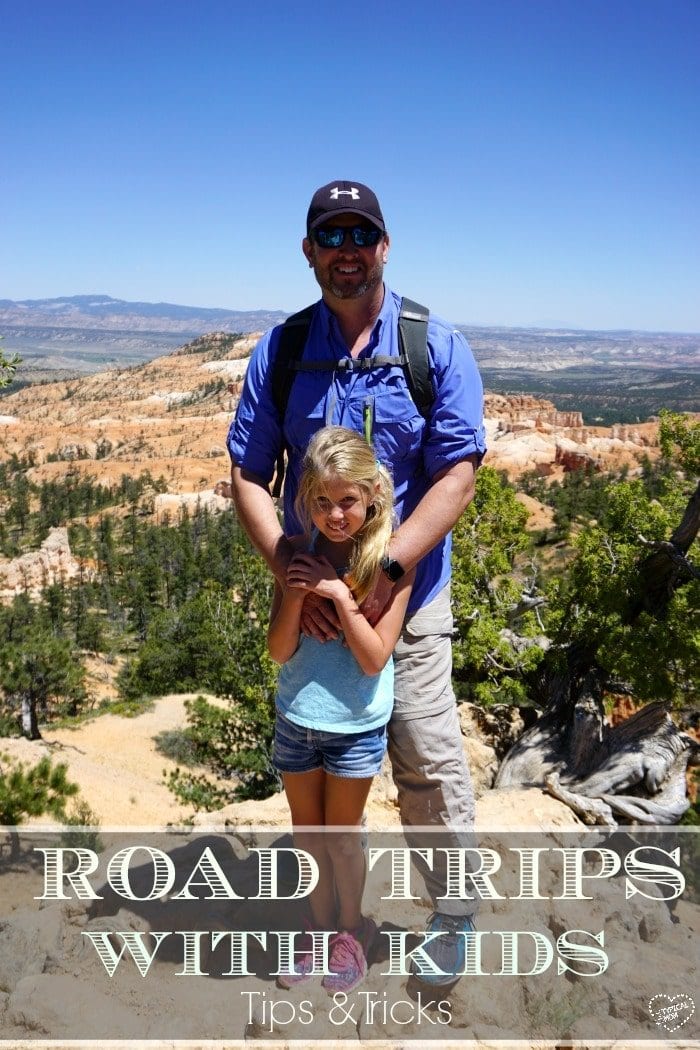 I will say our trip this year to Bryce Canyon and Zion was incredible and probably one of our favorite trips. Hiking as a family is a great way to bond. Even if you aren't a huge outdoorsman (I wasn't at first) just start slow and work your way up to a weeklong trip of camping and hiking. If you bring along some comfort items for everyone and essential items like the ones on our road trip packing list, it will make your trip one you will want to repeat year after year like we do.
Where are you headed to this year?