If you're wondering what to do in Boise Idaho for kids and adults I have a long list for you! This is what we did when we visited there recently, where we stayed, and why we decided to move our family there this year! Boise truly is big city meets Mayberry and we're excited to call it our new home.
If you're wondering what to do in Boise Idaho with kids during the Summer and/or Winter months, let me help you! We road trip a lot with our kids and are always looking for somewhere new and beautiful to visit so Boise was it this time! (originally published 3/18)
Things to do in Boise with Kids
Another reason we went was my teenager was interested in looking at Boise State University. We hopped in the car for our 14 hour drive from CA., and arrived in the evening to Boise City Idaho. We were so excited to explore the city.
When you think of Idaho, what immediately comes to mind? Let me guess…potatoes, right?
It's true that the state vegetable of Idaho is the potato, but the state has so many more interesting facts and aspects than that.
One of the true hidden gems of Idaho is its state capital, Boise. You may be asking yourself;
What is there to do in Boise, Idaho?
Great question and the answer may surprise you. Boise is known for its awesome downtown and for its many different micro-brews. There is of course a TON of outdoor activities too depending on what you're looking for. From campgrounds in Idaho, to hot springs, college tours and more we will go thru it all.
What to do in Boise Idaho
It's got a lively and very vibrant culture, full of fun indoor and outdoor activities year-round. There is never a dull moment in Boise.
So, if you find yourself questioning what to do in Boise, Idaho, then I assure you that you aren't digging deep enough to find those activities because the options are all around. No matter the season, adventure awaits.
If you find yourself visiting Boise during the winter, these are some suggestions that are a MUST during your trip…I will share them all here.
What is it like to live in Boise
Is Boise worth visiting?
For sure! It quickly became one of our favorite cities when we visited for just a month. So much so that we up and moved from CA. here the next month! Very family friendly and lots to do for all ages.
What is there to do in Boise for free?
TONS of outdoor activities are free in Boise Idaho. If you like hiking, biking, driving off road, and visiting lakes this is your city!
What is Boise famous for?
The state itself is known for potatoes. The city itself was named by Bike Magazine as the top mountain biking town in the entire country!! We have the only blue football field too on the BSU campus.
So, the first full day we were in Boise Idaho we had an appointment to visit BSU and get a tour. It was a really beautiful campus with red brick buildings.
They have an amazing BLUE turf football field (the only one), and small class sizes that I love.
We met a few other families who were from out of state and it gave her a great opportunity to see what college life in Idaho would really be like!
Right outside the campus we found this amazing bridge where we took pictures and checked out the river below where the tour guide said the college students would raft down in the summertime. Now that sounds like fun!
Places to visit in Boise Idaho
Coming from Southern California city life I will say that Boise definitely has a plethora of outdoor activities, well beyond what we have at home.
Idaho in general is a gorgeous state and is full of awesome winter activities, but don't forget about the fun summer options they offer families as well.
If you find that you are planning a trip to Boise in the summer months, here are some great outdoor activities to enjoy in the sunshine and warm weather.
Below are fun snow activities everyone will enjoy. 😉
Many of course are accessible year round like visiting Freak Alley in downtown Boise which is one of the great Instagram spots in Idaho. Here's one of the pictures we took while we were there!
Let us know what else we missed so we can add it to our list!!
Things to do in Boise Idaho
Fishing – Fly fishing as you see at the top picture here (right outside BSU), but really any kind of fishing depending on the season.
Boating – From large boats, to rafting, tubing, kayaking, and even jet boat tours, there are a lot of activity on the water you can do in Idaho for sure.

Whitewater Rafting. Located just 45 minutes away from Boise, your rafting adventure awaits at Cascade Raft. Adventure awaits you and your entire crew.
Kayaking. If rafting isn't your thing, no worries…you can opt to take a kayak trip down the water instead!

Visit the Idaho Botanical Garden
Boise art museum and Frank human rights memorial is in the city of Boise
Tour Boise State University yep, she ended up going there!!
Outdoor Activities in Boise
Velma Morrison Interpretive center has live plays and events
See BSU football field (only blue football field)
Hiking & Backpacking. The great outdoors awaits you in Boise. There are a ton of different hiking trails waiting to be explored.

A great one to start with is Ridge To Rivers. It has over 190 miles of trails to explore and trails vary in their degree of difficulty.
Whenever we're thinking of what to do in Boise Idaho and want an inexpensive activity and way to spend time together this is it.
You can literally go to a different location every time and there is always something new to see.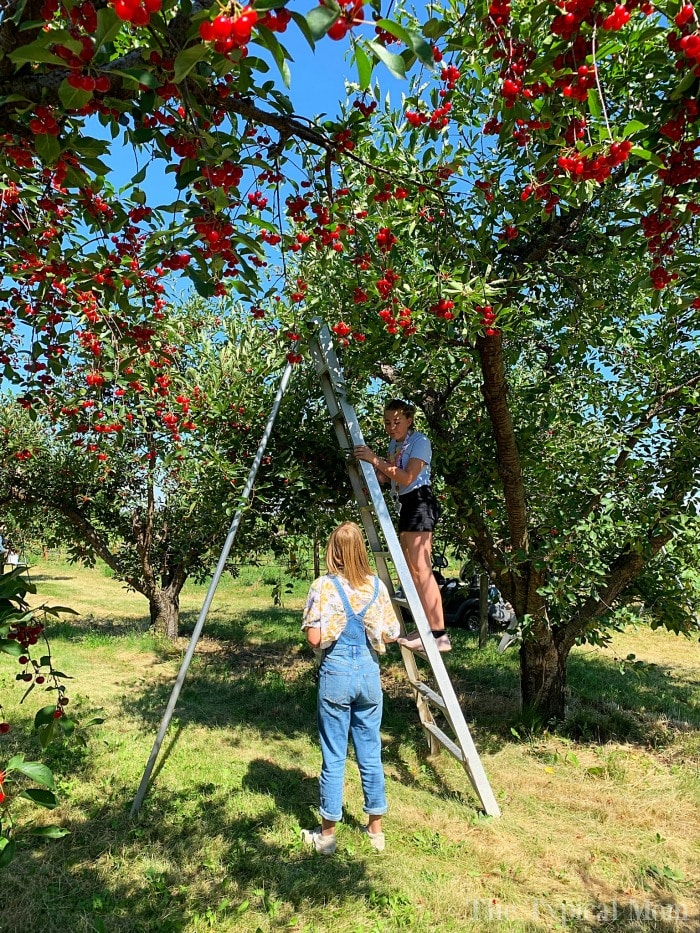 Just outside Boise is Kelly Orchards. We visit several times a year to pick fruits right off the trees. They taste amazing, are very inexpensive, and it's a fun day trip for the whole family.
Kids Activities in Boise Idaho
I highly suggest doing that at least once. I am sure there are others but this is our favorite location.
Another thing that is open year round and looks incredible inside is the Idaho Capitol Building in Boise, even my youngest was impressed when we looked around.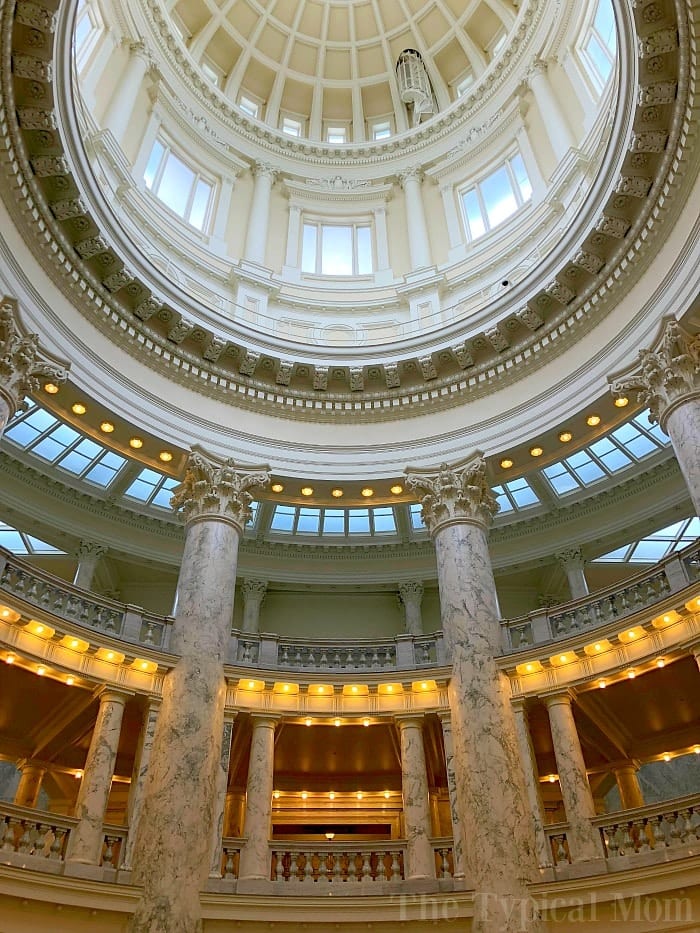 Camp
Visit the capital building
Visit Boise Train Depot
Mountain Biking. Want to test out your bike skills on the hills of Boise? Don't worry, there are trails for that as well! Pack your helmet and get ready to have fun!
Food and other guided tours
Horseback Riding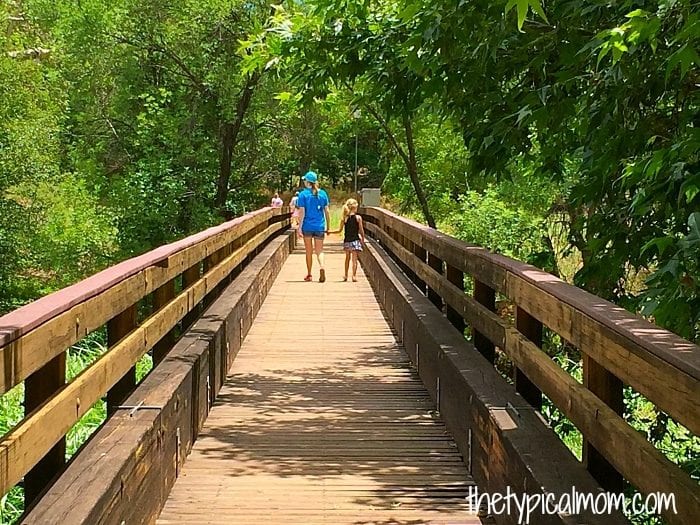 Boise Summer Activities
Visit numerous Parks
Golf
Visit the basque block and Kathryn Albertson Park
Take a Bike Tour
Ballooning. If you've ever wanted to go up in a hot air balloon and see the beautiful skyline, why not take that ride when you are visiting Boise? You'll get a birds-eye view of the beautiful countryside and memories to last a lifetime.
Wine / Beer Tours
Visit the Dinner Theater
Bowling – you can sign up for free bowling during the summer
What to do in Boise Idaho in winter
Snowmobiling! Fun fact? Idaho is home to over 7,200 miles of snowmobile trails. What are you waiting for? For your next trip, check out the options of where you can start your snowmobiling adventure.

One great place to start is the Boise National Forest where there are options for different trails to try and explore. It may be a bit of a drive outside of Boise, but it is worth it to be able to snowmobile in that fresh powdery snow!

Ice Skating. Wanting to lace up those skates on your next visit to Boise? You're in luck! Just plan a visit Idaho Ice World and have fun getting your skate on.
Skiing in Boise
Snow Tubing. If you are looking for a thrill and a rush, look no further than Pepsi Goldrush Tubing Hill. It's an 800-foot tubing course that is sure to thrill all who take a turn.
Visit Bogus Basin Mountain Recreation Area. Super close to town and offers some great outdoor options during the winter for sure! If skiing and snowboarding aren't your cups of tea, you also have the option to go tubing down the Mountain as well as many more fun activities such as.

Hiking
Skiing
Siteseeing
Tubing

Eagle Island Tubing is inexpensive and close.
Here is one place for tubing around Boise called Two Ponds Tubing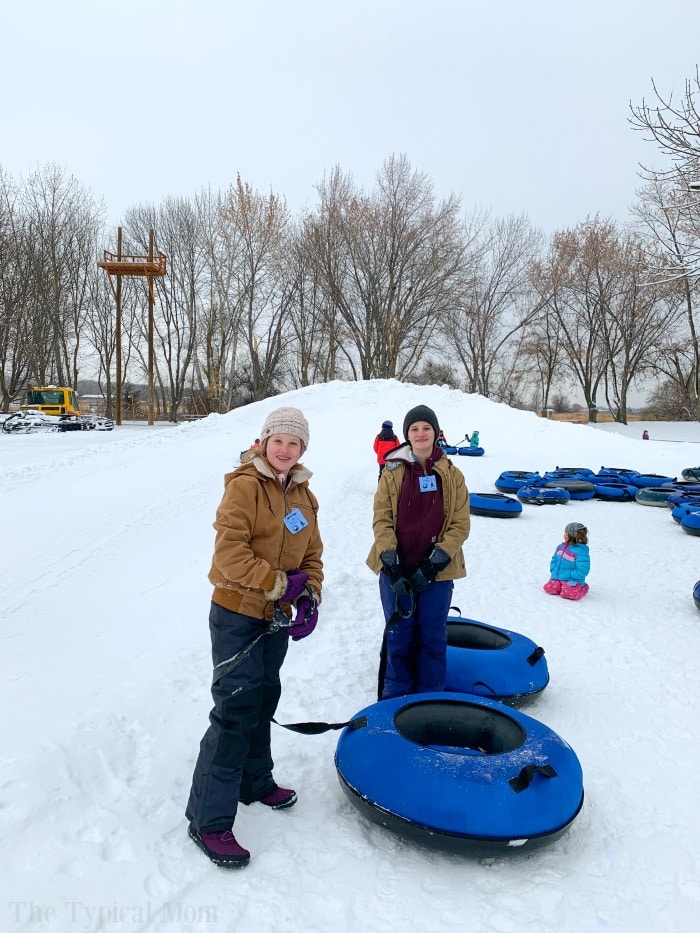 Watch our tubing in Boise video here so you can see what it's like.
Where to stay in Boise City Idaho
If you have family who you can stay with in Boise…bonus!!!
If you don't and you're coming from some distance like we were, you will need a place to stay that provides more than just a bed.
I don't know about you but with 3 kids I look for a place where we can cook at least one meal a day in order to save us some money and allow us to relax in the evening with a warm meal.
When my husband and I travel for work we look for the same feature because it just feels more like home when you're away.
On this trip I thought we would try staying in an AirBnB because I had heard nothing but great things about it and seriously I agree!
Another great perk when you rent a vacation home is that when you sign up you get $40 off.
With more than 4 people staying in a hotel can be quite cramped, yet the condo we found was cheaper than a hotel room, had a full kitchen to use, multiple bedrooms, and washer and dryer to use, and lots more room to roam about!
So, if you were wondering what to do in Boise Idaho I hope we gave you a lot of ideas you can use. If you're planning a trip to Boise is an opportunity to have fun no matter what season it is.
With warm weather and cold weather options and activities, it's never a bad time of year to make the trip.
Pick out the adventures that you want to have during your time in Boise, and pack yourself accordingly. Have fun enjoying all the beauty and wonders of mother nature that you'll get to explore on your trip to Boise, Idaho.
What to do in Idaho
Beyond this city, head North to Sandpoint Idaho and Schweitzer Mountain, Hiawatha path for an amazing bike ride, and Silverwood Theme park!
Hot Springs in Boise
You can see drone footage video of Idaho Hot Springs here.
Near Cascade
In and around Ninemeyer Campground