Views of the Hiawatha bike trail are here from a family who travels together a lot! North of Couer d'Alene this is an epic bike ride you have got to take.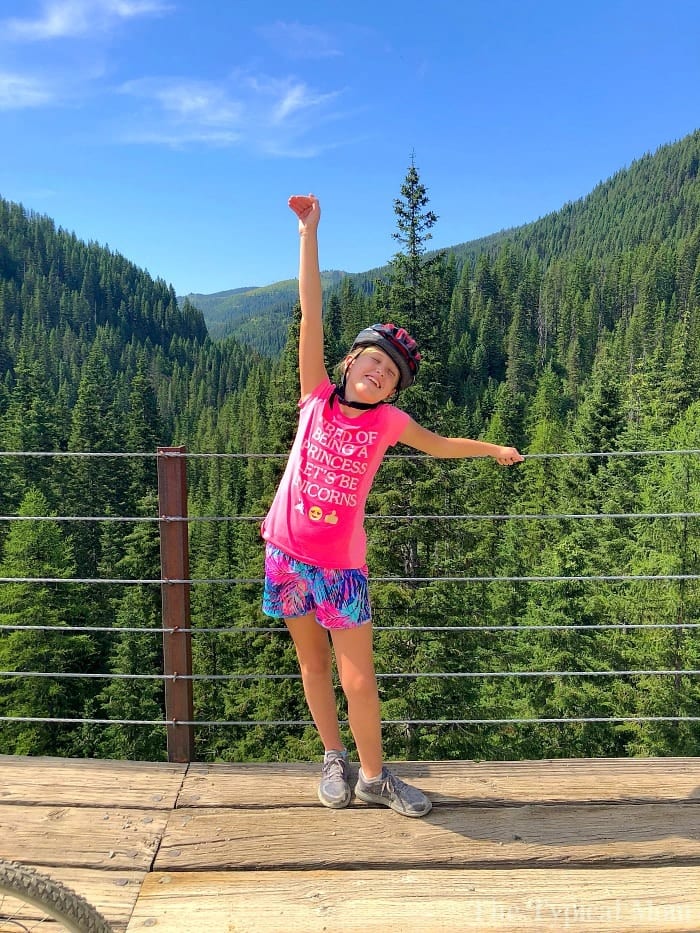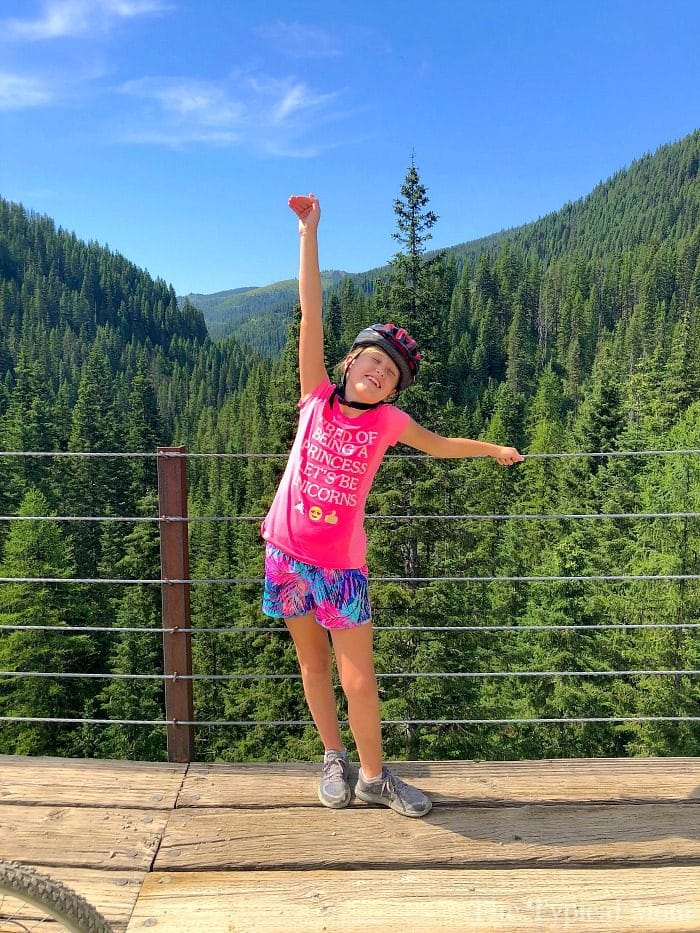 We are a family who travels a lot, every time the kids are out of school in fact, that is why we created a road trip blog to share our favorite family travel locations and tips too! This summer we took a long road trip from our home in Boise, Idaho up to Coeur d'Alene and then up to Sandpoint. In between those gorgeous locations we experienced the most amazing ride on the Hiawatha bike trail and we're here to share a peek of it with you today.
It took me a while to get this post up because well, school started and we were still settling into our new home (we moved from CA. this year as well).
We were so excited to explore Idaho during the summertime, this was our last summer vacation after visiting Mt. Rushmore and Yellowstone National Park. We spent some time in Coeur d'Alene, did this ride, and then headed up to the Schweitzer Resort which was amazing!
It was an 8 day road trip that we will never forget with TONS of amazing memories, this Hiawatha bike trail was definitely one of the highlights of our trip!
If you're unfamiliar with the Hiawatha bike trail here is a bit of information:
It used to be a railroad track
It is located North of Coeur d'Alene, about 45 minutes away
The bike trail is 15 miles long
You start at Lookout Pass Ski Area
You can camp nearby
Hiawatha bike trail opens May 26th and closes September 23rd
You ride through 10 long train tunnels that get rather cold (I'd recommend tying a sweatshirt around your waist so you can take it on and off because temp. vary quite a bit)
This bike trail has 7 sky high trestles that are AMAZING!
Trail follows the Bitterroot Mountains
Riding the Hiawatha is easy as most of the ride is downhill (several people had bike trailers with little ones so that is an option too if you have small kids)
Here's where it begins…….riding through a tunnel 1.66 miles long that is freezing cold inside and you need a light to see where you're going (the bikes you rent come equipped with a light). It's a pretty awesome way to start this bike ride.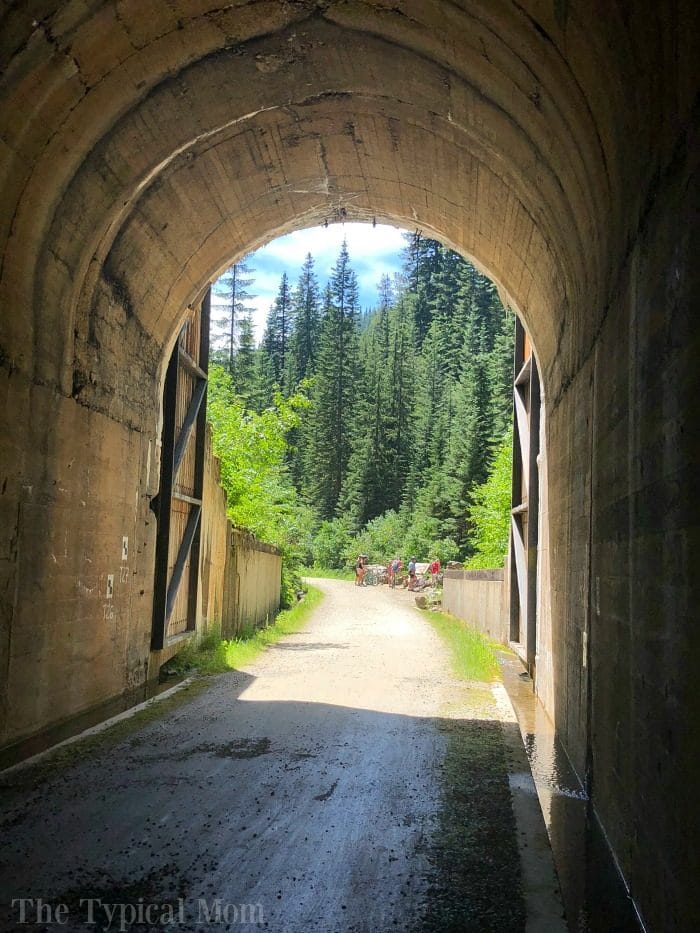 Well actually let me backtrack. We decided not to bring our own bikes since we would have to store them in our hotel rooms in the other cities we were visiting. You are welcome to use your own bicycles to ride on the Hiawatha trail, or you can rent bikes like we did for about $30 a person.
Either way you have to buy a pass for everyone to ride through this gorgeous trail that was once a rail road track!
At the end of the Hiawatha bike trail you can opt to ride your bikes back up the trail to the beginning (that wasn't going to happen for us), or buy bus passes for everyone.

That was a no brainer for me because I knew it would be a long bike ride for all of us. I didn't want to the chance of somebody not being able to ride all the way back (i.e. ME). They load everyone's bike in the back of an old school bus and it takes about 30 minutes to get back to the top. I was glad we bought the bus tickets for sure!!
I will say for the 5 of us it was pricey, around $220 total.
I'm cheap so I hesitated I won't lie, but my husband is an avid mountain bike rider and knew it would be a must for him. Plus I and a feeling this bike ride would be a once in a lifetime memory we would never forget. I got everything; bike rentals for everyone, passes to ride, and bus passes to ride back up on the way back.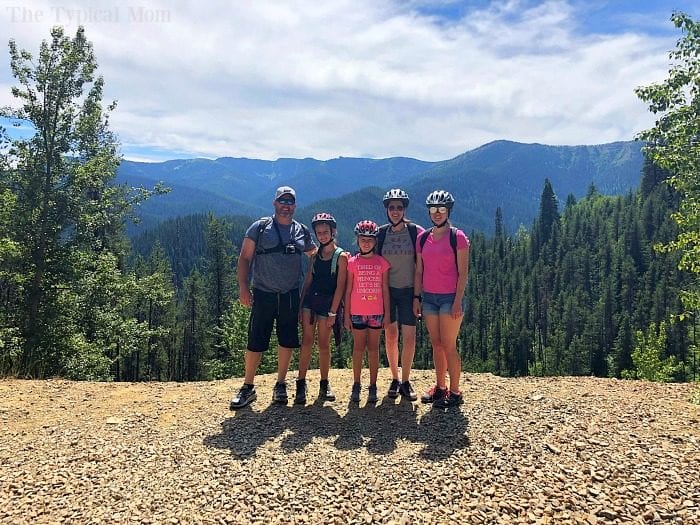 Here we are about mid way through our ride. I wasn't so sure how my youngest would do, she's 10, but she had a blast! Not only was the ride itself fun but along the way you pass and ride alongside other families. Inevitably you end up taking breaks here and there, like we did here, and talk about where you're from.
It was fun to meet people from Australia, and we actually met another family who lived just minutes from us in Boise!
We did not stay near the trail but rather found a hotel deal on Groupon for a place in Coeur d'Alene. This worked well since we were visiting some friends there too. I'd recommend checking that area out when you're in the area too.
There's no real way to take pictures and show you just how amazing the Hiawatha Bike Trail is, you have to watch a video to get the full scope!

Remember all those amazing trestles I talked about, built for the old railroad track, well here is one! We took a break on this one to just look around. It is just so incredible. Especially if you live in the city (which we did for so many years) it is just amazing that an area like this exists.
We talked about our trip a lot and I'd say it's one of the best vacation spots for kids to really get out and experience outdoors like never before.
Haven't begun traveling with your kids yet?? I encourage you to do so!!
If you only have a day off here and there then just discover new areas near your home. Or if you have a week off take a long road trip like we have and either camp or find a reasonable hotel. I highly recommend renting a house though, it makes everyone happier if you have kids – here are a list of other websites like Airbnb where you can find one.
Not only will you have a great time together, but I always find that my girls find a new appreciation for one another when we take long road trips like this. Riding on the Hiawatha bike trail is something they'll always remember and talk about it today.
Traveling is the best gift you could ever give your kids, and yourself!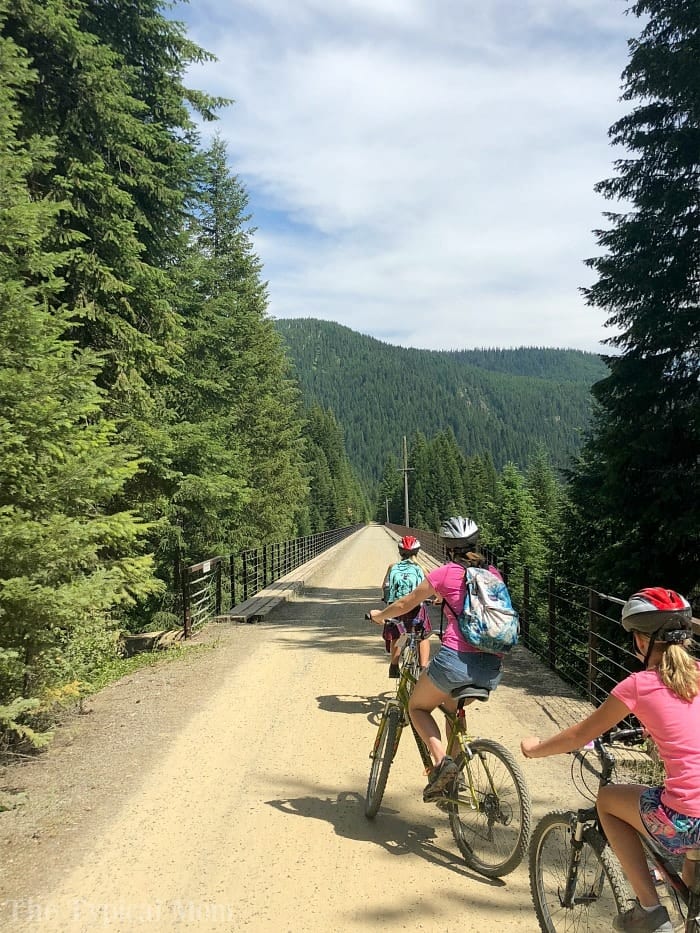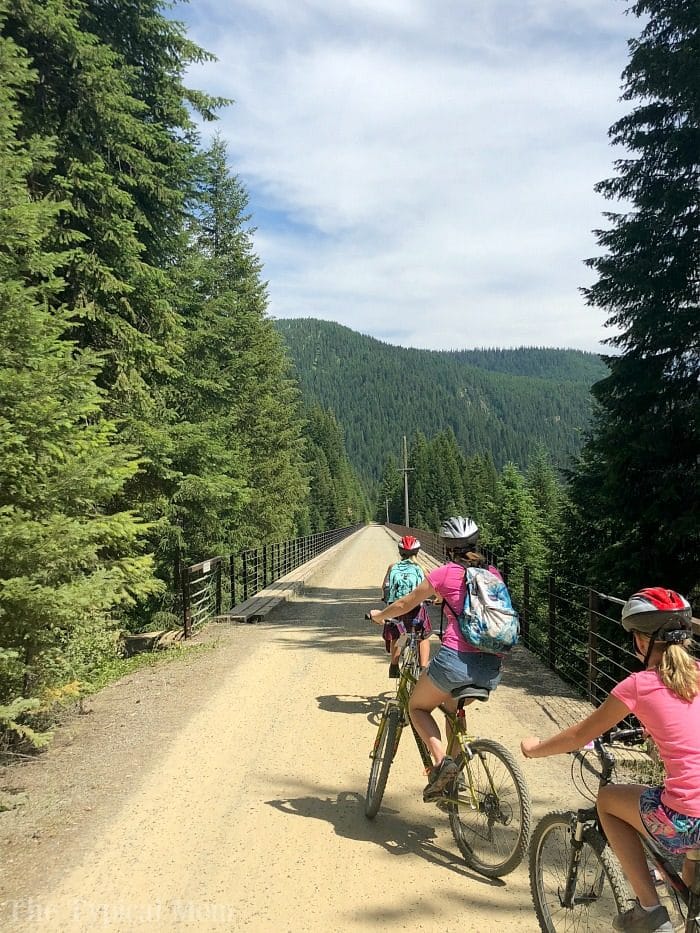 For more easy recipes, tips and free printables please LIKE The Typical Mom on Facebook and follow me on Pinterest! You can also sign up for my free weekly newsletter which is packed with goodies I know you'll love. 😉