Today, we're diving into an often-overlooked veggie: the humble radish. You might be thinking about how to cook radishes, great idea. This zesty root vegetable can be transformed into a delicious side dish on the stove or in an air fryer!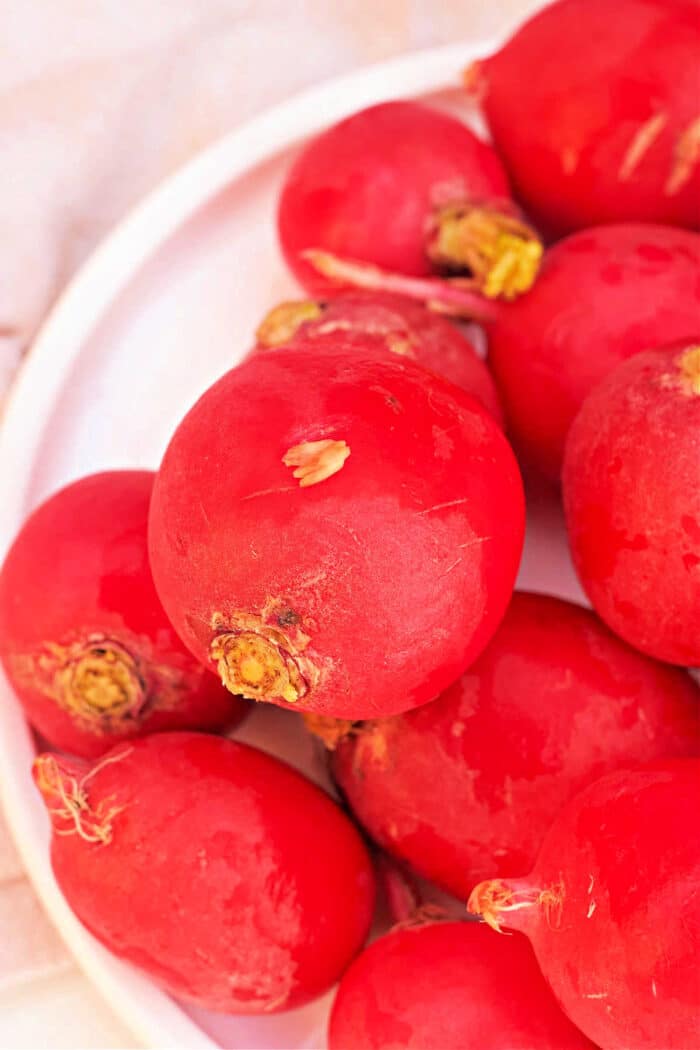 This radish recipe we're exploring today is a simple one. It calls for fresh vegetables, a touch of olive oil, and a pinch of salt. When these ingredients come together in the air fryer, something magical happens. They slightly sweet, tender, and irresistibly crispy around the edges. Trust me, even if you're not usually a radish fan, you'll be reaching for seconds! (affiliate links present)
Air Fryer Radishes
I've used slices of these inside our Easy Korean Oxtail Soup, but you may be surprised that radishes can be yummy all on their own too! Cooking radishes in an air fryer gives them a whole new level of deliciousness. Plus when you air fry you don't have to turn on the oven! Score! For our recipe, we'll need the following ingredients:
Raid your grocery store or local farmers market for some fresh radishes. You can even try growing them in your backyard garden if you have a green thumb! Just remember to grab a paper towel to wipe off any dirt from the radishes after rinsing them.
Now, let's move on to the fun part: air frying radishes! Place the sliced radishes in a large bowl and drizzle them with olive oil. Make sure all the pieces are nicely coated. You want to ensure that each radish slice gets a thin layer of oil for maximum crispiness.
How to Cook Radish Greens
Radish greens, or radish tops, are full of flavor and health benefits. Similar to collard greens, they're rich in vitamins like A, C, and K and also provide a good dose of minerals like calcium and iron. Radish greens can be a bit spicy and bitter raw, but cooking mellows their flavor and makes them a delicious addition to a variety of dishes.
To cook radish leaves on the stove, start by washing them thoroughly. Using a salad spinner can be an easy way to get rid of any leftover dirt or grit.
Once they're clean, chop the greens into smaller, bite-sized pieces.
Heat a bit of olive oil in a large pan over medium heat, then add the chopped greens.
Sauté them for about 5 minutes or until they're wilted and tender.
You can season them with salt, pepper, garlic, or other spices of your choice.
This simple greens recipe makes a nutritious side dish or a great addition to pastas and grain bowls.
You can also add radish greens to your soup or stew recipes. They add a nice, peppery flavor and a boost of nutrients. Add them near the end of your cooking time to ensure they don't become too wilted. Whether sautéed, added to soups, or used in a pesto, radish greens can add a unique flavor and nutritional punch to your meals.
Are radish greens edible?
Yes, they are! Radish tops, or radish greens, can be used in a variety of dishes. They're a bit peppery, just like the radishes themselves, and they're also packed with nutrients. Don't throw them out – cook them instead! So if you're making this Pho Broth recipe, save the radish greens!
Radish green recipes are as diverse as they come. You can sauté the greens, use them in a stir-fry, or even blend them into a pesto. Cooking radish greens is similar to cooking turnip greens or other leafy greens. Just remember to wash them thoroughly and remove any tough stems.
Radishes in Air Fryer
You're going to want to slice them thin for this method. After you've coated your radish slices with oil and salt, it's time to move to the air fryer. Carefully pour the radishes into the air fryer basket. Spread them out so they're in a single layer. This ensures they cook evenly and get that wonderful crispiness.
The next step is air frying your radishes. Pop them into a preheated air fryer at 380 degrees F. Set a timer for 6-10 minutes, depending on how crispy you want them. Remember to give the basket a good shake halfway through to avoid sticking and to promote even cooking. And when shaking the basket, be careful not to send any radishes flying.
How to Cook Radishes on the Stove
Cut into thin slices or quarter them, depending on the size desired. Slicing or quartering helps to ensure even cooking and allows the flavors to penetrate all the way thru.
Place a skillet over medium heat on the stove. Add a small amount of olive oil or butter, to the heated pan. Allow the oil to heat up.
Sauté and toss them gently in the oil to coat them evenly. Cook, stirring occasionally for about 5-7 minutes or until they become tender and slightly caramelized.
Sprinkle with salt and pepper and enjoy.
How to Cook Radishes in the Oven
If you don't have an air fryer, no worries! You can roast radishes on the stove too. Simply preheat your oven to 425 degrees F, arrange the radishes on a baking sheet in a single layer, drizzle with olive oil and seasonings. Roast them for about 20 minutes, or until they're golden and tender. They may not get as crispy as air fried radishes, but roasted radishes will still be delicious!
Can Dogs Eat Radishes
While radishes are safe for dogs in small amounts, they might not be every dog's favorite treat due to their spicy flavor. If your furry friend doesn't seem to enjoy raw radishes, you might try cooking them lightly to mellow out the flavor. Remember to serve them in small pieces to prevent choking hazards, and as with any new food, introduce it gradually to monitor for any allergic reactions or digestive issues.
Can Guinea Pigs Eat Radishes
Similarly, guinea pigs can eat radishes as part of a balanced diet, but there are a few things to keep in mind. While radishes can be a crunchy treat, they should not replace the main components of your guinea pig's diet, like hay and a variety of vegetables.
As radishes can be quite spicy, some guinea pigs might not enjoy them, so don't be surprised if your pet decides they aren't a fan! Always remember to thoroughly wash any vegetables or fruits before feeding them to your pet to remove any potential pesticides or bacteria.
So there you have it! With this simple recipe and tips, you can enjoy crispy, air fried radishes and make use of the leafy tops too. Experiment with different seasonings – you might like adding some Parmesan cheese on top for an extra flavor punch! And if you loved this, you'll definitely want to check out this recipe for How to Make Oxtail Pho, another really yummy recipe with radishes.
Don't overlook radishes the next time you're at the grocery store or farmers market. They're versatile, delicious, and so easy to cook. Whether you're air frying them or cooking them on the stove, radishes can add a flavorful and nutritious twist to your meals. Happy cooking!
Want to see a few of my favorite things that I am totally obsessed with?? Take a peek and see how many you might already have…twinsies!
Looking for more easy family recipes and tips? LIKE The Typical Mom Facebook page?
Then sign up for my free newsletter, and follow me on Pinterest! 😉
***** If you LOVED this recipe give it 5 Stars below and let everyone know what you thought about it. 😉
How to Cook Radishes
How to cook radishes in air fryer or on stovetop is here. A great radish greens recipe is here too so you can enjoy the whole vegetable.
Instructions
Rinse and slice them thin. Preheat air fryer for 5 minutes at 380 degrees F.

Put slices into a bowl and drizzle with oil. Toss to coat. Pour into basket and shake so they are in a single layer. Sprinkle top with salt.

Air fry for 6-10 minutes depending on how crispy you want them to be and how thick they were sliced.
Nutrition Facts
How to Cook Radishes
Amount Per Serving (1 oz)
Calories 10
Calories from Fat 9
% Daily Value*
Fat 1g2%
Sodium 14mg1%
Potassium 23mg1%
Carbohydrates 0.3g0%
Protein 0.1g0%
Vitamin A 1IU0%
Vitamin C 1mg1%
Calcium 3mg0%
Iron 0.04mg0%
* Percent Daily Values are based on a 2000 calorie diet.