Instant Pot greens! Perfectly cooked pressure cooker turnip greens & collard greens, brussel sprouts, spinach and broccoli made in just minutes. If you love our Instant Pot spinach with some bacon or diced salt pork inside this will be a hit too.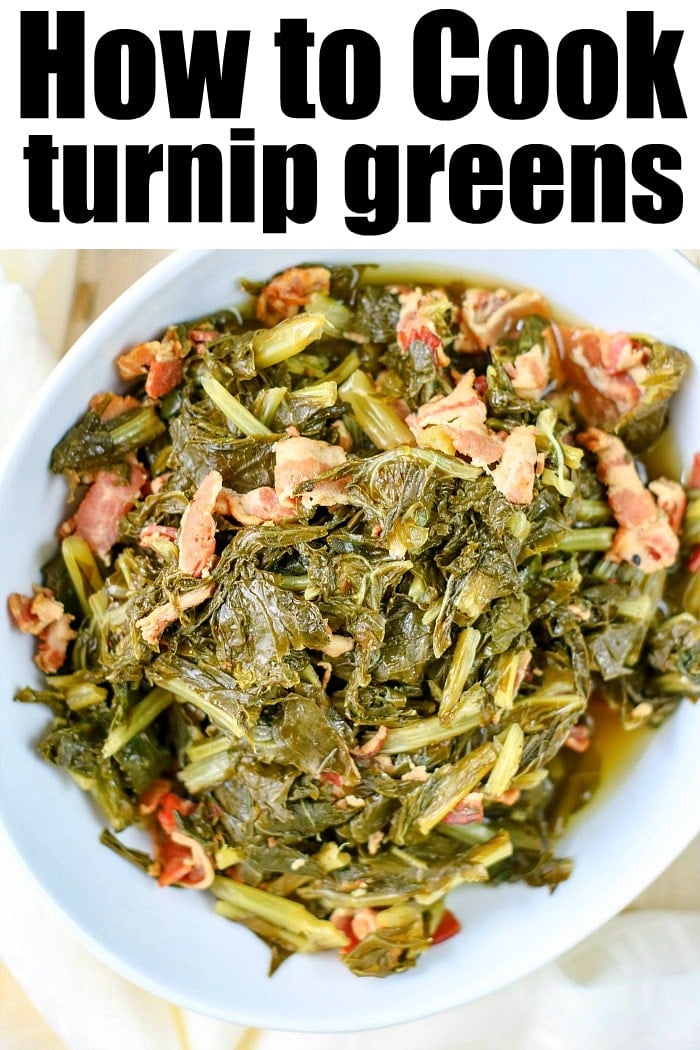 Instant Pot greens are great for you and tasty too! If you've wondered the best way to cook turnip greens, it is here! This might become your new favorite side dish on our list of easy Instant Pot recipes. (affiliate links present, originally published 4/20)
Instant Pot Collard Greens
You can make this as an easy Ninja Foodi recipe or Crockpot Express dish as well, doesn't matter what brand of pot you might have. I have all of them and so long as they cook at high pressure it will work just the same.
I have all different types of green vegetables you can cook right now. If you are here you are likely looking for Southern collard greens or maybe how to cook turnip greens the best way. This only takes about 15 minutes compared to a lot longer on the stovetop so it is my preference.
FIRST – You should sign up for my free newsletter so you get new posts emailed to you twice a week and never miss out on anything! Now let's start with a few basic tips:
Make sure to Bookmark our InstaPot recipes page. We add new ones each week!
Then PRINT this —–> Instant Pot cooking times cheat sheet that will help you understand how long meat, vegetables and beans take to cook in your pressure cooker.
For reference, this is the pressure cooker I have (a 6 quart) and use for all recipe creations.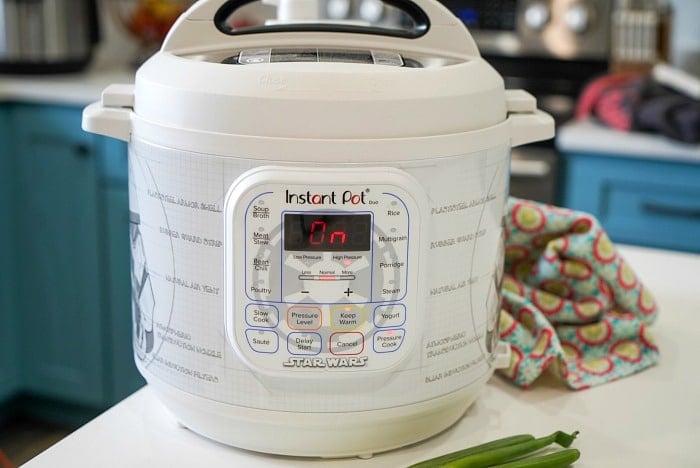 Ninja Foodi Collard Greens
If you grew up in the South I don't have to explain anything to you. I'm sure you already have your Grandma's recipe that you can now make a lot faster with this pressure cooker method and timing. New to this but trying to eat healthier? You can certainly omit the bacon and lower the fat and calories.
Instant Pot turnip greens
Want pure Southern comfort? Use butter (oh yes) with our slow cooker collard greens recipe. Throw those in in the morning and a perfect side dish erupts for dinner later.
What are the benefits of eating turnip greens?
One cup raw provides over the daily limit of vitamin K and also provides one of the highest calcium contents per gram of any other fruit or vegetable.
They also contain vitamin A and magnesium which helps to promote bone health.
It is an inexpensive vegetable to buy, and it's benefits far outweigh many other green vegetables out there.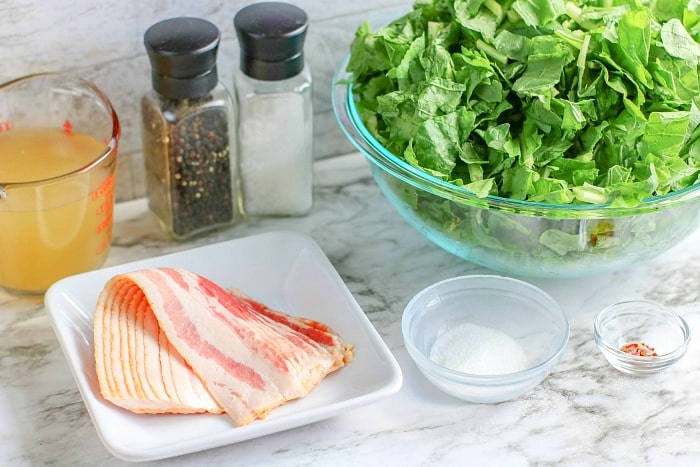 What are the best greens to cook?
Dark leafy greens such as chard, kale, mustard, beet, collards, and turnip greens are better known as cooking greens. All of them provide valuable nutrients along with great flavor and color to your table. The darker the better y'all, that is the general rule of thumb. It makes sense that the deeper the color the more nutrients are going to be in each bite for you.
Keep that in mind when you are choosing yours. Darker means tougher too though so keep that in mind too. Another unusual but yummy one is bok choy!
Pressure cooker, Crockpot express and other brands all work the same

I recommend getting a non stick pot unless you have a Ninja Foodi with it already

Fresh turnip greens
Chicken broth
Bacon could be skipped if you are looking for lower fat but the taste won't be the same at all
Sweetener – a bit of sugar works
Salt and pepper
Olive oil
Red pepper flakes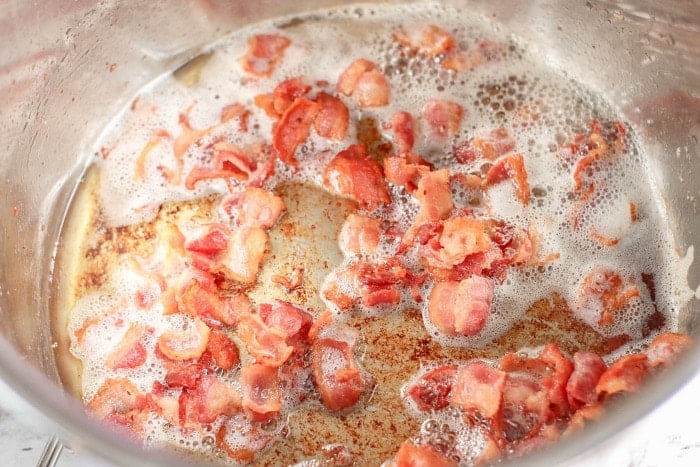 How do you get the bitter taste out of turnip greens?
Using salt (or bacon in this case) on your turnip greens is key. Salt eases the bitterness, and helps to retain a crispness to this vegetable. Just a dash is typically enough to do the trick. If you are using bacon you don't need any additional sodium.
If you're using turnip greens in an Asian dish, use soy sauce to take out some bitterness. Some prefer apple cider vinegar. My choices are below in the recipe card.
The first thing you'll do is set your machine to the saute function. Add you olive oil and bacon, or diced country ham is good too. Cook until browned.
Then deglaze Instant Pot with broth. Add seasonings.
Set to high pressure cook for 10 minutes followed by a quick release.
After releasing the pressure, sprinkle with salt and pepper and enjoy!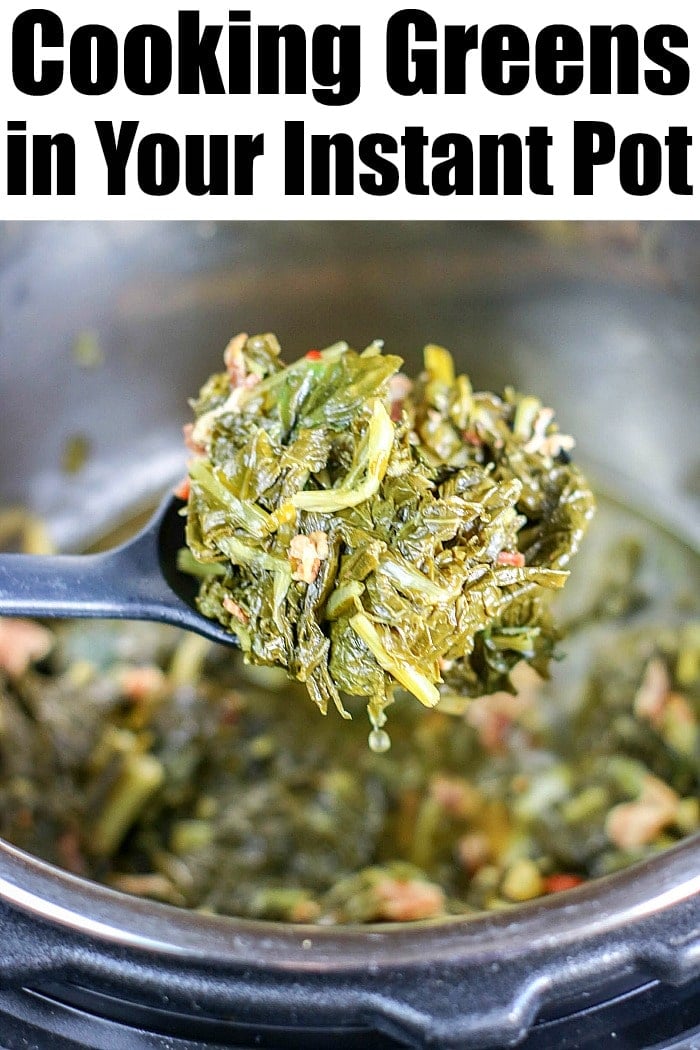 What's the difference between collard greens and turnip greens?
Cooked collard greens and turnip greens are both in the cabbage family. The former is said to be somewhat more bitter than turnip greens, which tend to be sweeter. They're also smaller and more tender than their cousin.
The timing and instructions would work the same for either one, so choose your favorite. Both should be wilted and tender when served.
Some like it more so and others prefer a bit more texture. Use what is listed. If you want it softer then once the lid is lifted set to saute and cook it down a bit more.
Speaking of cabbage recipes, we are kinda' obsessed with those too!
I don't know what it is about getting older and loving this overlooked veggie but it's super versatile.
Once you fall in love with this side dish you should try a few others on The Typical Mom blog too. 😉
If you are from the south this will remind you of your childhood, but much easier to make than on the stovetop.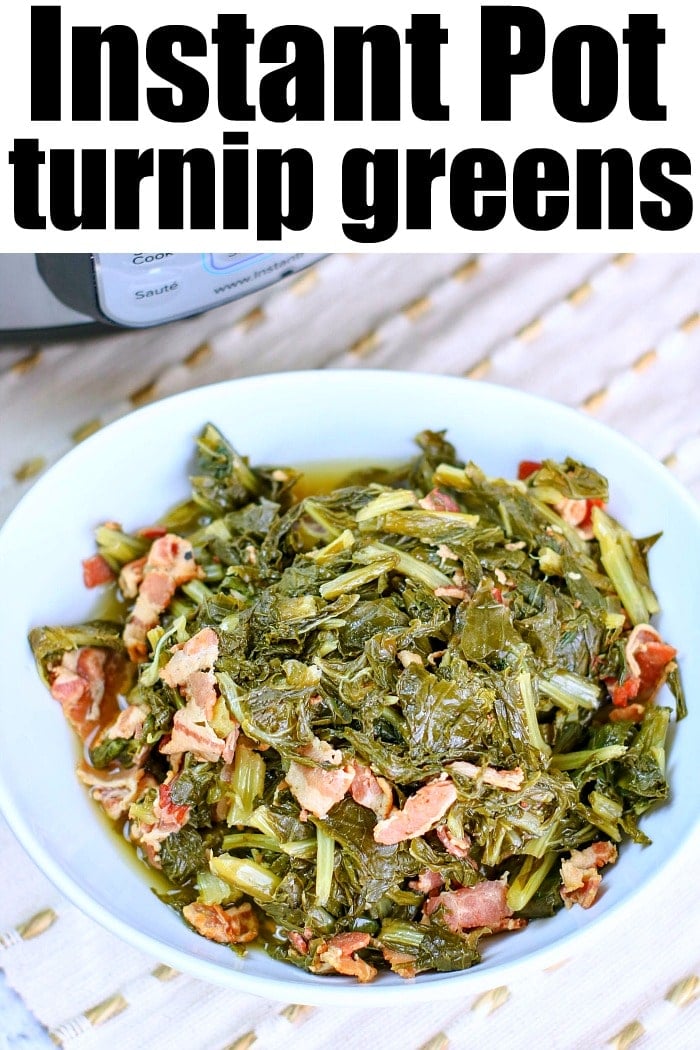 Ninja Foodi Turnip Greens
This is not the only green vegetable you can make in a pressure cooker though! There are tons of others that even my kids love.
I have a printable recipe card at the bottom but here is a quick rundown of how this is done.
You will start off my setting your pot to saute. Add some olive oil and bacon (if you want to add meat). Cook until browned but not really crispy.
Turn pot off and add your broth. Use a wooden spoon to deglaze pot – that means to scrape all stuck on meat off bottom of the pot.
Add your prepared and chopped collard greens or turnip greens with seasonings to the top.
Cover and close steam valve. Set to pressure cook high for 10 minutes.
Quick release steam and serve.
Like I said if you want it more tender set to saute at the end and allow it to cook down even more. Season with salt and pepper or a little Lawry's seasoned salt and enjoy.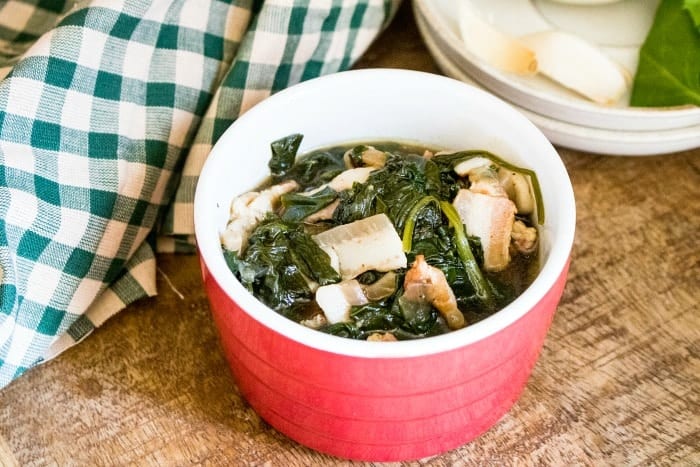 What vegetables are used in collard greens?
Collard greens are a staple vegetable in the South. Usually prepared with other similar green leaf vegetables; spinach, kale, turnip greens, and mustard greens is usually called "mixed greens". Note: you can use the same timing for turnip or Instant Pot collard greens as shared below.
What do you eat with greens?
Smothered baked pork chops and fried chicken with mashed potatoes are pretty common.
Looking for more Instant Pot vegetable recipes? Wondering how long to cook each one. You can find a printable sheet like you see here below in the link above.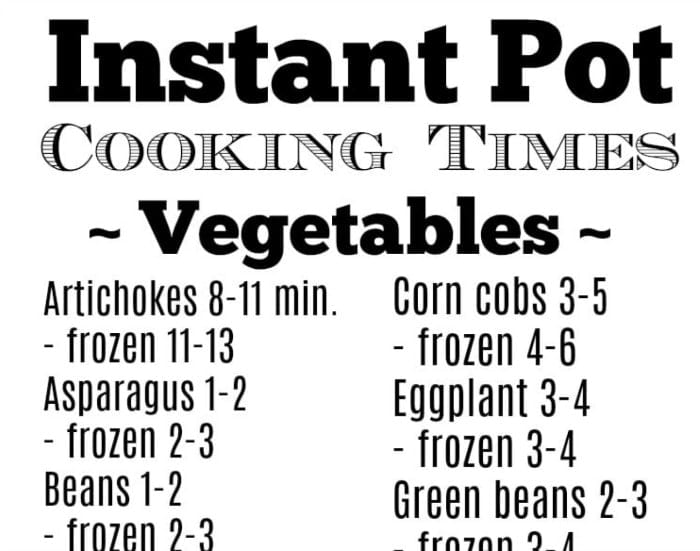 How to save leftover cooked collard greens
They actually save rather well and reheat well the next day. I wouldn't push it beyond 24 hours "old" but could be kept for up to 2 days. Wait until it is cooled and at room temperature first off. Then move to a sealable container and keep in the fridge.
When you are ready to reheat them pour into a microwave safe bowl. I like to add a fresh pat of butter to the top and microwave for 30 seconds. Stir contents and then heat again for another 30 seconds or so until it is as hot as you'd like it to be. Serve with some chicken or as a quick vegetarian snack.
Want to see a few of my favorite things that I am totally obsessed with?? Take a peek and see how many you might already have…twinsies!
Looking for more easy family recipes and tips? LIKE The Typical Mom Facebook page?
Then sign up for my free newsletter, and follow me on Pinterest! 😉
***** If you LOVED this recipe give it 5 Stars below and let everyone know what you thought about it. 😉
Instant Pot Greens
How to make Instant Pot greens! Perfectly cooked pressure cooker turnip greens, brussel sprouts, spinach and broccoli made in just minutes. Delicious.
Instructions
Set pot to saute, add olive oil and bacon. Cook until browned.

Turn pot off and add broth. Use a wooden spoon to deglaze pot – scrape all stuck on meat off bottom of the pot.

Add turnip greens with seasonings to the top.

Cover and close steam valve. Set to pressure cook high for 10 minutes.

Quick release steam and serve. Season with additional salt and pepper if desired.
Nutrition Facts
Instant Pot Greens
Amount Per Serving (2 oz)
Calories 278
Calories from Fat 198
% Daily Value*
Fat 22g34%
Cholesterol 30mg10%
Sodium 719mg31%
Potassium 702mg20%
Carbohydrates 20g7%
Protein 9g18%
Vitamin A 21070IU421%
Vitamin C 115mg139%
Calcium 353mg35%
Iron 2mg11%
* Percent Daily Values are based on a 2000 calorie diet.