Where to make cute Christmas cards for families this year! Customized holiday cards are the best with room to share pictures and a family update too.
We made such cute Christmas cards from Minted this year! I am always so excited to share photos with family and friends, and love receiving theirs. If you too take family Christmas pictures and looking for the best holiday cards, Minted cards are by far the best. Special thanks goes out to them for sponsoring this post so we could share our design with all of you.
Cute Christmas Cards for Families
Look at our Minted Christmas cards we made this year!! I love the foil cards they have to choose from.
Plus use this Minted promo code if you're a new customer you can enjoy 20% off holiday cards. Code: NCHOL20D

Existing customers use MERRY19 until 11/19 for 15% off holiday cards.
Whether you want one or 6 photos on the cover, postcard style, or one that opens and has room for updates inside, they have every option available.
I like to write a little about each one of our children and what they've been up to so this is the style I chose in 2019! Let me show you why I love this picture Christmas cards design.
Christmas cards at Minted
Take family pictures

If you don't have the funds or ability for professional photos just ask a friend!
Or here are tips on how to take the best picture with your cell phone

Upload them to your computer and edit them if you wish

You don't have to be a professional to do this, there are free photo editing tools out there

Go to Minted.com and scroll thru the hundreds of holiday cards they offer.
Once you've found the one you like, upload the photos you want to use to their site
Click on the photo boxes and position it just right
If there are text boxes, type an update for the year

Make sure you tell people how old each child is because time flies and they probably forgot their ages

Save your design and then create your own postage stamp on their site too!
Check out and enjoy! They even have the option to add all of your addresses so they're printed on the envelopes for you for free!
This is what ours look like this year. I love how I could enter a blurb for everybody. When you get them all you have to do is add stamps, seal them and bake some of Grandmas fruitcake while you're at it. Then you're done and you can enjoy!
Minted Promo Code
I will say I create new family Christmas cards every year, and Minted holiday cards are my favorite. I've tried other companies and been disappointed. The quality of the cards aren't nearly as nice, and the selection is lacking.
I REALLY look forward to being creative and making each year special. I not only send them to friends and family, but I keep one in each child's memory book too.
It is SO much fun to look back on past year's creations and see how much everyone has grown. It is a reminder to me too on how quickly time flies. Remember, you only have 18 summers with your children and they go FAST!
Minted personalized gifts are great too for Grandmas, they love them. I even went back to them last year when we needed High School graduation invitations and they turned out so good! It is times like these that you only get one shot at things. Sending letters in the mail is such a lost art so when people do receive something from you it is really special. I don't hold back when it comes to creating the best Christmas cards each year.
This is a peek at one of ours from the past!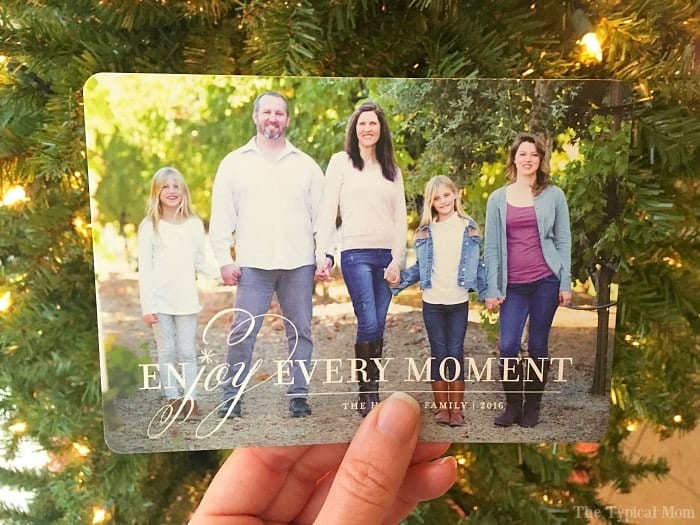 I remember where that was, what we were going thru at the time, and can't believe how little my "baby" was then. You really think you'll remember, but you don't.
Another fun idea to do is use all those vacation photos and make a collage. We have done this before when we've been traveling a lot and it's a fun way to sum up your year. Really any way to do it is great, and Minted Christmas cards will make then all look fantastic.
What are you waiting for?? Now is the time to order them so you have time to send them out and get some in return this year too!