These High School graduation invitations from Minted are amazing. Very high quality, unique, and you can personalize them however you'd like. If you want to find the best announcements for High School this year, these are it!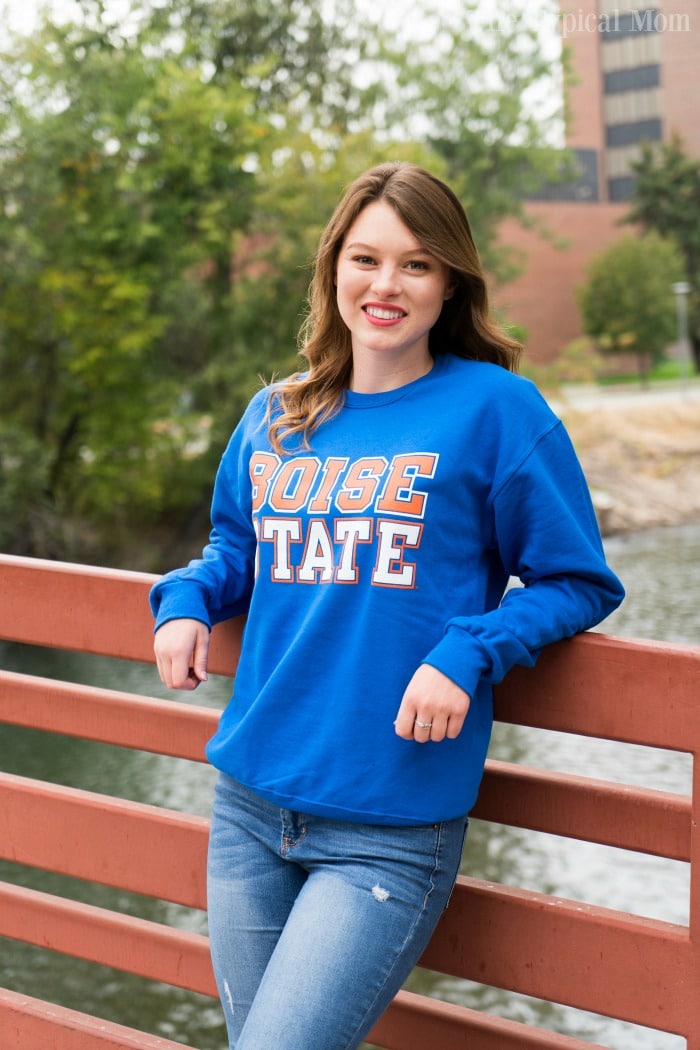 Are you or or child looking for some amazing High School graduation invitations to send out?? We were last month and found these! They came out very high quality and personalized to her liking. With a huge variety to choose from, we're here to share the graduation announcement cards created on Minted. We thank them for sponsoring this post so we could share what they have to offer with all of you. (affiliate links present, originally published 4/19)
Minted Graduation Announcements
Do you have a Senior in High School too?? I know, the time flew quicker than you could have ever imagined. I know I am not the only one feeling this way. My daughter here is my oldest. I wasn't quite ready for this day but here it was and she was ready to do all the things….
One day you're walking them into Kindergarten, then somehow you're here. Touring college campuses, filling out applications, and in front of a computer screen looking for High School graduation invitations. It's just not right, but it's all a part of growing up.
High School Graduation Announcements 2022
It's a special time for all Seniors for sure. Even myself in my 40s will pull out the one I created (which wasn't very pretty from back in the day) and feel all nostalgic. It brings me back to those friends I had, that day and the adventures I had lying ahead of me at that time in my life. A very meaningful piece of paper for sure. 😉
I remember being in her shoes looking for creative graduation announcement ideas because I wanted mine to be unique. Even "way back when" I was creating mine it was something to get excited about. Getting them in the mail and exchanging them with your friends was "a thing" we did and continues today. You don't want just information displayed, but the ability to upload photos too. It was no different for her.
That's how we came to Minted.com. They had it all. I ordered our personalized holiday cards from them for the past several years so I knew the quality that was associated with their products. They don't skimp on the paper they use, and the ability to choose gold foil is awesome.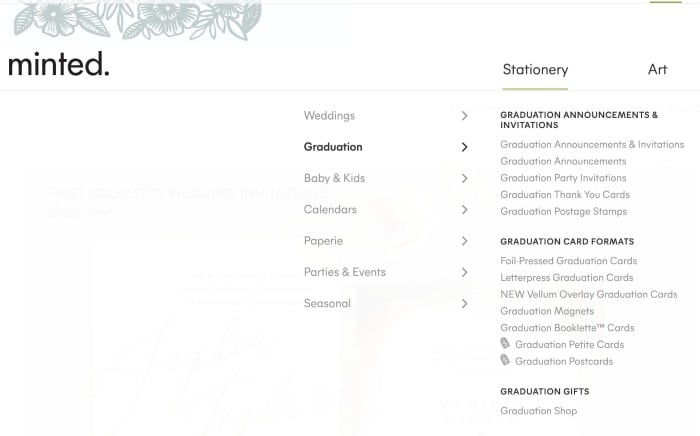 High School Graduation Invitations Wording
I have used several companies to create announcements, party invitations and more. From Shutterfly, to no name companies, but when I landed on this one it changed everything. I order our Christmas cards the same way and have for years now. Another HUGE help is it stores your addresses and prints them right on the front!!
This is what you do when ordering:
Log into Minted.com and create an account if you don't have one already
Click on the Stationary tab, then on Graduation
Decide whether you want a party, graduation announcements, or you can even create custom postage stamps!
Upload any photos you'd like to include
Add text
If you'd like double sided you can add pictures and information on the back too (she did).
Choose the number of graduation invitations you want to order
Enter your Minted coupon code if you have one, like you see below
You have the option for standard or expedited shipping
Then you are done and you just wait until they arrive. It typically takes about a week so just plan ahead, or pay a bit extra to get them sooner. I usually start this process after Thanksgiving so I have plenty of time to get them, stuff, and get them off.

If you enter all of your addresses you can just click on the people you want to receive one and they will come printed with the return on it as well. It's like an extra ten bucks or so but SO worth it I tell you. Of course we still have the task of planning a graduation party too. There's a lot to do. That is a fun event too.
Personalized Graduation Announcements
Whether your student is having a large gathering with friends, or just having family over to celebrate you can create graduation party invitations there too. I mean you will want to celebrate this big milestone with everyone too right?
Then in a short amount of time your personalized graduation announcements will come in the mail and it's time to send them out! If you don't want to take the time to address them yourself, Minted has a great option for that too! Before you check out you have the option for the envelopes to be printed by them!
This is what you do:
Enter each recipients address into their system
When you receive them the information will be printed on the envelopes
You even have the option to have your return address printed on them
AND custom stamps with a photograph on them can be ordered too
That way when you get them all the work is done for you and you just pop them in the mail.
How to Make Customized Invitations
Now that is convenience at it's finest!!
Wanna see how gorgeous her High School announcements came out?? Of course you do. Now keep in mind there are thousands of ways you can customize your/their cards. This is the style she chose where she could upload 3 pictures and add text, with gold foil on the front.
Simple and clean was what she was going for and we think they came out so great! With a nice thick card stock, even the envelopes are a nice weight. There is a little bit of shine and iridescent on the front with the number where it's gold which makes it a bit "fancy".
On the back you have the ability to keep it blank or add a special note. This is where you could include information about a get together beforehand if you didn't want to order separate cards for a party. It is totally up to you, and them really.
It's just a nice little addition for them to express themselves and add anything they'd like others to know. You can add an address where the program will be held or just make them announcements and not necessarily inviting people to go if you only get a few tickets. Either way it's fun for relatives to be involved.
High School graduation is an exciting time where they're off to college, or heading off on their own to start their career. Soon it will be time for college graduation, I know it will arrive for us before I know it. One step at a time for me. 😉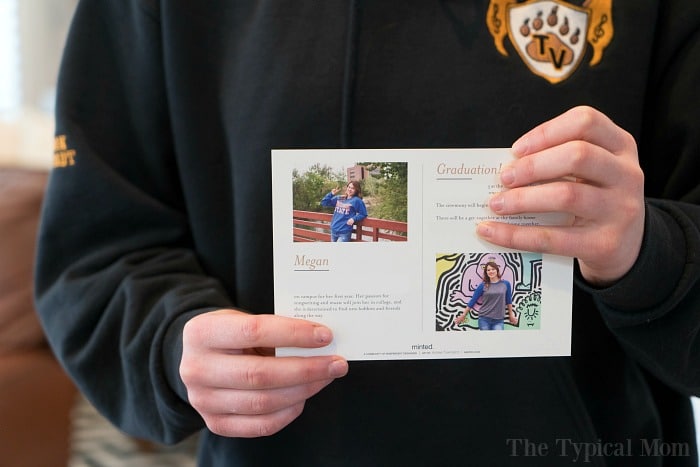 Where to Order High School Graduation Invitations
Hope we've helped show you some of the best High School graduation invitations around so you can get to ordering! Ordering a graduation banner is fun too.
Once you use Minted.com for this you'll have all your family members info. already saved in the system. Then a few months later it will be holiday time and you'll likely want to share a family photo and info. from that year, we do. Then all you have to do is create away again with a Thanksgiving or Christmas theme.
That part is super fun for sure. The not so fun part is addressing all of those envelopes which you can cut out because of this special feature. Game changer when you are a really busy family I tell you my friends. Tell your friends how you did it because they will certainly be impressed and wonder where they came from. 😉