Here are 3 pressure cooker vegetable soup recipes that are easy to prepare with simple ingredients and can be loaded up with more if you like! Make them tonight in your Instant Pot, Crock Pot Express or Ninja Foodi machine!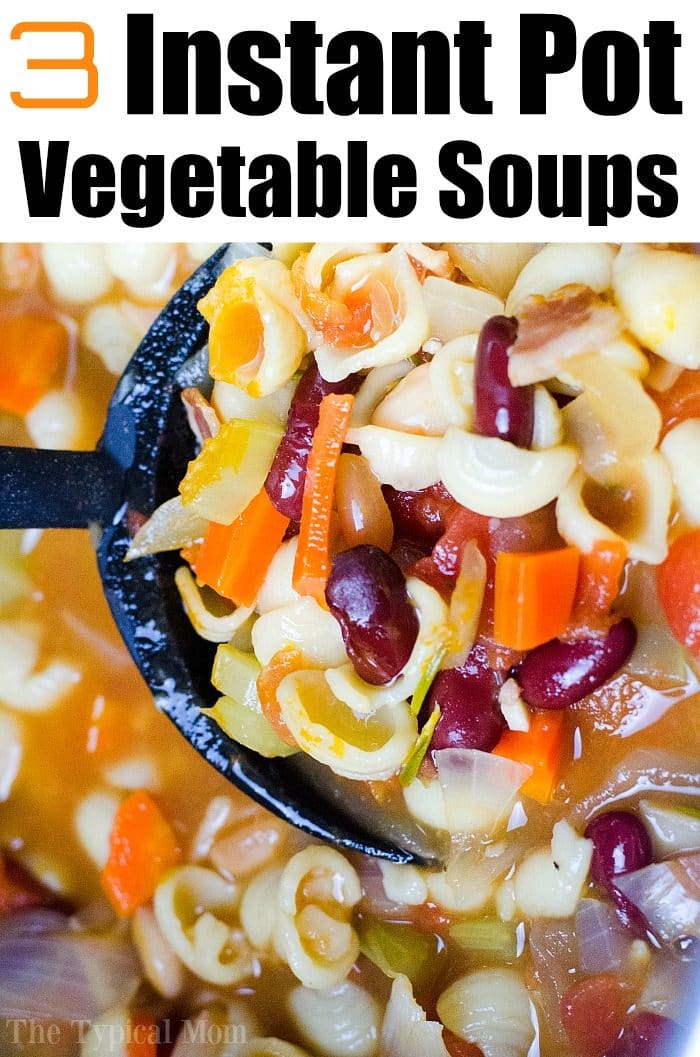 Looking for some Instant Pot recipes or maybe you have the nifty new device and want Ninja Foodi recipes. Well, all 3 of these pressure cooker vegetable soup recipes will work in either device. You can even make them in a Crock Pot Express!
Are you obsessed with your multi cooker "quick pot" too??
We have since we first got ours over 2 years ago. Ok so every once and a while I get on a healthy kick and want something loaded with veggies.
Our Instant Pot minestrone soup does the trick on those days. I am talking this recipe is CHEAP to make!! If you have a vegetable garden it costs next to nothing too. We do and it's fun to know that the diced tomatoes, bell pepper, and green beans we grew were going into our mouths for dinner.
Yes you could use items such as frozen corn and other mixed vegetables but fresh is always best. Add some salt and pepper and chicken broth (or vegetable broth if you want a vegetarian pressure cooker soup) and you're set. It's gluten free too!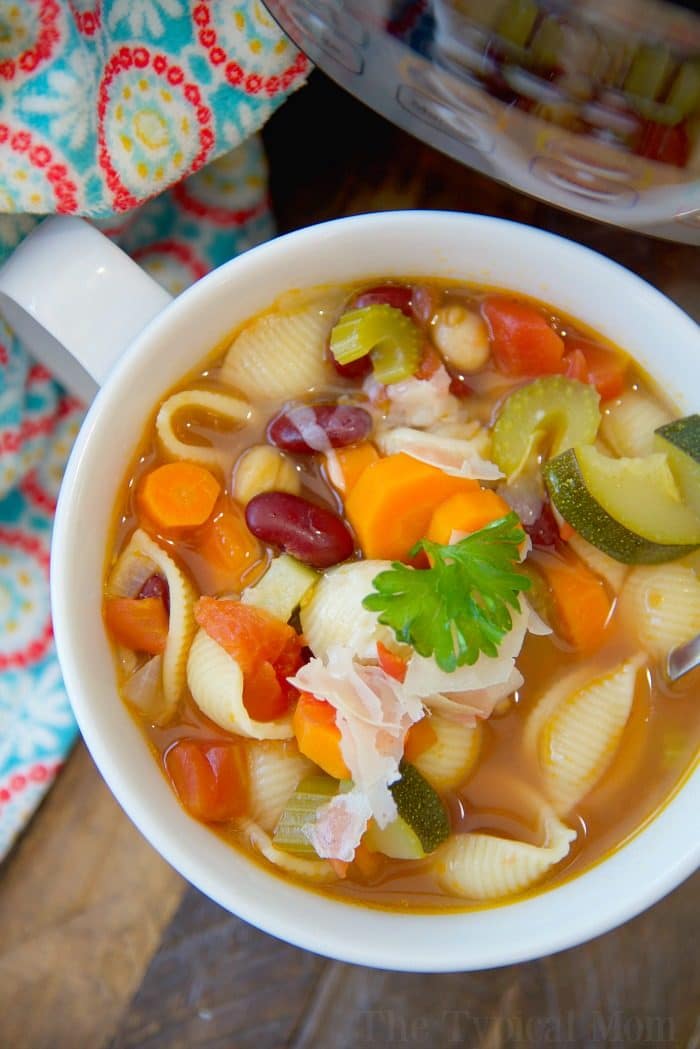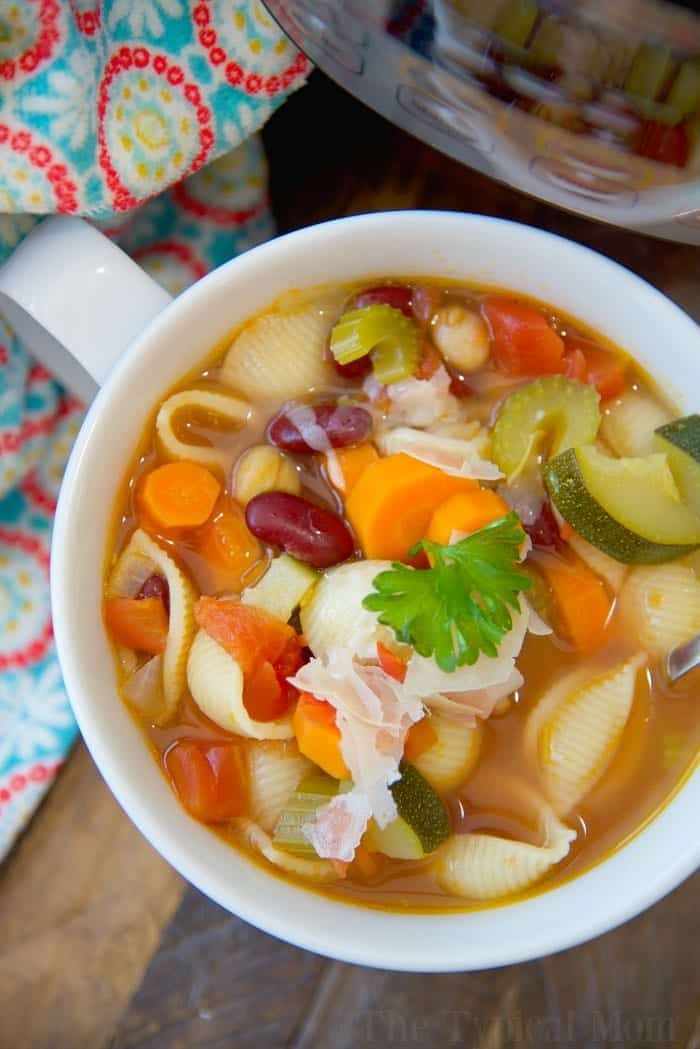 But what if you want a heartier meal??
Well our pressure cooker vegetable beef soup will do the trick! We added ground beef but using a pound of spicy sausage would take this healthy soup to the next level for sure.
I used to use my slow cooker for soups all the time but not now! Yes I still have tons of crockpot recipes but I don't always remember to prep everything in the morning. That is when my Instant Pot pressure cooker comes in oh so handy.
You can just throw everything in, set to high pressure, quick release when it beeps and the cook time is less than 20 minutes total. Before I had to brown the meat on the stovetop, or get cooked chicken to add it to my pot in the morning. Not anymore.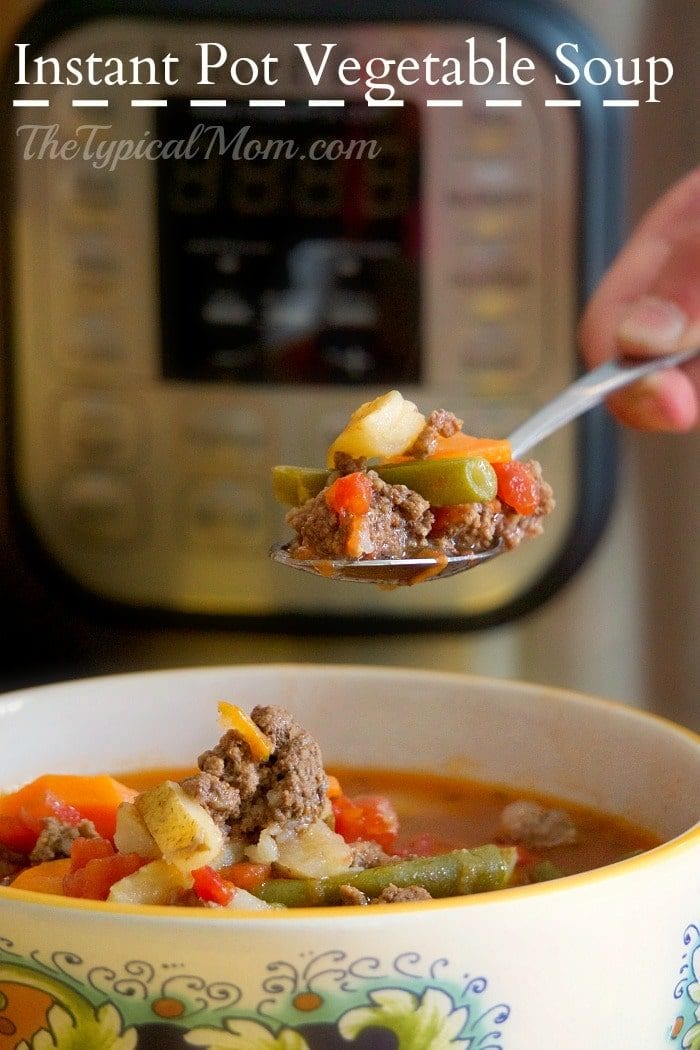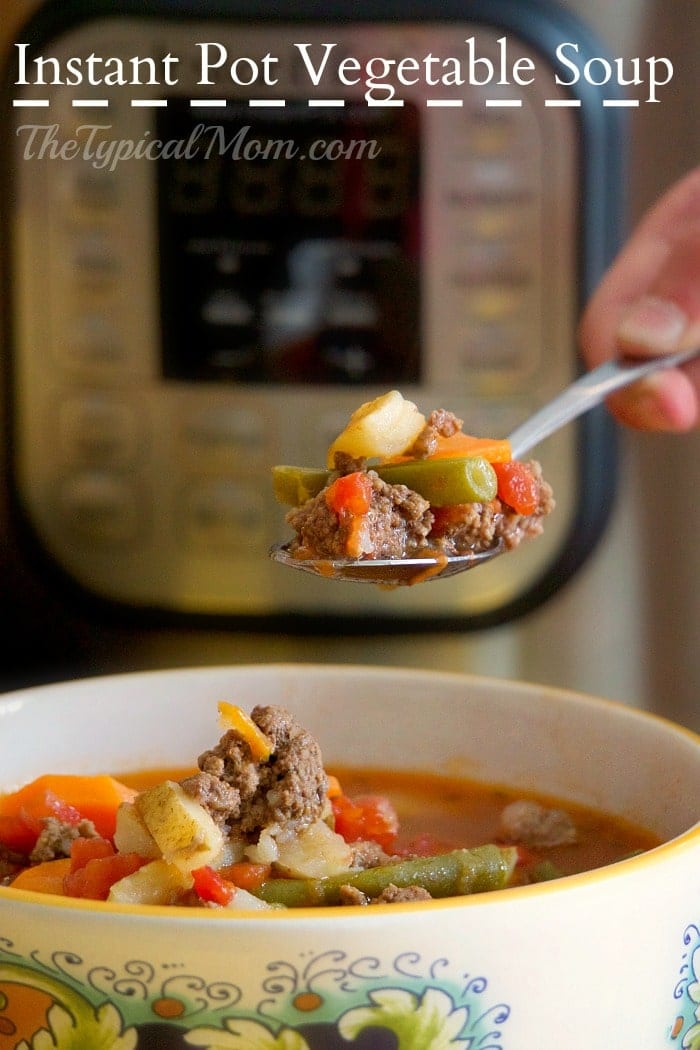 We will round out our list here with this easy Instant Pot vegetable soup that is like pasta fagioli!
As with any recipe feel free to load up the vegetables you love, and omit those you don't care for. Canned beans can be added as well as they are just being warmed and softened up a bit. That won't change the timing. If you like your noodles more al dente just set for 2 minutes to pressure cook with all the other ingredients.
Throw bay leaves in if you find those to be a must in your soup. The possibilities are endless with pressure cooker vegetable soup recipes like these.
Recipe for this Instant Pot pasta fagioli is below.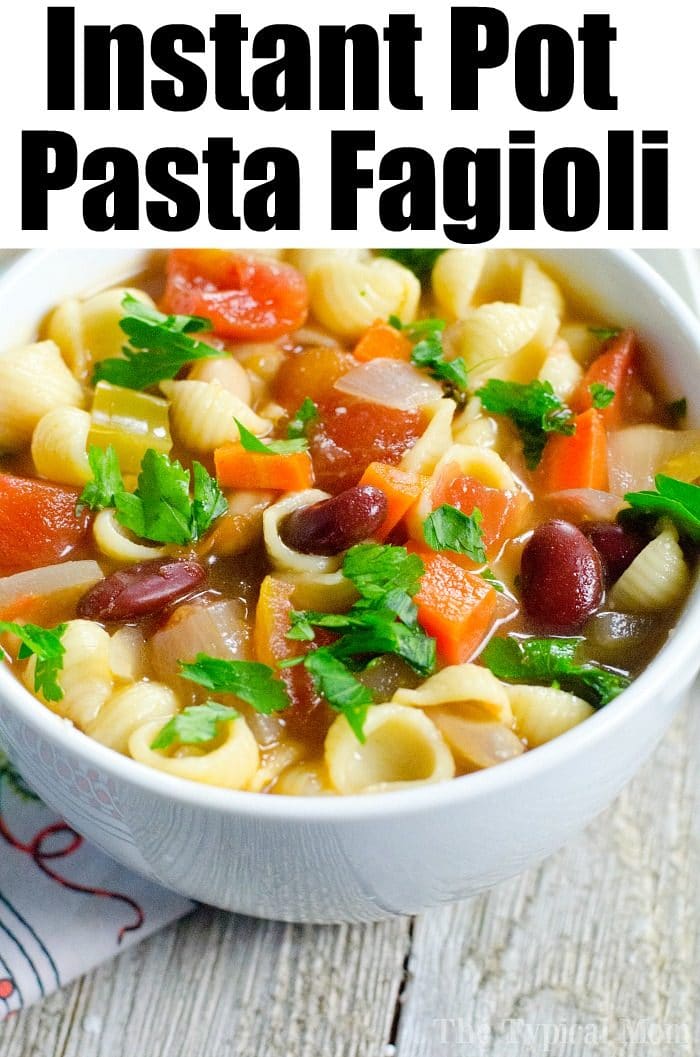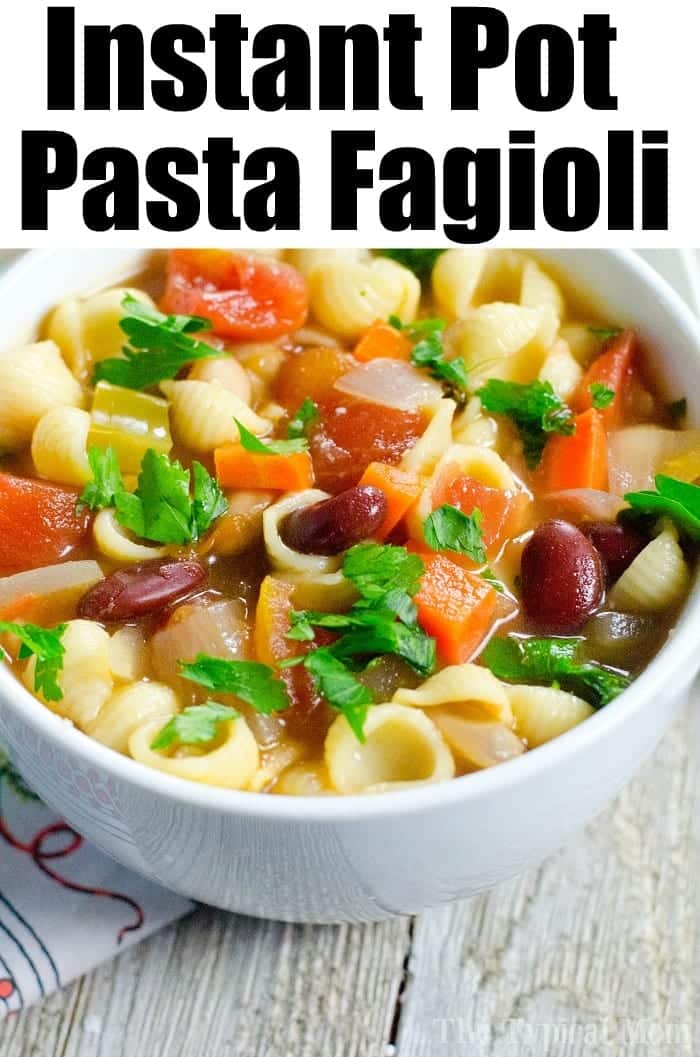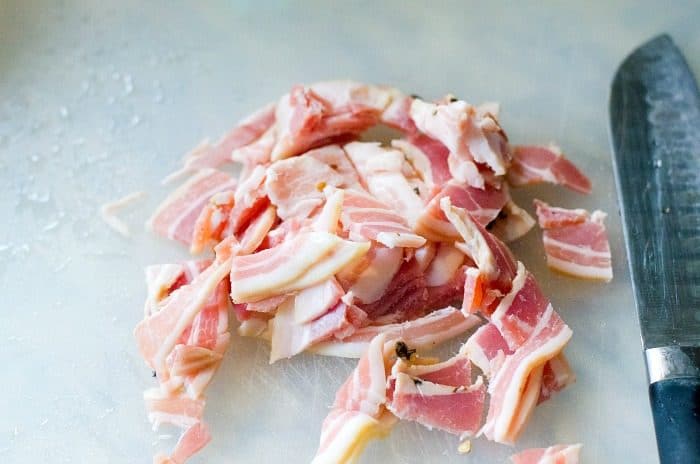 Of course leave out the pancetta on this one if you're looking for a vegetarian Ninja Foodi soup.
Looking for more Instant Pot soup recipes?
Note: If you are making Crock Pot Express soup recipes just follow the same directions below.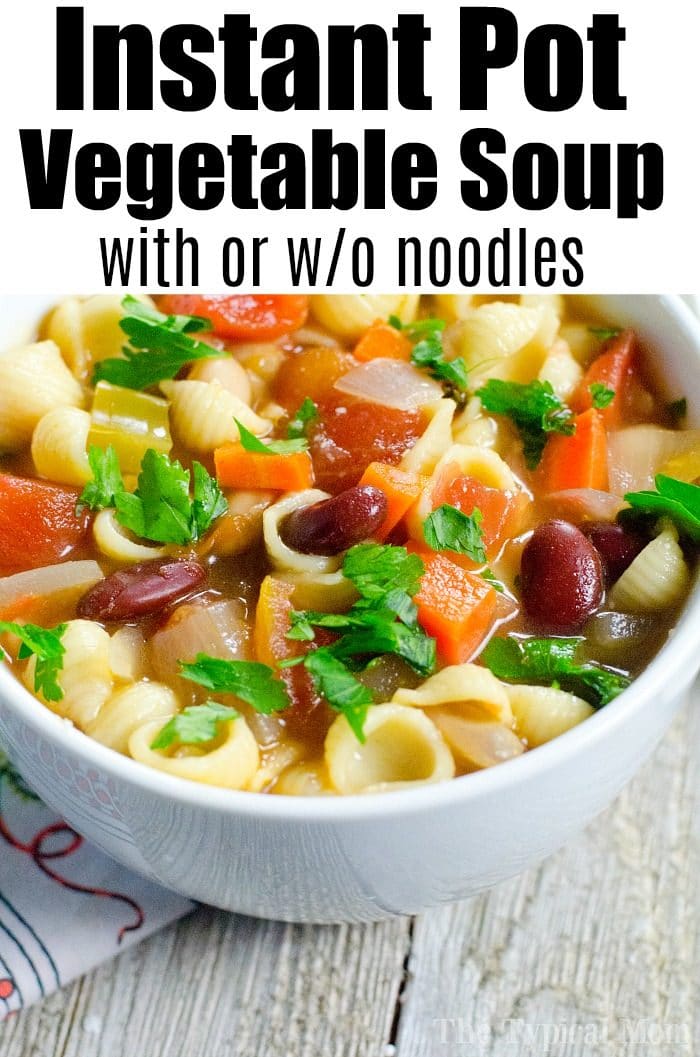 Pressure Cooker Vegetable Soup
3 pressure cooker vegetable soup recipes that are easy to prepare with simple ingredients and can be loaded up with more if you like!
Instructions
Put Instant Pot on saute mode (brown on Crockpot Express) and add about 1 tbsp of olive oil, then your diced pancetta, onions and garlic. Saute for 2-4 minutes or until meat is done. Turn pot off/cancel. Scrape bottom to get stuck on pieces of pancetta to loosen.

Add diced carrots, celery, tomatoes with the juice in can, drained beans, and pour broth over entire mixture. Stir.

Stir in thyme, basil, salt and pepper. Stir.

Close lid and steam valve and set to high pressure for 5 minutes, do a quick release.

If adding noodles change cook time to 3 minutes above, do a quick release, add uncooked noodles, submerge into liquid, and set for 2 minutes high pressure. Then quick release.

Top with parmesan cheese and enjoy
Nutrition Facts
Pressure Cooker Vegetable Soup
Amount Per Serving (3 oz)
Calories 359
Calories from Fat 99
% Daily Value*
Fat 11g17%
Cholesterol 13mg4%
Sodium 1655mg72%
Potassium 766mg22%
Carbohydrates 52g17%
Protein 16g32%
Vitamin A 4305IU86%
Vitamin C 17.7mg21%
Calcium 132mg13%
Iron 5.4mg30%
* Percent Daily Values are based on a 2000 calorie diet.