How to cook cow tongue on stove in Dutch Oven or large pot to tender is here. Then slice lengua as they call it and make cow tongue tacos or serve over rice.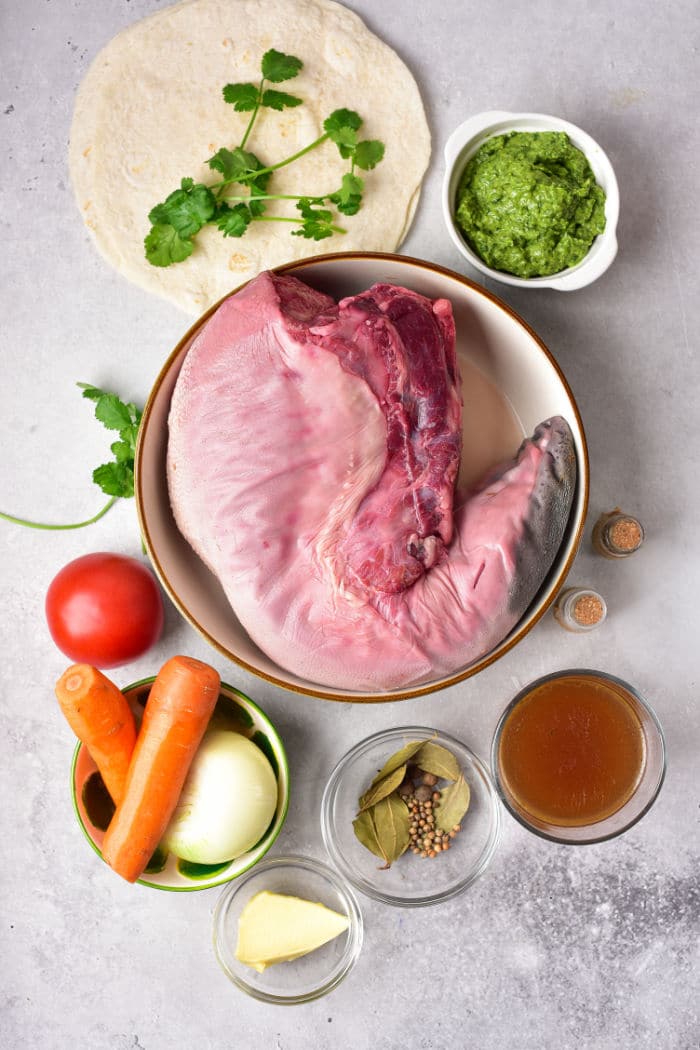 Cooking cow tongue is a bit time consuming but can be a very delicious and protein rich meal. Boiled to tender it can be sliced and made into a variety of easy beef recipes you'll love. Once you get the hang of how it's done I bet it will be added to your meal planning regularly too. (affiliate links present)
How to Cook a Cow Tongue
As with many other large, tough, thick pieces of meat you need to cook it low and slow. It needs to be submerged in a liquid to in order to soften it from the outside in. After a few hours the outside tougher exterior can be sliced off and the insides become melt in your mouth delicious. You can dress it up in a tortilla or make into a stir fry.
I will share other ideas on how to use this beef tongue when done later on too. Typically you'd use this to make classic Mexican tacos stuffed with cabbage, white sauce and cheese though. Make spicy with sauce or enjoy the natural flavors that come with this beefy protein.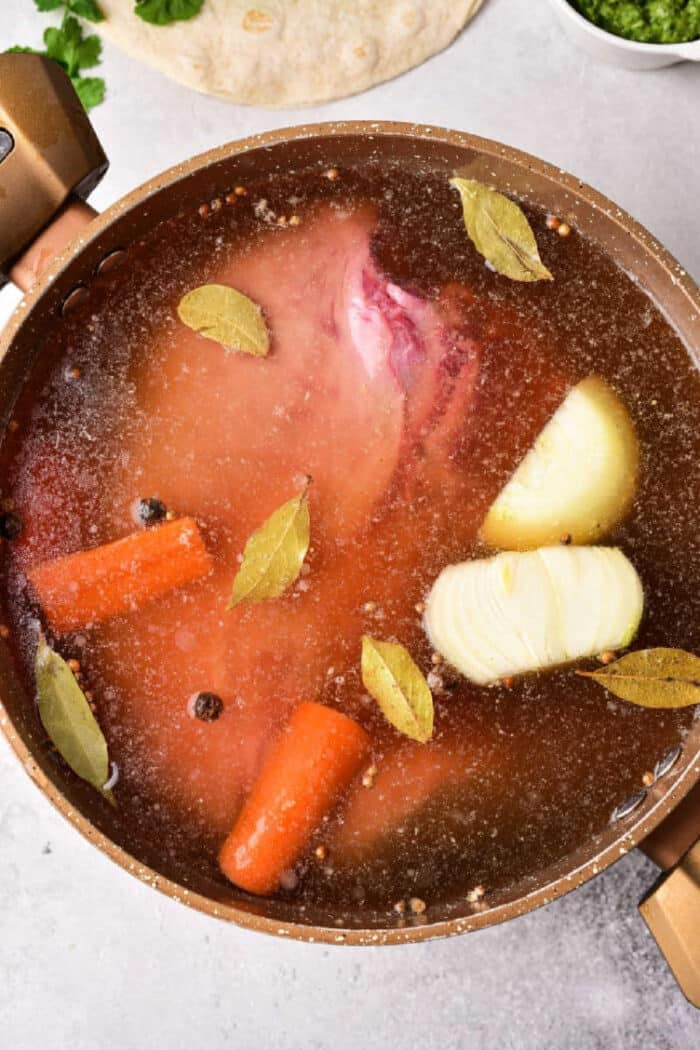 Boiled Beef Tongue
To do this you need a deep pot so it can be submerged entirely. A Dutch Oven works well or something like what we used to boil a whole chicken. Beyond that it's just water or broth with seasonings to enhance the flavors while it cooks. Over medium heat to the point where it reaches a low steady rolling boil you will basically;
Step one: Begin by thoroughly rinsing your piece under cold water to remove any impurities. You can also use a knife to scrape off any remaining dirt or debris.
Step two: Place the cleaned piece into a large pot of water to cover meat

add salt and pepper + herbs and seasonings like garlic, onions, and bay leaves to enhance its flavor.

bring water to a boil to cook tongue slowly
reduce the heat and let the tongue simmer for 2-3 hours, or until it is tender.

Step three: Once boiled tongue is cooked to 160 degrees F, remove the tongue from the pot and allow it to cool for a few minutes.

use a sharp knife to carefully peel off the tough outer skin and discard that.

Step four: Once the skin is removed, slice the meat thinly against the grain.
Step five: Season the sliced meat with spices like cumin, chili powder, or paprika to give it a more distinct flavor.

you can then use the sliced meat in various dishes like lengua tacos, sandwiches, or stews.
Cooked and cooled, it can be made into cow tongue tacos, so good. Then the meat can be stored in the refrigerator for up to 3-4 days, or frozen beef tongue can be kept for longer in a sealed freezer storage bag.
Cow Tongue Recipe
You could dice your meat up and instead of ground you could make tongue stroganoff casserole using these other ingredients. You'd just basically;
Slice into thin strips.
Sauté sliced mushrooms and onions in a skillet until browned.
Add the sliced tongue to the skillet and stir in sour cream, Dijon mustard, and beef broth.
Cook until the sauce thickens and the meat is heated through.
Serve this beef tongue recipe over cooked egg noodles, or fold together to make a casserole together.
We share how to cook organ meat pieces beyond this one here to enjoy as well.
What Does Cow Tongue Taste Like
Diced or sliced thin it works well tossed with a sauce. Alone it does have a bit of a strong beefy flavor but will take on the seasonings it was boiled in to tone that down. A few other ways it is used and enjoyed would be;
Sandwiches are great when it is sliced very thinly used as a meat filling for sandwiches. It pairs well with mustard, cheese, and pickles.
Stews work well when cut into bite size pieces, or use as the protein in 5 ingredient chili for added texture and flavor.
Slice leftovers thin and add it to the top of a cold salad. Pairs well with greens, tomatoes, and a tangy vinaigrette.
How to Cook Beef Tongue in the Oven
You could use the exact same instructions as you see here, in a pot with a lid in the oven. Once again a Dutch Oven works well for that. In a preheated oven at 350 degrees F you will achieve the same outcome as it bubbles in the pot but will likely take additional time than on the stovetop.
You can use a braising pan too. Liquid should cover just to the top ideally and will take 3-4 hours to get to a safe temperature and to 160 degrees F inside thickest part. For more flavor use 2 cups of red wine and the remaining would be water, as well as your herbs of choice. What we used for this method was;
1 tsp salt
Onion sliced
2 carrots peeled and chopped
3 bay leaves
1 tsp coriander seeds
96 oz beef broth
Slow Cooker Beef Tongue
Alternatively you could follow the same idea in a Crockpot. Submerge in broth with seasonings of choice. Set to low heat for 8 hours, then remove, cool, slice off outer layer, dice into pieces and enjoy.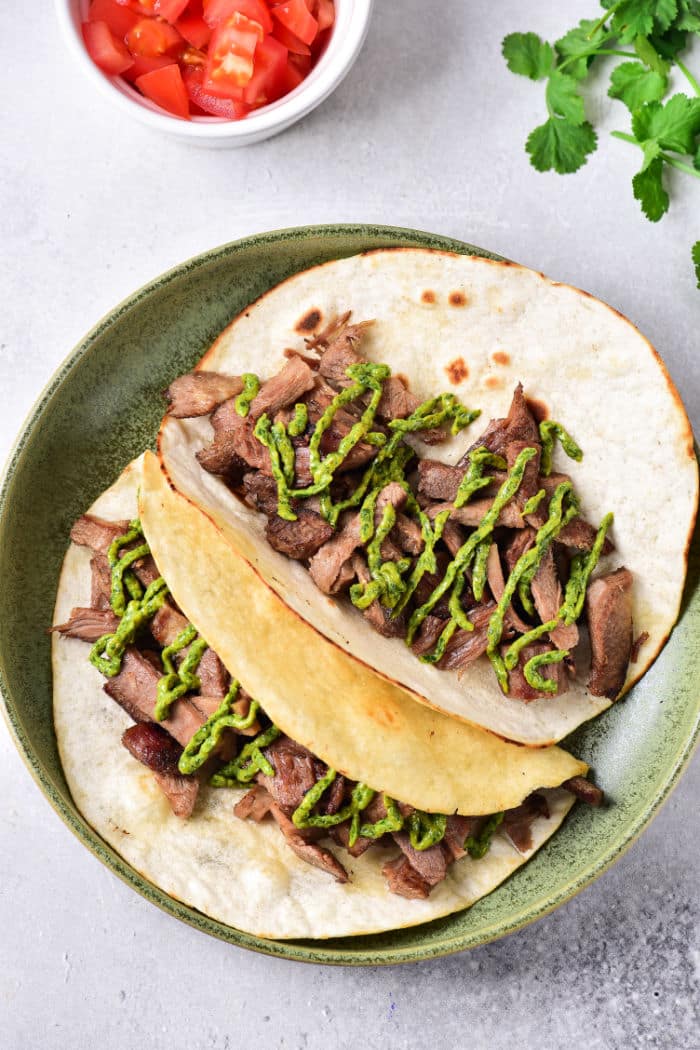 Pressure Cooker Beef Tongue
Timing uses high pressure cook of course, covered with broth and seasonings is typically 15 minutes per pound with a natural release at the end. Don't fill inside past the 3/4 of the way full ever, there is a line inside to show you the fill line. Usually you'd want 45 minutes to 1 hour to get the insides to become fork tender.
Want to see a few of my favorite things that I am totally obsessed with?? Take a peek and see how many you might already have…twinsies!
Looking for more easy family recipes and tips? LIKE The Typical Mom Facebook page?
Then sign up for my free newsletter, and follow me on Pinterest! 😉
***** If you LOVED this recipe give it 5 Stars below and let everyone know what you thought about it. 😉
How to Cook Cow Tongue
How to cook cow tongue on stove in Dutch Oven or large pot to tender is here. Then slice and make cow tongue tacos or serve over rice.
Instructions
Put the raw cow's tongue, peeled onion, cut into halves, carrot slices, bay leaf, salt, and coriander into a saucepan. Pour in the beef broth. If it doesn't cover the tongue, add more broth or water.

Bring the broth to a low boil, then add the tongue and cover with a lid for 3 hours over medium heat until it is cooked to 160 degrees F

When the tongue is cooked, take it out of the broth to cool slightly. Use a sharp knife to slice off the outside tough later and discard.

Cut into thin strips and make tacos or serve with gravy on it.
Nutrition Facts
How to Cook Cow Tongue
Amount Per Serving (1 oz)
Calories 49
Calories from Fat 9
% Daily Value*
Fat 1g2%
Sodium 2090mg91%
Potassium 341mg10%
Carbohydrates 4g1%
Protein 6g12%
Vitamin A 3400IU68%
Vitamin C 3mg4%
Calcium 41mg4%
Iron 1mg6%
* Percent Daily Values are based on a 2000 calorie diet.