Kabocha Squash Soup is a hearty, creamy soup that's perfect for a cozy night in. This and our pumpkin soup are musts for the fall! Incredibly rich, full of flavor, and the bright orange color is sure to brighten up any Fall dinner table.
It's the type of meal that warms you from the inside out. We will show you how to cook kabocha squash so it's tender to use this way or enjoy as a side dish.
Fall is here, and it's time to bring on the comforting, warming foods that this season is famous for. If you're looking for something that is both delicious and nutritious, a soup might be just what you need. And if you want to make a soup that stands out in a crowd, why not make it with Dutch Oven or Instant Pot Kabocha squash? (affiliate links present)
The main ingredient in this dish is, of course, kabocha. Also known as a Japanese pumpkin, this winter squash has a sweet flavor and a creamy texture that makes it perfect for soup. But, what sets this recipe apart is the use of a pressure cooker or dutch oven, and the option to make it dairy-free. That means it suitable for all types of dietary needs.
How to Cook Kabocha Squash
This isn't any different than pressure cooker pumpkin. I kid you not there is NO other way you should ever cook this veggie. SO very easy to keep it moist yet break it down so it scoops out with a spoon and can be mashed or blended with other ingredients easily.
Kabocha Squash Soup Recipe
The Recipe for Kabocha Squash Soup I'm sharing with you today is a simple yet delicious one. It has a beautiful orange color that makes it appealing, and it's a great way to incorporate veggies into your diet. This soup will quickly become a staple in your fall and winter menu, I guarantee it.
The ingredients you'll need are kabocha squash, onion, optional carrots, salt, pepper, minced garlic, heavy cream (or coconut milk if you're dairy-free), and vegetable broth. All these ingredients together make for a delicious, creamy soup that will be loved by all.
Squash and Carrot Soup
Now, let's talk about the ingredients that you need for this one, we did add another orange vegetable into the mix and you will likely love this duo too. We have done it in others like our Like this dairy free butternut squash soup and it gives the whole dish a nice flavor profile. You will need:
Kabocha squash
Onion
Carrots (optional)
Salt
Pepper
Minced garlic
Heavy cream or coconut milk
Vegetable broth (can swap with chicken broth if desired)
These ingredients are easily accessible and combined, they create an unforgettable soup.
Can I use other types of squash in this recipe? You certainly can! While this recipe calls for kabocha squash, you can also use other types of winter squash such as butternut squash. The flavor profile will change slightly depending on the squash you use, but it will still yield a tasty soup.
So yummy! And if you're making a roasted butternut squash don't forget to make roasted pumpkin seeds or spaghetti squash seeds. Grab some olive oil and get to enjoying!
How do you cut kabocha squash for soup?
Handling and cutting kabocha squash can be a little tricky due to its hard skin and unique shape. Start by washing the outside thoroughly. Slice off the stem end to create a flat surface, which makes it easier to cut. Use a sharp, sturdy knife to cut it in half.
Scoop out the seeds and stringy parts inside. From there, you can cut the halves into smaller chunks, making them easier to peel. Remember to be careful as you do this – safety first!
Dairy Free Kabocha Soup
This vegetarian soup recipe is easily adaptable to dietary needs. If you're lactose intolerant or following a dairy-free diet, you can substitute the heavy cream with coconut milk. This won't just make the soup lactose free, it will also add a delicious, rich, and slightly sweet flavor to the soup.
The coconut milk pairs well with the squash, enhancing its natural sweetness and contributing to the creamy texture of the soup. This makes the soup not only adaptable for dietary needs but also adds a twist to the traditional squash soup.
How to Cook Kabocha Squash
Cooking kabocha squash for this soup is a simple process that can be done either using a pressure cooker or a dutch oven on the stovetop.
For the Instant Pot recipes method, begin by washing and peeling your kabocha squash. Remove the seeds and cut it into large cubes. Add it to your pressure cooker along with the broth or stock. Next, chop your onion and add it to the pot, along with the remaining ingredients except for the cream.
Cook this mixture on high pressure for 30 minutes, and let it naturally release for 10 minutes. Afterward, use an immersion blender to blend the contents until smooth, then stir in the heavy cream.
Dutch Oven Squash Soup
For the stovetop method, you'll begin by melting butter in a Dutch oven over medium heat. Add your onions and sauté until they're softened, then add the garlic and cook for another minute. Add the cubed kabocha squash, along with the vegetable stock, and bring the mixture to a boil, stirring occasionally. Once boiling, reduce the heat and let it simmer until the squash is tender. Blend until smooth using an immersion blender, then stir in the heavy cream.
How to Make Kabocha Squash Soup
The process of making kabocha squash soup is quite straightforward. Once your kabocha squash is prepared, it's just a matter of combining all the ingredients in your pressure cooker or on the stovetop in a dutch oven letting them cook until the squash is tender and easily blended with a food processor if desired.
This recipe calls for the addition of heavy cream after blending the soup, which gives it an extra level of creaminess and richness. However, if you're looking for a dairy-free option, you can use coconut milk instead of the cream. Once your soup is fully blended and the cream or coconut milk is added, the soup is ready to serve. I love to add a drizzle of cream or coconut milk on top of each serving for an extra touch of indulgence.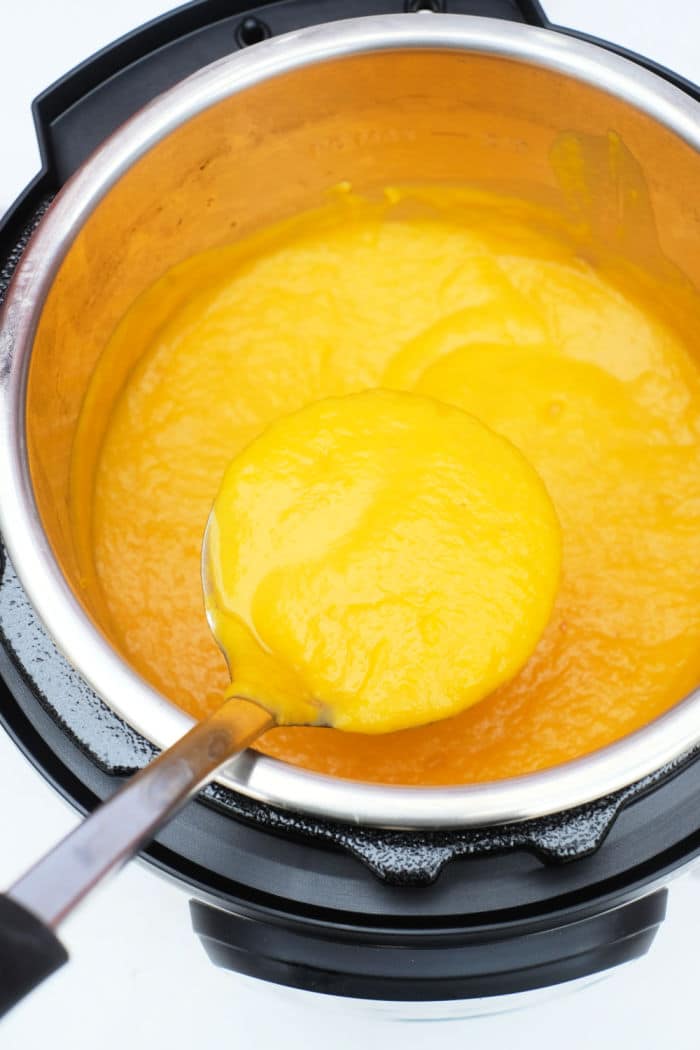 Instant Pot Kabocha Squash Soup
If you're looking for a quick and easy way to make kabocha squash soup, the Instant Pot is your best friend. The high-pressure cooking method reduces cooking time and ensures that all the flavors are well combined and the squash is perfectly tender.
Follow the same steps for squash soup in pressure cooker method mentioned above. Remember to set your Instant Pot to high pressure and adjust the cooking time to 30 minutes. Once the cooking cycle is complete, allow for a 10-minute natural release before manually releasing the remaining pressure. Blend the soup, stir in the heavy cream or coconut milk, and your dish is ready to serve.
This Kabocha Squash Soup is more than just a delicious and comforting meal, it's a celebration of the flavors of the season. The creaminess of the kabocha squash, the sweetness of the onions, and the richness of the heavy cream or coconut milk create a harmony of flavors that will delight your palate and warm your heart.
Want to see a few of my favorite things that I am totally obsessed with?? Take a peek and see how many you might already have…twinsies!
Looking for more easy family recipes and tips? LIKE The Typical Mom Facebook page?
Then sign up for my free newsletter, and follow me on Pinterest! 😉
***** If you LOVED this recipe give it 5 Stars below and let everyone know what you thought about it. 😉
Kabocha Squash Soup
How to make kabocha squash soup in Instant Pot or stove is here! We'll share how to cook kabocha squash to tender in minutes to enjoy.
Instructions
Pressure Cooker – Wash, and peel the outside rind of your squash. Remove seeds and then chop or slice into large cubes. Add to the instant pot with the broth or stock.

Chop onion and add to the pot. Add remaining ingredients except the cream. Cook on high pressure for 30 minutes, and let natural release for 10 min. Manual release remainder.

Blend contents in pot using an immersion blender until it is as smooth as you'd like. Be careful it is hot! Pour in heavy cream after your soup is blended with a bit set aside to drizzle a tad on top before serving

On Stovetop – In a Dutch oven over medium high heat melt 2 tbsp butter and add your onions. Saute until softened, then add garlic for 1 more minute. Remove seeds and rind from squash, then cube into large bite size pieces.

Pour into pot with broth and bring to a boil (add peeled chunks of carrots now too if you are adding it). Reduce heat so it is consistently boiling but not bubbling over for 12-15 minutes until squash is fork tender.

Turn to low and use an immersion blender to puree until smooth. Pour in heavy cream, add salt and pepper to taste and fold contents together. Heat until hot to your liking, turn off heat and enjoy with a bit of cool cream on top too.
Nutrition Facts
Kabocha Squash Soup
Amount Per Serving (2 oz)
Calories 206
Calories from Fat 135
% Daily Value*
Fat 15g23%
Cholesterol 45mg15%
Sodium 852mg37%
Potassium 642mg18%
Carbohydrates 19g6%
Protein 3g6%
Vitamin A 6365IU127%
Vitamin C 21mg25%
Calcium 77mg8%
Iron 1mg6%
* Percent Daily Values are based on a 2000 calorie diet.