Pressure cooker chicken soup recipes are perfect during the cooler months or when you have a cold! Many varieties here for your Crockpot Express or Ninja Foodi. I don't know about you but I could eat Instant Pot soup recipes for dinner year round.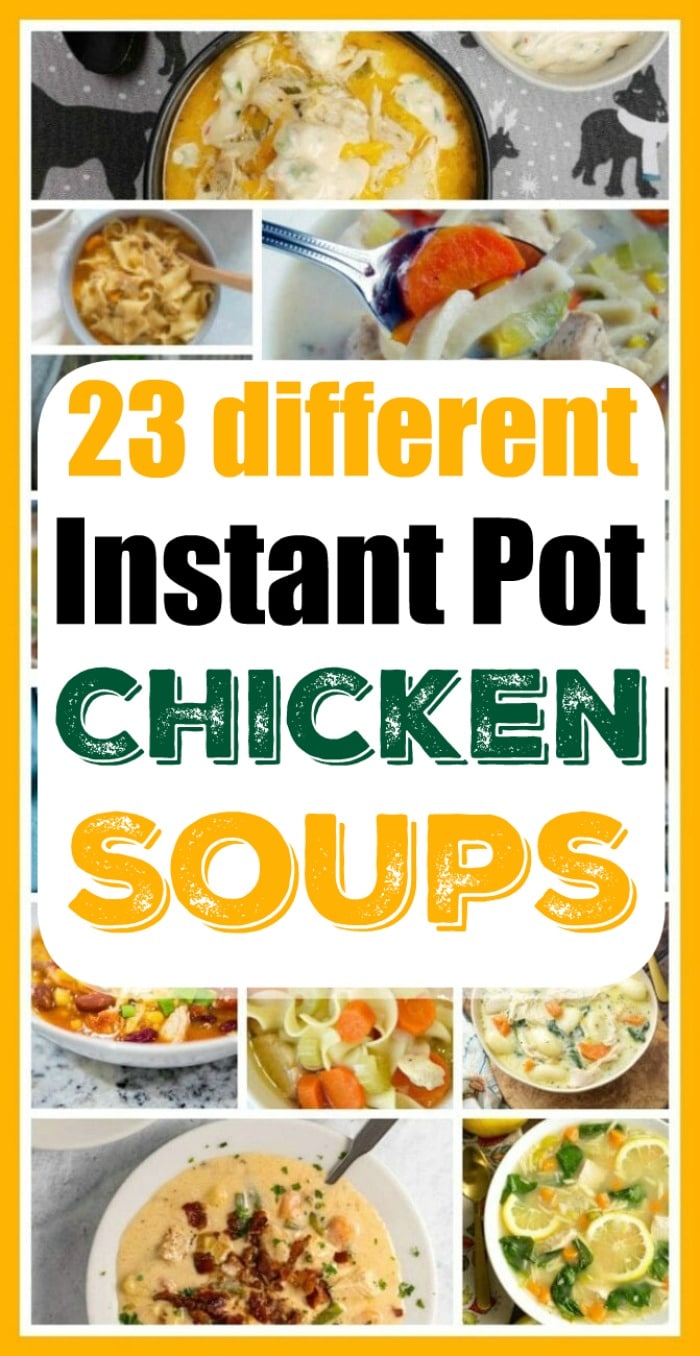 If you've been craving pressure cooker chicken soup recipes, you aren't alone. On our HUGE list of Instant Pot recipes , this one is great during the winter for sure. (affiliate links present)
Instant Pot Chicken Soup Recipes
Before the Instant Pot, just how much time did we spend in the kitchen cooking and making food?? Now there are lots of other brands out there that are just as magical. We also have the Crockpot Express and Ninja foodi, both of these work just as well.
If I had to guess, it'd be a lot…now the pressure cooker does the hard work for us. It's a game changer and I can't even remember my life without it. Seriously.
FIRST – You should sign up for my free newsletter so you get new posts emailed to you twice a week and never miss out on anything! Now let's start with a few basic tips:
Make sure to Bookmark our InstaPot recipes page. We add new ones each week!
Then PRINT this —–> Instant Pot cooking times cheat sheet that will help you understand how long meat, vegetables and beans take to cook in your pressure cooker.
For reference, this is the pressure cooker I have (a 6 quart) and use for all recipe creations.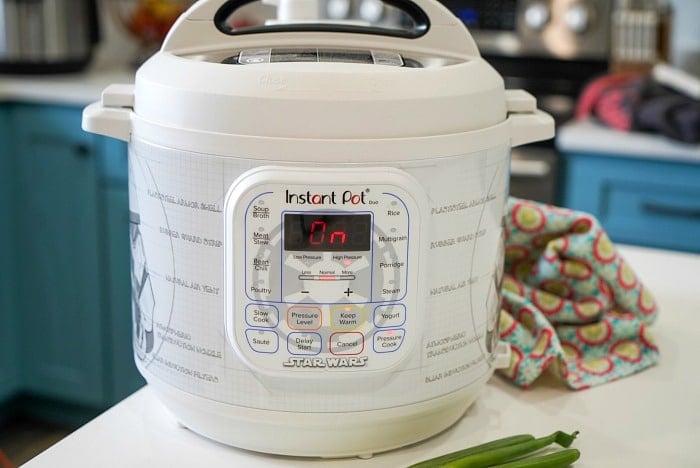 Ninja Foodi Chicken Soup Recipes
You can make these as Ninja Foodi soup recipes and can even make things like chicken noodle soup with frozen chicken this way too. Tis the season for all things warm and hearty. You'll love all these chicken soup recipes, they are delicious. P
Pressure cooking began with a vengeance in 2017 and it's certainly here to stay! Back in the day they did exist but they weren't electric and a bit scary using it on the stovetop. Now you just plug it in, lock the lid, set it and forget it really. You can find several models out there now. Whether you decided to buy an Instant Pot, Ninja Foodi or Crockpot Express they all work the same.
Most have a soup button now but I rarely use that. It is just high pressure with an automatic minute amount set. I like to adjust as I see fit so I just set the minutes myself.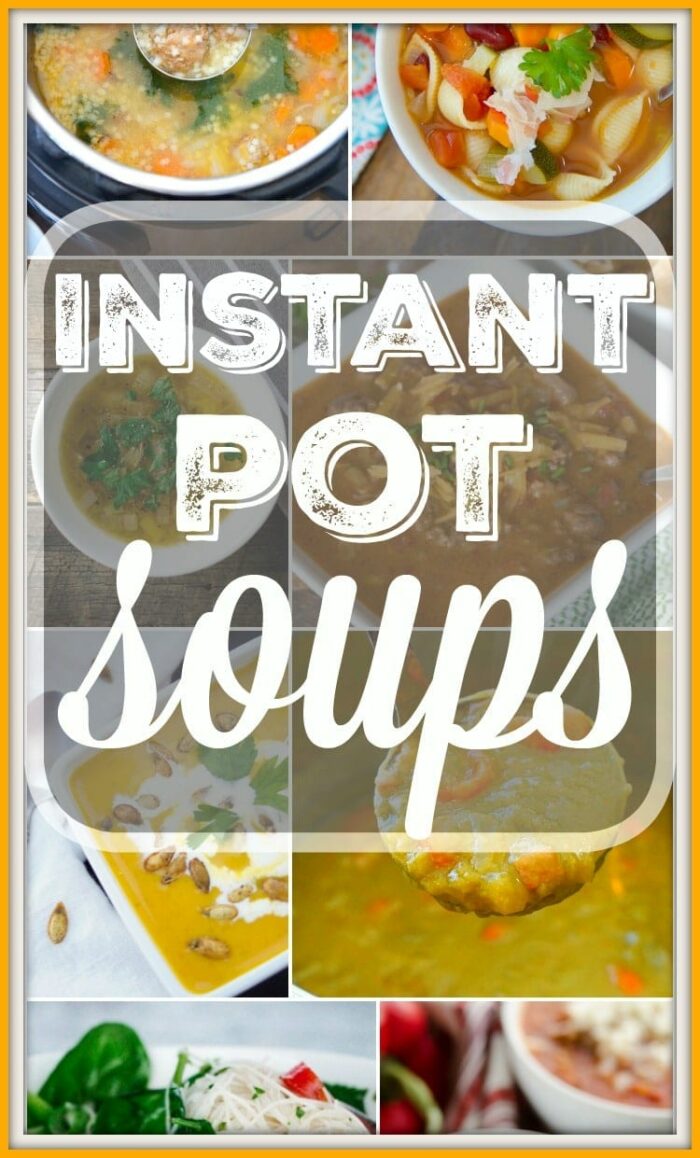 Pressure Cooker Chicken Soup Recipes
Is there anything that a giant bowl of classic chicken noodle soup won't fix? Packed with chicken breast pieces, carrots and celery you really just need salt and pepper to season it.
If you're under the weather try it, and our pressure cooker feel good soup! You can use leftovers in our Instant Pot chicken rice soup.
Super simple with a short cooking time, you can throw rotisserie chicken bite size pieces inside or fresh as well. Lock the lid and in a few minutes it's perfect.
Let's talk about one that is really healthy and you can add a lot of veggies into. Our Instant Pot chicken vegetable soup is killer, and a very cheap meal too.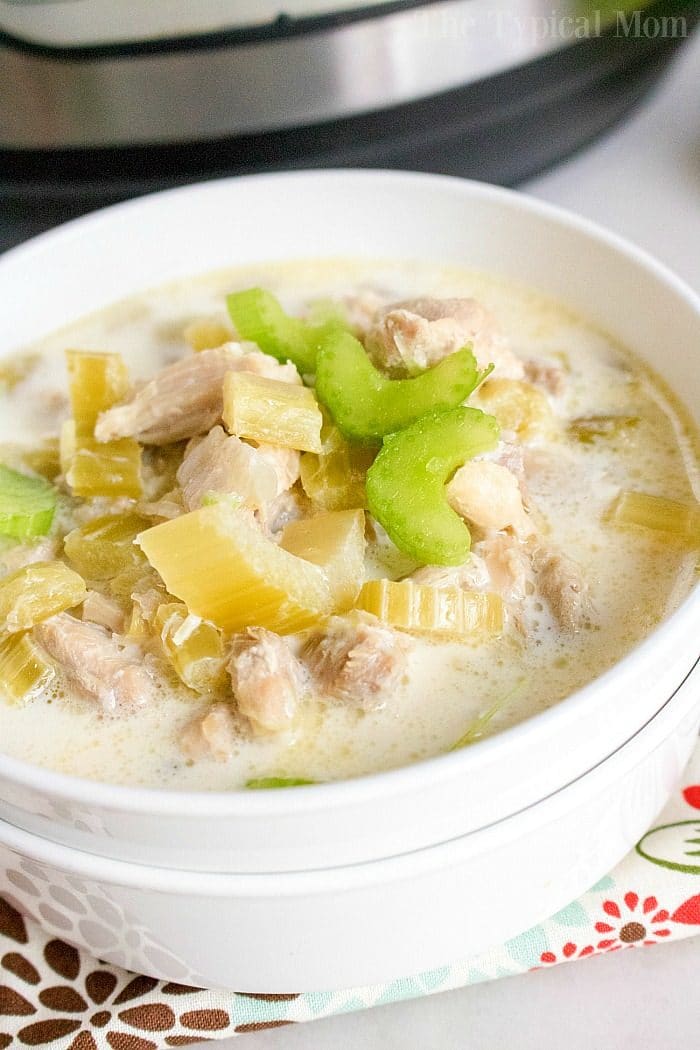 If you love Korean food, you won't want to miss out on this one!
This soup is seriously delicious. And seriously addictive. 20 minutes and it is done.
You'll love each and every bite.
Treat your taste buds and your tummy to this amazing Instant Pot pressure cooker soup. Use chicken broth over vegetable broth for even more flavor, plus your chicken pieces of course.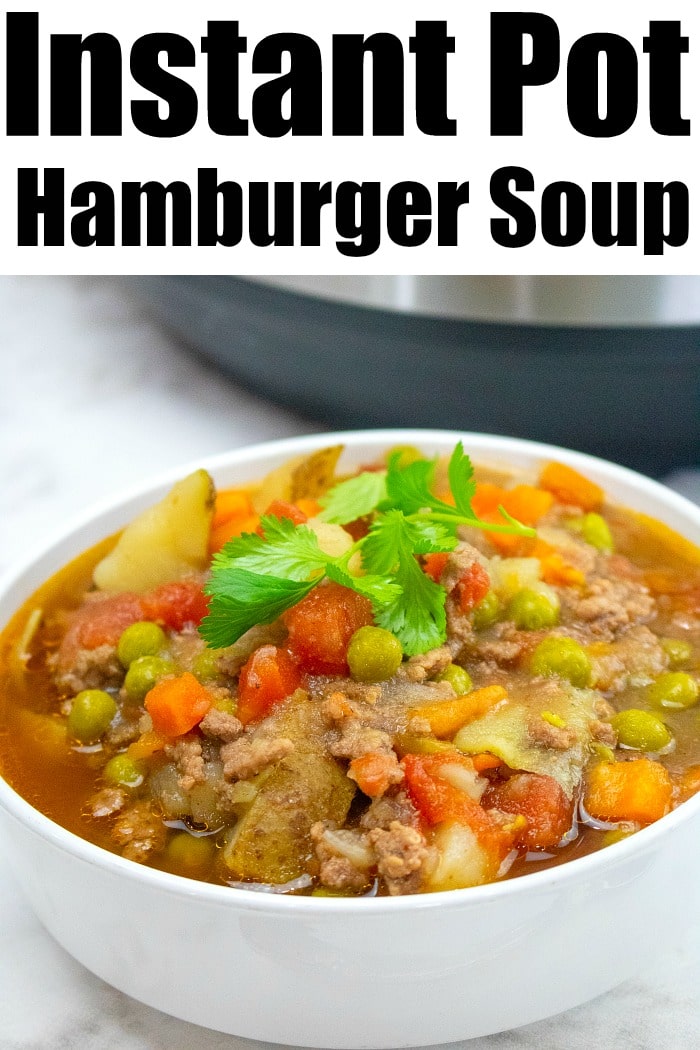 Colder weather brings about colds, sniffles, and coughs and sometimes…the one cure that helps ease all those ailments is a nice warm bowl of vegetable filled chicken soup.
Pressure cooker soup recipes with chicken
In less than the time it takes you to warm up your oven, you can have a hearty bowl of chicken noodle soup! Cooked noodles in no time I tell you with a wallop of flavor.
If you like a bit of heat and spice, this is the soup for you! So good!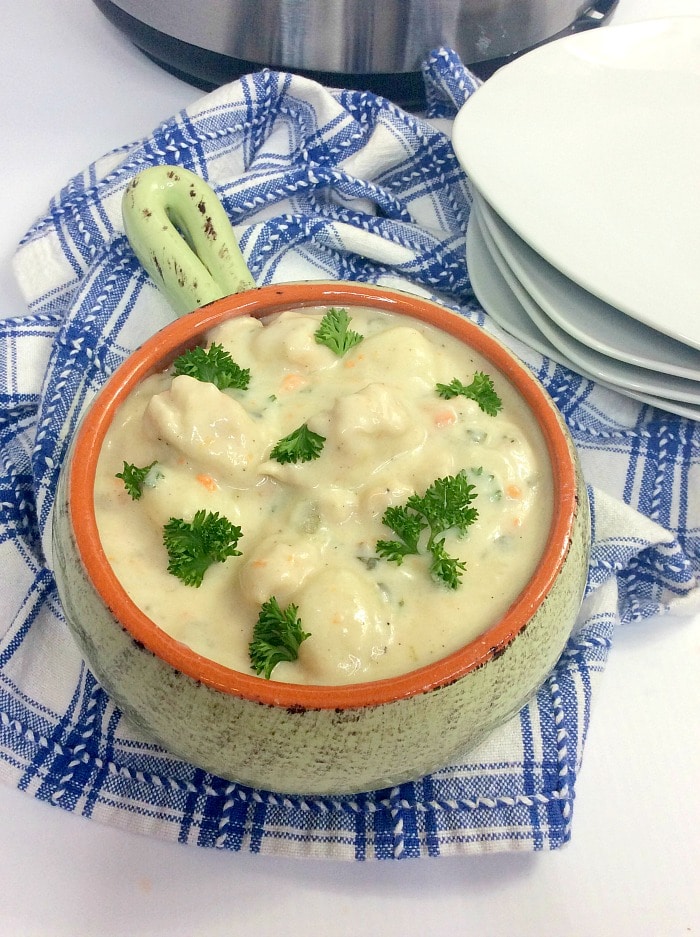 So many different flavors and textures in this soup that will keep you coming back for more! Just quick release at the end, stir and serve it up!
You can add the chicken or turkey, use shredded rotisserie chicken, and enjoy! Perfect for leftover turkey during Thanksgiving for sure.
You can literally plan out a different Instant Pot soup each and every week and have the hearty comfort food of chicken soup throughout the entire year.
Don't forget to add your own toppings to each bowl to give it your own little spin. Add crackers, cheese, hot sauce or onions and you'll be able to change the taste of each and every bite even more!
Pressure cooker chicken soup
There isn't anything quite like this bowl of creamy chicken stew.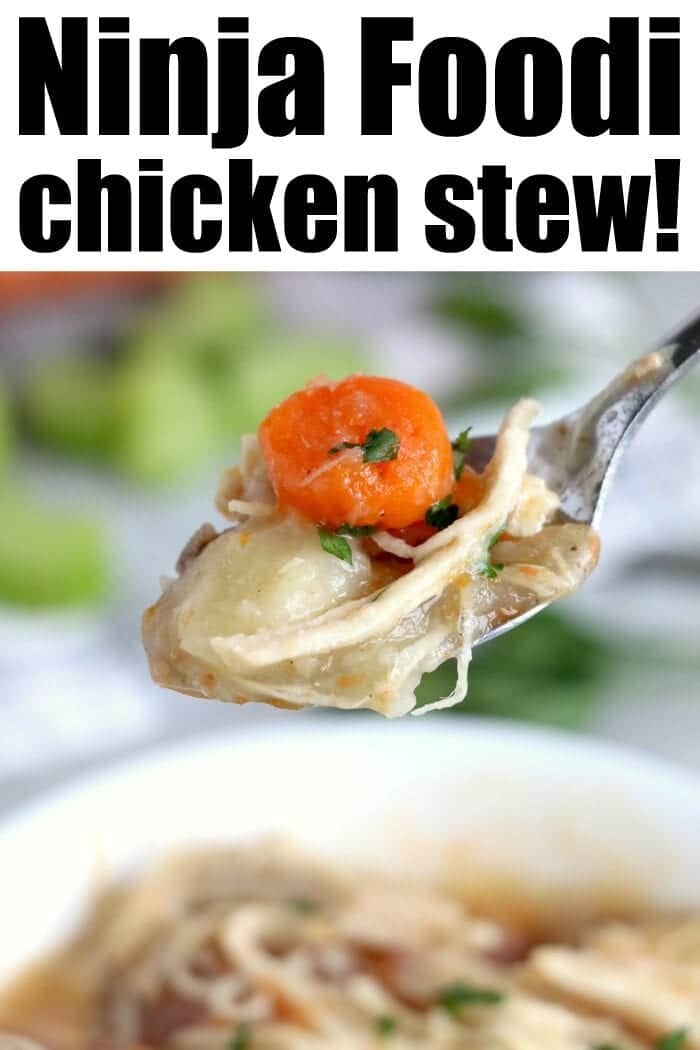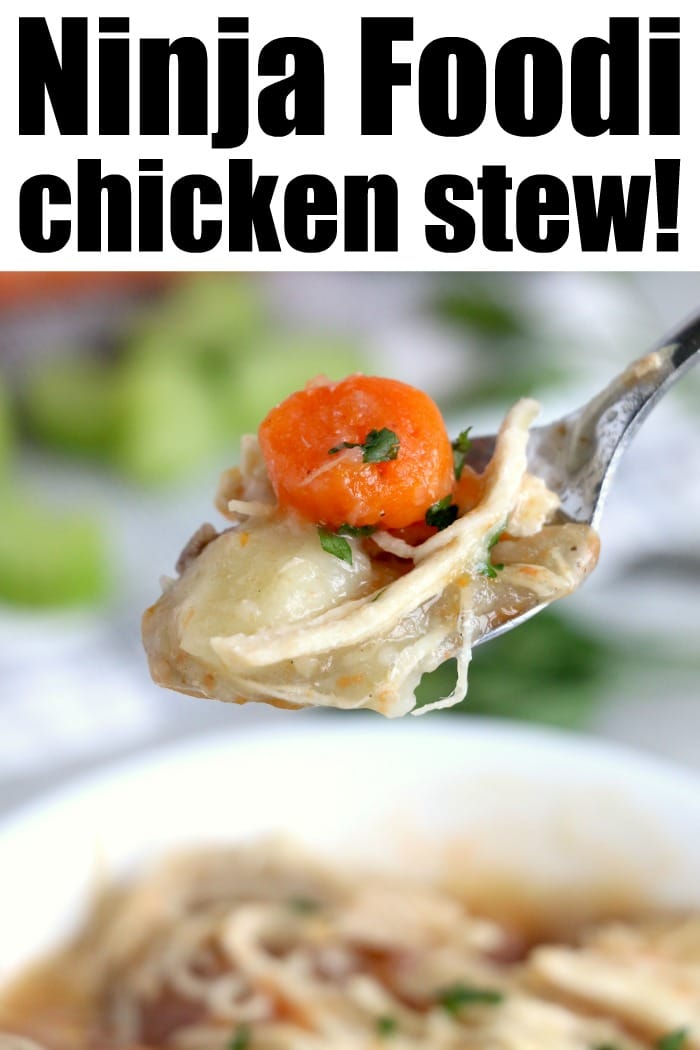 The combination of sweet potato and kale in this soup are incredible.
Not only is this soup delicious, but it's fun as well!
The flavor of lemon is what truly sets this dish apart.
It isn't labeled soup but has tons of great broth so soup like to us!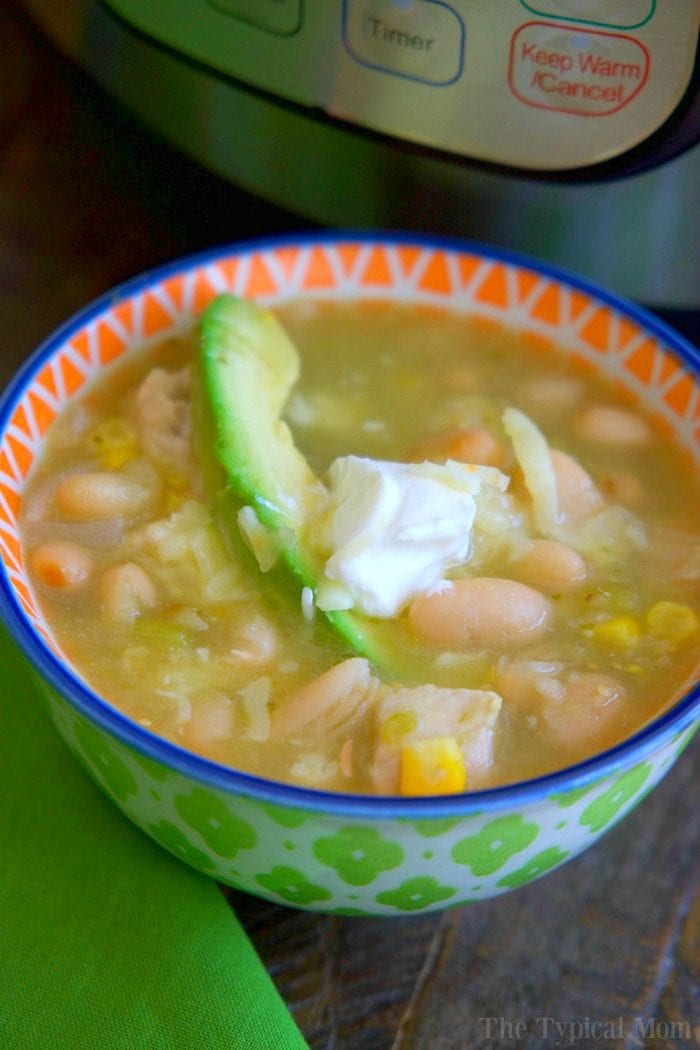 Chicken and rice is such a classic and delicious combo.
You won't be able to stop at one bowl of this delicious mushroom soup.
If you're looking for a great way to get your kiddos to eat their veggies, this soup may be the answer you've been searching for!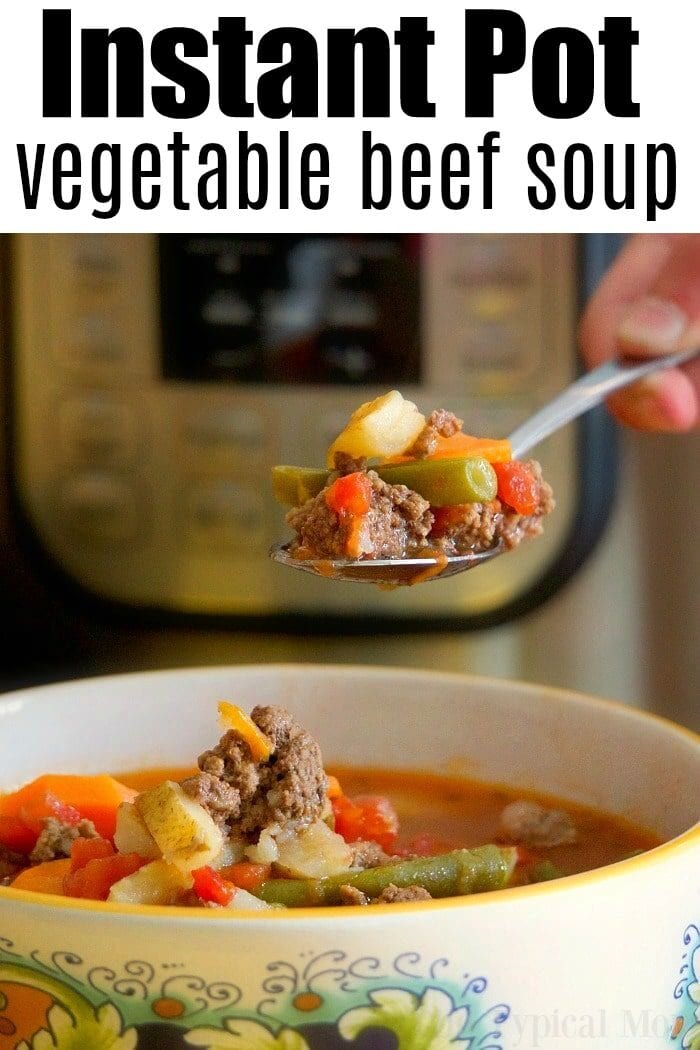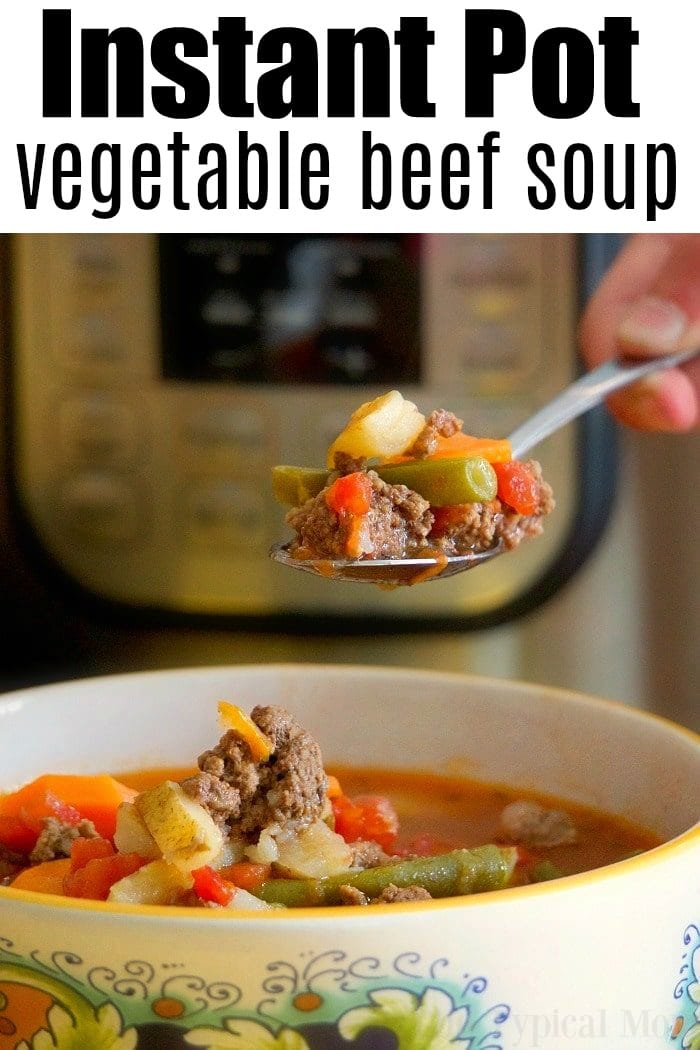 Instant Pot Chicken Enchilada Soup – Give your taste buds a true treat with this yummy soup.
Is it possible to live a low carb lifestyle and still be able to eat chili? With this chili recipe, it is!
Instant Pot Chicken Taco Soup – Who says that your tacos can't be in soup form?
Another dynamite soup that you'll love and adore.
Instant Pot chicken soup recipes
Looking for more easy Instant Pot chicken recipes??
Pressure Cooker Chicken Soup Recipes
Lots of pressure cooker chicken soup recipes here to make in your Instant Pot, ninja foodi or crockpot express. A healthy soup with vegetables that is family friendly.
Instructions
Put Instant Pot on saute and add olive oil, add cubed chicken, slices of celery, onions, and carrots. Cook for a bit so chicken is no longer pink on the outside and veggies soften just slightly.

Turn pressure cooker off and add chicken broth, uncooked noodles, salt, pepper, and spices if desired. Put lid on IP, close valve and set to high pressure, for 3 minutes.

When done do a quick release. Taste, season more if you would like and serve.
Nutrition Facts
Pressure Cooker Chicken Soup Recipes
Amount Per Serving (2 oz)
Calories 326
Calories from Fat 171
% Daily Value*
Fat 19g29%
Cholesterol 86mg29%
Sodium 1223mg53%
Potassium 402mg11%
Carbohydrates 16g5%
Protein 21g42%
Vitamin A 4292IU86%
Vitamin C 5mg6%
Calcium 46mg5%
Iron 1mg6%
* Percent Daily Values are based on a 2000 calorie diet.