This Instant Pot lemon poppy seed cake is so simple to make and a perfect breakfast or brunch treat! A moist dessert cooked right in your pressure cooker.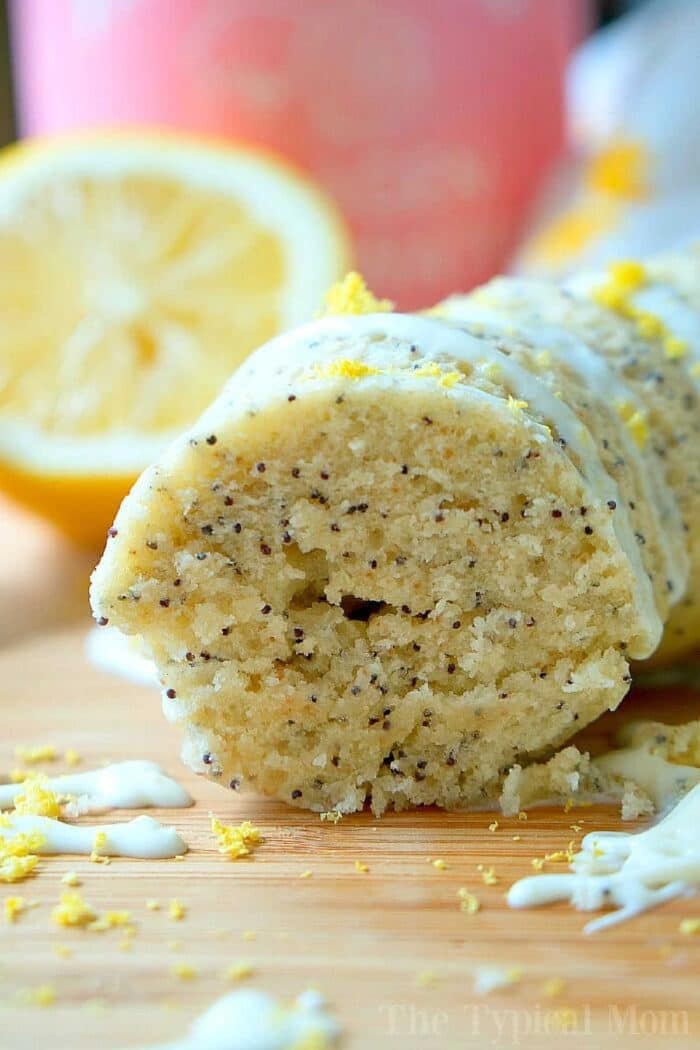 This Instant Pot lemon poppyseed cake is amazing!! We enjoyed it for breakfast, had it as an afternoon snack, and then enjoyed a slice after dinner that night too! Such a simple recipe that comes out incredibly moist in your Instant Pot! This is definitely one of our favorite dessert Instant Pot recipes. (originally published 8/17, affiliate links present)
Ninja Foodi Lemon Poppy Seed Cake
If you've never made a dessert inside your fancy pressure cooker it is quite easy. I have made many decadent chocolate cakes, brownies, and now this bundt cake. My whole family agrees that they like it more than when I've made it in the oven because the moisture is locked in tight. Here's how it's made and a list of other Instant Pot dessert recipes too.
You don't have to own an IP either. As long as the brand you have at home is electric with the high pressure function it will work. You will need a pan for this too and we will go over that later. A Crockpot Express or Ninja Foodi machine works great too.
FIRST – You should sign up for my free newsletter so you get new posts emailed to you twice a week and never miss out on anything! Now let's start with a few basic tips:
Make sure to Bookmark our InstaPot recipes page. We add new ones each week!
Then PRINT this —–> Instant Pot cooking times cheat sheet that will help you understand how long meat, vegetables and beans take to cook in your pressure cooker.
For reference, this is the pressure cooker I have (a 6 quart) and use for all recipe creations.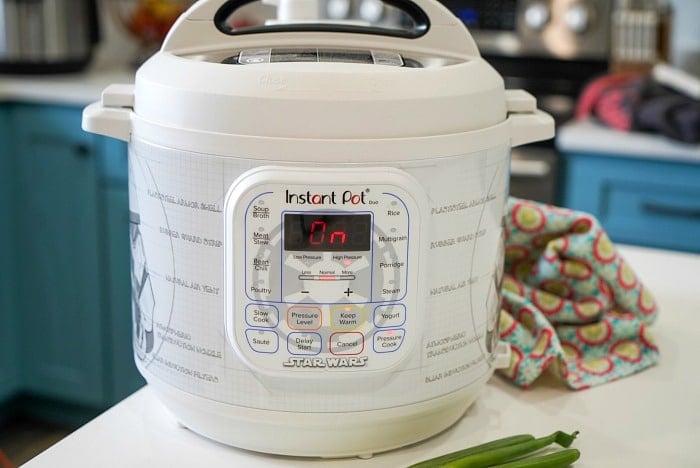 Homemade Instant Pot Lemon Poppy Seed Cake
If you wanted to make this with a bit of veg inside you could add 1/8 cup of zucchini too. Just press in paper towels to remove most of the moisture before adding in at the very end. Some fresh lemon zest is great in there too if you like. No need to use a mixer on medium speed, your arm is good enough.
1 c all purpose flour
Baking powder and Baking soda
4 tbsp butter softened
Granulated sugar
1 egg
Yogurt, vanilla is best
Poppy seeds
1/2 tsp vanilla
1 tbsp lemon juice
Blend dry ingredients in one bowl and wet in another and then incorporate flour mixture into wet like you would any other sweet bread. Fold in delicate ingredients at end with a rubber spatula. For a simple lemon glaze you can whisk together a bit of milk or lemon syrup with powdered sugar and pour over lemon poppyseed bread when done.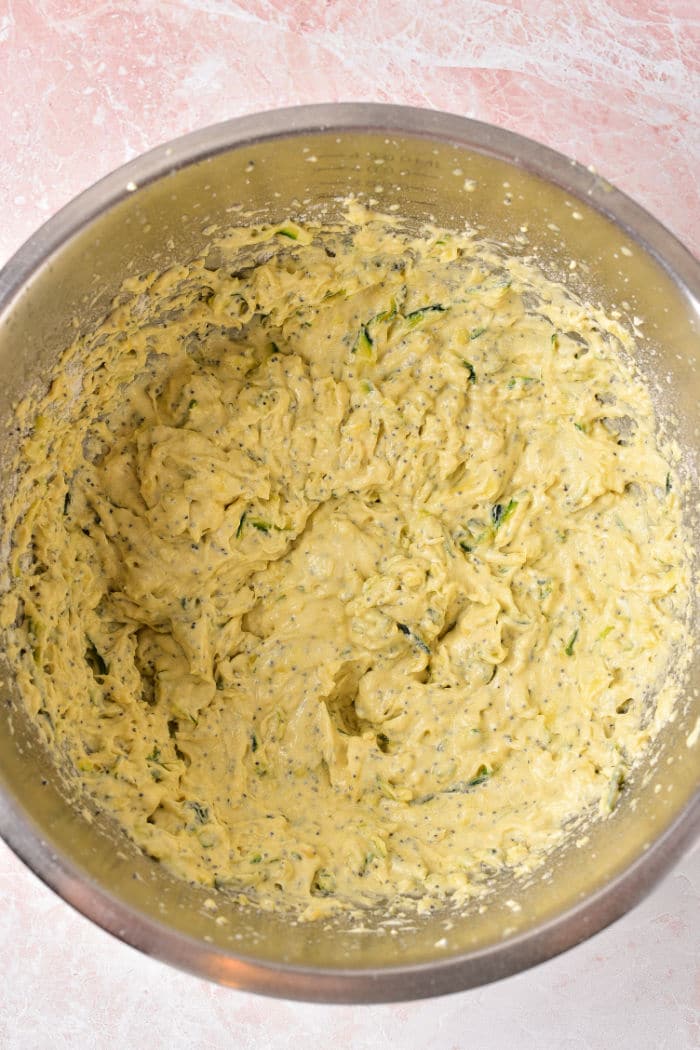 Pressure Cooker Lemon Poppy Seed Cake
I bet you didn't know you could "bake" in your Instant Pot did you?? Well I didn't try for quite some time when I got it at first. I just used the pressure cooker function for dinners. This was a first for me too. If you had your own recipe for let's say zucchini lemon poppy seed bread you could use that, just fill to 3/4 way full.
Mix batter as directed
Spray your 6 c. bundt pan (this is the size you'll need to fit)
Spoon batter until pan is 3/4 full
Cover with foil
Use a trivet on the bottom of your pot and surround with 1.5 c. of water
Lower pan with batter on top of trivet
Close lid and steam valve and set for 25 minutes
Allow to naturally release
Lift out and allow to cool completely on a wire rack
Flip over on to plate and enjoy or pour melted vanilla frosting on top. It is easiest if you loosen the sides just a bit with a knife, put the plate on top and grab both sides. Gently flip upside down and lift the pan off of the top.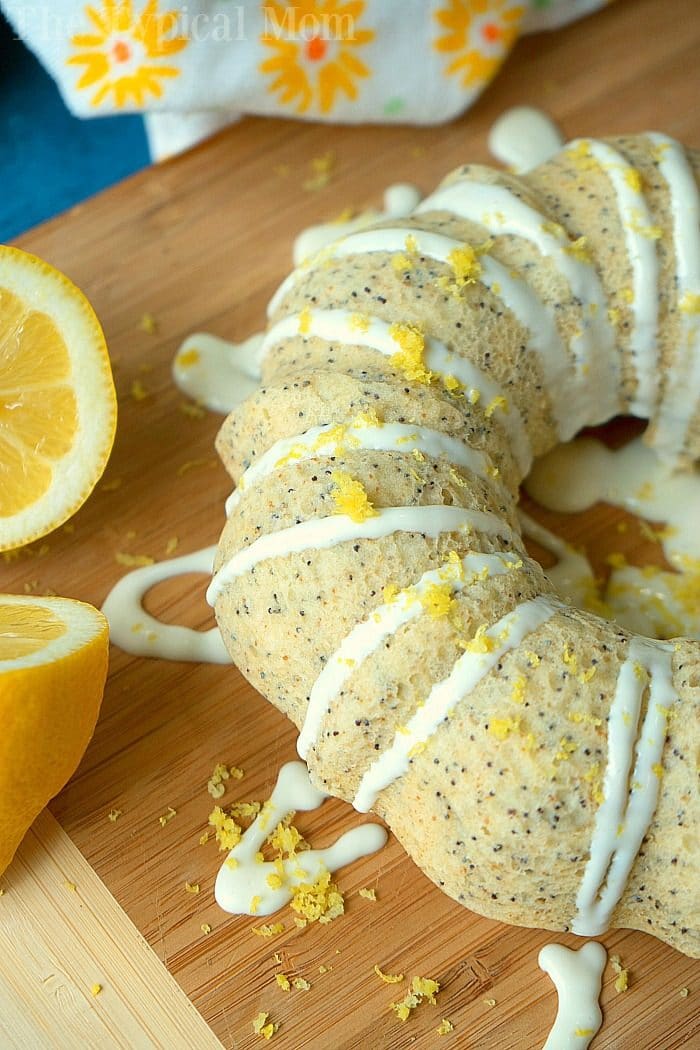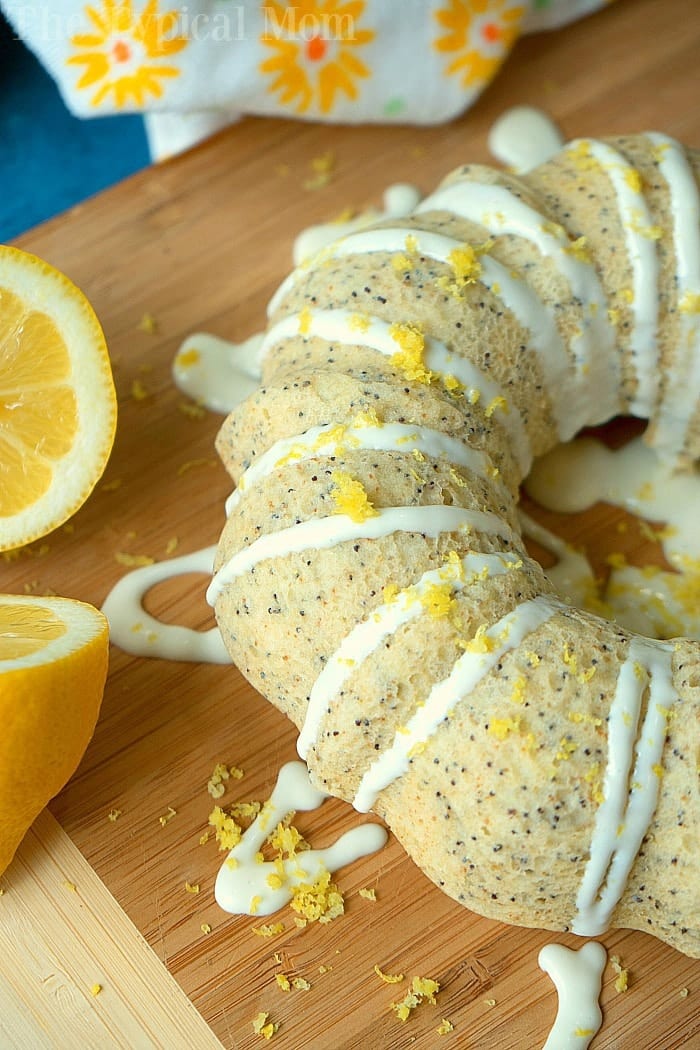 Lemon Poppy Seed Bundt Cake
Sometimes I even add some Strawberry Lemon Collagen Beauty Water into my Instant Pot lemon poppy seed cake. It provides a bit of a vitamin boost you need to support healthy hair, skin and nails with a sweet taste. That is totally up to you.
Of course it is yummy in a glass of cold water too and gives it a cool lemony strawberry flavor. Thinking outside of the box you can add it to a batch of cupcakes, or a even a jug of homemade fresh squeezed lemonade!
As I've gotten older I will say that I need all the help I can get for my hair and nails.After 3 kids, stress, and just the business of life they have definitely paid the price. Even my hair dresser has noticed a difference in the past year. She's the one who recommended I include collagen in my diet.
THIS is an easy way to get the extra BOOST we all need in just one little scoop. It can be used in a multitude of ways like this one……
Pressure Cooker Lemon Poppy Seed Bread
You can try our lemon Bisquick muffins, lemon crinkle cookie recipe or copycat Starbucks lemon loaf next baked in the oven for a quick treat. Or there are even other ways to bake you may not have thought of either!!
Yes you can "bake" air fryer lemon poppy seed bread just the same as our air fryer zucchini bread. Use the same temp and timing but this batter in small loaf pans like we used in that style.
You seriously have to give this a try! Make it for brunch when people come over, for breakfast or a dessert too. If you do have leftovers you should keep it on your counter to stay moist. Wait until it is cool, then wrap in saran wrap or foil and slide into a freezer bag. Only slice what you will eat at that time ideally. If you are going to save some I recommend leaving the glaze on the side as it will stick.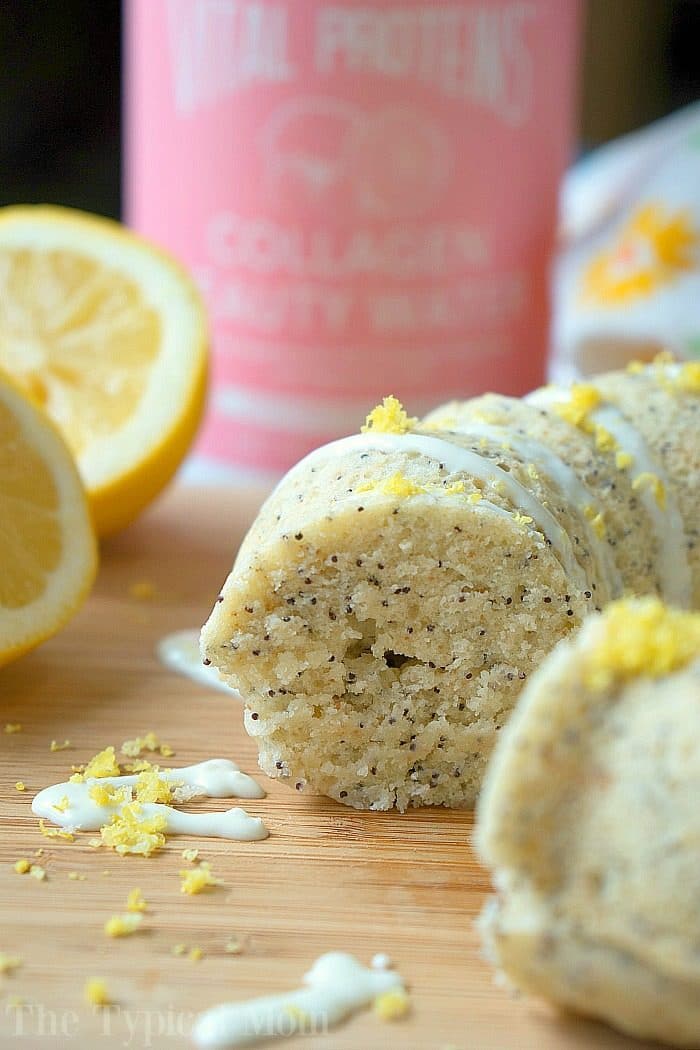 Want to see a few of my favorite things that I am totally obsessed with?? Take a peek and see how many you might already have…twinsies!
Looking for more easy family recipes and tips? LIKE The Typical Mom Facebook page?
Then sign up for my free newsletter, and follow me on Pinterest! 😉
***** If you LOVED this recipe give it 5 Stars below and let everyone know what you thought about it. 😉
Instant Pot Lemon Poppy seed Cake
This Instant Pot lemon poppy seed cake is so simple to make and a perfect breakfast or brunch treat! A moist dessert with an added vitamin boost inside too!
Instructions
Put flour, baking soda and baking powder in a bowl and mix.

In another bowl add softened butter, sugar, egg, yogurt, vanilla and lemon juice. Use a mixer on low to mix.

Slowly add dry ingredients into wet ingredient bowl and mix on low until well combined.

Fold in poppy seeds and 1 scoop of Vital Proteins if you're adding that.

Spray inside of 6 cup bundt pan.

Spoon mixture in to your bundt pan, spread evenly (do not fill more than 3/4 full).

Put a trivet or small glass cup/bowl at bottom of Instant Pot.

Pour in 2 cups of water around the bowl

Fold another pc. of aluminum foil diagonally like a bandana to make a sling for the bundt pan, place underneath so there are handles to lift it in at the top sides.

Place bundt pan on top of trivet and closet lid.

Set Instant Pot or pressure cooker to manual, pressure, high, for 25 minutes.

Allow to naturally release.

Lift lid and remove foil from bundt pan.

Take out of Instant Pot and let it set until it cools a bit.

Carefully flip over on to a cutting board or cake plate.

Warm a bit of vanilla frosting or combine a bit of water with powdered sugar to make a frosting.

Drizzle on top, add lemon zest on top if desired.
Nutrition Facts
Instant Pot Lemon Poppy seed Cake
Amount Per Serving (8 oz)
Calories 180
Calories from Fat 63
% Daily Value*
Fat 7g11%
Cholesterol 37mg12%
Sodium 86mg4%
Potassium 119mg3%
Carbohydrates 25g8%
Protein 3g6%
Vitamin A 220IU4%
Vitamin C 0.7mg1%
Calcium 69mg7%
Iron 1mg6%
* Percent Daily Values are based on a 2000 calorie diet.