Easy Instant Pot tapioca pudding recipe that takes less than 15 minutes and requires less work than on the stovetop. Great pressure cooker tapioca pudding.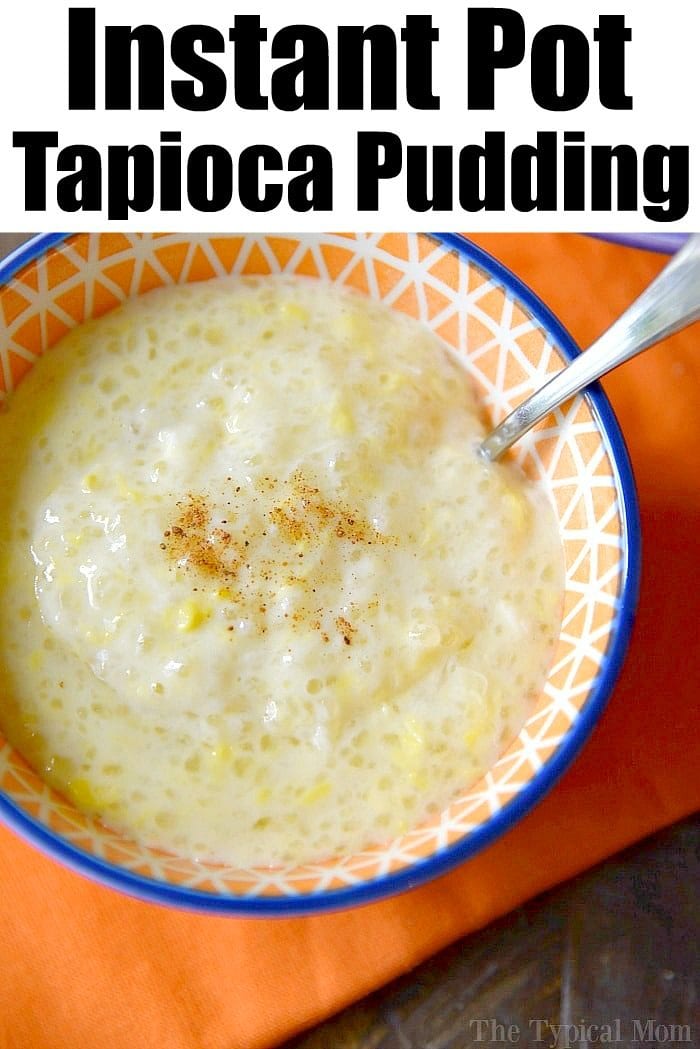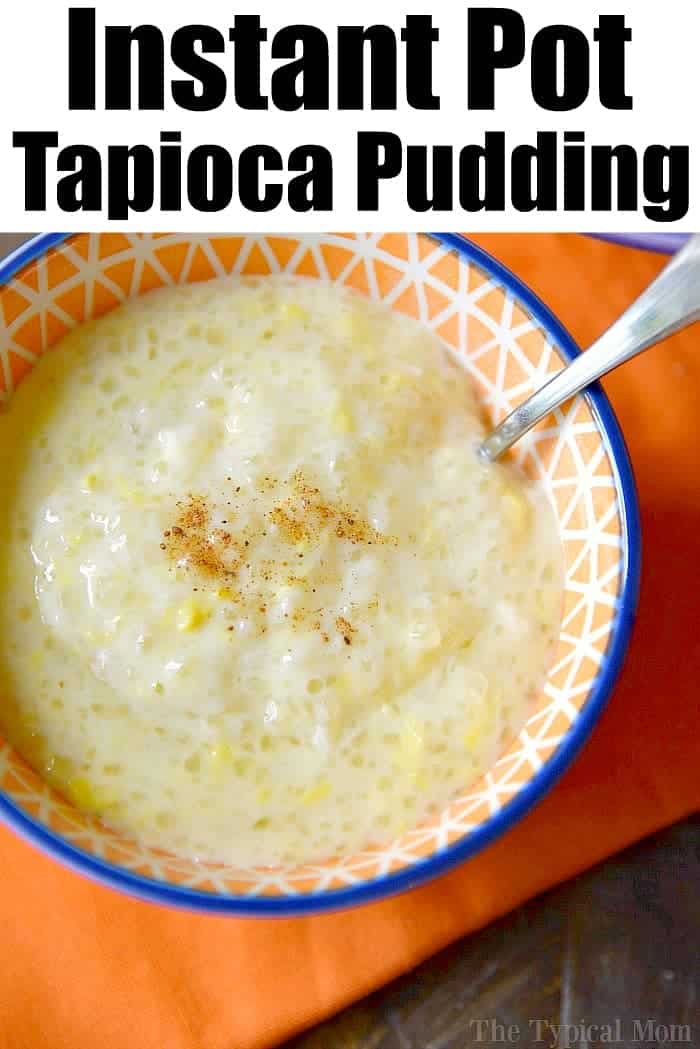 Yes we are back with this easy Instant Pot tapioca pudding recipe, yet another favorite Instant Pot dessert recipe!  It came out fabulous and only took about 15 minutes! I grew up with tapioca pudding. It's now one of our favorites and added to the list Instant Pot recipes with many others you've got to try on our site. Let us know what you think! (originally published 2/17)
My oldest daughter asked after we made the most delicious Instant Pot rice pudding that we should figure out an easy Instant Pot tapioca pudding recipe too.
Tapioca pudding great either warm or cold in my opinion with just a dash of nutmeg on top. It's such a simple dessert really and mostly milk so I love that my kids like it (they aren't big milk drinkers anymore but this is a great way to get some into them).
If you've made tapioca on the stovetop you know that it's really milk, sugar, tapioca and an egg.
Making it in the Instant Pot is no different as far as the ingredients go, just of course the timing, the pan, and what settings to use is what you need to know.
If you've heard about Instant Pots but don't have one yet I share my love for them because it has really made dinnertime much easier in our house, and allowed us to eat together more often (the goal right).
With both of us working full time it's fabulous to be able to cook what would normally take a an hour or so for less than 20 minutes, seriously!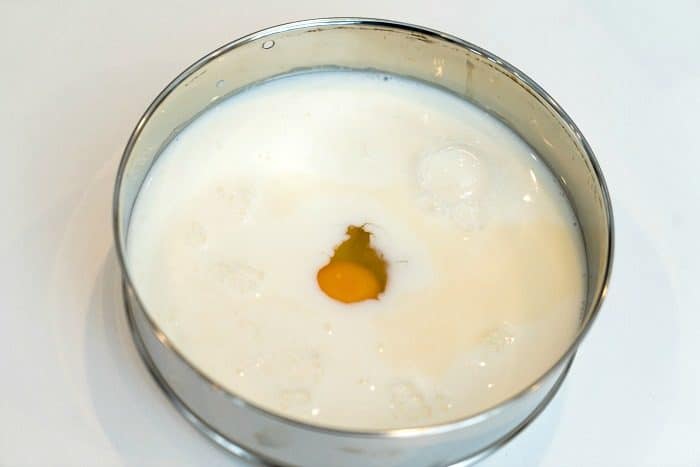 This is what you need to make this version of pot in pot Instant Pot Tapioca Pudding Recipe (another version below)
There are two ways, PIP (pot in pot) method is below and second way you put directly into your pressure cooker pot:
Pot for inside your IP to use the PIP (pot in pot) method for this – You MUST use this pot for it to work (sen below)
2 3/4 c. Milk
1 Egg
4 Tbsp. Tapioca – use Minute tapioca
1 Tsp. Vanilla
1/3 c. Sugar
This is an updated recipe as many people found the foil to not hold on tightly enough and it would spill over. Using the pans you see here for the Instant Pot tapioca pudding pot in pot method works if you put your pudding mixture in the bottom of the 2 containers and secure it tightly as you see here.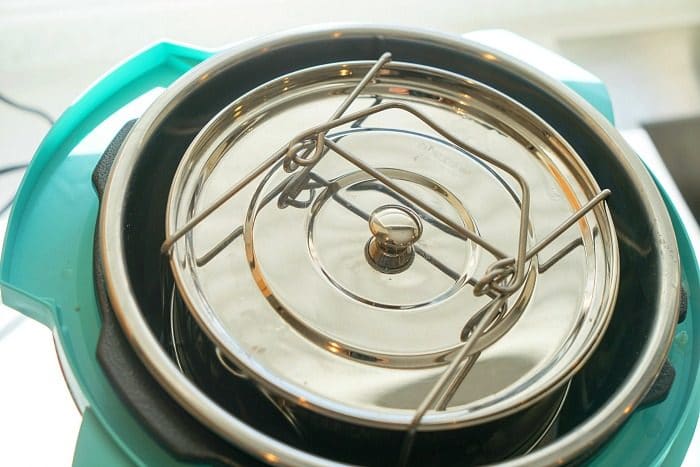 Directions for Instant Pot tapioca pudding recipe Pot In Pot method:
Pour 2 c water into your Instant Pot and put a trivet inside
Add the sugar, vanilla, milk, and Minute tapioca into the BOTTOM of the 2 stackable pots
Add an egg and whisk together for 1-2 minutes so all of it is combined well & sugar begins to dissolve
Put the top pot on top of your lower filled pot
Put the lid on the top pot
Secure the locking device so both pots are tightly together
Lower your pot on to your trivet, must be low trivet so lid will shut
Put your lid on and close your steam valve
Put your IP on manual, pressure high for 5 minutes.
Do a natural release for 4 minutes before releasing steam
Pour Instant Pot tapioca pudding in your bottom bowl/container into a separate cool bowl
Put bowl in fridge, it will continue to thicken as it cools
Here is the second way to make Instant Pot tapioca pudding making it right in your Instant Pot (I prefer this method).
Video is here and full recipe is in recipe card below:
Add pearl tapioca right into your pot with some water (exact directions below in recipe card)
After that has cooked you switch to saute and add a mixture of milk and egg yolks
Then add your sugar and stir until dissolved
Add a bit of vanilla
Remove pot and serve!!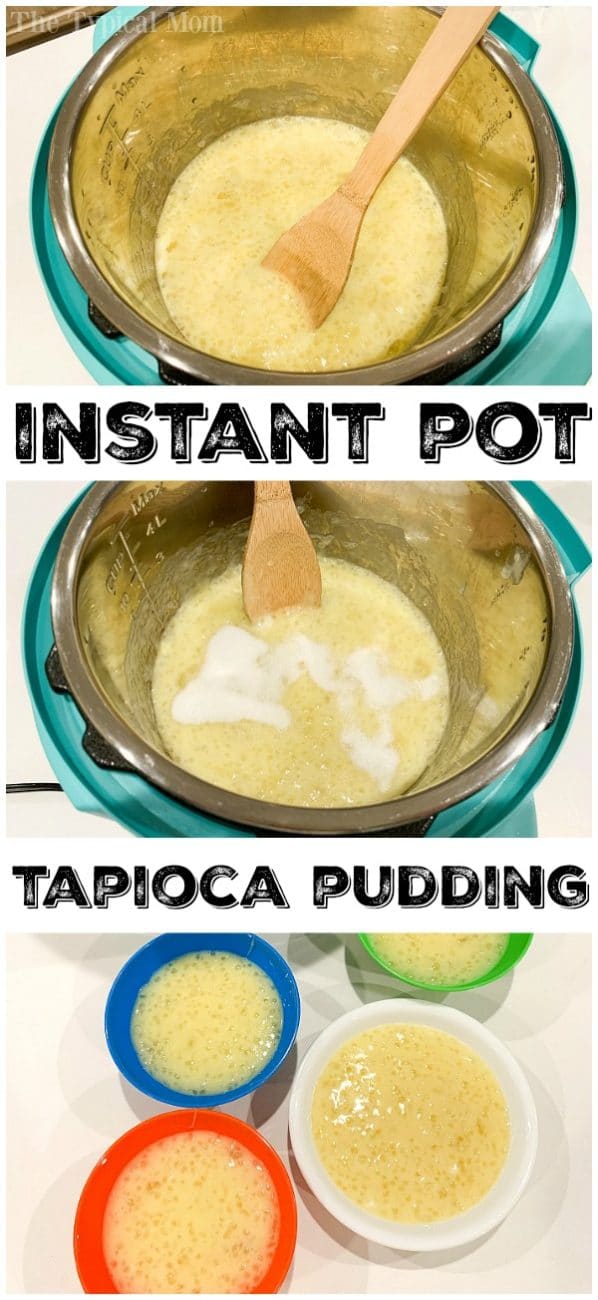 Optional items are a dash of cinnamon inside or on top of your Instant Pot pudding, nutmeg is good too, and a few raisins has been a favorite topping too.
Looking for more Instant Pot dessert recipes?
Here is the recipe for making tapioca in your Instant Pot.
Instant Pot Tapioca Pudding Recipe
Easy Instant Pot tapioca pudding recipe that takes less than 10 minutes and requires less work than on the stovetop. Great pressure cooker tapioca pudding.
Ingredients
1/2

c

milk

whole is best if you can find it

1/2

c

sugar

white sugar

1/2

tsp

vanilla

or a bit more depending on your taste

1/2

c

tapioca

not Minute tapioca

2

egg yolks

2

c

water
Instructions
Add tapioca pearls and water into your Instant Pot (directly inside, this is not the PIP method that is above). Stir

Close lid and steam valve and set to pressure high for 5 minutes, allow to naturally release pressure for about 4 minutes when done, release remaining steam, then carefully lift lid. (sometimes during the 5 minutes a bit steam continues to come out and it doesn't completely seal but that is ok, it will still be fine)

Turn pot OFF using the cancel button (important step so you don't get the burn notification).

Whisk together your egg yolks and milk in a small bowl and turn your pressure cooker to saute.

Slowly pour the egg/milk mixture in stirring consistently so the egg cooks and pudding doesn't burn. (I like using a wooden spoon during this process)

Slowly sprinkle in sugar and stir consistently until dissolved.

Turn pressure cooker off and remove pot so it doesn't continue to cook.

Slowly stir in vanilla and pour pudding into smaller bowls.

Allow to cool and then put into fridge to thicken up more (or eat immediately if you prefer).
Nutrition Facts
Instant Pot Tapioca Pudding Recipe
Amount Per Serving (3 oz)
Calories 213
Calories from Fat 27
% Daily Value*
Total Fat 3g 5%
Cholesterol 100mg 33%
Sodium 24mg 1%
Potassium 50mg 1%
Total Carbohydrates 43g 14%
Protein 2g 4%
* Percent Daily Values are based on a 2000 calorie diet.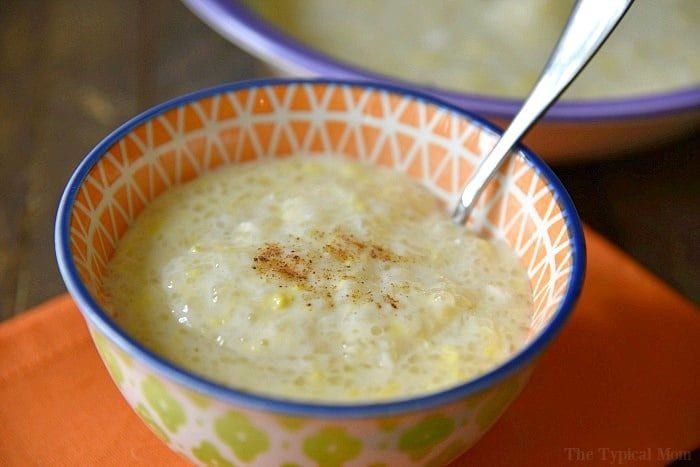 For more easy recipes, tips and free printables please LIKE The Typical Mom on Facebook and follow me on Pinterest! You can also sign up for my free weekly newsletter which is packed with goodies I know you'll love. 😉