This Instant Pot pork stroganoff recipe is delicious! Filled with moist pork tenderloin and veggies with a warm creamy sauce on top, you're sure to love it!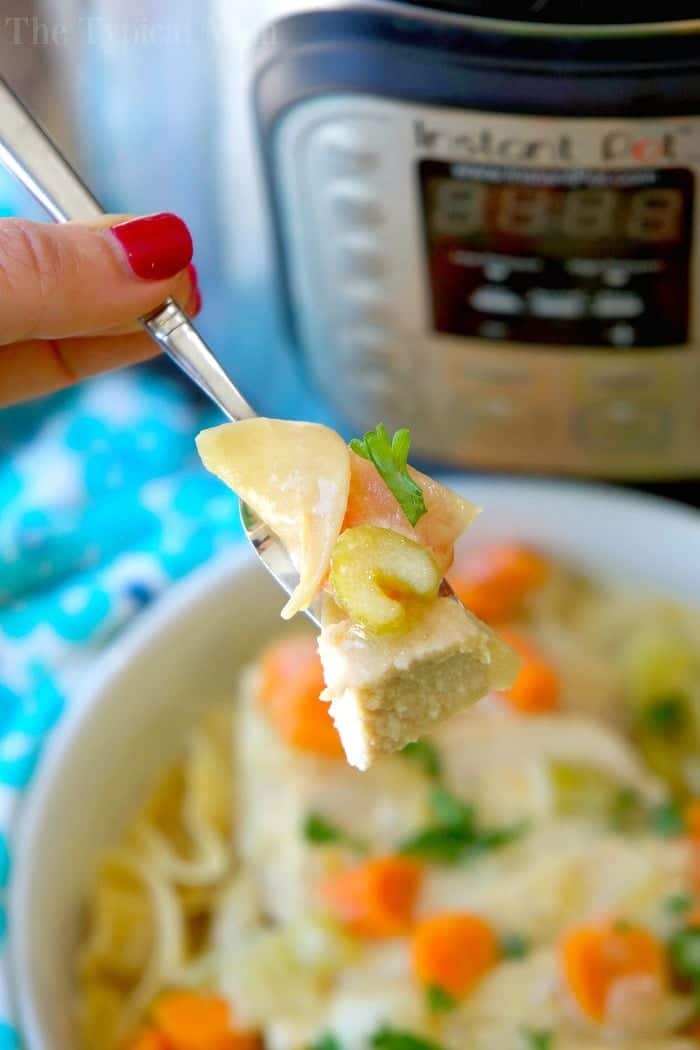 So you've probably had beef stroganoff before, but pork is wonderful too! The whole idea of any stroganoff really is a feel good comfort food. The tenderest of meat, vegetables, and a warm creamy sauce to cover it all. With a bit lighter flavor than your typical beef stroganoff, this easy Instant Pot pork stroganoff recipe is sure to make you want seconds! Use whichever vegetables are your favorites. What's in season is best, but carrots and celery are great choices available year round. Let me show you how to make one of our favorite Instant Pot recipes! Special thanks goes out to GROHE and Millennial Blogs for sponsoring this post. 😉 (originally published 8/17, affiliate links present)
Here's how easy this is to make!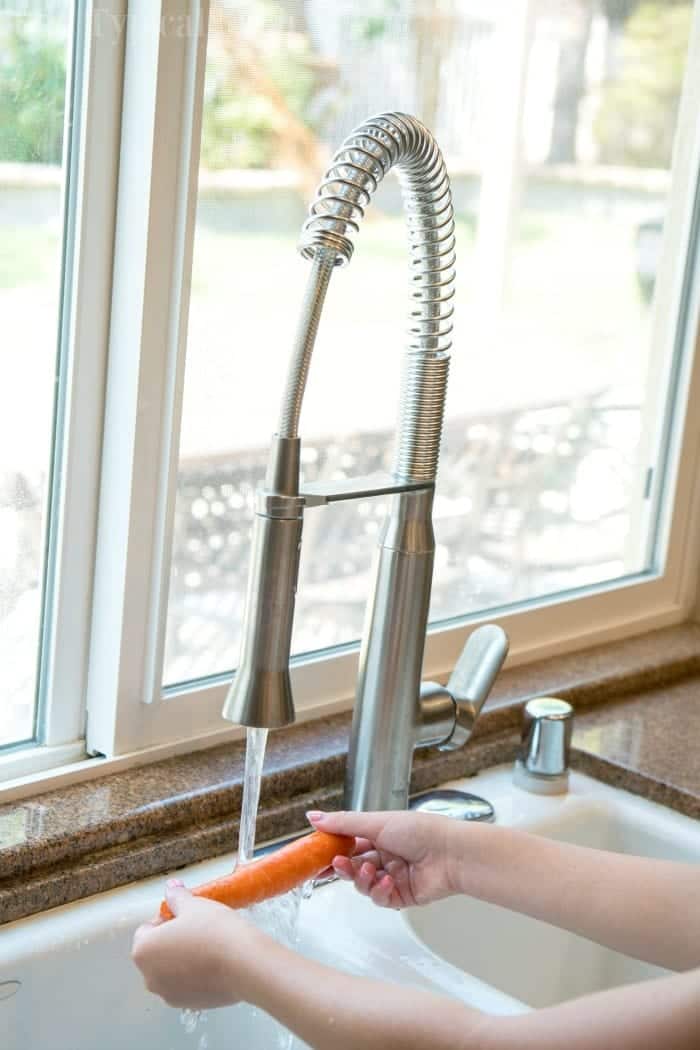 First start by rinsing the vegetables you're going to use. Like I said we used carrots, celery, and an onion. I like to involve my kids in the cooking process because it is an important life skill in general. I've found over the years that they are much more experimental in the foods they'll eat if they can say "I cooked it myself".
Rinse, peel the carrots, and dice them up so they get nice and tender when making our Instant Pot pork stroganoff recipe.
Having a sink the kiddos can reach is great too. GROHE faucet fits that bill but it goes a step further by offering a K7 foot control foot sensor too. Hands off and the water turns off here!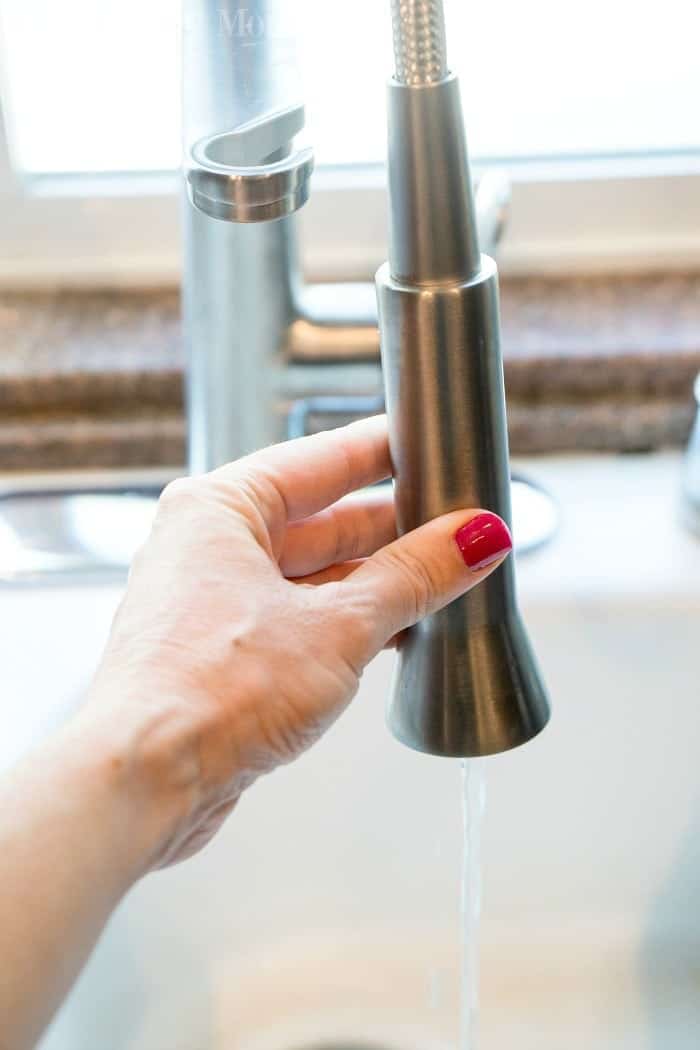 Not only does this foot controlled technology make cleaning easier but it's so pretty too. Ok, yes that is important when you're a mom. 😉
You can find this K7 Semi-professional kitchen faucet in a Supersteel model (seen here). But it comes in Chrome too so you can match the design of your home.
Anything that makes my busy (and messy) life easier gets two thumbs up by me. 😉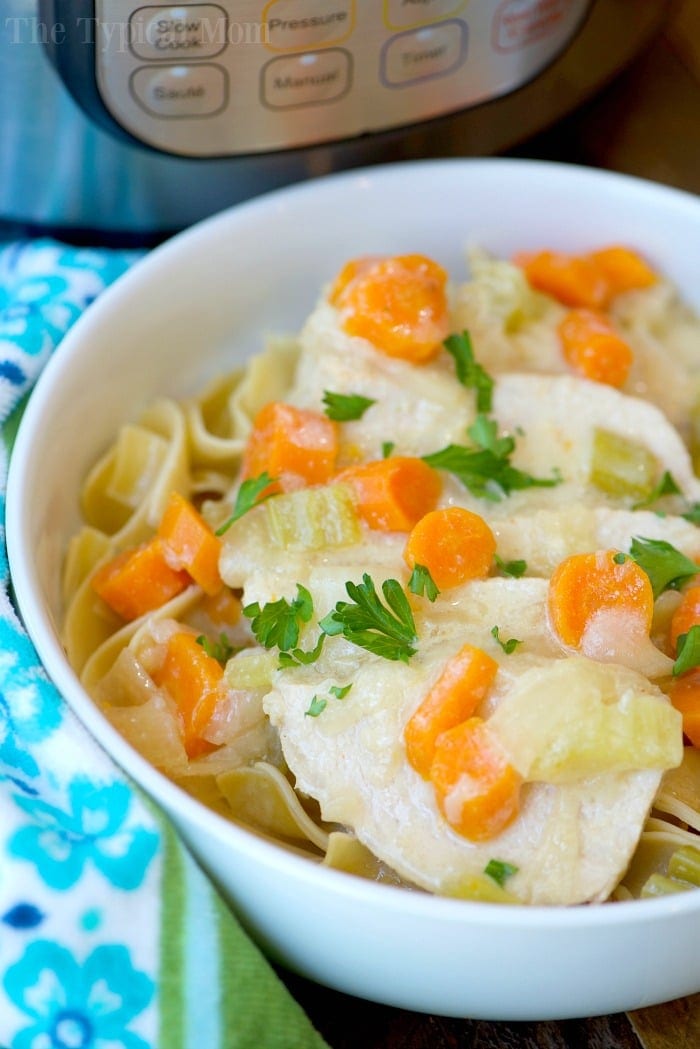 Once you're done rinsing and dicing you just sear the outside of your pork loin on saute, add your other ingredients, set the pressure and time and let it cook! I like really tender and juicy meat so I cut my loin into 4 equal pieces so when all the liquid is added the meat is almost entirely submerged in your pressure cooker.
I have cut it in half before too and it is wonderful, but smaller pieces yield a more tender flavorful slice of meat.
Cut it up into bite size pieces, or slice as you see here, serve on top of either rice or butter noodles (our preference), and pour the sauce right over. It is up to you how thick you want your stroganoff sauce, we like it kinda' in the middle, not too thin or thick.
Adding more cornstarch at the end to your broth will thicken it up to the consistency you desire.
Then…enjoy!!
Give it a try yourself. Involve your kids in the cooking process too, they'll love it!
Washing and peeling the carrots under your GROHE faucet are great tasks for them. I bet if they didn't like those veggies before, they might try them now that "they made it".
Let us know what you think of our easy Instant Pot recipe.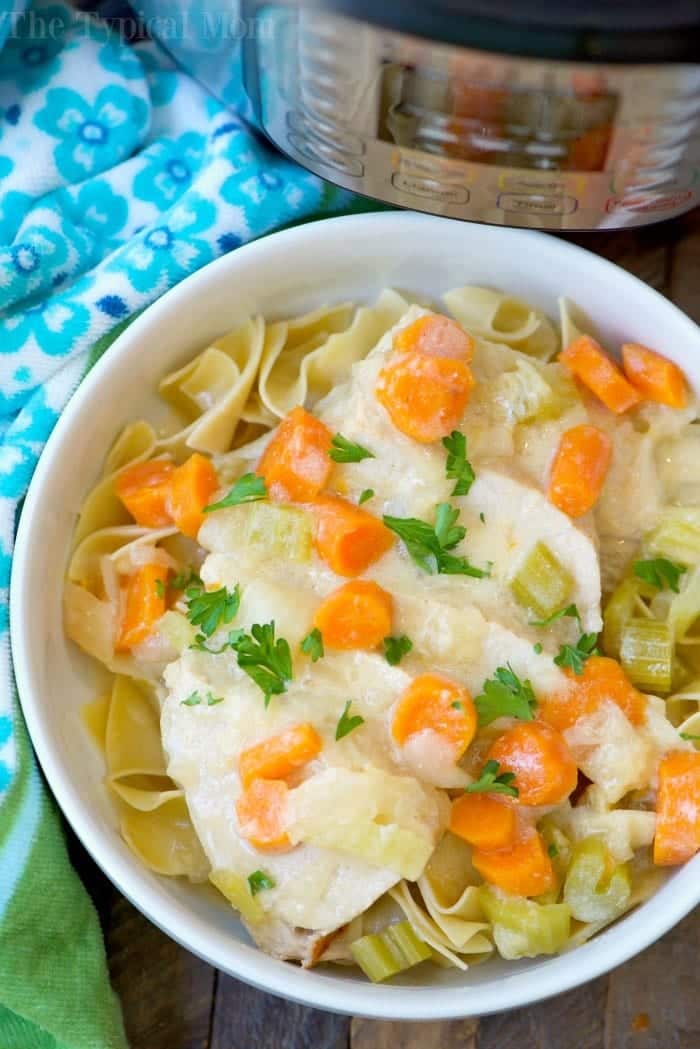 What you need to make pork stroganoff
Pork loin – cut into 4ths or sliced (thinner the more tender meat will be)
Onion
Celery
Carrots
Chicken broth – beef broth could be substituted
Sour cream
Dijon mustard
Cornstarch and/or flour
Egg noodles
Salt and pepper to taste
Could add a tbsp of worcestershire sauce too
I chose to cook the egg noodles separately. Alternatively once the pork is cooked on high pressure and quick releasing you could add them then. Leave the liquid in there and gently submerge them. Close lid again and add 2 minutes cooking time. Then release pressure naturally for 3 minutes. Release any remaining pressure and they should be tender.
Continue on to step 9 from there.
Instant Pot Pork Stroganoff Recipe
This Instant Pot pork stroganoff recipe is delicious! Filled with moist pork tenderloin and veggies with a warm creamy sauce on top, you're sure to love it!
Instructions
Set Instant Pot or pressure cooker to saute low (or brown) mode.

Season pork loin, cut into 4 equal pieces and place inside Instant Pot. Flip and brown outside of loin pcs.

Add onion, cut carrots and celery.

Put 1 1/2 c. of your chicken broth into a small bowl, add flour and dijon and whisk together. Pour into your Instant Pot. Allow to bubble for a few minutes then add the other 1/2 cup of broth.

Put on lid, close steam valve, and set to pressure, manual, high, for 18 minutes (maybe 20 if your loin is on the larger side).

Move steam valve just slightly to slowly release the steam and carefully lift the lid.

Put some hot broth into a bowl with sour cream and cornstarch and whisk together, then add into your Instant Pot.

Set to saute low again and allow to bubble. Add more cornstarch and hot broth into a bowl, whisk, and then empty in again if you want it even thicker.

Cook egg noodles on stove until done and slice your pork. Pour cooked noodles into pot with sauce, stir. Serve along side pork or with pork cut into pieces and mixed in with noodles!
Nutrition Facts
Instant Pot Pork Stroganoff Recipe
Amount Per Serving (8 oz)
Calories 626
Calories from Fat 171
% Daily Value*
Fat 19g29%
Cholesterol 256mg85%
Sodium 545mg24%
Potassium 1649mg47%
Carbohydrates 20g7%
Protein 86g172%
Vitamin A 5285IU106%
Vitamin C 8.6mg10%
Calcium 68mg7%
Iron 2.7mg15%
* Percent Daily Values are based on a 2000 calorie diet.
For more easy recipes, tips and free printables please LIKE The Typical Mom on Facebook and follow me on Pinterest! You can also sign up for my free weekly newsletter which is packed with goodies I know you'll love. 😉