Instant Pot sloppy joes are easy protein packed meals even your kids will love. If you're looking for pressure cooker ground beef recipes, this is #1.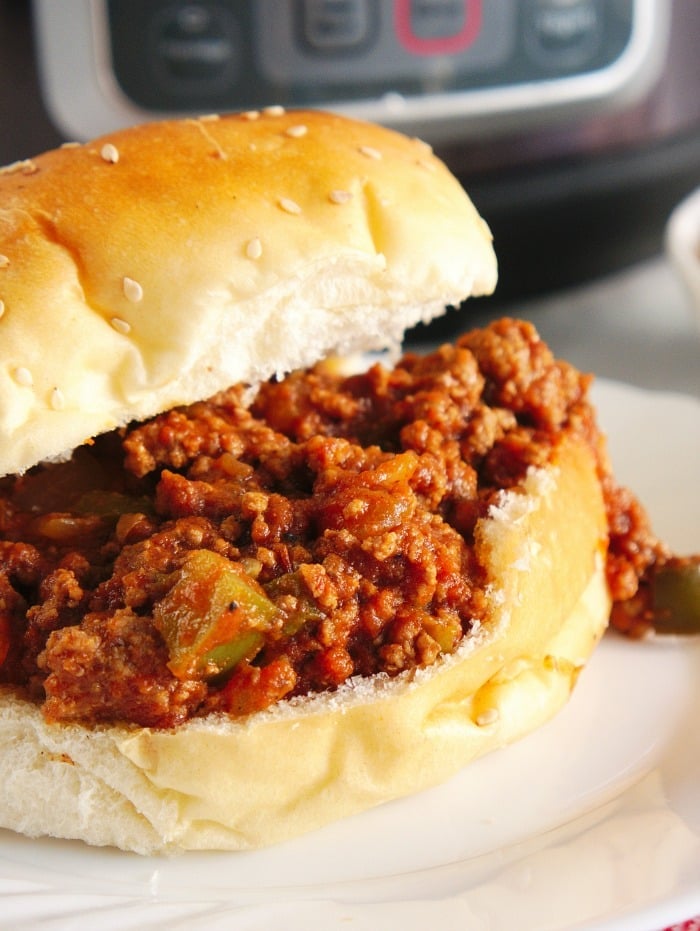 I'm all about easy ground beef recipes around here. They're cheap and everyone in my family loves them. Instant Pot sloppy joes are probably top on their list as far as dinner planning goes. I make them a few times a month at least. Looking for more easy Instant Pot recipes? We have hundreds here on The Typical Mom blog!
I made this easy sloppy joe recipe for years on the stovetop. Now it was time to use my new favorite kitchen appliance!
I tweaked it a bit adding bell peppers and a few other ingredients. Figuring out the timing was another step, but after a few batches we determined which was absolutely perfect so we could share it with you.
This is what you need to make Instant Pot sloppy joes:
Lean ground beef

or ground turkey if you wish

Bell peppers
Onion
Olive oil
Garlic
Tomato sauce
Salt and pepper
Worcestershire sauce

I've used soy sauce as a substitute at times

Tomato paste
Brown sugar
Mustard
Chili powder can add a bit of heat
Hamburger buns
I use a wooden spoon almost always as to not scratch my non stick pot. I love this recipe because it is super easy and there's tons of flavor when it's done.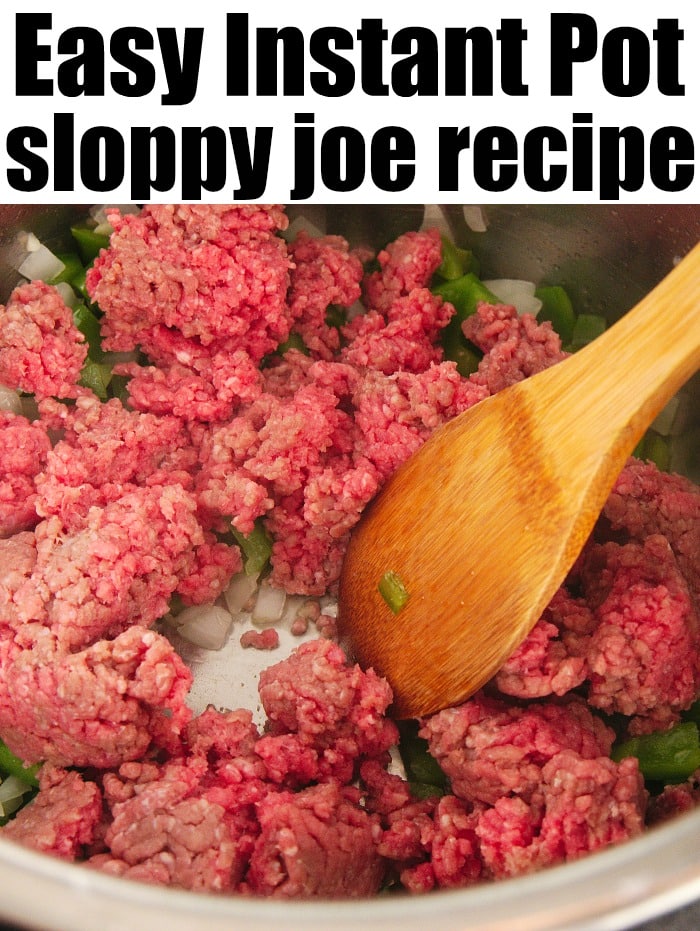 This is how I start cooking almost all of my Instant Pot ground beef recipes:
You need to add olive oil into your pot and set it to saute.
I add my ground beef and onions now. If you're including bell peppers now is a good time to add those too.
You want your veggies to soften and outside of your meat to no longer be pink. It doesn't need to be completely cooked through, just browned on the outside.
Stir occasionally throughout this step and turn your pressure cooker off once this stage is complete.
Do you drain the meat for sloppy joes?
This is totally up to you. Sloppy joes are an all American favorite meal prepared with ground beef, ketchup, tomato sauce, and a few other common ingredients. These delicious sandwiches are loose in their consistency and aren't intended to take shape like a normal hamburger.
I personally do not drain the grease. I feel it gives it a bit more flavor to leave it in and I use lean meats so there usually isn't much anyway.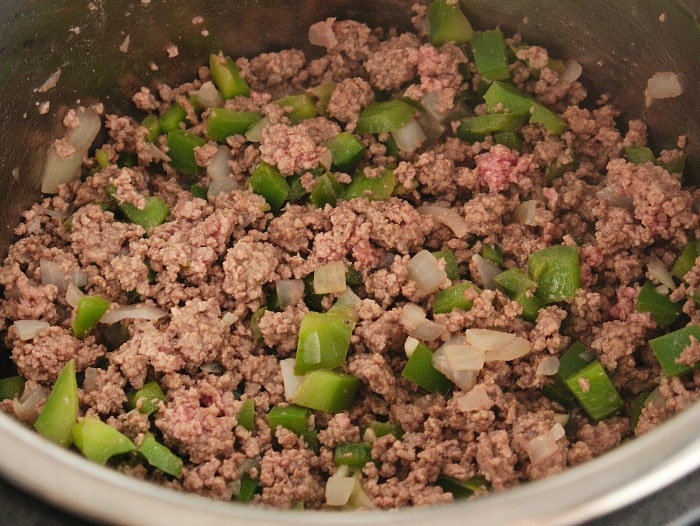 Now you're going to add all your other ingredients and pressure cook them all together. Lock the lid and close your steam valve for this step.
Cooking time for this stage is just 5 minutes on high pressure followed by a quick release.
Once you remove the lid, stir and you can serve from here!
I always unplug my pot when done because even though it is done cooking it remains on warm and can begin to burn the bottom if you don't.
Why are sloppy joes called sloppy joes?
According to stories, a cook named Joe at Floyd Angell's cafe in Sioux City Iowa added tomato sauce to his loose meat sandwiches and the term sloppy joe sandwich was created. The rest as they say is history!
Today there are TONS of varieties and ways to make these popular sandwiches.
You can add just about anything to them really!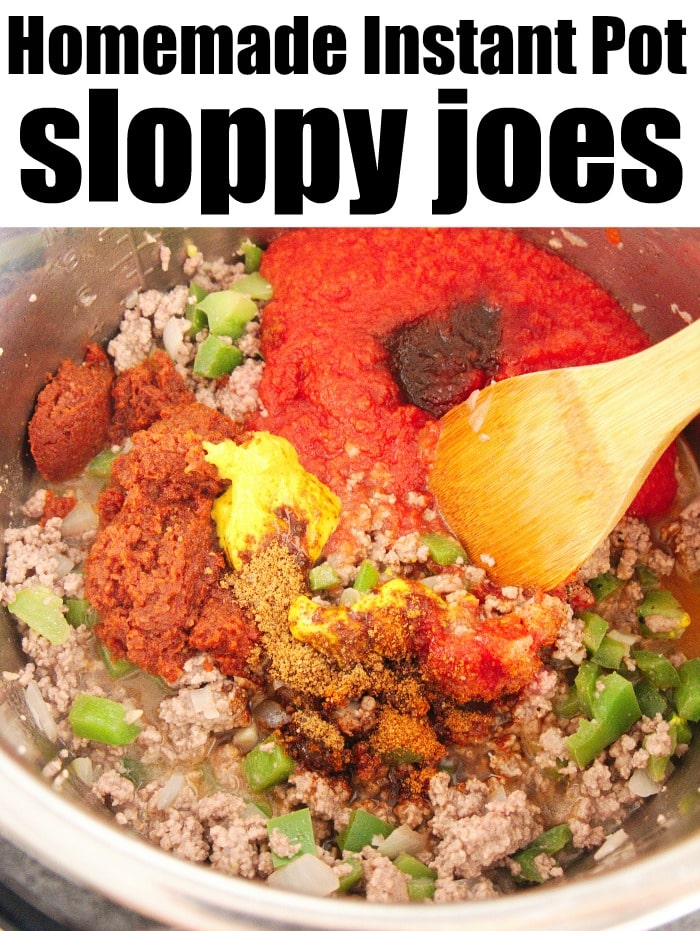 How do you make sloppy joe's thicker?
You can thicken sloppy joes with simple ingredients like a slurry of cornstarch and water. Typically you can have this meal ready in approximately 30 minutes total.
In a small bowl just whisk together a few tbsp. of cornstarch and water. Set your pot to saute, and add the cornstarch and water mixture. Stir, allow to bubble, and it will get thicker.
As it sits in the pot and cools it will thicken more as well.
Serving sloppy joes are typically served on hamburger buns. Use your imagination though! We have made Instant Pot sloppy joe casserole with noodles which was fun. You could even serve it over chips and call them sloppy joe nachos!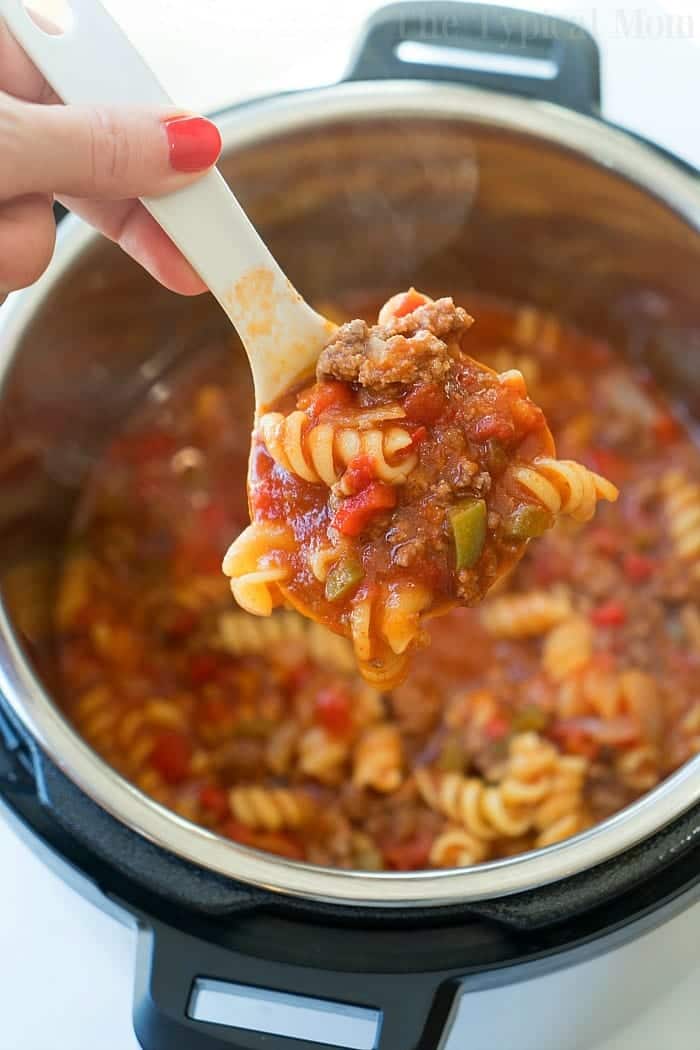 Other pressure cooker recipes you'll love:
This is just one of our favorite Instant Pot kids recipes. You can find a lot more on that post to enjoy with your family.
Instant Pot Sloppy Joes
Instant Pot sloppy joes is an easy protein packed meal even your kids will love. If you're looking for pressure cooker ground beef recipes, this is #1.
Instructions
Put pot on saute function. Add oil and once it is hot add your diced onions, bell pepper, garlic and saute for about 2 minutes to soften them slightly.

Add ground beef and cook until outsides are no longer pink, then turn pot off.

Add all other ingredients in the list inside the pot and stir together.

Put lid on and set to pressure high for 5 minutes. Allow to naturally release steam for 2 minutes, then quick release.
Nutrition Facts
Instant Pot Sloppy Joes
Amount Per Serving (3 oz)
Calories 265
Calories from Fat 171
% Daily Value*
Fat 19g29%
Cholesterol 54mg18%
Sodium 795mg35%
Potassium 531mg15%
Carbohydrates 9g3%
Protein 14g28%
Vitamin A 960IU19%
Vitamin C 32mg39%
Calcium 29mg3%
Iron 2mg11%
* Percent Daily Values are based on a 2000 calorie diet.