These 2 easy sloppy joe casserole recipes need just 5 simple ingredients! Delicious homemade sloppy joes in a casserole your whole family is sure to love!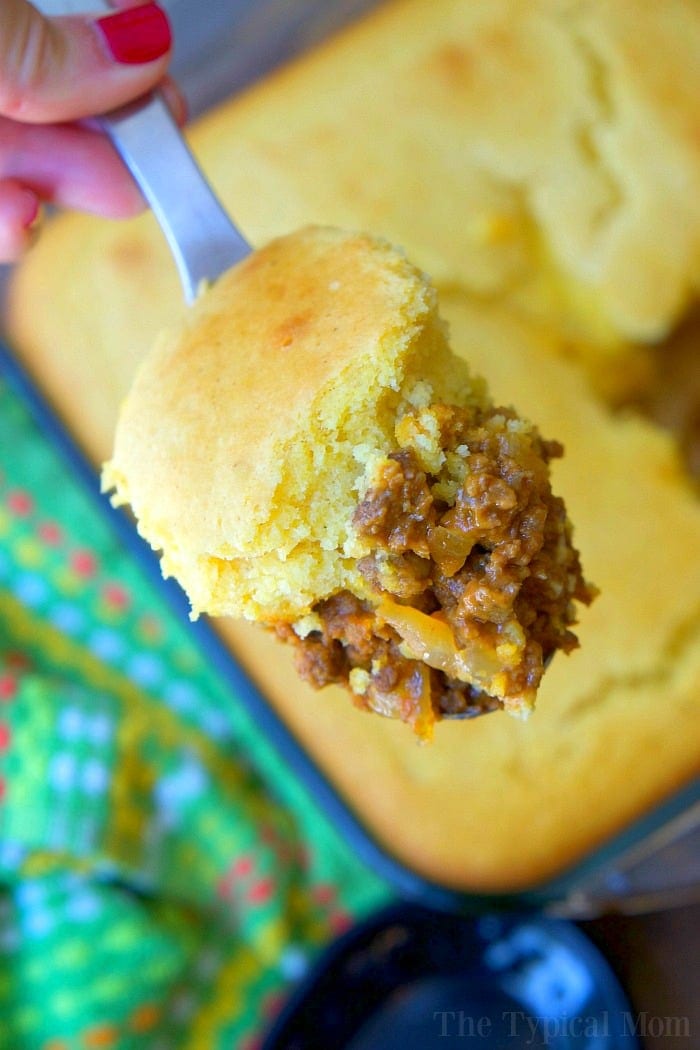 OH MY…..I have to share this easy 5 ingredient sloppy joe casserole recipe with you! Now about 2 years ago I went about making up my own homemade easy sloppy joe recipe using condiments I already had at home……we've never bought sloppy joe canned mix after that (so much better). This year I have been focusing on new crockpot and casserole meals that moms can throw together in 30 minutes or less and thought a sloppy joe casserole would be a great addition to our monthly meal planning rotations. (originally published 10/15, updated photos)
Sloppy Joe Cornbread Casserole
Doesn't it look good??!! I know your kids will love it. The way you make the meat is you mix in just 3 things: ketchup, mustard, and brown sugar.
To tell you the truth by now I just squeeze and throw these ingredients in until it has the right taste but if it is your first time making your own sloppy joes I will include the measurements I use below (approximately).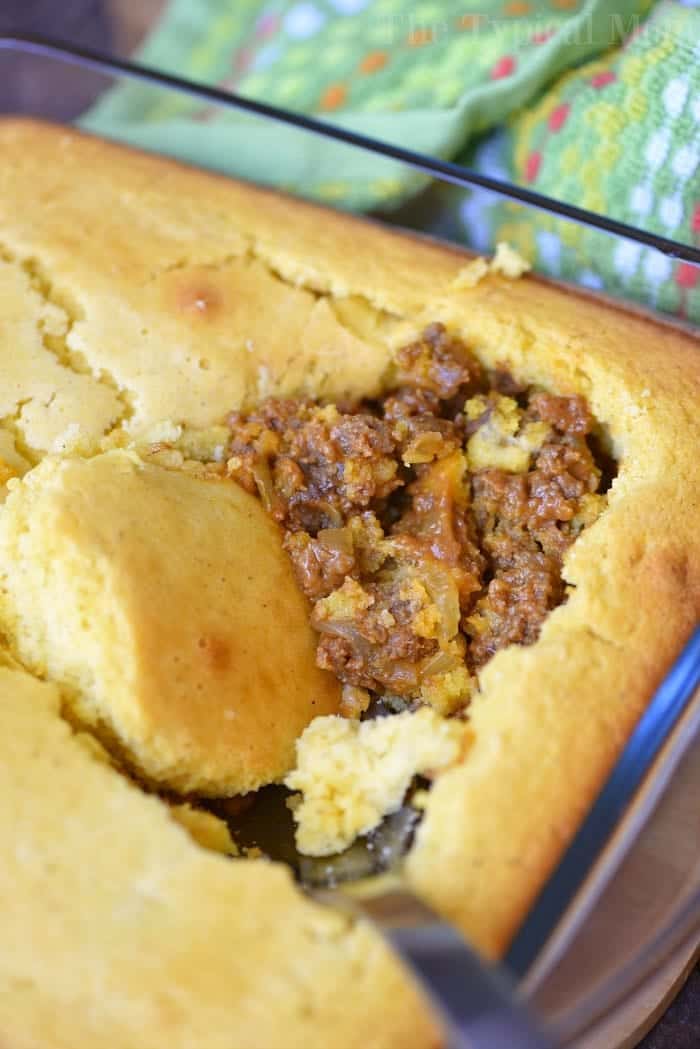 I have made this same easy sloppy joe casserole recipe using the meat mixture below and laying crescent rolls on top. It was gobbled up but this one turned out amazingly well using about 11 oz. of corn muffin mix.
If you are only using 1 lb. of ground beef you'll need to use an 8×8 baking dish, but could easily double it and use a 9×12 pan as well.
I'd use closer to 15 oz. (2 of these would work) of cornbread for that. The key is not making the cornbread mixture too thick on top or else the very middle (bread) won't get completely done. Not horrible, but that is what I have found to be true.
Any size you make it, everyone LOVES it!
Cornbread sloppy joe casserole
1 lb. ground beef
3/4 – 1 c. Ketchup
1/4 c Mustard
2 tbsp Brown Sugar
Instructions:
Brown the ground beef and onions in a pan on the stove
Once onions are softened turn your heat off
Add your ketchup, brown sugar, and mustard
Stir in well until combined (taste now and add more of this or that ingredient to make it the taste you desire)
Spray an 8×8″ pan with non stick spray and spoon in meat mixture
Use a separate bowl to make the Jiffy cornbread mix as directed on the box
Pour cornbread mixture on top of meat in pan
Put in the oven for the amt of time directed on your Jiffy cornbread box until top is golden brown
Serve…top with a bit of cheddar cheese when warm so it melts too…yum
Sloppy joe casserole
When I serve it I like to put a little dollop of sour cream on top of the scoop, and even a few green onions diced if I have them. For added flavor add a small can of chiles into your cornbread mixture too! YUM!!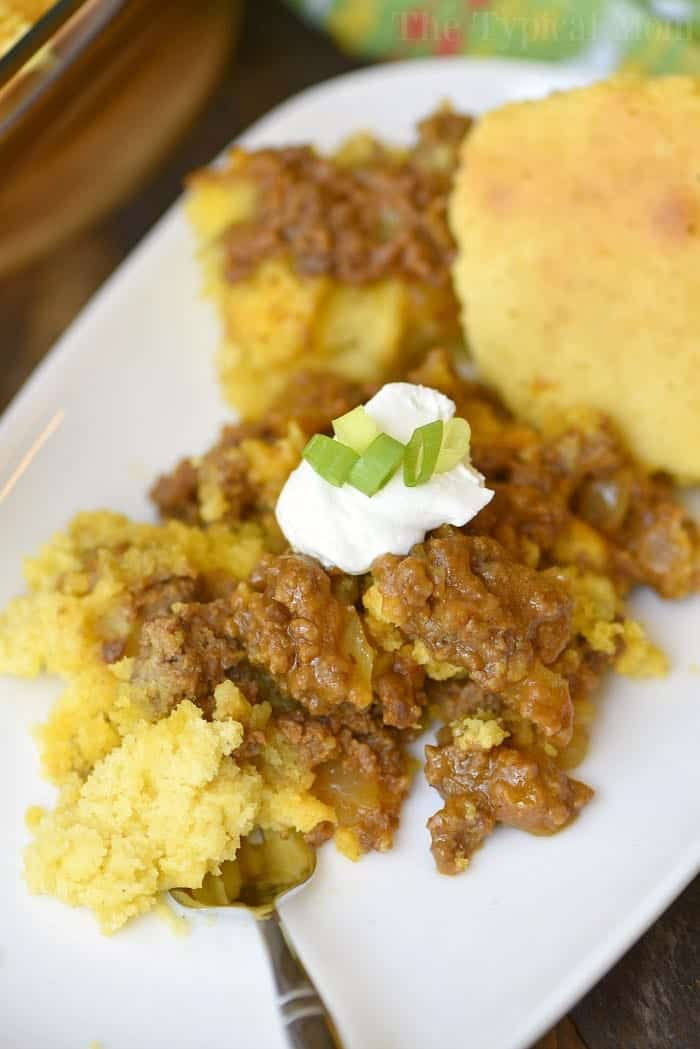 Here is the second recipe for an easy sloppy joe casserole using noodles that varies slightly from the one above, tastes a bit different, but is really yummy!
More like a traditional recipe using noodles and serving more people than the one above it is easy to throw together, and I use a canned sloppy joe mixture for this one to make it even easier…it's really cheesy too!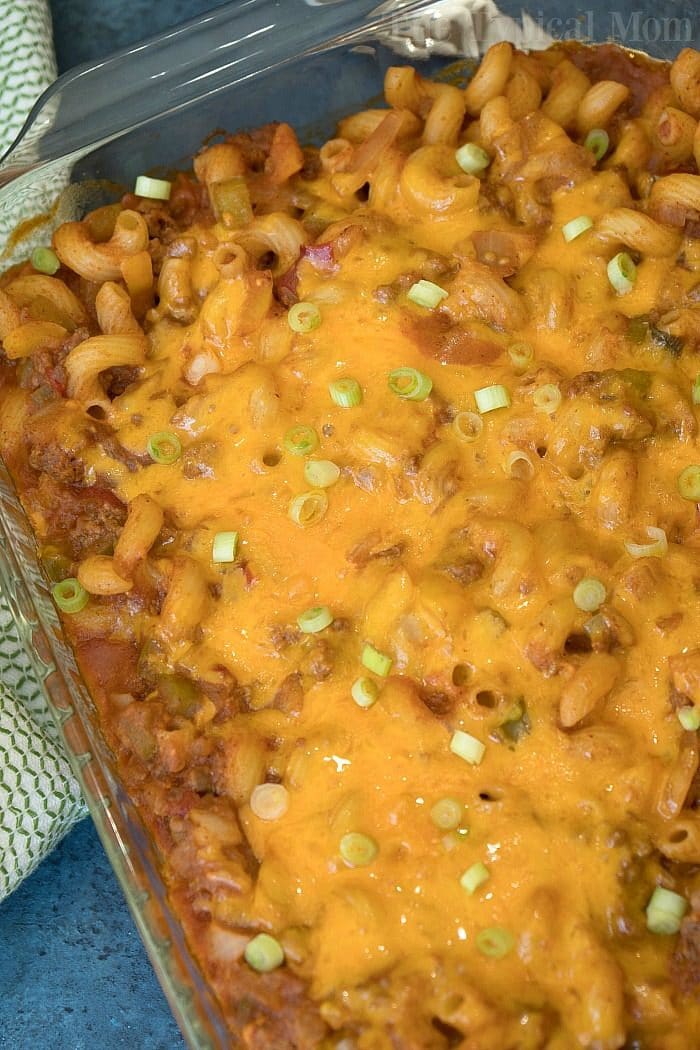 If you are looking for a traditional sloppy joe taste but tweaked a little bit I would try this type of sloppy joe casserole recipe. It's ooey gooey with lots of cheese and kids love everything with cheesy noodles. I add diced bell peppers and onions as well to give it more texture and a lot more taste but of course you could omit if you chose to.
This is what you'll need for this recipe:
4 cups noodles, we used cavatappi
Ground beef
Cheese
Bell Pepper
Onion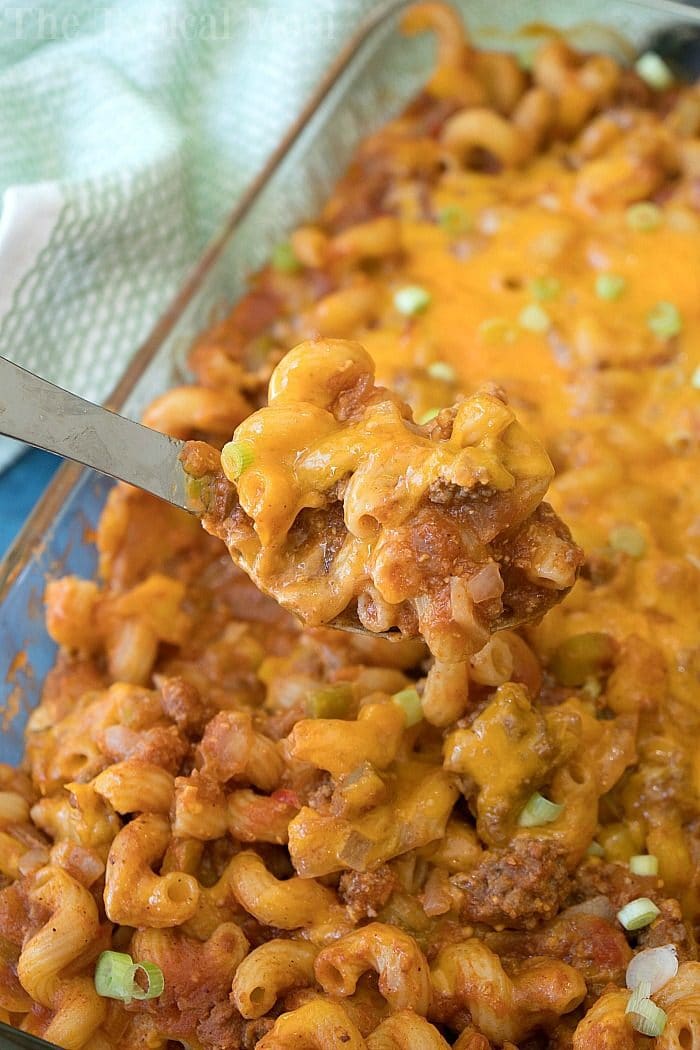 Here is the printable recipe for this sloppy joe casserole number two!
Sloppy Joe Casserole
These 2 easy sloppy joe casserole recipes need just 5 simple ingredients! Delicious homemade sloppy joes in a casserole your whole family is sure to love!
Instructions
Brown ground beef together with olive oil, diced onion and bell pepper until beef is browned and others are softened.

Boil noodles in another pot until al dente.

Pour Manwich in with browned beef mixture and stir

Pour al dente noodles in and stir until all noodles are coated with sauce

Add 1 c. shredded cheese in and slowly mix in

Pour mixture into a 13×9″ casserole dish covered with foil and put in oven for 25 minutes

Remove foil, sprinkle rest of cheese on top and put back in uncovered for 3-5 min. or until cheese is melted.
Nutrition Facts
Sloppy Joe Casserole
Amount Per Serving (4 oz)
Calories 438
Calories from Fat 216
% Daily Value*
Fat 24g37%
Cholesterol 70mg23%
Sodium 885mg38%
Potassium 711mg20%
Carbohydrates 31g10%
Protein 22g44%
Vitamin A 1300IU26%
Vitamin C 28.5mg35%
Calcium 239mg24%
Iron 3mg17%
* Percent Daily Values are based on a 2000 calorie diet.