Hey there, sweet-tooth friends! Today, we're turning up the dial on creativity and whimsy in the kitchen. I've got a cake mix recipe (turned into cookies) that's going to knock your cozy socks off and warm your heart: Bear Paw Cookies!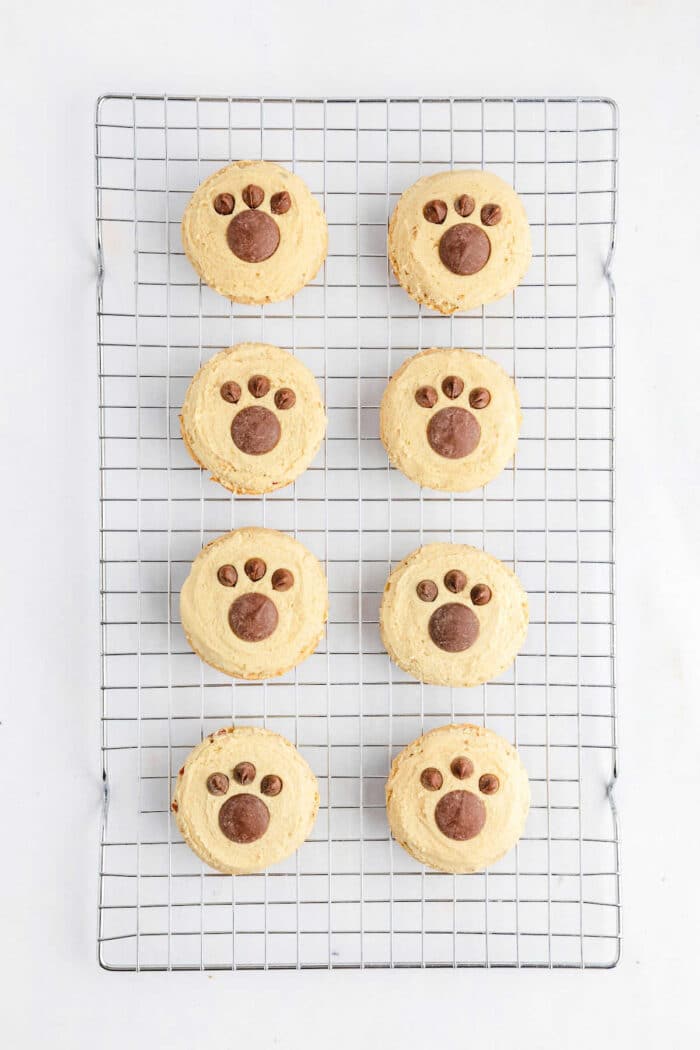 These aren't just any bear cookies, my friends. They're buttery, melt in your mouth cookies fashioned into adorable bear paws, complete with candy claws. As cute as our bear claw recipe with refrigerated biscuits, every bite is a sweet and easy to bake with your kids. These are where creativity meets deliciousness. (affiliate links present)
Polar Bear Cookies
Imagine taking a bite of a cookie so divine, it tastes like it was crafted by Santa's top chefs at the North Pole. That's what these Polar Bear Cookies feel like! A buttery base with a touch of pecan flavor, topped with a sweet, creamy frosting, and the cutest little chocolate paw prints. They are as easy to make as these Chocolate Brownie Crinkle Cookies and just as delicious!
The ingredients you will need are:
Cake mix used was butter pecan but could be made as yellow cake mix cookies too
Baking powder
Eggs
Unsalted butter
Pecans
Powdered sugar (not granulated sugar)
Cornstarch
Brown sugar
Maple syrup
Vanilla extract
Candy melts or chocolate melting wafers
Chocolate chips
No need for any fancy or hard to find items, everything is easily available at your local grocery store.
These Polar Bear Cookies can also be a great conversation starter about wildlife and conservation. While enjoying these treats, it could be an opportunity to discuss the importance of protecting our planet's diverse ecosystems, including the polar bear's Arctic habitat.
This way, you're not only making baking fun but also educational. And don't forget, you can easily adapt this recipe for other animals too. How about panda bear cookies using chocolate cake mix? The possibilities are endless when you bring creativity into your kitchen.
Bear Paw Print Cookies
Let's talk about the star of the show – the adorable paw prints! Using just a candy melt and three chocolate chips, you can easily transform a deliciously soft and chewy cookie into a delightful bear paw print. It's a simple touch that makes a big difference, making these cookies almost too cute to eat. (Almost but oh my that flavor!)
The key to a perfect paw print is the placement. The candy melt forms the pad of the paw, while the three chocolate chips create the little toes. Position them well on your frosted cookie to make the cutest bear paws! You can use dark chocolate, milk chocolate, semi-sweet chocolate, you choose! Don't you just love Christmas cookies? Try the Hershey Kiss Christmas Cookies (similar to peanut butter blossoms)! Love them!
Cake Mix Butter Pecan Cookies
This recipe is a fun way to get the kids involved in the kitchen, too! Their tiny hands are perfect for placing the candy melts and chocolate chips onto the cookies. Plus, what could be more exciting than turning ordinary cookies into bear paws?
It's like a little baking magic right before their eyes. It's not just about making cookies, it's about creating unforgettable memories with your little ones. Their delight in creating and eating these cookies might just make this recipe a new family favorite!
Can I use a different flavor of cake mix?
Absolutely! Feel free to substitute with vanilla, chocolate, or any of your favorite cake mixes in the mixing bowl. This recipe is quite forgiving and versatile, allowing you to customize it to your taste. If you really love making cake mix cookies, you'll definitely have to try these: Cake Mix Red Velvet Crinkle Cookies! They are divine!
Cookies made with cake mix can completely transform these Bear Paw Cookies into a whole new treat. Imagine the delectable taste of chocolate bear paws or the subtle sweetness of vanilla. You could even go bold with a strawberry or lemon cake mix for a fun, fruity twist. The key is to have fun and experiment. After all, the best recipes are born from creativity and a spirit of adventure in the kitchen. So, go ahead and use your favorite cake mix, and don't forget to share your delicious results!
Paw Print Cookies
The charm of these cookies is not just in their appearance, but also in their taste. The butter pecan cake mix gives these cookies an irresistible flavor that pairs beautifully with the sweetness of the frosting. But how do we turn a simple cake mix into delightful cookies? By the way, no cake mix? No problem! Try instead these Air Fryer Gingerbread Cookies! What? Really! They are so good!
First, we create a dough using the cake mix, some baking powder for a slight lift, melted butter for richness, and eggs to bind everything together. Grab a large bowl for this because you've got a lot to mix! To bring in the pecan flavor, chopped pecans are folded into the dough. After a short chill in the fridge, spoonfuls of this dough are placed on a baking sheet with parchment paper and popped into a 350°F oven for about 10 minutes.
Butter Pecan Cake Mix Cookies
Then, we move on to the frosting. Butter, powdered sugar, cornstarch, brown sugar, maple syrup, vanilla, and a pinch of salt are whipped together to create a sweet and creamy frosting that's just right. Once the cookies have cooled, they're frosted.
The fun begins with placing the candy melts and semi sweet chocolate chips to create those precious paw prints! Another cookie I love that uses candy is Stained Glass Cookies. They are ideal for St. Patrick's day parties!
A key tip for getting the perfect polar bear paw print is to allow the cookies to cool completely to room temperature before decorating. This ensures that the frosting doesn't melt and the candy and chocolate chips stay in place. It also gives you a clean canvas to work on, so take your time and have fun with it!
The great thing about these Paw Print Cookies is that they're perfect for all sorts of occasions. They're a hit at kids' parties, adorable at baby showers, and an absolute winner during the holiday season. They make a perfect project to involve little hands in the kitchen, sparking creativity and creating sweet memories. That's why I love printing out the recipe card and handing it around! Everyone loves it!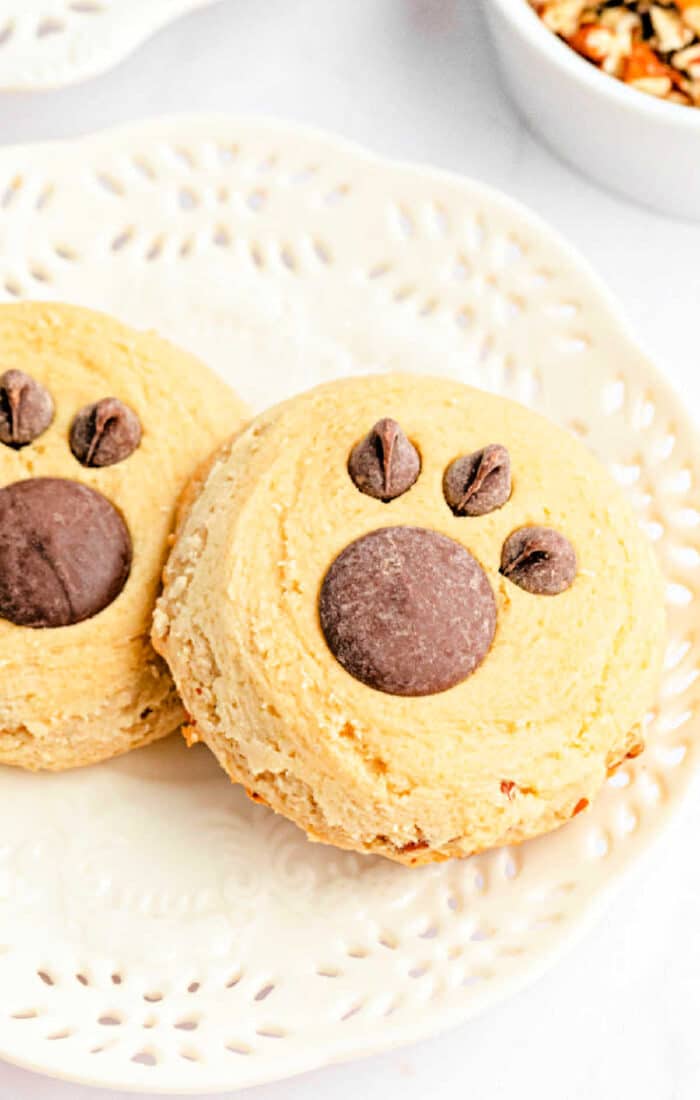 Bear Claw Cookies
So, there you have it! A fun, adorable, and oh so delicious cookie recipe that will wow your family and friends. Whether you're baking for a special occasion or simply looking for a fun weekend baking project, these Bear Paw Cookies are a must-try. From their buttery pecan flavor to their adorable paw print design, these cookies are a delightful treat that will bring a smile to anyone's face.
And remember, no matter how your cookies turn out, the joy is in the baking process and the love you pour into each batch. Because in the end, it's not just about making cookies, it's about creating memories. Happy baking!
Want to see a few of my favorite things that I am totally obsessed with?? Take a peek and see how many you might already have…twinsies!
Looking for more easy family recipes and tips? LIKE The Typical Mom Facebook page?
Then sign up for my free newsletter, and follow me on Pinterest! 😉
***** If you LOVED this recipe give it 5 Stars below and let everyone know what you thought about it. 😉
Bear Paw Cookies
Cake mix butter pecan bear paw cookies are easy to make with only a few ingredients. Polar bear cookies that are fun for kids to make.
Instructions
Preheat the oven to 350 degrees F. Line two baking sheets with parchment paper and set aside for later.

In a large mixing bowl, combine the butter pecan cake mix and the baking powder. Then add the melted butter and eggs and beat on low with a hand mixer until fully incorporated. You can alternatively mix everything with a rubber spatula if you do not have a mixer.

Fold in the chopped pecans. Cover and chill the dough for 30 minutes in the fridge. This step is optional and will help reduce spreading. Use a small cookie scoop or a spoon to drop 1 ½ tablespoon sized balls onto the baking sheets.

Space them a few inches apart to leave room for the cookies to spread. Bake at 350℉ for 8-10 minutes, until the tops are set and it reaches desired doneness. Allow the cookies to cool in the pan completely before decorating.

In a mixing bowl, beat the butter until smooth and creamy. Then add the powdered sugar and cornstarch a little at a time and mix until combined. Add the brown sugar, maple syrup, vanilla, and salt and mix again until well incorporated and you have a smooth, easily spreadable frosting.

You can add another tablespoon of cornstarch if you prefer a thicker frosting without adding more sweetness. Once the cookies have cooled, use a small icing spatula to frost about 1 tablespoon of frosting on each cookie.

Place one candy melt and 3 chocolate chips on top of each cookie to make bear paws.
Nutrition Facts
Bear Paw Cookies
Amount Per Serving (1 oz)
Calories 211
Calories from Fat 90
% Daily Value*
Fat 10g15%
Cholesterol 31mg10%
Sodium 229mg10%
Potassium 83mg2%
Carbohydrates 30g10%
Protein 2g4%
Vitamin A 224IU4%
Vitamin C 0.04mg0%
Calcium 80mg8%
Iron 1mg6%
* Percent Daily Values are based on a 2000 calorie diet.