This easy brussel sprouts in the oven is a perfect side dish with a tangy sauce that just makes these vegetables addictive enough to start loving brussels! We will talk about how long to bake brussel sprouts at 450 fresh, or how to cook frozen brussel sprouts this way too.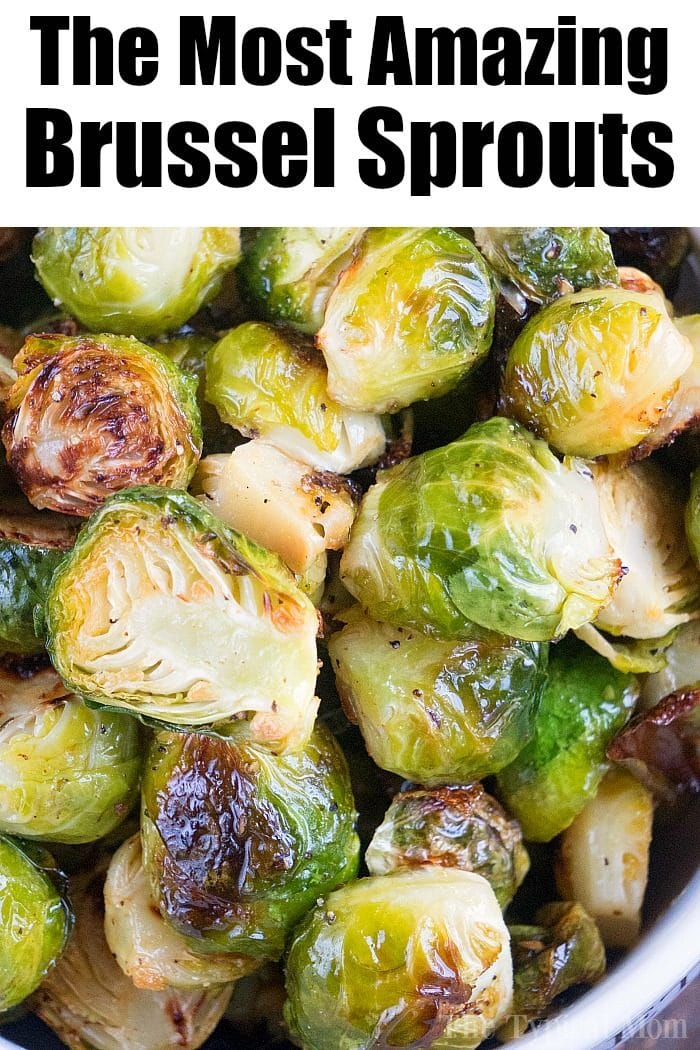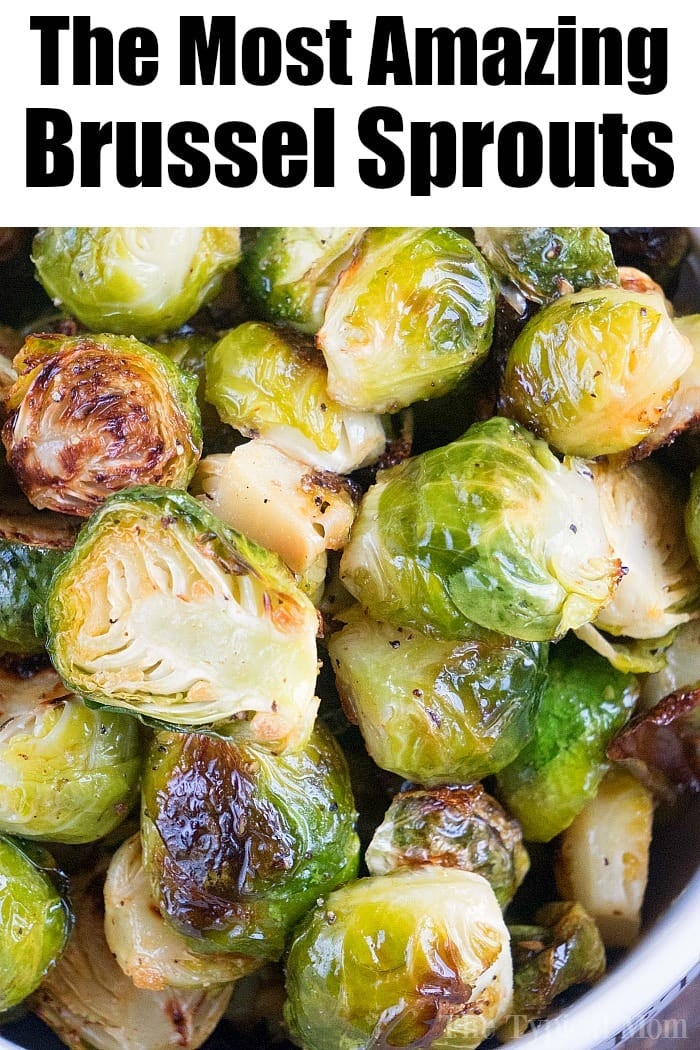 Not too sure about this controversial vegetable? We're here to change your mind with this easy brussel sprouts recipe with tons of flavor! If you want to try a new side dish this year I challenge you to try this. You won't be disappointed I promise. (affiliate links present, originally published 2/20)
Brussel Sprouts in the Oven
We first shared how to make Instant Pot brussel sprouts last year. Then air fryer brussel sprouts were over the top great. BUT if you don't have one of those you can make them just as delicious inside your oven.
If you aren't a believer yet we may transform your tastebuds with these! Live in snowy weather like we do and can't always find these fresh in your produce section? Us too. That is why we shared frozen brussel sprouts here too.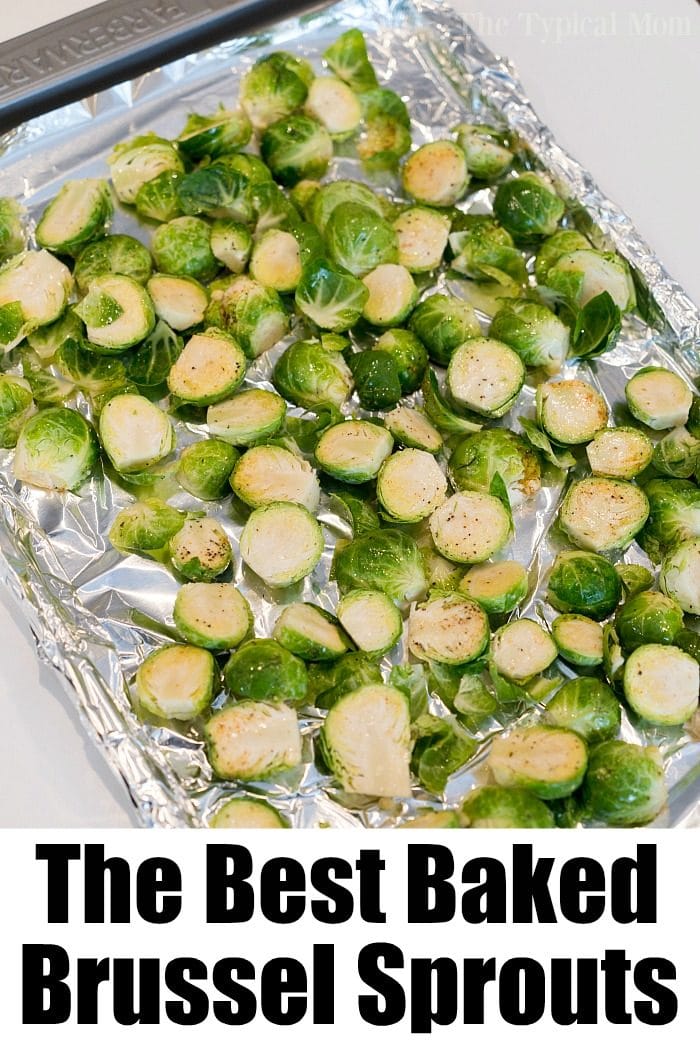 How Long to Cook Brussel Sprouts
That depends on the method you are using, I will share them all here. At 450 degrees baked you are looking at 18-20 minutes depending on how large they are. Yes, I am aware they're actually called the best brussels sprouts, with an s. Nobody really calls them that though so let's go with the every day pronunciation shall we.
They need to be tender but not soggy. There is a very fine line between the two so don't walk away when you're baking these.
You want a light golden brown on the top so you get the leaves a bit crispy, but not burned.
Adding butter and a bit of vinegar flavor after they're cooked gives it a punch at the end.
Season with salt and pepper of course. Add any other of your favorite seasonings you like on top of that.

A bit of heat with chili powder or dry Sriracha is a fave with some people.
I wrap my baking sheet in non stick aluminum foil too for an easier cleanup later.
Roasted Brussel Sprouts with Parmesan
As far as what to add to the top or seasonings for your roasted vegetables that is up to you. Balsamic vinegar works well, a squeeze of lemon juice is an easy one, and parmesan is one of our favorites.

How Long to Cook Sliced Brussel Sprouts in Oven
It doesn't take very long if you first slice them in half like this at the beginning. If left whole the texture doesn't come out right. The outside will get really over done by the time you get the middle as tender as you'd need it to be. You're going to need;
Halved brussels sprouts
Olive oil
Salt and pepper
Butter
Lemon
Dijon mustard
Chili powder or other spice of choice if you want a bit (or a lot) of heat
Bowl to toss ingredients before and after they're cooked
A cutting board is necessary at the beginning too so you can trim the ends off the veggies and slice them in half. If you like a more potent flavor, use our roasted brussel sprouts with balsamic vinegar instructions.
How Long to Cook Brussel Sprouts in Oven
This is what you'll do to get started. As always you want to wash your veggies, cut the longer ends off, and slice them in half as you see here.
Trimming and halving them is very important. It is almost impossible to get brussels tender in the middle, and perfectly cooked on the outside without this step.
Preheat your oven to 450.
In a bowl, drizzle with olive oil on top. Sprinkle salt and pepper and any other seasonings on top, mix together so they're nicely coated.
Pour on a sheet pan in a single layer and bake for 10 minutes, then flip them over and continue for another 8 minutes. This timing varies according to how crispy you want the outer leaves.
In another bowl whisk together your sauce ingredients below and pour your roasted veggies in. Gently fold together so they're again nicely coated and serve! OR transfer to a pan and make creamy cast iron brussel sprouts.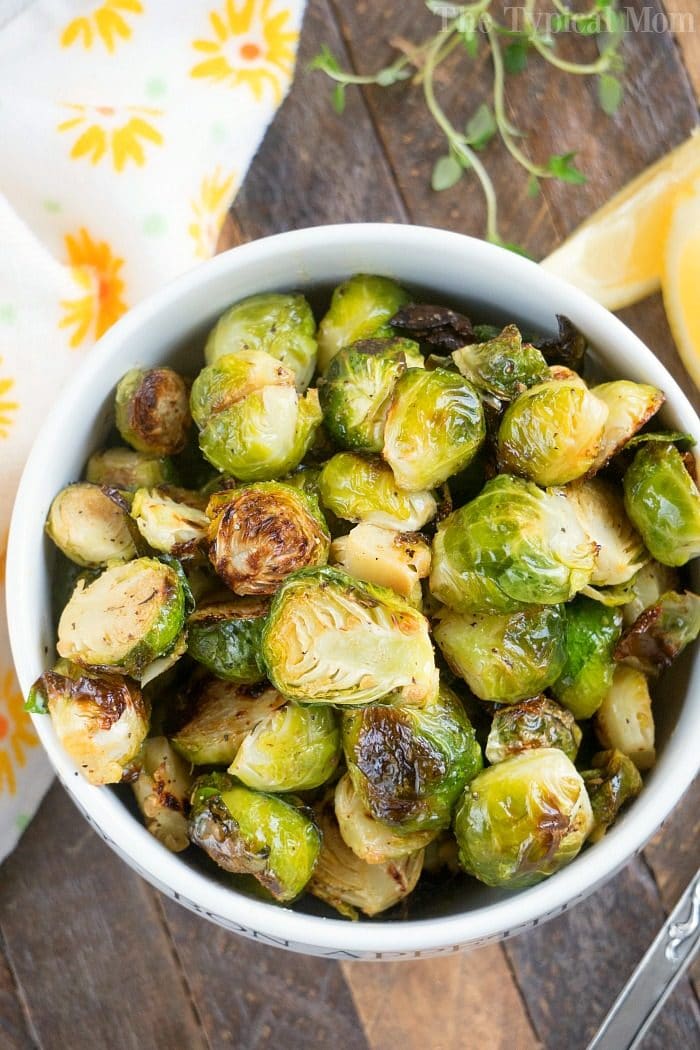 Roasted Brussels Sprouts Recipe
Grated parmesan cheese
Garlic powder and/or salt
Sprinkle of Kosher salt or balsamic vinegar
Squeeze of lemon right on top
Added chili powder
What are the benefits of eating brussel sprouts?
Brussels sprouts are high in fiber, vitamins, minerals and antioxidants. This makes them a nutritious addition to any meal, some actually eat them as their main dish!
The additional health benefits include the potential to reduce the risk of cancer, decrease inflammation and improve blood sugar control.
Adding small cauliflower florets is great too!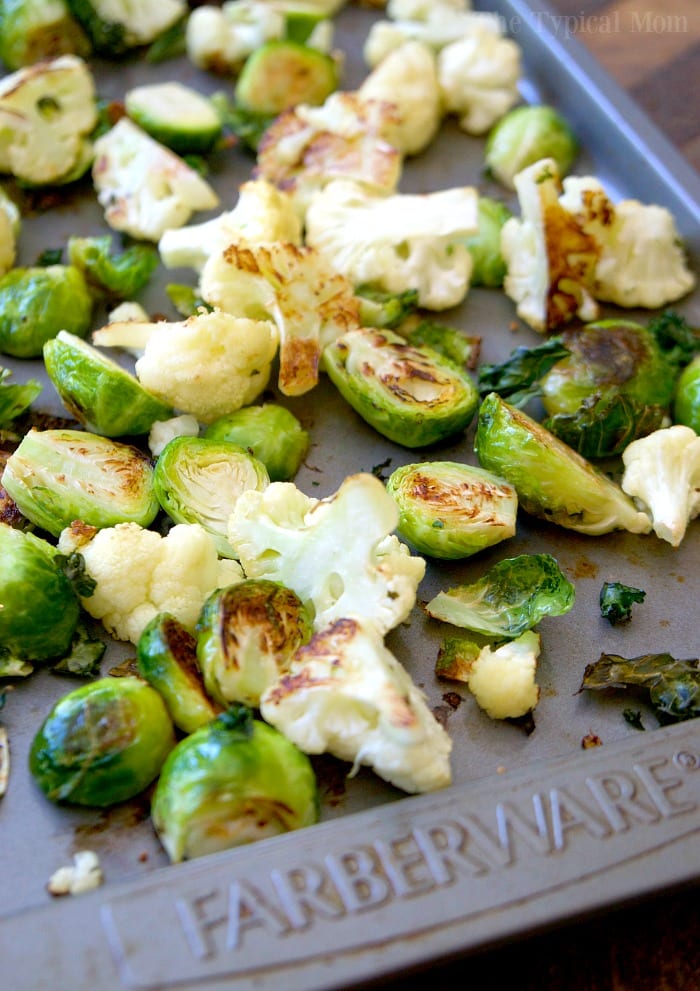 How do you know if brussel sprouts are bad?
When choosing a batch from the produce section of your store, follow these general rules:
If the outer leaves of brussels sprouts develop black or dark brown spots they are beginning to go bad.
The exterior leaves should be bright green while the inner leaves should go from pale yellow to white.
Of course with anything other produce give it a sniff! If there is an off putting scent, put it back.
Other vegetable side dishes you will love: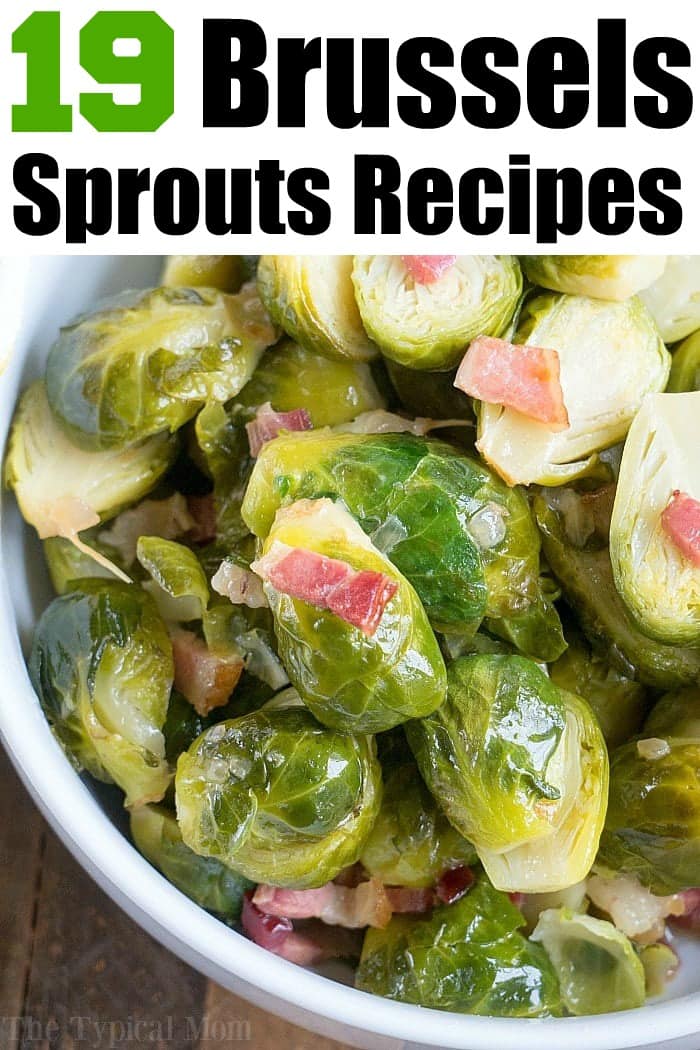 This entire recipe takes about 30 minutes total including prep. If you're a simple home cook looking to introduce a new tasty vegetable to your family, you should try this.
It took me a few times for my girls to gain a taste for them, but now they actually ASK me to make this recipe. They will even help me cut sides and mix the ingredients together. Cooking with kids is great! Printable recipe is below complete with nutrition information, saturated fat, and calories.
Try it and let us know what you think below in the comments!!
Want to see a few of my favorite things that I am totally obsessed with?? Take a peek and see how many you might already have…twinsies!
Looking for more easy family recipes and tips? LIKE The Typical Mom Facebook page?
Then sign up for my free newsletter, and follow me on Pinterest! 😉
***** If you LOVED this recipe give it 5 Stars below and let everyone know what you thought about it. 😉
How Long to Bake Brussel Sprouts at 450
How long to bake brussel sprouts at 450. A perfect side dish with a tangy sauce that just makes these vegetables addictive enough to start loving brussels!
Instructions
Wash, cut ends off, and slice brussels sprouts in half lengthwise. Put them in a bowl.

Pour 2 tbsp olive oil, 1/2 tsp salt, 1/4 tsp pepper and chili powder on top and toss together. Preheat your oven to 450 degrees

Put foil on a baking sheet and pour tossed brussels on pan, spread out so none are overlapping.

Bake for 10 minutes, then use a spoon or spatula to flip them over and bake again for another 8 minutes. (until lightly browned on top and until fork tender to your liking)

Whisk together the last 7 ingredients to make your sauce. Pour baked brussel sprouts in this bowl and toss gently with sauce so all of them are coated.

Pour into a serving bowl, spoon remaining sauce left in bowl on top of the entire bowl of brussels. Can sprinkle some parmesan cheese on top as well, can squeeze 1/2 fresh lemon juice on top of brussels if desired.
Nutrition Facts
How Long to Bake Brussel Sprouts at 450
Amount Per Serving (3 oz)
Calories 197
Calories from Fat 126
% Daily Value*
Fat 14g22%
Sodium 428mg19%
Potassium 612mg17%
Carbohydrates 15g5%
Protein 5g10%
Vitamin A 1175IU24%
Vitamin C 138mg167%
Calcium 68mg7%
Iron 2.3mg13%
* Percent Daily Values are based on a 2000 calorie diet.