This is how you make amazing brussel sprouts on the grill wrapped with bacon! If you haven't found a way to cook tender flavorful brussels sprouts this may be the ticket to loving them. A great vegetable side dish when you're having a barbecue. Try them!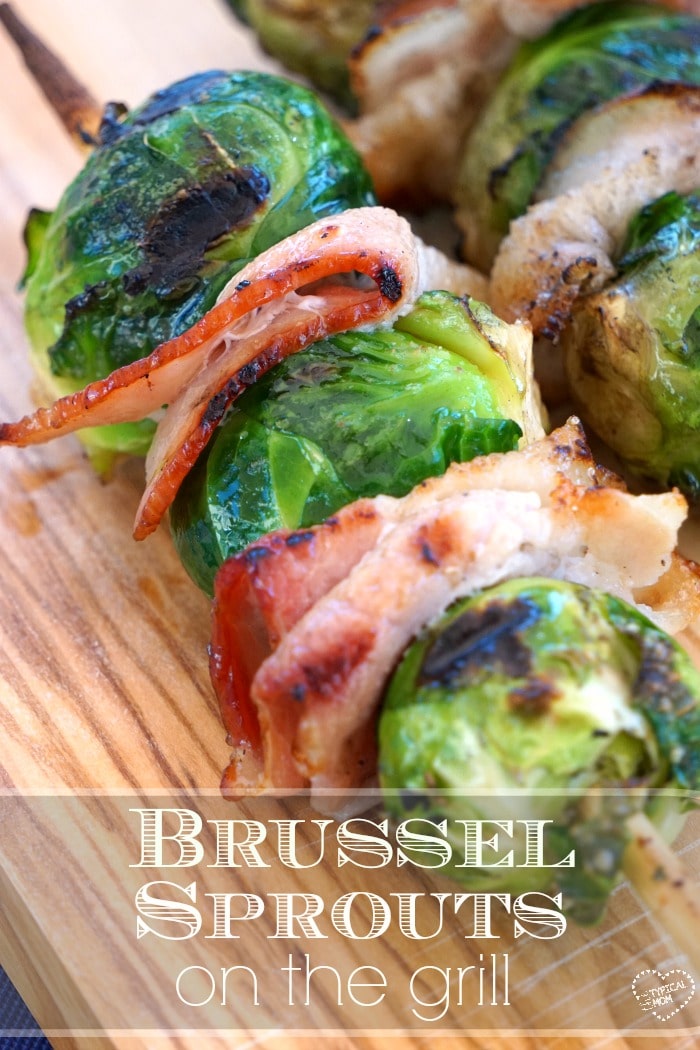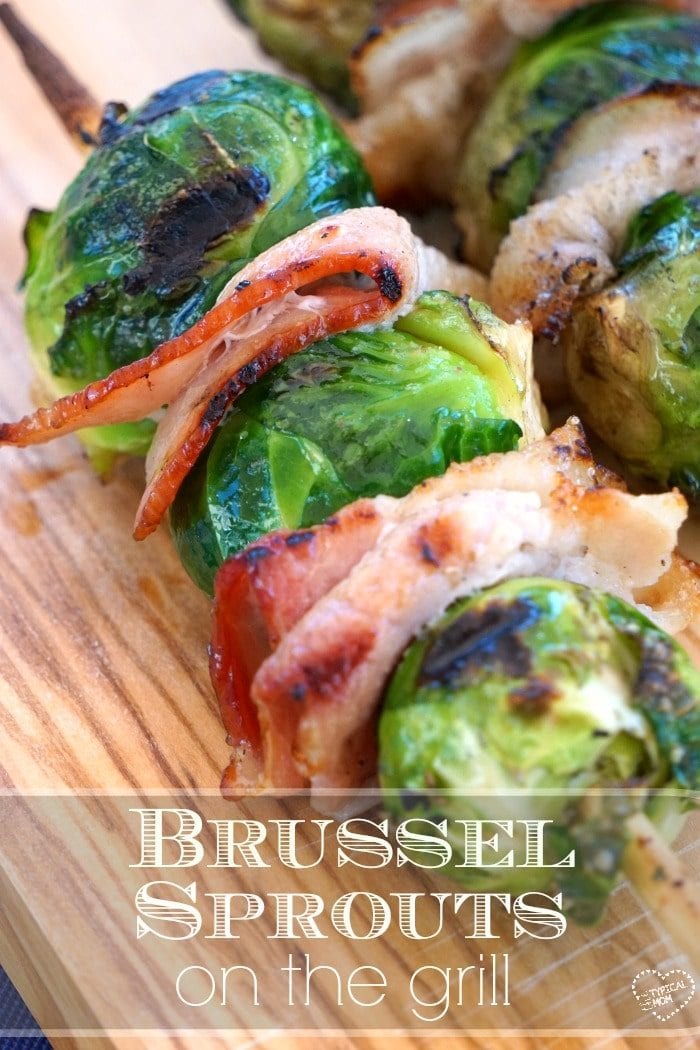 I never thought I would like brussel sprouts, but the older I get the broader my taste buds get and now they're quite tasty…especially brussel sprouts on the grill! If you haven't tried grilled brussels sprouts let me show you how we make them wrapped with bacon of course. They're pretty amazing! (originally published 6/16)
Brussel sprouts on the grill
Brussels sprouts get a bad rap, but prepared right they are quite tasty and a healthy side dish that is great cooked on the grill next to your burgers! Of course everything is better with BACON so the pair are perfect together with some olive oil and spices to get just the right flavor on your veggies.
The key to making them tender is putting them in the microwave first….THEN grilling them!
This is what you'll need to do first to prepare them.
Wash your brussels sprouts and remove the first layer of leaves on the outside
Use a knife and cut the very hard part on the bottom off (I dig in just a bit to get that out but keep it in tact, you can cut it in half too if you wish but it's harder to put on kebabs that way)
Put them in a microwave safe bowl with about 1/4 c water
Put 2 paper towels, attached, on top and wrap under the bowl so it doesn't come off when it's cooking
Microwave for 4-5 minutes, check after 4, so they soften a bit and aren't rock hard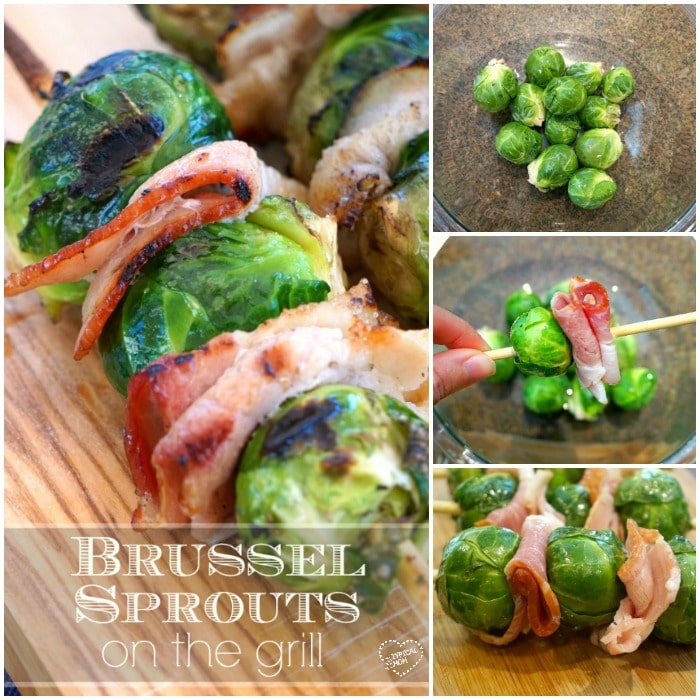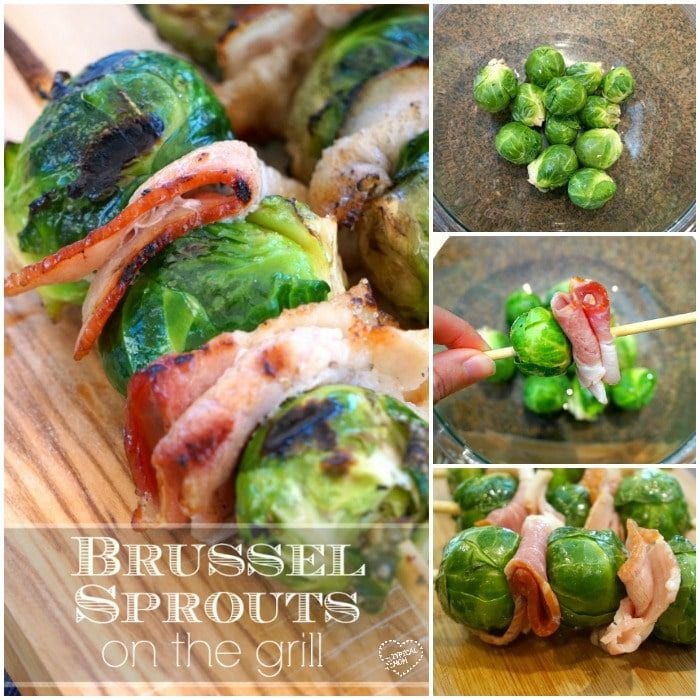 Now it's time to make them into brussel sprout kebabs so you can grill them:
First you will need some 4-6″ wood skewers for this recipe, as well as bacon, olive oil, and spices.

Could use metal skewers too.

After you've microwaved them, drain the water and allow them to cool enough so you can handle them.
In the bowl pour olive oil on top of them, just enough to coat.
Then add garlic powder, salt, pepper, and garlic salt and/or Lawry's seasoning as well. Whatever you like.

Add enough to coat them slightly and mix with your olive oil (I usually massage with my hands gently just to coat).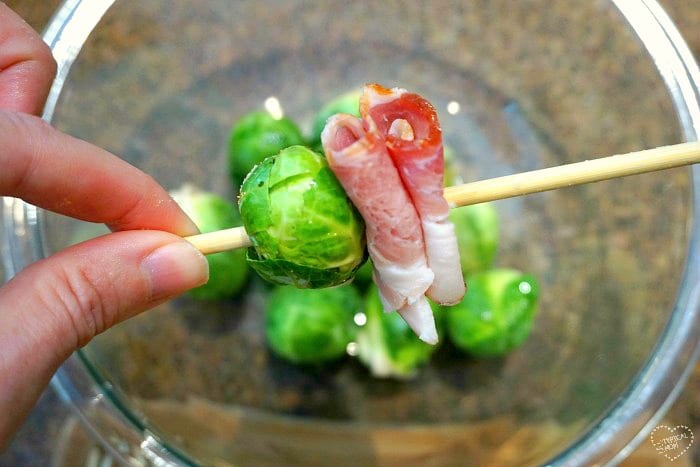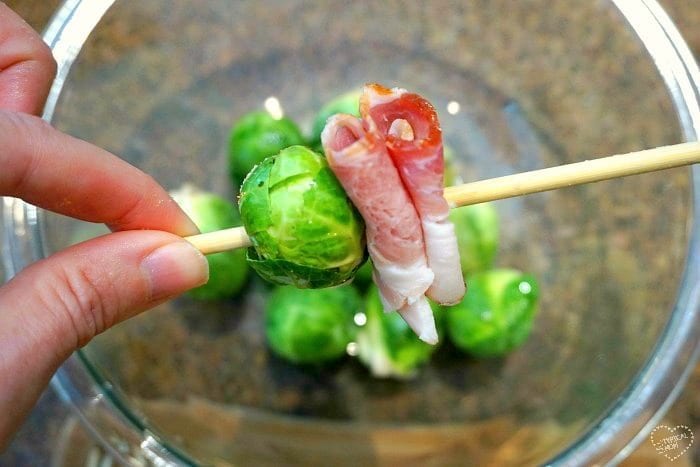 Now take your skewers and run them under some water so when you put them on the grill they don't burn.
Take one brussel sprout and push the skewer thru. Cut your bacon slices in half and fold that half into 4ths so it goes on the skewer as so.
Add another brussel sprout, 1/2 pc. of bacon, and then another brussel sprout. This is usually a perfect serving for one person.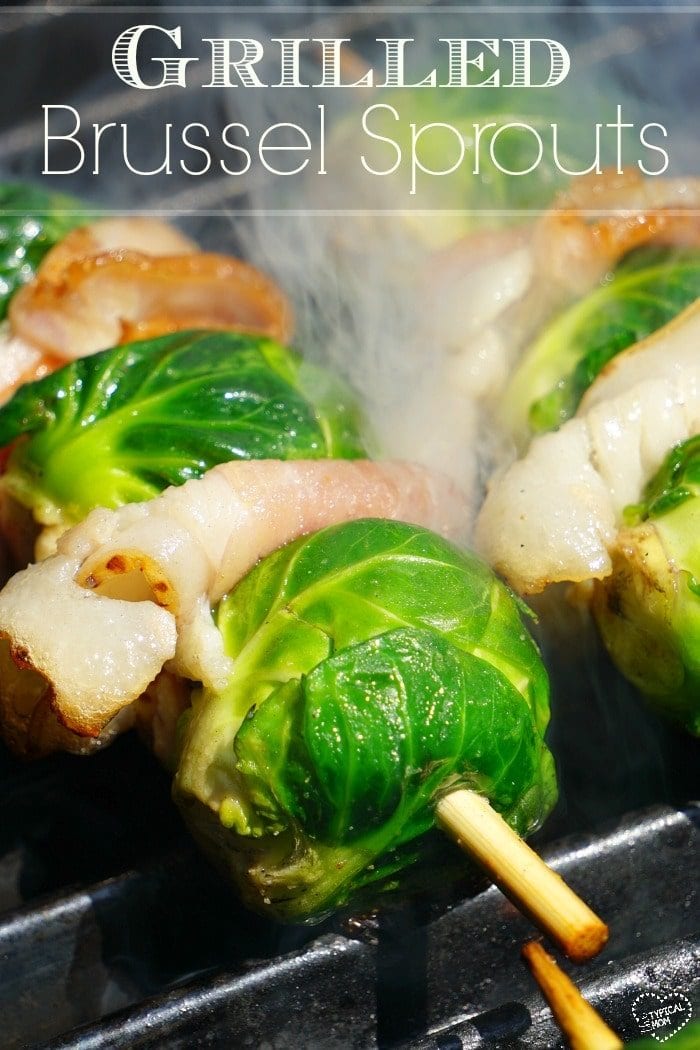 Now this is the important part! Wait until your outdoor grill is not so hot and the coals have cooled off a bit so your brussel sprouts on the grill cook slowly…..that is the key.
Slowly cook your skewers for maybe 5 minutes with the top on so they steam a bit too and then flip to do the same on the other side.
The first time you make them keep a closer eye on them so they don't burn. When the bacon is done and the brussels are nicely charred but not burned they are usually done and perfect! Then just season with salt and enjoy. A drizzle of balsamic vinegar and olive oil is yummy too.
Let me know what you think when you make your grilled brussel sprouts, or if you add anything else to your skewer that you like!
Brussel Sprouts on the Grill

This is how you make amazing brussel sprouts on the grill wrapped with bacon! If you haven't found a way to cook tender flavorful brussels sprouts this may be the ticket to loving them. A great vegetable side dish when you're having a barbecue. Try them!

Instructions

Put skewers in a bowl of water so they soak. Wash your brussels sprouts and remove the first layer of leaves on the outside. Use a knife and cut the very hard part on the bottom off (I dig in just a bit to get that out but keep it in tact, you can cut it in half too if you wish but it's harder to put on kebabs that way).

Put them in a microwave safe bowl with about 1/4 c water in it. Put 2 paper towels on top and wrap under the bowl so it doesn't come off when it's cooking.

Microwave for 4-5 minutes, check after 4, so they soften a bit and aren't rock hard. Stir once so they all get a bit tender. Drain water and allow to cool enough so you can handle them. Then drizzle with olive oil and sprinkle with seasonings of your choice. Stir so they are all coated.

Take one skewer out of bowl of water and put a brussel on the end. Fold piece of bacon that has been cut in half in half, and push that on next to your sprout.

Add another sprout, then bacon, until you have 3 sprouts and 2 bacon pieces in between in the middle.

Allow grill to cool down so flames are not touching grate. Place skewers on grill and close lid for about 4 minutes allowing veggies to crisp a bit, soften more, and bacon to cook. Flip and check to see how much longer they need to cook.

A slow longer cook time is best. Cook until bacon is cooked and brussel sprouts are crispy on the outsides.

Nutrition Facts

Brussel Sprouts on the Grill

Amount Per Serving (3 oz)

Calories 255

Calories from Fat 198

% Daily Value*

Fat 22g34%

Cholesterol 36mg12%

Sodium 380mg17%

Potassium 330mg9%

Carbohydrates 6g2%

Protein 9g18%

Vitamin A 450IU9%

Vitamin C 48.2mg58%

Calcium 27mg3%

Iron 1mg6%

* Percent Daily Values are based on a 2000 calorie diet.

For more easy recipes, tips and crafts please LIKE The Typical Mom on Facebook and follow me on Pinterest! You can also sign up for my free weekly newsletter which is packed with goodies I know you'll love. 😉