Kids learning the alphabet will love these free letter crafts. Featuring every letter from A to Z these coloring pages can be cut and crafted to learn letters with a craft for each letter too!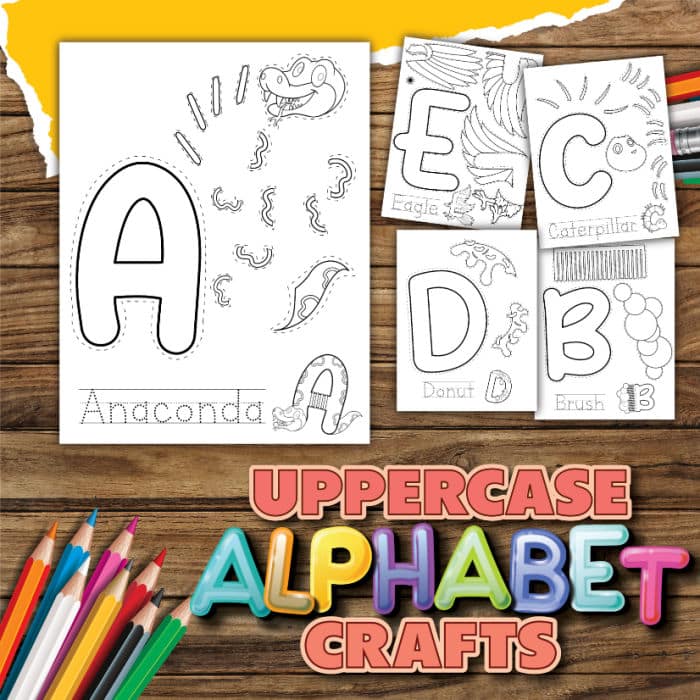 Free letter crafts from A to Z are here! All 26 coloring pages with letters on them are not only fun to decorate but can be cut and glued together to make an animal! One of many free coloring pages we offer on our site and we hope you enjoy too. (affiliate links present)
Alphabet Color Pages
The alphabet is one of the first things that we learn when we start school. It seems like a pretty simple task, but it's actually quite complicated. There are 26 letters in the alphabet, and each one has a different sound. Starting with the letter A coloring page here, we continued with letter c coloring pages and the others are listed here.
In addition, some letters can be pronounced in different ways, depending on where they appear in a word. For example, the letter "c" can be pronounced as a hard "c" sound, as in "cat," or as a soft "c" sound, as in "city."
As you can see, learning the alphabet can be quite tricky! But don't worry – with a little practice, your little one be reading and writing like a pro in no time. An important skill for kids to learn before Kindergarten.
Alphabet Crafts
Crafting is a great way to spend a rainy afternoon, and alphabet crafts are a perfect way to get kids interested in learning their ABCs. There are tons of fun and creative ideas out there, from turnip towers to zigzag zebra print, and these paper crafts here. You could integrate learning about musicians too with our music coloring pages.
The best part is that you can use items that you already have around the house for othres, so there's no need to go out and spend money. So gather up these pages, glue, and scissors, and let your imagination run wild. Alphabet crafts are a great way to make learning fun.
If you're a teacher you may be focusing on a letter of the week, no problem, just grab that one specifically and focus on letter recognition with that free printable letter you want to start with. What I did was have them create the craft on a piece of construction paper, then we laminated each so they could decorate their room with them!
You can choose just one or print them all out and staple into a coloring book. Then tackle one each day for a month or so and kids can tape on their walls to remember the sound each one makes. Pair with our sight word color by number page and make learning fun!
Time needed: 5 minutes
Alphabet Printables
Print

Click on the blue link for your Letter coloring pages. You can print them all or just one you want. If you want something specific just click the link and change all to custom. Then input the page # you want below that and how many copies you want.

Color

Allow kids to decorate each page using crayons or colored pencils to improve fine motor skills. Trace the word with a pencil to practice writing and then cut and paste the craft. Marker aren't recommended as they will bleed thru to the other side.
Letter Q Coloring Page
The letter Q is a tricky one. It's always getting mixed up with the letter O, and let's be honest, it's not the most exciting letter in the alphabet. But that doesn't mean it can't be fun! With this coloring page, your little one can add some personality to the letter Q.
Whether they go for a traditional yellow or something more unique, they'll have a blast adding their own personal touch to this otherwise boring letter. So go ahead and print out this coloring page, and let your child unleash their inner artist!
Free Alphabet Printables
If you're looking for some free alphabet printables, you've come to the right place! I've got a whole bunch of them featuring every single letter right here. They feature upper case letters with an alphabet activity for each. For instance A has an alligator craft. Start in alphabetical order if you want or move around if you're teaching letters, then vowels.
After you finish this activity for kids you can read alphabet books to talk more about letter sounds as this age is probably learning to read too. I usually started with the vowels and we talked about what each one "said", words with them inside, and sang a song about it too. The whole week focused on that one letter to really have it sink in.
All of these are all absolutely free. Just print them out and you're good to go. You can mix and match to create whatever combination you need. Have fun, and happy decorating with your children and/or students in your room.
Want to see a few of my favorite things that I am totally obsessed with?? Take a peek and see how many you might already have…twinsies!
Looking for more easy family recipes and tips? LIKE The Typical Mom Facebook page?
Then sign up for my free newsletter, and follow me on Pinterest! 😉
***** If you LOVED this recipe give it 5 Stars below and let everyone know what you thought about it. 😉