Cilantro lime sauce for fish tacos is delicious and easy to throw together. A must on your air fryer fish tacos with cabbage to take them from good to out of this world great. Plus a kitchen hack on how to serve it too when company comes over!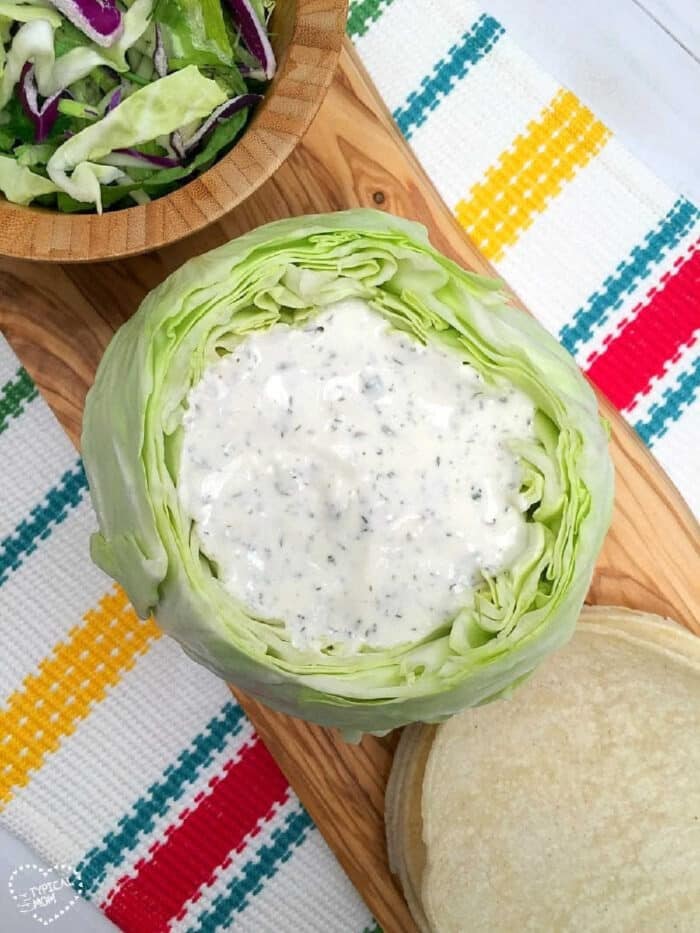 I will start by saying we LOVE easy fish recipes. We have it at least once a week in one form or fashion, and haven't found one that doesn't please our pallet. Let me show you our favorite cilantro lime sauce for fish tacos and what fillets we love to pair with it! 😉 (previously sponsored by Gortons fish, originally published 3/18, affiliate links present)
Cilantro Lime Sauce for Fish Tacos
Oh yeah….and I will show you how to make air fryer taco shells or a taco bowl too, now that's a fun way to serve it! Ok, so first of all remember when I said I look for EASY meals I can whip together…..let's explore that for a second.
You can opt to buy the purple cabbage, regular cabbage, cilantro, etcetera and make your own red cabbage coleslaw to fill your fish tacos but seriously I don't. It just doesn't make sense when you can find a bag of all of that in a bag where the bagged salads are and just whip up your own dressing, or buy a bottle.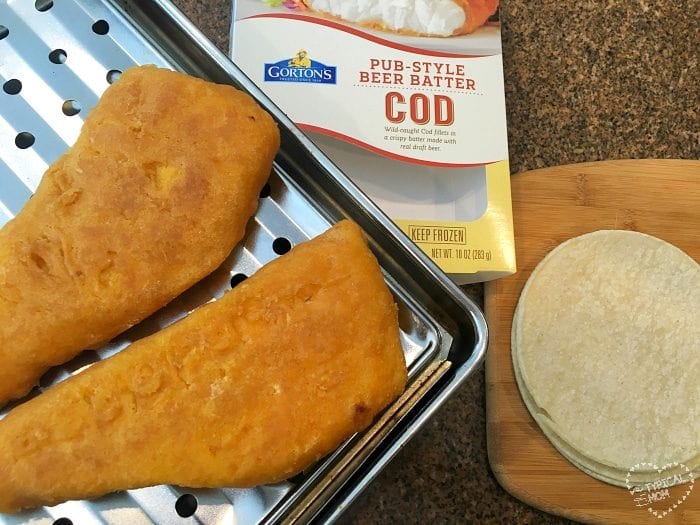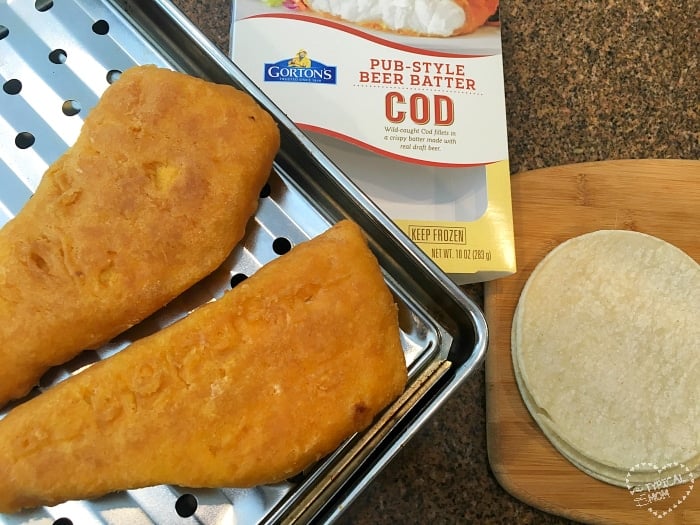 White Sauce for Fish Tacos
Next I grab some Gorton's Gourmet Fillets in the freezer section. Remember we're going for tasty and EASY. You can bake as is or slice diagonally so it cooks faster.
We have bought Gorton's beer battered and good ol' fashioned air fryer fish sticks for years but now they have extra large fillets of cod now that have no MSG, no artificial flavors and taste amazing! You can even make our air fryer fish and chips if you are in a real hurry!
Want to go healthier?? I have instructions on how to cook air fryer frozen fish that is not breaded at all for you. Air fryer shrimp no breading is a nice option too if you want to make "fancier" shrimp tacos.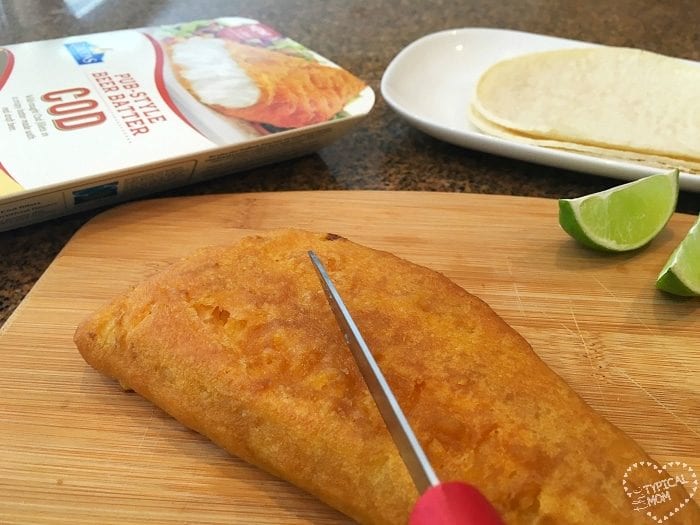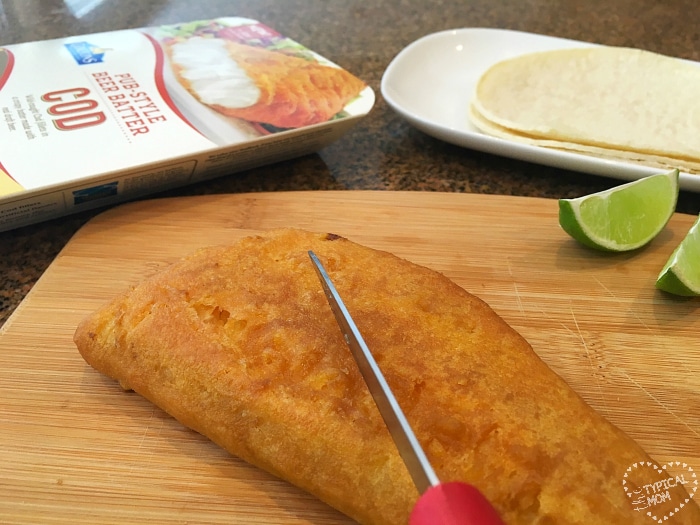 White Fish Taco Sauce
Don't have this machine but you do have a pressure cooker? Give our Instant Pot fish tacos recipe a whirl which gets it super flaky and moist. Perfectly ready to serve over a bed of rice or quinoa with a drizzle of this sauce on top. This is what you're going to need;
Some sour cream, I do not recommend using low fat anything y'all

for lower fat I would use plain greek yogurt instead

I like Best Foods mayonnaise vs. Miracle Whip
Fresh lime juice
1/2 tsp oregano
Chili powder if you want a bit of spice, or a dash or hot sauce is great too
3/4 tsp dill
Salt and optional
2 tbsp cilantro chopped
1 jalapeno diced, if you want
As long as you have all your add ins diced up really nice and small I do not think a food processor is necessary at all. Taste at the end and adjust seasonings as you wish before serving. This even works when cooking frozen fish in the oven. Brush some on to keep it moist and give it flavor.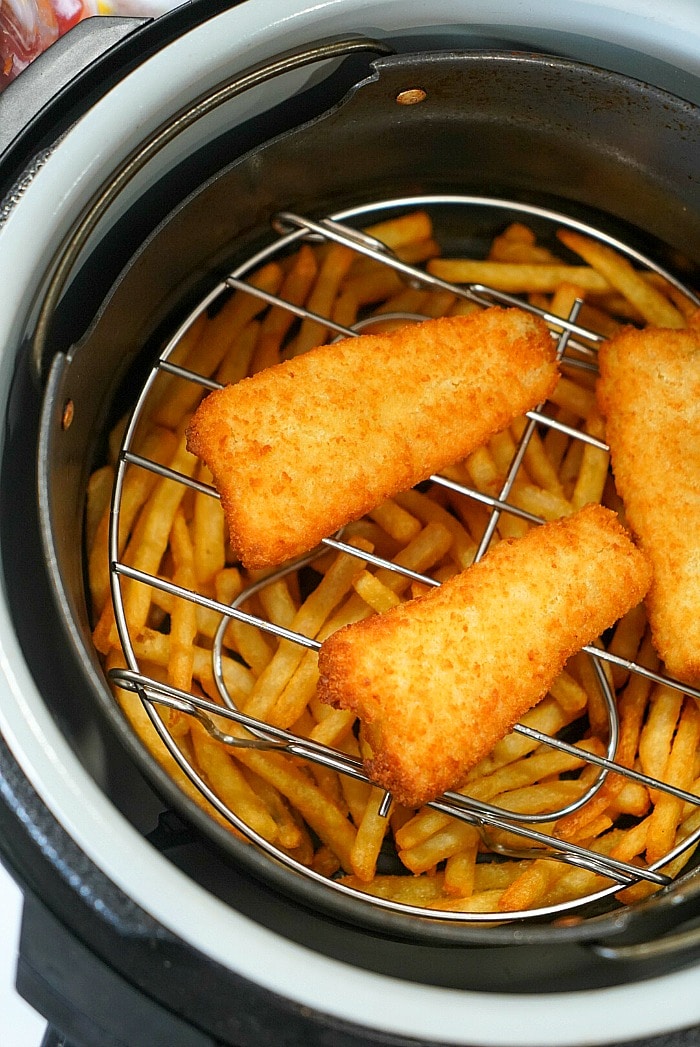 White Sauce for Fish
Now if I am serving this creamy cilantro dipping sauce when people are coming over I have a little kitchen hack that makes it present really well. Serve your sauce inside a hollowed out head of cabbage! You can see it below at the top of the screen. With a small spoon inside it can be served on top or on the side of your meal.
You can choose green or red to do this as you are just using a knife to hollow out the center to make room. Doesn't this look more fun than just serving it in a white bowl.
Want to go a step further with this idea? Buy a few heads and serve your coleslaw in another, diced tomatoes in another, use it for all your toppings that are cold on your serving table.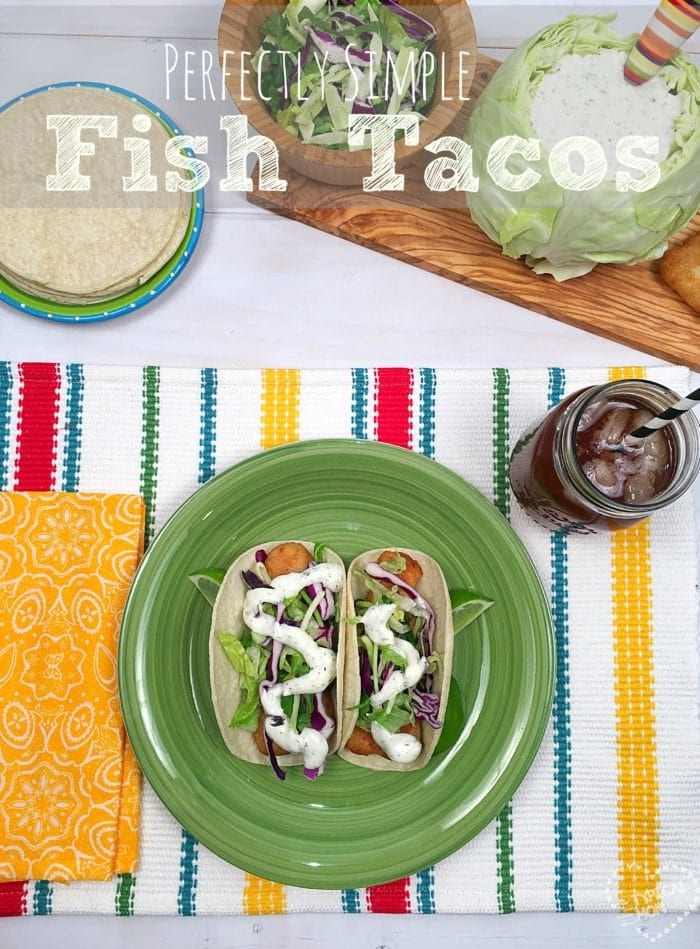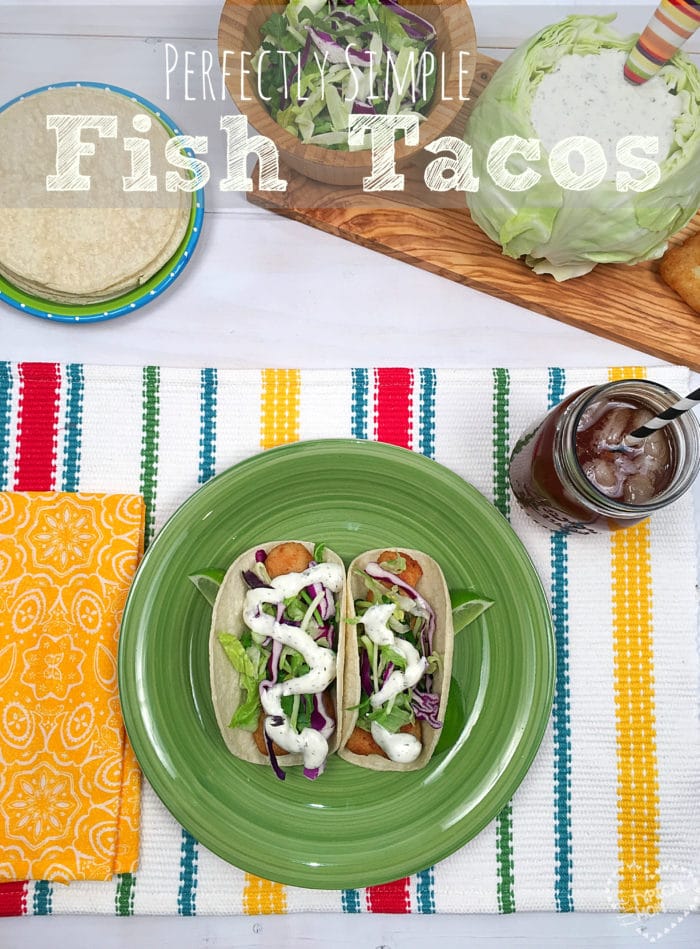 Easy Sauce for Fish
There are a few optional ingredients for your sauce because of course some people like a bit of spice and some don't want it spicy at all. In the end it is a really EASY white fish taco sauce recipe that our family loves. If you are loving this recipe too you could make a larger batch and save.
If sealed in a container it will stay well in your fridge for a few days. Great for leftovers the next day because it will bring moisture and added flavor once you reheat it up. I would not add to the top until your protein is heated unless you don't mind that it will be warmed too.
Whip up a few varieties of this favorite fish sauce so everyone can try them and see which is their must. Then make a note about what you added (minced garlic is great too) so you can replicate that the next go around. We like it just as is listed below though, just can't go wrong with it. Jump to recipe and let us know what you use this on!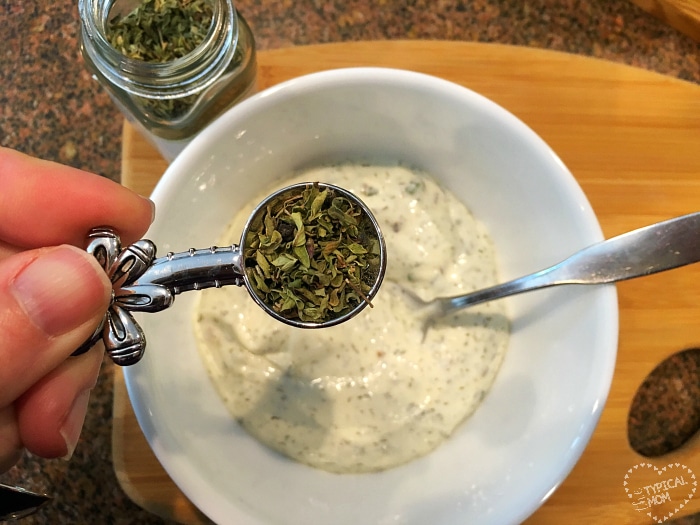 What are some variations of cilantro lime sauce?
1. You could add avocado to the creamy fish sauce for a creamier texture
2. Add a splash of hot sauce for a bit of heat
3. Some like to add a squeeze of orange juice for a citrusy flavor
What are some tips for making fish taco sauce?
1. Use fresh cilantro for the best flavor.
2. Lime juice should be freshly squeezed.
3. Taste the white fish sauce as you go and adjust the seasonings to your liking.
Want to see a few of my favorite things that I am totally obsessed with?? Take a peek and see how many you might already have…twinsies!
Looking for more easy family recipes and tips? LIKE The Typical Mom Facebook page?
Then sign up for my free newsletter, and follow me on Pinterest! 😉
***** If you LOVED this recipe give it 5 Stars below and let everyone know what you thought about it. 😉
Cilantro Lime Sauce for Fish Tacos
Cilantro Lime fish taco sauce recipe that's easy to throw together. A great kitchen hack on how to serve it too when company comes over!
Instructions
Add all ingredients in a bowl. If you want to make a great presentation hollow out the top of a head of cabbage and serve it inside like the picture below.
Nutrition Facts
Cilantro Lime Sauce for Fish Tacos
Amount Per Serving (1 oz)
Calories 83
Calories from Fat 81
% Daily Value*
Fat 9g14%
Cholesterol 9mg3%
Sodium 116mg5%
Potassium 23mg1%
Carbohydrates 1g0%
Protein 1g2%
Vitamin A 94IU2%
Vitamin C 2mg2%
Calcium 14mg1%
Iron 1mg6%
* Percent Daily Values are based on a 2000 calorie diet.