This banana dump cake is easy to throw together and great if you love banana bread as much as we do. Drizzled with caramel sauce it's a great dessert.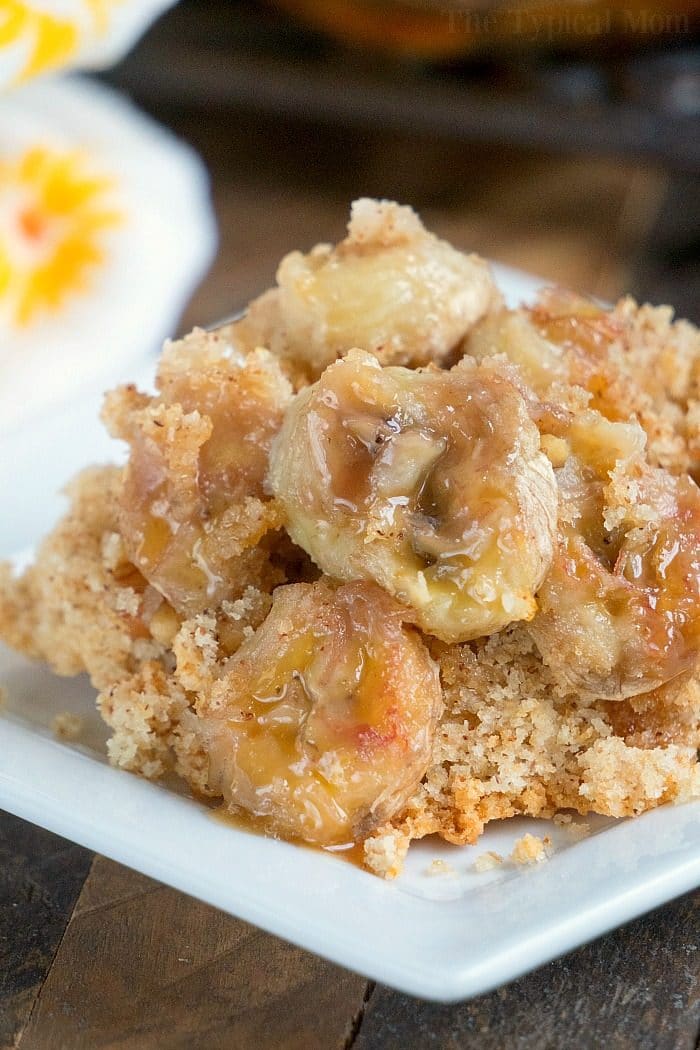 Yes we are all about easy dump cake recipes here at The Typical Mom and this banana dump cake is our latest dessert creation. It's like layered banana bread packed with fresh fruit and topped with vanilla ice cream and/or caramel sauce on top when it's done. Oh yes we did.
We make coconut banana bread pretty often, but when we don't have time to bake from scratch quick breads are pretty handy to have around.
Why do I love dump cakes?
They're easy to throw together
It's simple to mix flavors and create your favorite dessert combinations
Dump cake ingredients are great to have on hand in case company shows up unexpectedly
Everyone loves them!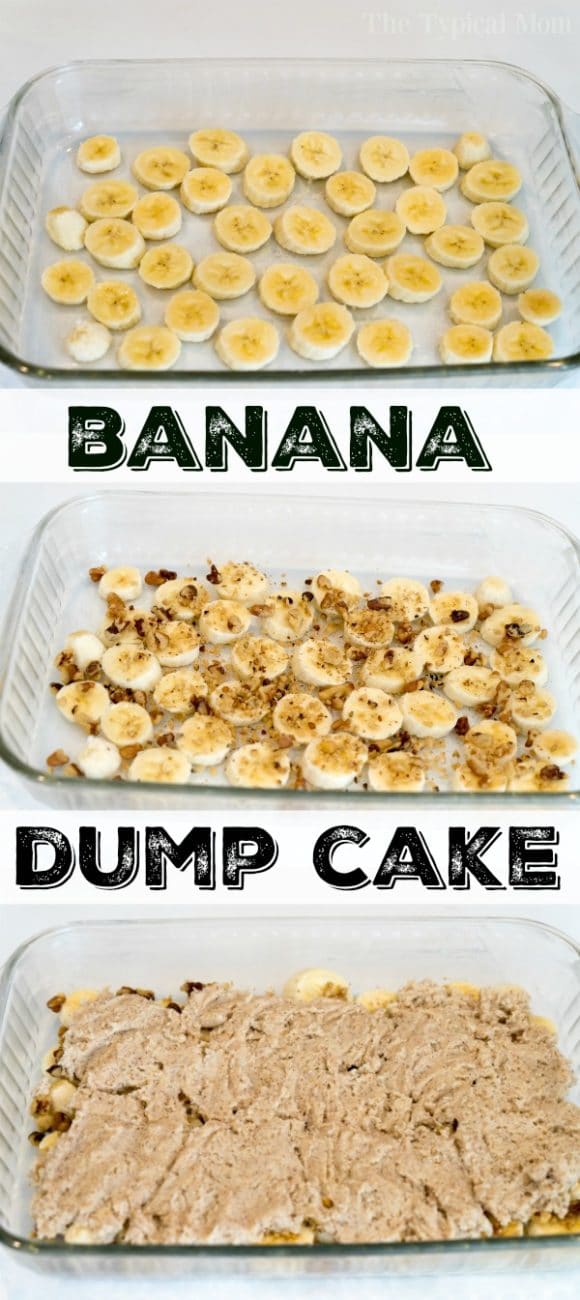 Dump Cake with Bananas
There are two ways to make this;
Like I said, I used this banana quick bread – you could use homemade banana bread but that would kinda' defeat the purpose of it being quick and all……
Then I sliced 3 large bananas and laid them on the bottom so there were about 2 layers – I would use yellow bananas, not brown or they will just be mush at the end.
I decided to add some crushed honey roasted pecans in between the two layers of sliced bananas – you could omit if you'd rather or use a different type of nut, walnuts might be good too.
After the banana bread ingredients were mixed together I poured it across the pan so it was the same thickness all the way across.
Then I baked it until it was lightly browned on the top and not over baked.
This is the first way that is in true dump cake form with just a few ingredients. It is egg-free which is important to some people, and similarly to traditional dump cakes it comes out dense on the top with the fruit on the bottom. The top photo is the outcome of this version, great with caramel or ice cream on top.
Egg free banana dump cake
Box of quick banana bread mix
3 bananas
1/2 c. butter, melted
1/2 c. milk
1/2 c. nuts if you choose to add those
Lay slices of bananas on bottom of 13×9 pan
Sprinkle nuts on top
Mix banana bread mix with melted butter and milk
Pour mix on top of bananas
Smooth evenly across pan
Bake at 350 for 30 minutes or until lightly golden brown
Serve warm, flipped upside down, with a scoop of ice cream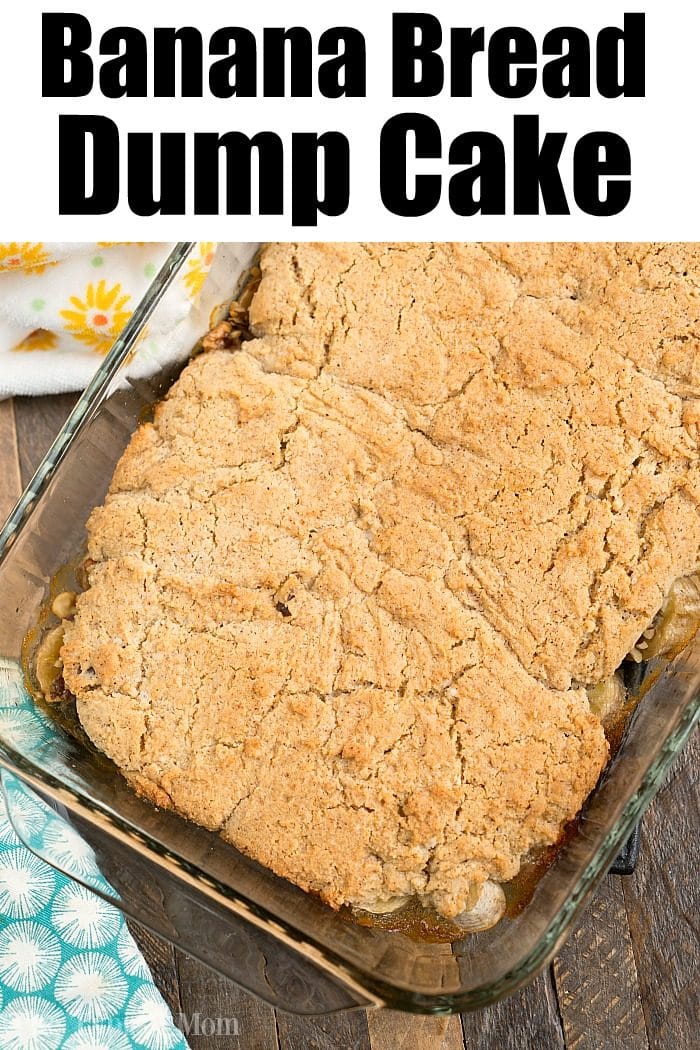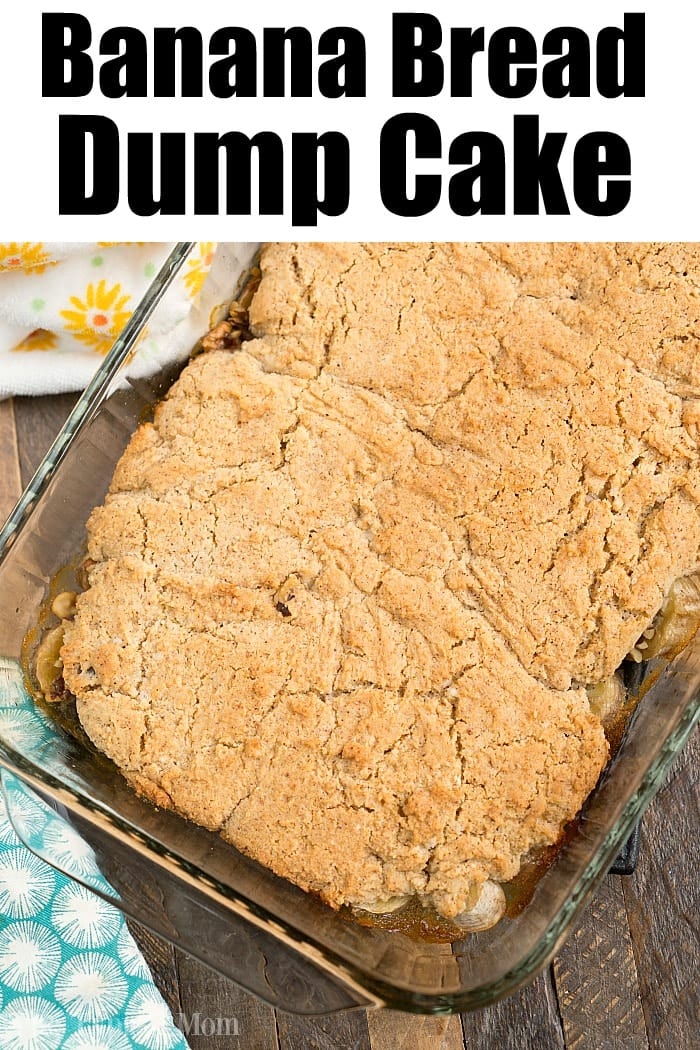 Banana bread dump cake is a little like pineapple upside down cake in a sense because the goodness is on the bottom and once you scoop out a serving you'll want to flip it over on to the plate so the bananas are on the top once it's served.
Then….you've gotta' add more goodness to the top.
Here's what our second banana dump cake looked like when we added egg. It turns out fluffier than the previous one and bananas baked into the cake. Kind' like our 4 ingredient banana bread or Instant Pot bread pudding. Both are yummy, recipe card has the instructions for this version.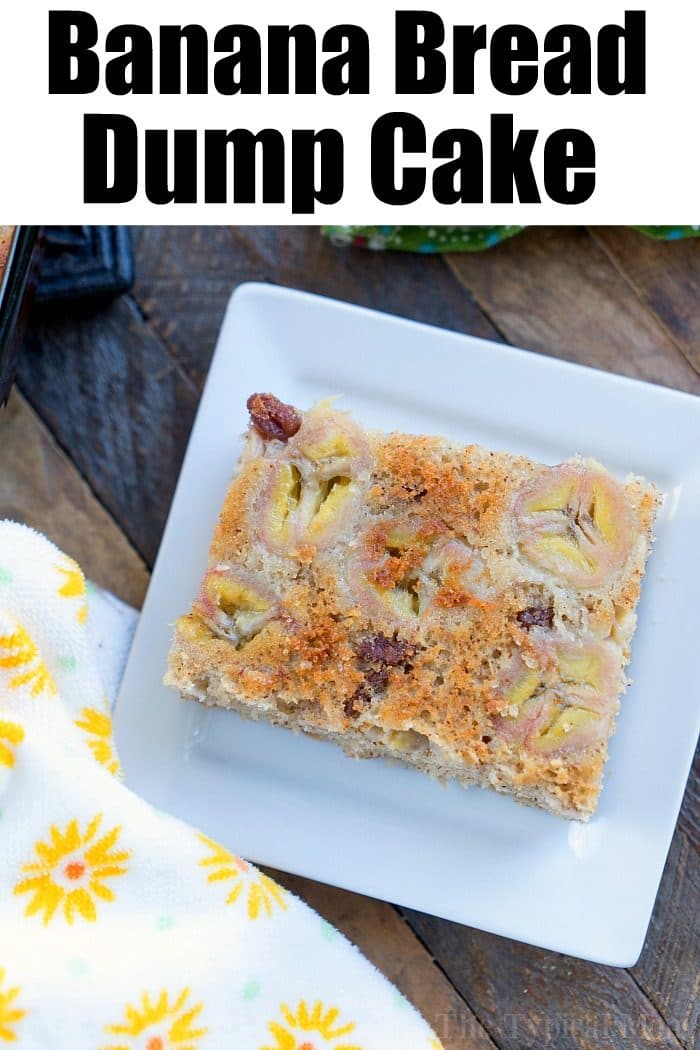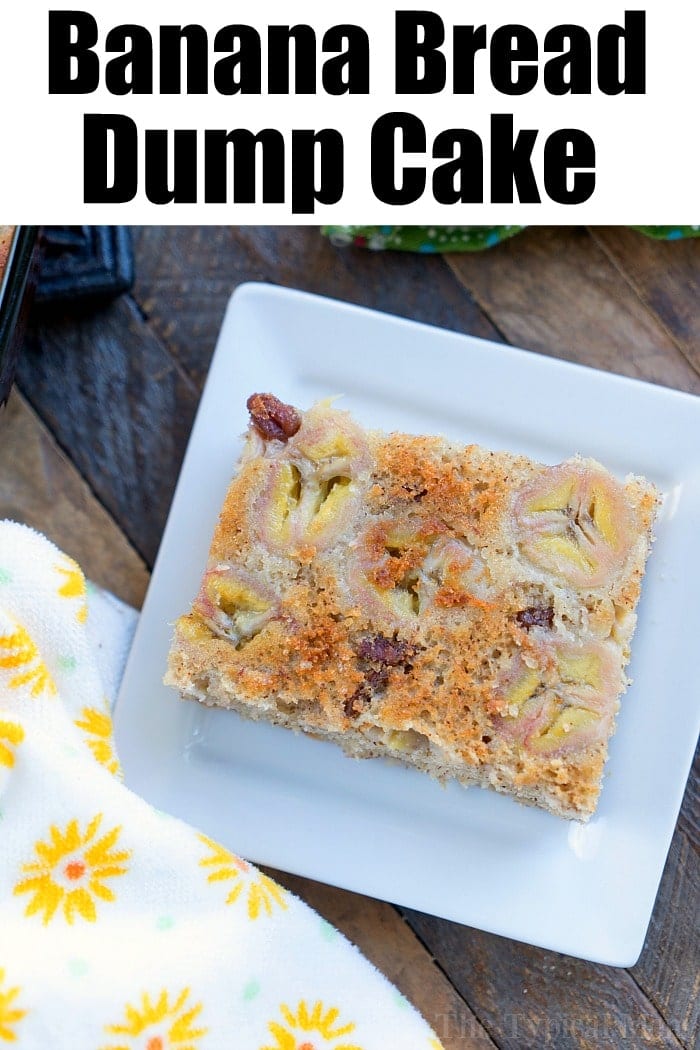 Best banana dump cake
Do not use brown bananas for the bottom
Use two full layers of bananas, if you need 4 bananas to do that then go for it
Do not over bake your banana bread topping

Take it out immediately once the middle is not wet any longer, very lightly browned, insert a toothpick just inside the middle of the bread to check.

Serve warm with toppings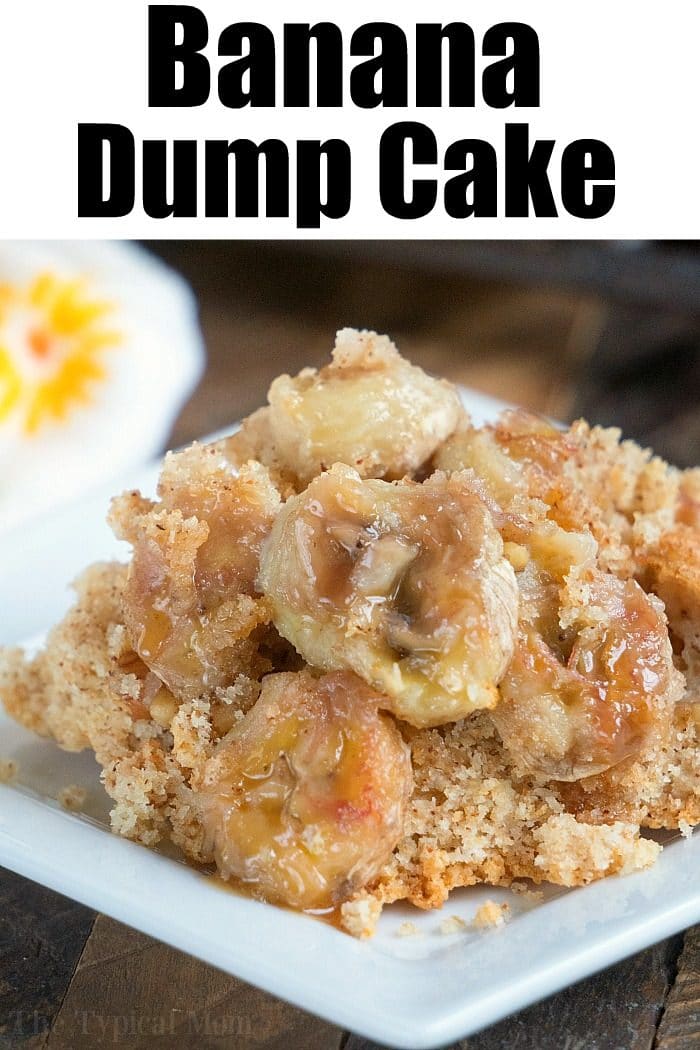 Banana bread dump cake
Quick banana bread

Bananas
Milk
Eggs
Nuts
Oil
Ice cream and/or caramel sauce
After you make this you've got to try our apple pie bread pudding which is really a dump and go dessert too!
Here is the printable recipe for our 2nd banana dump cake with egg.
Banana Dump Cake
This banana dump cake is easy to throw together and great if you love banana bread as much as we do. Drizzled with caramel sauce it's a great dessert.
Ingredients
Instructions
Spray 13×9 pan with non stick spray. Slice your 3 yellow bananas and layer on the bottom of the pan, there will be about 2 layers all the way across evenly across the pan.

Sprinkle nuts in between the 2 banana layers or on top of the final layer if you would like to add those.

In a bowl mix together your 1 mashed banana, quick banana bread mix, milk, oil, and water.

Dump your batter on top of your layers of banana and spread across pan so batter is evenly distributed and the same thickness so it bakes evenly.

Bake at 350 degrees for 35 minutes or until top is golden brown, you don't want to over bake it.

Take out and put on a cooling rack.

Slice serving out and flip upside down so bananas are now facing the top of your dump cake piece.

Drizzle caramel sauce on top or add a scoop of vanilla ice cream and then drizzle caramel on top!!
Nutrition Facts
Banana Dump Cake
Amount Per Serving (3 oz)
Calories 266
Calories from Fat 189
% Daily Value*
Fat 21g32%
Cholesterol 44mg15%
Sodium 29mg1%
Potassium 331mg9%
Carbohydrates 18g6%
Protein 4g8%
Vitamin A 150IU3%
Vitamin C 5.9mg7%
Calcium 51mg5%
Iron 0.6mg3%
* Percent Daily Values are based on a 2000 calorie diet.