Easy brown gravy for meatloaf recipe is here! Don't use just the packet. Instead whip up this simple homemade gravy to smother your onion Lipton soup meatloaf and everyone will want seconds.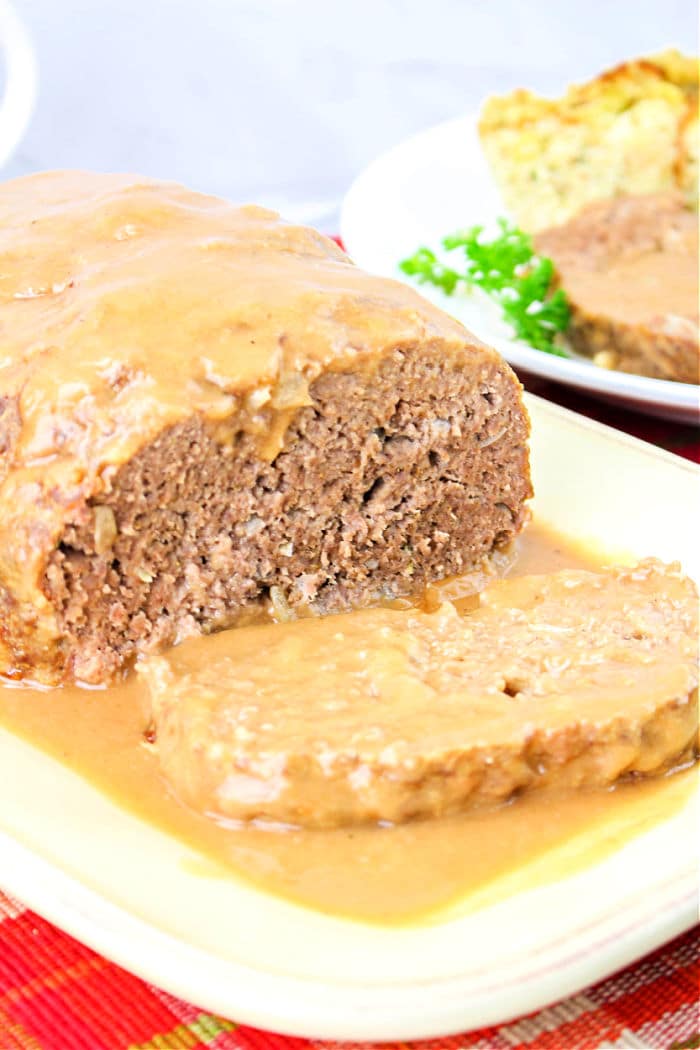 This brown gravy for meatloaf recipe is so much better than store bought. Whip some up the next time you cook a ground beef loaf and make it go from good to OH MY heavens this is delicious. (affiliate links present)
Meatloaf Gravy
Are you stuck in the rut of using this dry packaged brown gravy mix you see here below? Never been so thrilled about the way it tasted but thought it would be a pain to make homemade meatloaf gravy? It's not. Best thing about this is you can use the base and tweak it from there.
LOVE love onions, make it onion gravy with tons of them inside too. Want some diced mushrooms inside? Add some of those instead. You can make this on your stovetop or we have pressure cooker gravy cook times here too. Give it a whirl, I bet you'll never go back to store bought again.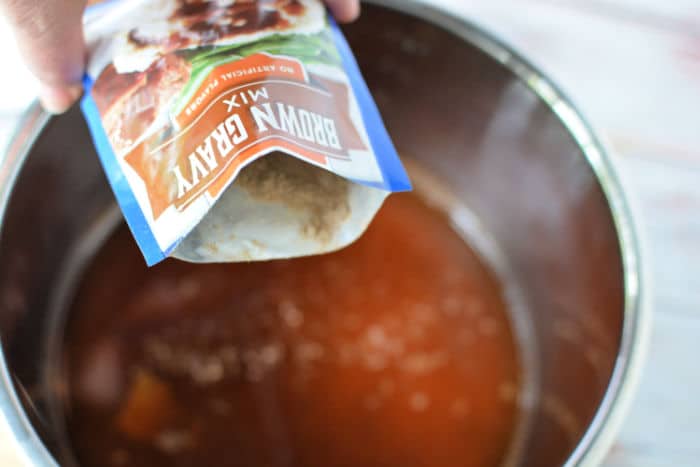 Gravy for Meatloaf
This really would be a great gravy for ground beef of any kind, or large hunks of beef too. Of course the most obvious is to serve it with Ninja Foodi meatloaf or on top of our quick meatloaf recipe made in the stove. Yes you will make this separately and serve at the end but really with prep and all you're looking at like 15 minutes.
Not bad to take your dinner from good to OH MY levels. You can use packaged beef broth, or use the drippings after you make your Instant Pot frozen roast and go from there. I love making gravy with beef drippings because that means there is no waste at all.
You'll want some stock or broth
Butter + onions + flour will make a sort of thickening roux
Tomato paste
Worcestershire sauce
Dijon mustard
And then you have all the seasonings to amp it up
From there you could add diced mushrooms, some roasted garlic if you're all about that flavor, etc….
Brown Gravy Recipe
I love using my cast iron skillet to make all the things but a dutch oven or pot would work too. If you had a really large crowd coming over you could double this for sure. Having a large gathering for the holidays? Make it and then pour into a slow cooker, covered on the warm setting so it can be served for hours on end.
It's great smothered over our slow cooker roast so if you had two pots you could have them both out to enjoy by everyone. OR use it with our Crockpot meatballs and gravy recipe.
Grandma's Brown Gravy Meatloaf Recipe
The most important thing to remember when making a sauce like this is to ensure you whisk whisk a lot when you are making your thickening agents. You don't want them to clump up at all. When gravy is lumpy it's ehhhh. Once it is smooth, immediately pour in your liquids to thin that out and whisk again until smooth once more.
You can print recipe below but here is a quick step by step:
In a cast iron pot or pan on your stovetop melt your butter, then add your diced onions over medium high heat.
Sprinkle in and whisk the flour into your mixture. Add onion powder and garlic powder.

Bring to a boil and stir until bubbly and smooth.
Scrape in pan drippings into mixture
Slowly add the beef broth and whisk together until smooth.
If you want to add diced mushrooms do so at this time

Add the tomato paste, Worcestershire sauce, and Dijon mustard. Reduce heat and cook until the gravy reaches your desired thickness.
Taste and add salt and pepper your beef gravy to taste. Served over a bed of garlic mashed potatoes is killer too.
Mushroom Gravy for Meatloaf
Tip: Some would rather add a cornstarch and water slurry instead of flour. This is fine to do but I would do that during step 2 after you add your broth. If you are worried about clumping up at all this is a great alternative to eliminate that and do the same thing.
Remember too that as it cools it will continue to thicken up quite a bit. If you do have leftovers you should definitely save it. Wait until it is at room temperature and then transfer into a sealable container. When you reheat meatloaf spoon some of this on top first, that will keep it really moist.
It will be very thick when it is cold though so the easiest way to thin it out a bit is to add more water or stock into the container, stir, and then spoon it on your meat that you will heat up again. Even if you only have taters left I would save this and serve together. It adds so much flavor to otherwise blander meals and/or side dishes in a cheap way.
What can you add to gravy?
If you love this but over time you want to change things up a bit, just stick with the base and add different add ins like: more hers like thyme and sage, a bit of sugar can sweeten it up a bit, add texture with sliced instead of diced onions or better yet make caramelized onions and add those!
What should I serve with gravy?
Ummmmm is there any dinner that does not go with this creamy sauce?? Over pot roast is great, salisbury steak is incredible soaked in this goodness, pour it over biscuits in the morning or toss with meatballs as an appetizer! Use your imagination. What is your favorite comfort food? I bet if you imagined it with this on top you'd smile.
Think outside of the box when you are cooking, that is what I do to come up with something different. If you do dinnertime will be a lot more interesting and it will give you something else to talk about. There is always a story to any homemade meal I find and especially at the table with teens you sometimes need something to start a convo.
Nutritional information with calories, saturated fat etc….is listed below. That is calculated by the recipe card itself and not myself so I cannot verify accuracy but it should be close. 😉
Want to see a few of my favorite things that I am totally obsessed with?? Take a peek and see how many you might already have…twinsies!
Looking for more easy family recipes and tips? LIKE The Typical Mom Facebook page?
Then sign up for my free newsletter, and follow me on Pinterest! 😉
***** If you LOVED this recipe give it 5 Stars below and let everyone know what you thought about it. 😉
Brown Gravy for Meatloaf Recipe
Easy brown gravy for meatloaf recipe is here! Don't use the packet, use this simple homemade meatloaf gravy to smother your ground beef.
Instructions
In a pan (cast iron is best) melt your butter and then add your diced onions. Cook until softened.

Sprinkle in and whisk the flour into your mixture. Add onion powder and garlic powder. Stir until bubbly and smooth. Slowly add the beef broth and whisk together until smooth. (if you want to add diced mushrooms add now)

Add the tomato paste, Worcestershire sauce, and Dijon mustard. Start to combine and cook until the gravy reaches your desired thickness.

Taste, add salt and pepper to taste. Pour over prepared meatloaf.
Nutrition Facts
Brown Gravy for Meatloaf Recipe
Amount Per Serving (1 oz)
Calories 39
Calories from Fat 27
% Daily Value*
Fat 3g5%
Cholesterol 8mg3%
Sodium 183mg8%
Potassium 78mg2%
Carbohydrates 2g1%
Protein 1g2%
Vitamin A 109IU2%
Vitamin C 1mg1%
Calcium 7mg1%
Iron 1mg6%
* Percent Daily Values are based on a 2000 calorie diet.