Air fryer ravioli is easier to make than you think! Using fresh or frozen cheese or meat ravioli you can get that crispy outside with NO oil like this.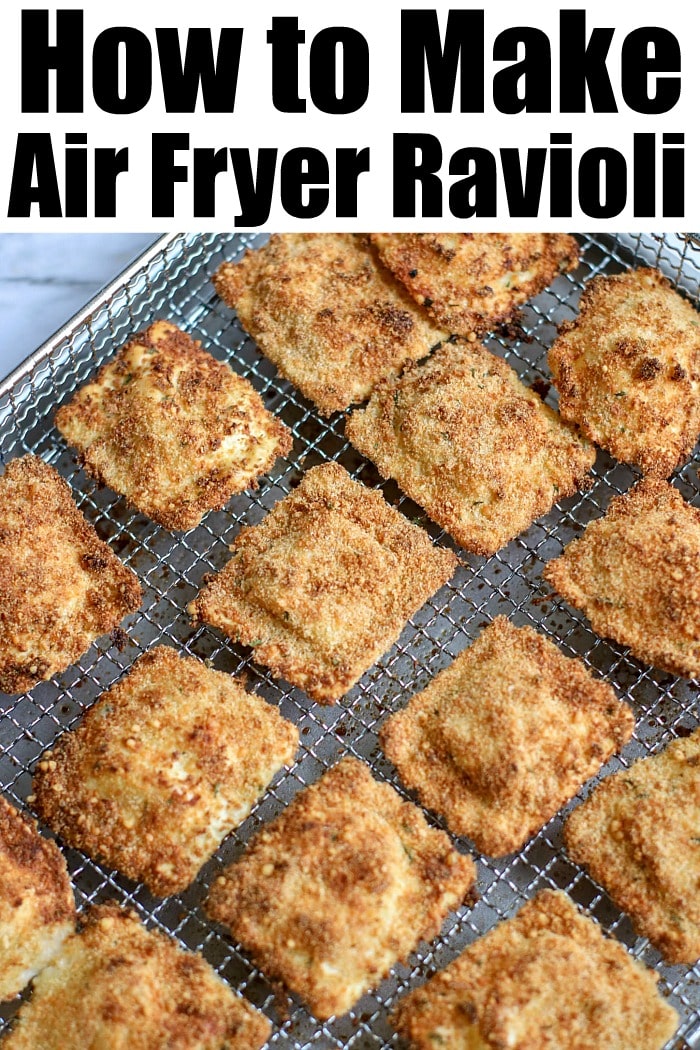 Air fryer ravioli is the most recent air fryer recipe we created and love! With just 4 simple ingredients you too can make this hearty appetizer or dinner for your family and be the hero in your house. 😉 I bet it will become a new quick and easy family favorite comfort food for y'all too. (affiliate links present)
We used our Ninja Foodi but you could use any brand of electric air fryer you have to make these.
Here is a bit about our machine and more: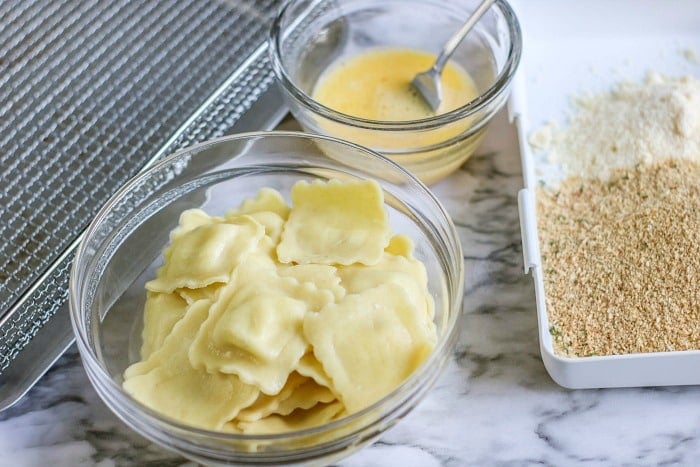 This is all you need to make air fryer ravioli!
Ravioli

fresh or frozen
cheese ravioli or meat filled

Bread crumbs – Italian seasoned is best

could add some garlic powder and/or other seasonings into the mix

Parmesan cheese – shredded
Egg
Olive oil spray if you want them REALLY crispy – generally isn't necessary
Marinara sauce to dip the ravioli in
Non stick cooking spray for air fryer basket
If you needed an egg free air fryer fried ravioli recipe you could dip into olive oil instead. The breadcrumbs just won't stick quite as well, but it's an alternative if you need it.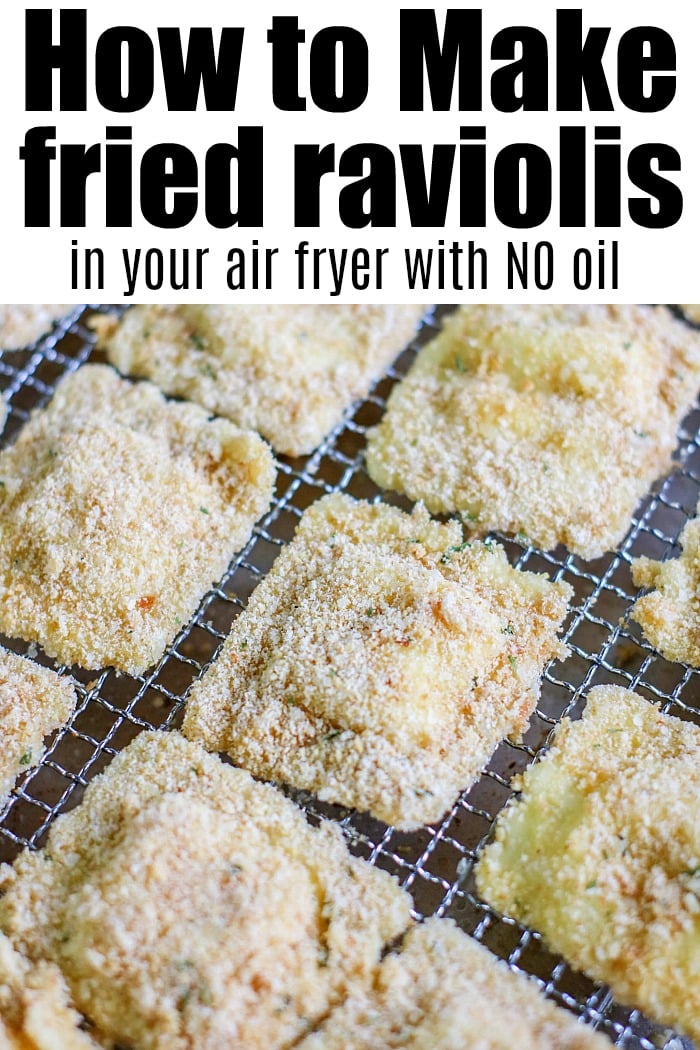 How do you thaw frozen ravioli?
Fill a pot with 2/3 water, put on the stovetop on medium/high, and bring to a boil.
When the water is boiling add 1 teaspoon of salt and add your frozen ravioli.
Stir so none of the ravioli stick to the bottom of the pot.
Cook uncovered 4-7 minutes.
If using them to make air fryer ravioli, turn your pot off and use a slotted spoon to remove one at a time. Put into the whisked egg, flip. Then put into breadcrumb mixture and coat on both sides well before putting raviolis in a single layer inside your air fryer basket.
How do you cook fresh ravioli?
Use same instructions as frozen except do NOT stir, they may break apart. Cooking time remains the same.Take a bite out of one to test if pasta and filling is cooked before turning pot off.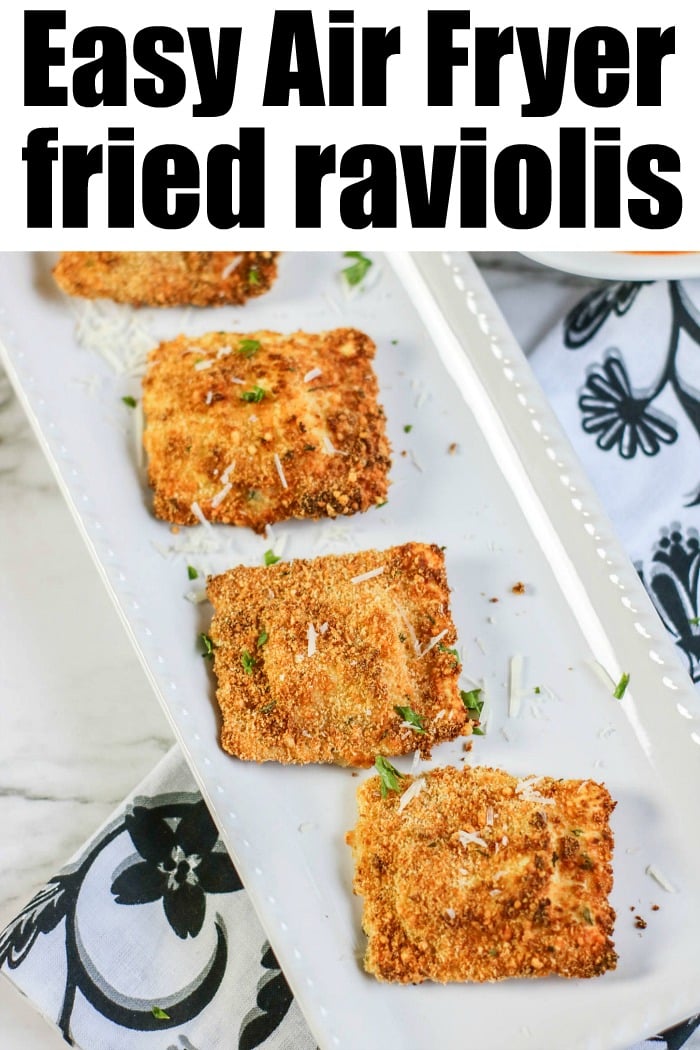 Do ravioli float when done?
Yes. That is a good indicator that yours are cooked through and ready to be taken out. Best to cut one in half though and taste it to ensure filling is cooked to your liking.
Allowing them to cool a bit to make these is helpful so you can handle them. The trick is to make sure they don't stick together.
If you take out a few at a time from the pot and put them in a bowl with a bit of olive oil, that works best.
Breaded ravioli is a great game day appetizer I tell you!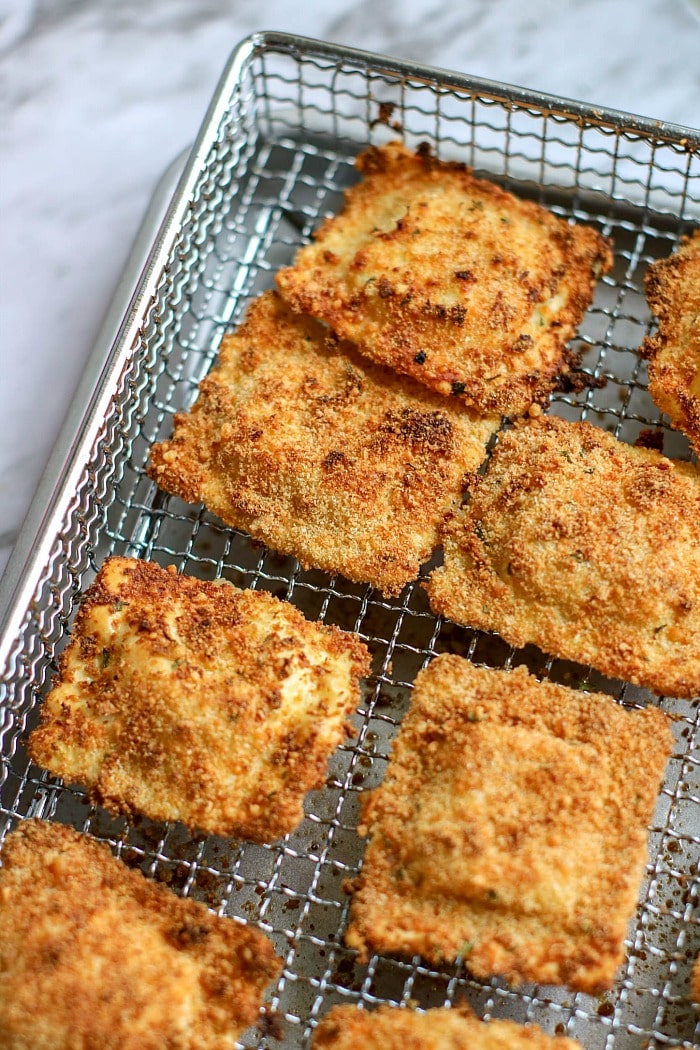 Can you reheat fried ravioli?
You can, it is one of those make ahead recipes that freezes beautifully if there are any left. When you're ready to serve it, just take it straight from the freezer and reheat them on a cookie sheet in the oven for about 10-15 minutes at 375 – 400 degrees.
I really recommend eating your air fryer ravioli right out of the machine though!! They're the best that way and honestly we've never had any left over.
Other Ninja Foodi recipes you might enjoy:
How to make air fryer frozen chicken nuggets
You can serve this with air fryer cauliflower

or air fryer zucchini chips as a side dish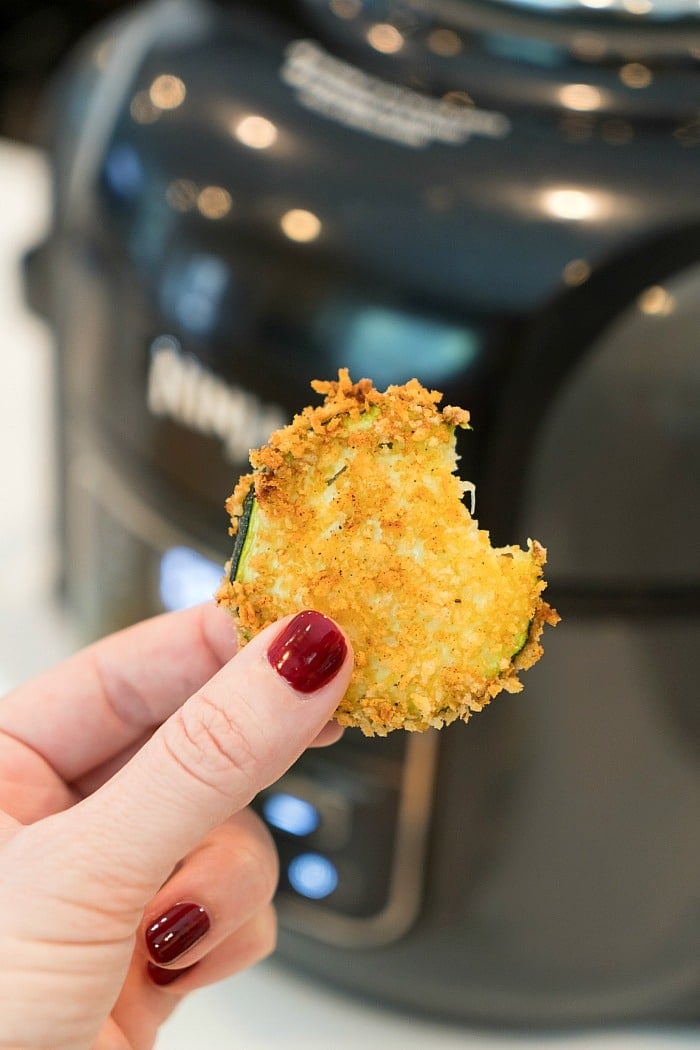 These are made very similarly, but I used Panko breadcrumbs with the air fryer zucchini. With both you just dip into the whisked egg, then in the bowl combined with breadcrumbs, seasonings and parmesan.
This will create the crispy coating you want on your vegetables and/or pasta like you see here.
Biggest tip: Make sure that you do not overlap the food in your air fryer basket. You need the hot air to be able to circulate all around each piece for optimal results.
Printable instructions to make toasted ravioli below. One of the many easy meals we feature here on The Typical Mom blog. To receive all of these via email sign up for my newsletter.
Air Fryer Ravioli
Air fryer ravioli is easier to make than you think! Using fresh or frozen cheese or meat ravioli you can get that crispy outside with NO oil like this.
Instructions
Cook ravioli according to package directions on the stovetop in water.

Preheat air fryer to 400 degrees and spray your air fryer basket with non stick spray.

On a plate combine breadcrumbs and parmesan cheese.

Whisk egg in a bowl and dredge each cooked and slightly cooled ravioli one at a time, followed by pressing each side into your breadcrumb mixture so each one is coated. Shake excess crumbs off and place each one inside air fryer basket. Do not overlap them.

Cook at 400 degrees for 3-4 minutes or until crispy on the outside. Can flip them halfway through but not totally necessary.

Serve with marinara sauce for dipping.
Nutrition Facts
Air Fryer Ravioli
Amount Per Serving (3 oz)
Calories 558
Calories from Fat 189
% Daily Value*
Fat 21g32%
Cholesterol 100mg33%
Sodium 1270mg55%
Potassium 207mg6%
Carbohydrates 66g22%
Protein 25g50%
Vitamin A 317IU6%
Calcium 296mg30%
Iron 9mg50%
* Percent Daily Values are based on a 2000 calorie diet.