Crispy air fryer calamari is the best appetizer even kids love! Fried squid is easy to make and so flavorful in your hot air machine too. Try it!
I don't know about you but deep fried squid is our favorite appetizer to munch on at restaurants. NOW you can make air fryer calamari without oil or deep fried BUT still as crispy as ever. Find this and 50+ more easy air fryer recipes on The Typical Mom now. (affiliate links present)
Ninja Foodi Calamari
You can make these in any brand of air fry machine you might have at home. If this is one of your favorite appetizers when you go to restaurants, this is how to cook calamari at home now.
If you love ordering this at your local restaurant you'll be surprised at how much this tastes the same, and is cheaper too. With a light tempura like batter and tender fish inside, it is a healthy snack or side dish.
FIRST – You should sign up for my free newsletter so you get new posts emailed to you twice a week and never miss out on anything! If you love air fryer recipes too, here are some resources to start with: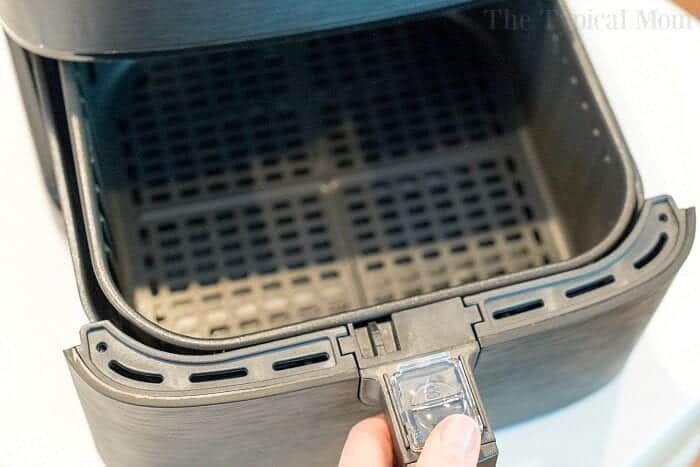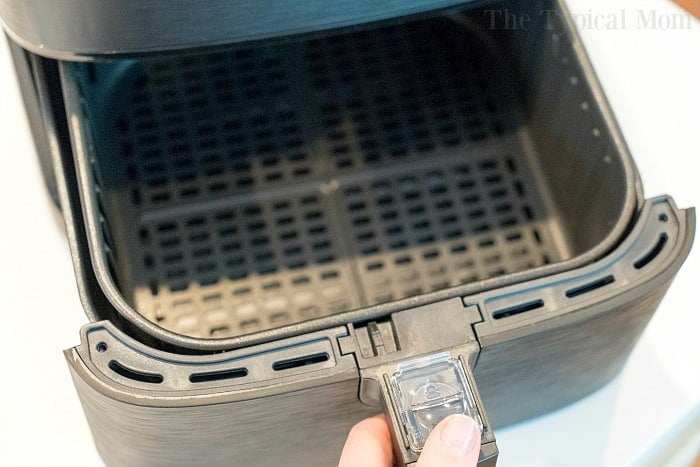 Air Fryer Calamari Without Buttermilk
This is dairy free. No milk or milk product is necessary to get this to taste great, and the breading to stick well on the outside. Add any and all seasonings you like, then lightly salt and pepper it when done too. Here are a few questions you might be asking before making these;
What part of squid is calamari?
It's the body and the tentacles. We didn't use the latter this time. If you buy it frozen as we did, you may not get both portions.

Typically deep fried, it's usually served with a marinara sauce and perfectly crunchy.
Why do they call it calamari?
The term comes from the Italian word for "squid." In the U.S., it usually refers to a battered and fried appetizer served in restaurants and bars.
Here's what the rings look like before they're cooked, and what you're going to need: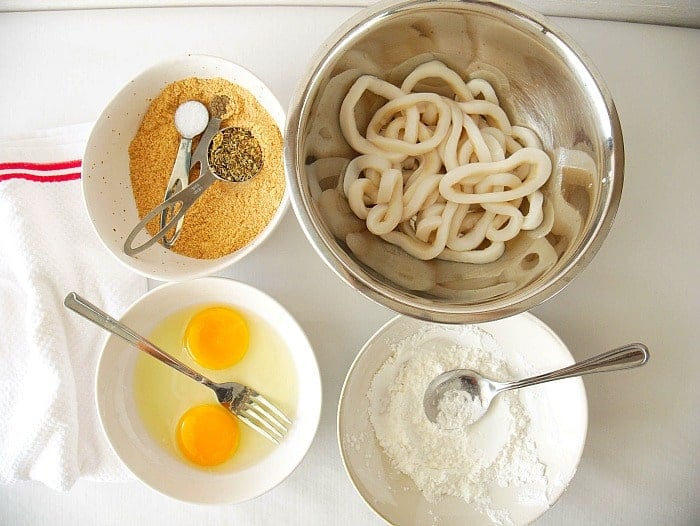 Calamari air fryer ingredients
This is using freshly sliced from whole or defrosted out of the bag pieces. Yes you can buy this already breaded in a box and heat that up but really those aren't that great. Super processed and you can barely taste the squid on the inside that should be super tender when done.
Defrosted (previously frozen if that is all you can find) calamari
Breadcrumbs
Egg
Italian seasoning
Salt and pepper
Cornstarch
Really there isn't much to it. Of course you'll need an air fryer or Ninja Foodi machine to cook it too. That goes without saying. I don't think non stick cooking spray is necessary as this breading didn't stick.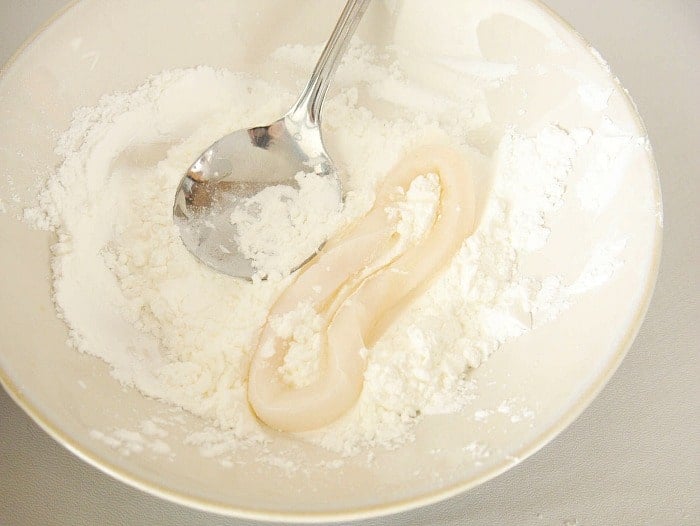 To make things easier I like to create an assembly line of sorts. Once you have it down pat it won't take long and you'll have a batch ready in no time to enjoy together.
How Long to Air Fry Calamari
Time needed: 11 minutes
Calamari in Air Fryer
Rinse and dry calamari

Once frozen calamari is defrosted, rinse them and lay down on a few paper towels. roll it up to absorb the excess water. This will help the coating stick well and create a nice crispy crunchy exterior.

Get ingredients ready

In one mixing bowl combine breadcrumbs with desired seasonings, mix. In another bowl pour in your corn starch. In a third bowl whisk eggs, now you"re ready to dip and dredge.

Coat calamari

First dip each calamari ring in cornstarch and coat, then dip in egg and allow to drip off the excess. Lastly roll each piece in the bread crumbs and then place into a preheated air fryer basket.

Air fry

Once you have a single layer of coated pieces, close drawer. Preheat and cook in air fryer at 400 degrees F for 9 minutes. Then flip each piece and continue cooking for 2 more minutes until golden brown.

Serve

These are best eaten when they are freshly cooked, dip cooked calamari in marinara dipping sauce or spaghetti sauce.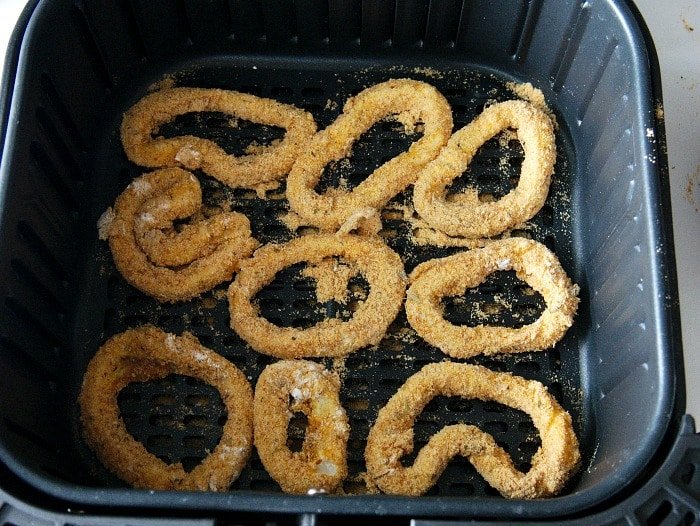 How long should you preheat air fryer?
I always preheat my machine for 5 minutes at the temperature I want to cook my food. This ensures you'll get a crispy exterior, and food will cook at a consistent temp. the entire time.
What's the best way to cook squid?
Hands down I love to air fry everything nowadays. Without submerging in oil you can still get a deep fried taste and texture in no time. You can use a pan on the stovetop to cook the outside which we share at the top but the texture is definitely different.
Most times I use a sort of flour mixture vs. cornstarch but the latter creates a really really crunchy exterior. Air fryer cooking does require some sort of dry coating, unless you're going with no breading all together.
That can be a good choice when making a batch of air fryer vegetables let's say. For air fryer fried chicken though it is nice to have that big crunch if you ask us.
What goes good with fried calamari?
Since it is just mainly an appetizer you can just go with a simple lemon wedge, salad or slaw.
I say it always needs to pair with marinara sauce though for sure, okay and ranch dressing works too.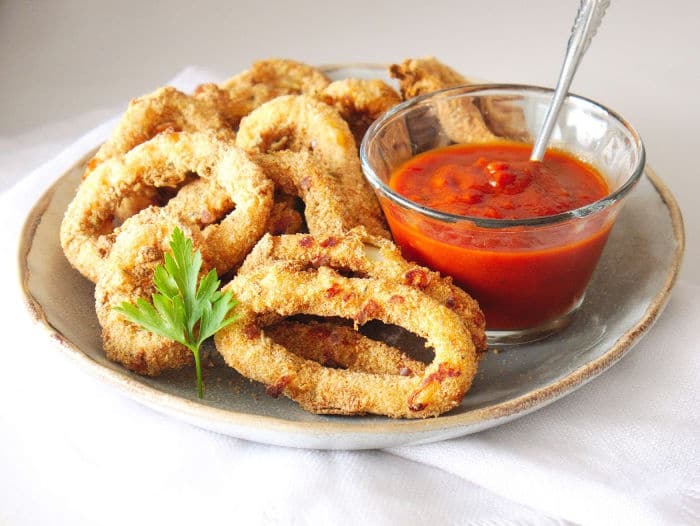 Need your next new idea? Try our air fryer empanadas, they'll blow your mind.
Want to see a few of my favorite things that I am totally obsessed with?? Take a peek and see how many you might already have…twinsies!
Looking for more easy family recipes and tips? LIKE The Typical Mom Facebook page?
Then sign up for my free newsletter, and follow me on Pinterest! 😉
***** If you LOVED this recipe give it 5 Stars below and let everyone know what you thought about it. 😉
Air Fryer Calamari
Crispy air fryer calamari is the best appetizer even kids love! Fried squid is easy to make and so flavorful in your hot air machine too. Try it!
Instructions
Defrost, rinse, and pat dry the calamari rings to remove excess water on outside of each piece. In a small bowl, lightly beat the eggs.

Place the breadcrumbs in a bowl + the Italian seasoning, salt and black pepper. Mix until well combined. Taste the breadcrumbs and if desired adjust the seasonings to your taste. Pour the corn starch in a separate bowl.

Dip one calamari ring into the corn starch and coat entire surface, then dip into the lightly beaten eggs and make sure it's properly coated. Dredge in the breadcrumbs making sure the entire calamari ring is coated on all sides.

Place coated pieces in the air fryer basket. Do not stack on top of each other and do allow enough space around each ring to easily flip.

Preheat air fryer to 400 for 5 minutes. Set air fryer to 9 minutes. Once the 9 minutes are up, carefully flip over the calamari rings and cook for another 2 minutes. Check, if you want them browner on the outside add a few more minutes.

Once finished cooking the rings will be golden and crispy on the outside. The actual calamari will be cooked but it will be tender and not rubbery – this is what calamari should be like.

Dip in marinara sauce and enjoy
Nutrition Facts
Air Fryer Calamari
Amount Per Serving (2 oz)
Calories 143
Calories from Fat 27
% Daily Value*
Fat 3g5%
Cholesterol 173mg58%
Sodium 431mg19%
Potassium 189mg5%
Carbohydrates 17g6%
Protein 12g24%
Vitamin A 89IU2%
Vitamin C 3mg4%
Calcium 59mg6%
Iron 1mg6%
* Percent Daily Values are based on a 2000 calorie diet.