Instant Pot vs Ninja Foodi review is here! Which one should you buy and what are the differences between the two from a mom who uses them every single day. If you're considering purchasing the Ninja Foodi pressure cooker and air fryer let us tell you why we did.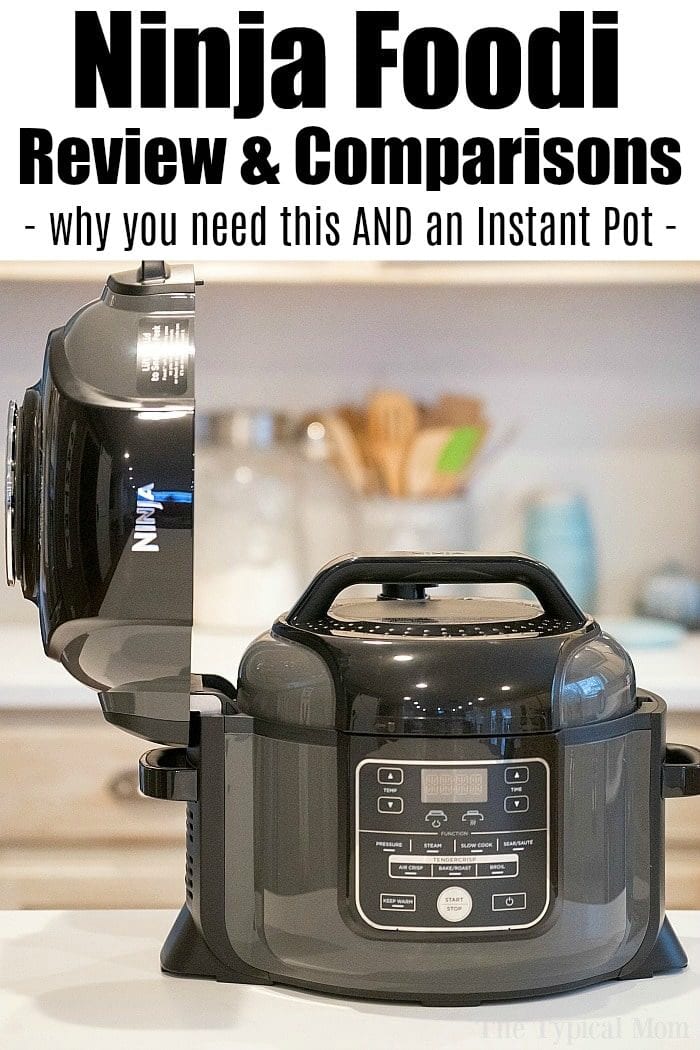 There is officially a BIG difference in pressure cookers on the market now! With the emergence of this 2 in 1 pressure cooker and air fryer I find the need to do an Instant Pot vs Ninja Foodi review. Then you can try all our Ninja Foodi recipes if you get one. (originally published 2/19, affiliate links present)
Instant Pot vs Ninja Foodi
I will include a Crockpot Express review along side these as well in case you own that model. Any and all 101+ Instant Pot recipes work in either pot too. The biggest between the two is their air crisp function that you cannot do with the singular function of the IP pressure cooker
There are two lids because of this that you will need to use depending on the function you want. The attached will be used for air frying where as the other needs to be secured for high pressure to build up.
Compare Instant Pot Ninja Foodi and Crock Pot Express
Here are a few resources to start with:
Join my Ninja Foodi EASY Recipes Facebook group for more recipes.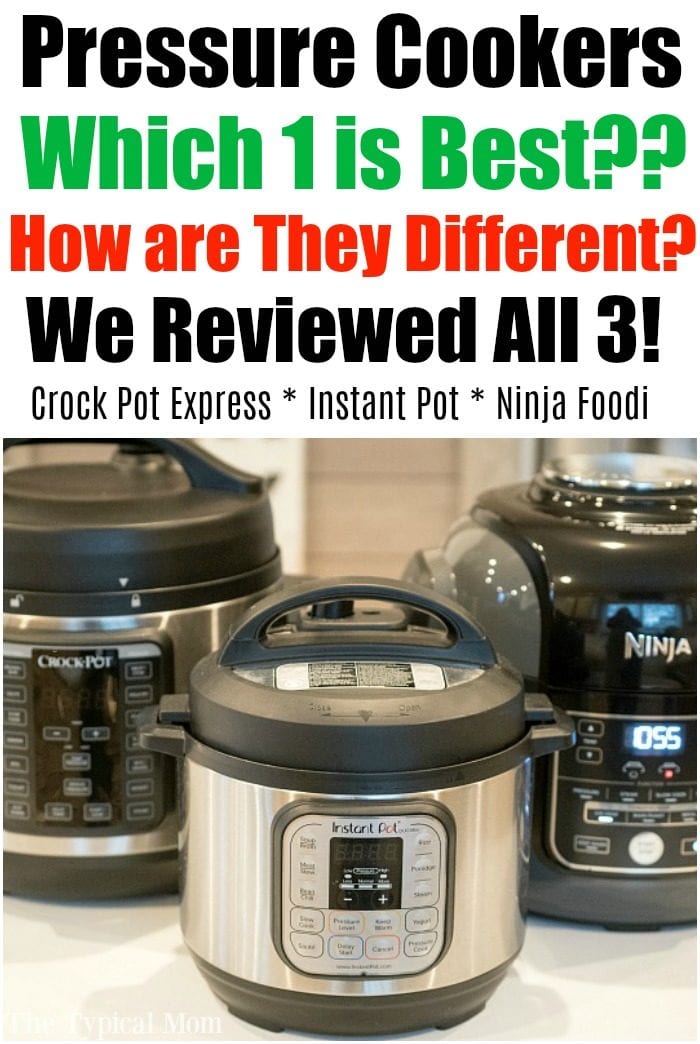 What is the difference between Instant Pot and Ninja Foodi?
There definitely are different aspects to both of them. Some may be a plus to some and a negative to others which is why I talk about each.
Ninja Foodi is a pressure cooker, steamer, slow cooker, and air frying multi cooker with tendercrisp technology

6.5 qt. size available, 8.5 qt. available by special order

inner pot is 5.5″ high (shallow pot becomes an issue at times when making recipes that require height like pressure cooker beer can chicken).

I have a 6.5 quart
It's pot and crisp basket are ceramic coated
This is the most expensive pressure cook device out of the 3.
More buttons to press, must turn on and push start after setting temp and time

Pot has a non stick coating
Comes with 2 lids, steamer/air fryer rack, and an air fryer basket
Only comes in black color
They now have the Ninja Foodi Grill which I've done a review on as well. Watch this video to see what that is all about.
Pressure Cooker vs Ninja Foodi
And even more differences continue on. Doesn't matter what version you have as far as the wrap on the outside. The more updated ones do vary like the first version has a manual button which isn't present anymore.
Instant Pot you can pressure cooker, steam, slow cook, it's a yogurt maker and rice cooker

3, 6, and 8 qt. sizes available

I have all three sizes, including this Pioneer Woman Instant Pot you see below (super cute)
inner pot for 6 qt. is 6 1/4″ high and they're stainless steel

I'd HIGHLY recommend getting a non stick pot instead

Mid priced of the 3
Only one that offers a small 3 qt. version which is great for just 1-2 people
Automatically starts after setting temp and time

Pot does not have a non stick coating
Comes with 1 lid and a trivet
I will include information about the Crockpot Express in my Instant Pot vs Ninja Foodi review below too in case you have this model and are considering adding a Ninja Foodi machine as well.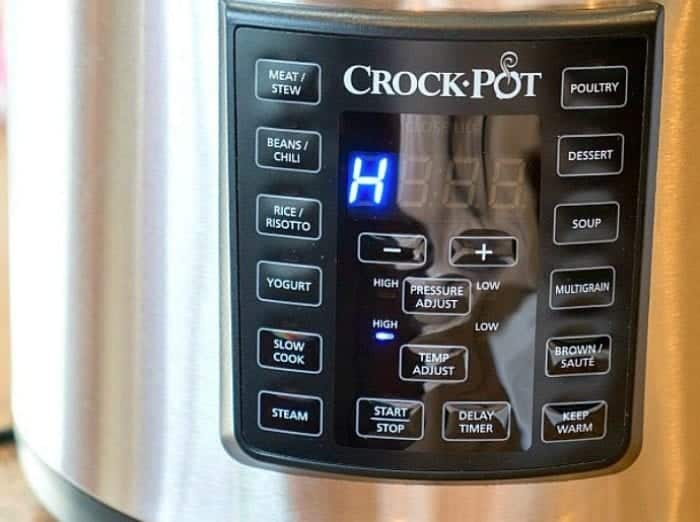 Crock Pot Express is a pressure cooker, steamer, slow cooker and rice cooker
6 and 8 qt. sizes available

I have a 6 and 8 qt.
inner pot 6 qt. similar to IP, 8 qt. is 7 1/4″ high
Least expensive pressure cooker of the 3
Must press start button after setting temp and time (which I forget to a lot because IP doesn't require this).
Pot has a non stick coating

Comes with 1 lid
Only comes in black and silver
Buttons are almost identical to the Instant Pot – easy to convert recipes
Pressure cooker accessories
Crock Pot Express accessories are identical to what can be used inside an Instant Pot.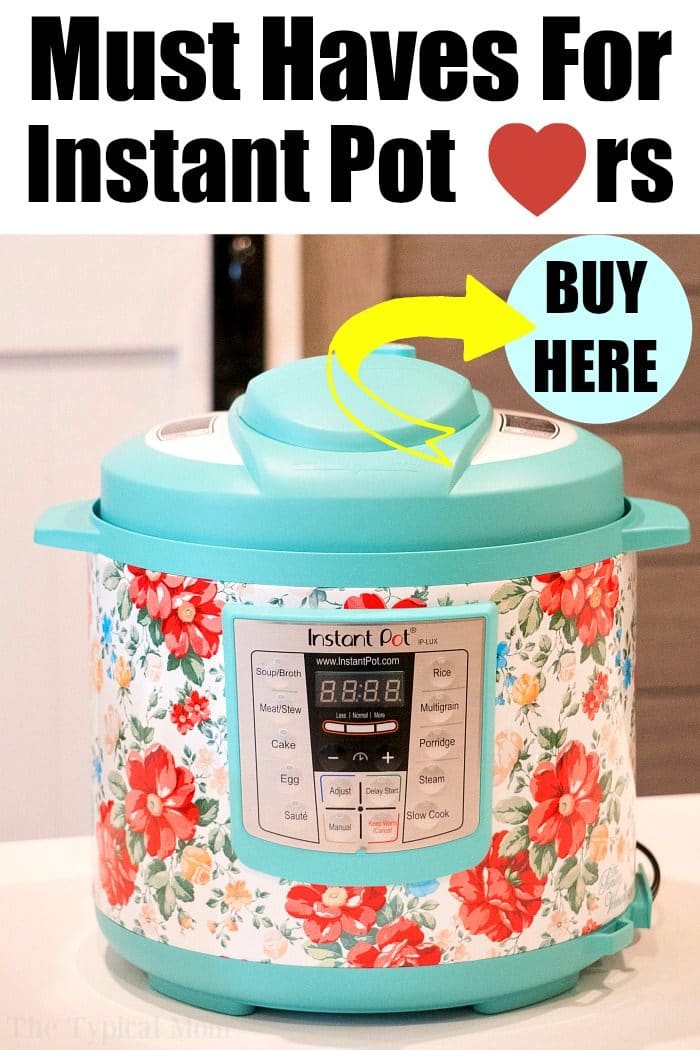 What is the best pressure cooker?
In the end it is up to you, but these are the biggest differences I found and why I personally like one over the other: Here is an in depth review on the Instant Pot vs Crock Pot Express, now we're comparing all 3 below.
Ninja Foodi inner pot is shallower than the Instant Pot and Crockpot Express pressure cookers of the same size
You lose about 3/4″ in height which may not seem like a lot but when you're cooking something like my pressure cooker beer can chicken or a large piece of meat it makes a big difference.
There's no way I could make my beer can chicken in the Ninja Foodi.
Ninja Cooking System and Crockpot Express pressure cooker machines come with a teflon coated inner pot

Up to you whether you like this feature but I really do, food slides right out and they're easier to clean I think.

Ninja 3 in 1 cooking system doesn't have a yogurt function

I have NO need for this button so I could care less that it is not there.

Ninja 3 in 1 cooker is both a pressure cooker AND an air fryer

This is the BIGGEST and most important difference that the Instant Pot and Crock Pot Express machines don't have and the reason why we bought it!
If this had come out at the same time as the others I would probably have purchased the Ninja Foodi initially because I love multi functional kitchen appliances.
Now that you've read our Instant Pot vs Ninja Foodi review we hope you can make a more informed decision!
Once you've made your purchase(s) here are some resources for you:
Easy Instant Pot recipes
We've got you covered!!