This is how to make fajita seasoning that's amazing and easy to throw together. Add more heat if you like them spicy, then cook on the grill or air fryer! This and our wet best fajita marinade will turn your beef from good to beyond amazing.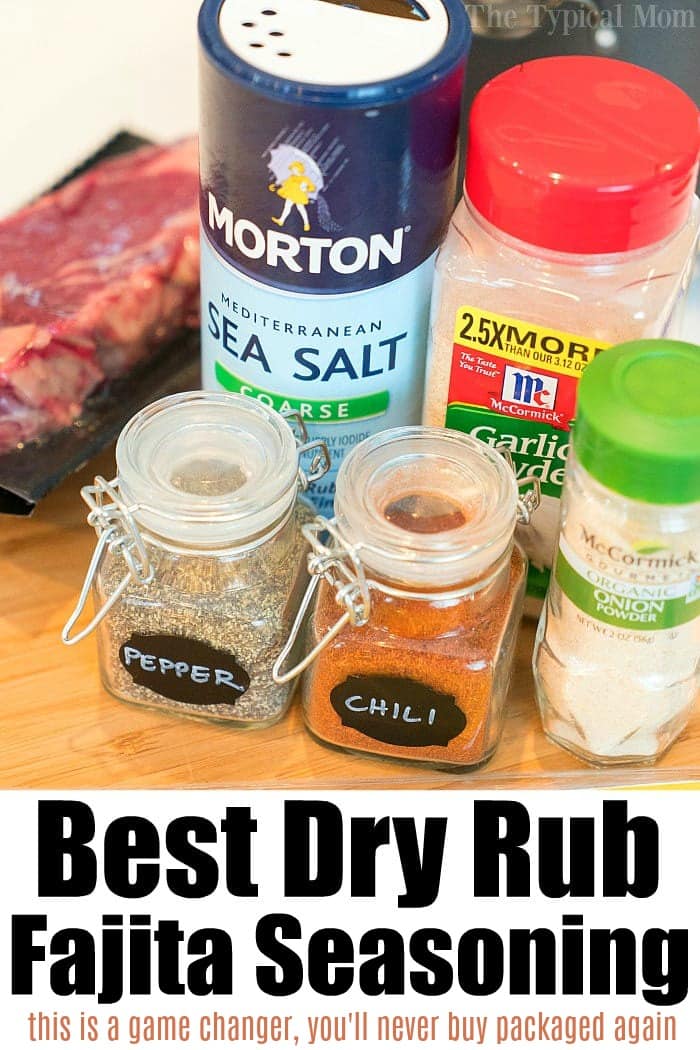 We've been busy making fajitas in all different ways lately. I probably should have started all this with how to make fajita seasoning, but I got sidetracked. So here it is! Use this beef rub recipe the next time you want to make this tasty dinner and let us know what you think. (affiliate links present, originally published 8/19)
Homemade Fajita Seasoning
Last week we made these air fryer fajitas, before that we used this rub on our Instant Pot fajitas. Both ways were full of flavor and came out delicious. You can tweak this however you like so it is mild or add red pepper flakes to make it as spicy as you would like it to become. Both ways are great.
If you don't have either one of these appliances, you can make sheet pan beef fajitas in the oven too. With all of these spices you won't need a sauce. I mean you might want to add salsa or something if eating them inside tortillas like tacos but it isn't necessary.
Steak Fajita Seasoning
Most of these you should have in your cupboard. Mix break up any clumps and mix together. If you make these quite often I like to make a really large batch and store in a sealed plastic container. Then you don't have to measure anything the next time you want to make it.
Garlic powder
Onion powder
Cumin
Salt and pepper of course
Chili powder or cayenne pepper, more or less depending on your taste buds
Paprika
Coarse salt is best
Mustard
Thyme
What seasonings go best with beef?
The ones listed above are perfect I am telling you. Use a small bowl to combine it all together, then rub your spice blend on to your chicken or steak. We used most of these for our fajita seasoning mix recipe here, with a bit of olive oil so it would adhere well.
Leftovers store in an airtight container well. Or make a large batch and just use what you need that night, then keep the rest in your spice cabinet marked fajita seasoning recipe mix.
How long should you leave dry rub on steak?
After applying it generously on to your meat with your hands and massaging it in, wrap each steak in plastic wrap and refrigerate for 2-3 days for best results.
Of course we don't all have time to do this, or think ahead to get all of this prepared beforehand, so no worries if you do this immediately before cooking. This is just a general recommendation for really bold fajita flavors.
Choosing a great cut of meat is very important when making fajitas too.
What cut of beef is used for fajitas?
Rump, skirt, or flank steak are traditionally used to make fajitas. Skirt steak is best really. I will tell you I don't always choose those, but try. If there is something else on sale I might use that. Occasionally I will pound it to get the meat really tender too before slicing into thin strips and rubbing the fajita seasoning on.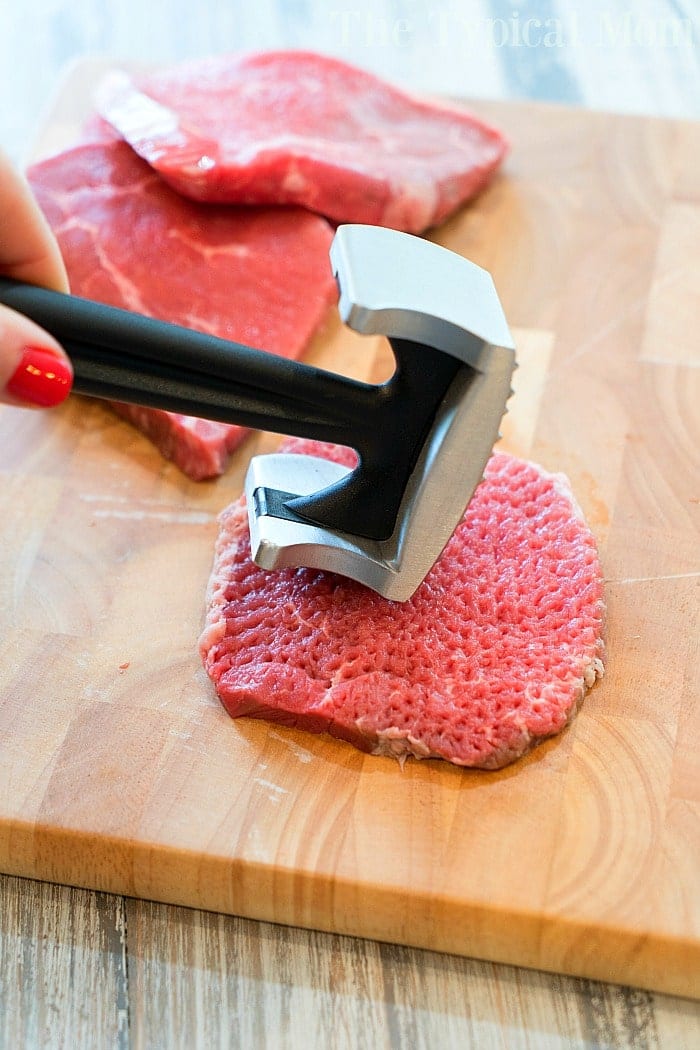 Can you marinate too long?
It is up to you whether you want a dry rub for beef or more of a soak in your fridge before cooking your meat. It is really a personal preference. We do both depending on how much time we have really.
Ideally you should marinate for at least 30 minutes. Especially if you're slicing your beef into strips before adding it in, half an hour is usually plenty of time. Typically it isn't recommended longer than 24 hours. Can you over marinate beef? Yes. Very acidic marinades can actually toughen the meat over time. This wouldn't hold true for this one in particular but keep that in mind.
Now let's talk about how to cook fajitas:
In the oven
On the barbecue
Smoked
Using a pressure cooker
Air fryer as we shared above came out great
You can even make our chicken fajita soup which is killer during the wintertime. Think outside of the box if you're making dinner. They don't always have to be grilled y'all.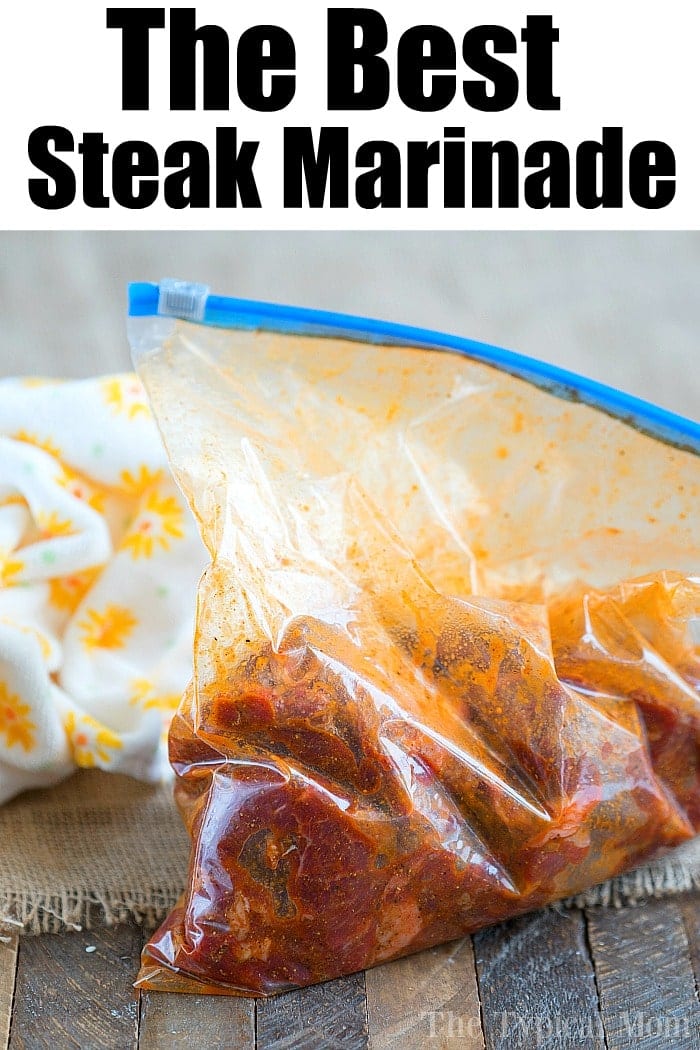 What goes with fajitas?
Classic steak or chicken fajitas call for nothing more than onions, peppers, meat with rice or beans. Of course you can't forget the and the tortillas to serve them as fajitas tacos. Sour cream, salsa and guacamole are great on top or served on the side.
For low carb or keto fajitas just skip the tortillas and rice and eat them as is!
I like to make this in bulk so I don't have to make it again and again every single time. If you want you can just use a plastic container you'd normally use for leftovers. Baggies work too but can prick a hole in them and start spilling out. Something with stronger sides is better. Then you can use a Tbsp. to scoop out what you like.
Honestly, I don't measure very often because I just like to ensure each piece is nicely coated. SO I just kinda' eyeball it depending on how much meat I am cooking in that batch.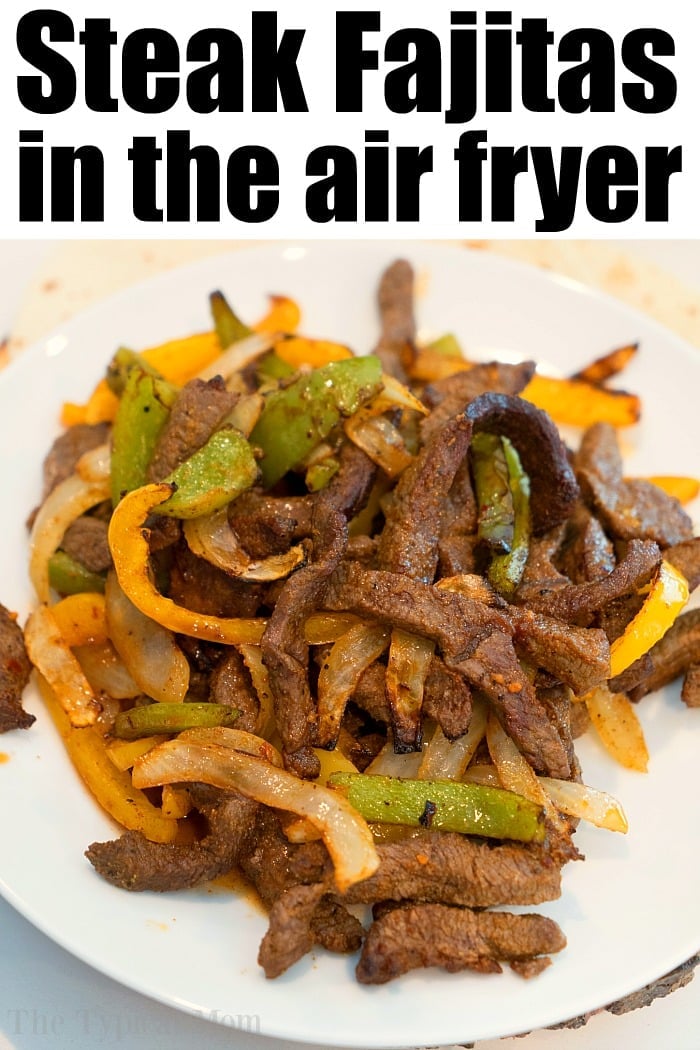 Printable recipe for homemade fajitas seasoning below. I promise you, you'll never buy store bought steak fajita seasoning again. Homemade spices are better yes, but they are also a lot cheaper to make as well. Want to try another? Try homemade taco seasoning and you'll be set!
Want to see a few of my favorite things that I am totally obsessed with?? Take a peek and see how many you might already have…twinsies!
Looking for more easy family recipes and tips? LIKE The Typical Mom Facebook page?
Then sign up for my free newsletter, and follow me on Pinterest! 😉
***** If you LOVED this recipe give it 5 Stars below and let everyone know what you thought about it. 😉
How to Make Fajita Seasoning
This is how to make fajita seasoning that's amazing and easy to throw together. Add more heat if you like them spicy, then cook on the grill or air fryer!
Instructions
Slice 1-2 lbs. of flank steak into thin strips. Add to a bowl with olive oil and stir so it is coated.

In another bowl mix seasonings. Then add to beef bowl and stir to coat all pieces well.

Proceed with making fajitas in oven, on stovetop, in pressure cooker, on grill or otherwise.
Nutrition Facts
How to Make Fajita Seasoning
Amount Per Serving (0.5 oz)
Calories 105
Calories from Fat 99
% Daily Value*
Fat 11g17%
Sodium 600mg26%
Potassium 62mg2%
Carbohydrates 2g1%
Protein 1g2%
Vitamin A 554IU11%
Vitamin C 0.2mg0%
Calcium 16mg2%
Iron 1mg6%
* Percent Daily Values are based on a 2000 calorie diet.