Can you put parchment paper in an air fryer? We will answer that question here. Is it safe to use, if so when do you use it and how?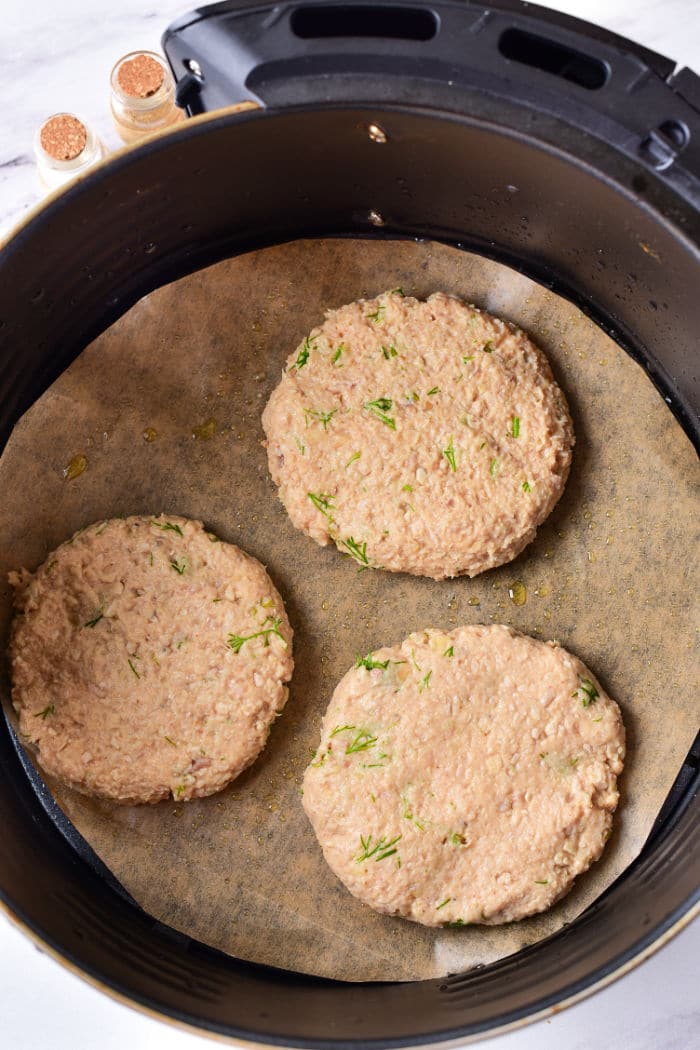 That is a great question, the short answer is yes you can use parchment paper in an air fryer but very rarely and for certain air fryer recipes. I will explain the pros, cons, and hazards of using it in this post, when and how to use it. Then you can make all the things and they'll come out perfect! (affiliate links present)
Parchment Paper in Air Fryer
Maybe you're ready to air fry everything now that you have made the basics. I am sure you were like myself when you first got this "magic machine" right.
You made a batch of crispy air fryer wings and those turned out just great. NO need for paper as far as those went. You moved on to veggies, those turned out great too.
Now you have become a bit more adventurous with things you would normally use a skillet or oven for. Things that aren't solid pieces of food, flaky, or baked items that you're afraid will fall thru the holes on the bottom. We have been there ourselves so we began experimenting because I wanted to use this every single day.
There ARE some fresh and frozen foods in air fryer that are a bit messy. With breading on the outside or maybe you want to slice your favorite cookie roll batter and experiment with that for dessert this week. Those will kinda' ooze thru the lower grates if there isn't something for them to sit on as they rise.
That is where we will start. With baking in an air fryer. If you haven't done this yet it is a game changer.
Reason why I love making air fryer chocolate chip cookies for example is we can make a small batch for just a few of us at home at a time. That is right, slice a few to bake and wrap up the rest for later.
Air Fryer Parchment Paper
Baked goods like these are always best when eaten fresh right?? Now you get it. Of course you can just rip or cut a piece out of your regular roll to fit your air fryer basket. There are in fact air fryer parchment paper liners though that can be found here. Of course there are several shapes and sizes but they are all listed there to choose from.
When to use Parchment Paper in Air Fryer
If you have the square Cosori air fryer like you see below you'd need that shape vs. the round AirWave versions. Those are super convenient because you just slide one right in and dispose of it when your goodies are all done. So other than baked goods like our air fryer gingerbread cookies what would I recommend using these sheets?
If you were making our air fryer ground turkey patties or tuna patties those would need a bit of help on the bottom. Since they're mixed with other ingredients they tend to be kinda' flaky and you want them to stay in tact when cooking. Cut parchment paper and place on the bottom to solve that.

would be the same for salmon patties or whatever other type of canned meat you were using

The same goes for things with shredded vegetables in this baby like air fryer latkes. Those use shredded potatoes and a bit of binding but they are still a bit loose.
Other vegetables we have tried this way would be our zucchini fritters in air fryer dish. A great side or vegetarian meal.
Using a bit of liner on the bottom will help keep them together. You WILL need to flip them halfway thru the cooking time cycle though to get crisp. Since you won't have the hot air circulating under and up to the bottom of your food there is more of a need to rotate each piece to the other side.
Is Air Fryer Parchment Paper Safe?
Yes if used for a short time and on the bottom of your food. You NEVER want to put a pre cut or regular parchment piece on top because it will get too close to the heating element and may be a fire hazard. Also do not add it into the basket when the machine is preheating. It will fly around and touch it that way too.
It is paper so if it touched the heating elements that would be dangerous. If you feel like you need food to be covered put aluminum foil on top instead. That was the case for corned beef in air fryer.
With larger pieces of meat such as that one you would want to seal it so it can "steam" for a longer duration of time and break down the connective tissues. Aluminum foil in the air fryer is your answer to that problem. It is not that the paper can't handle the heat, it's maximum temperature suggested is 425 degrees, it's the danger of touching the coils above.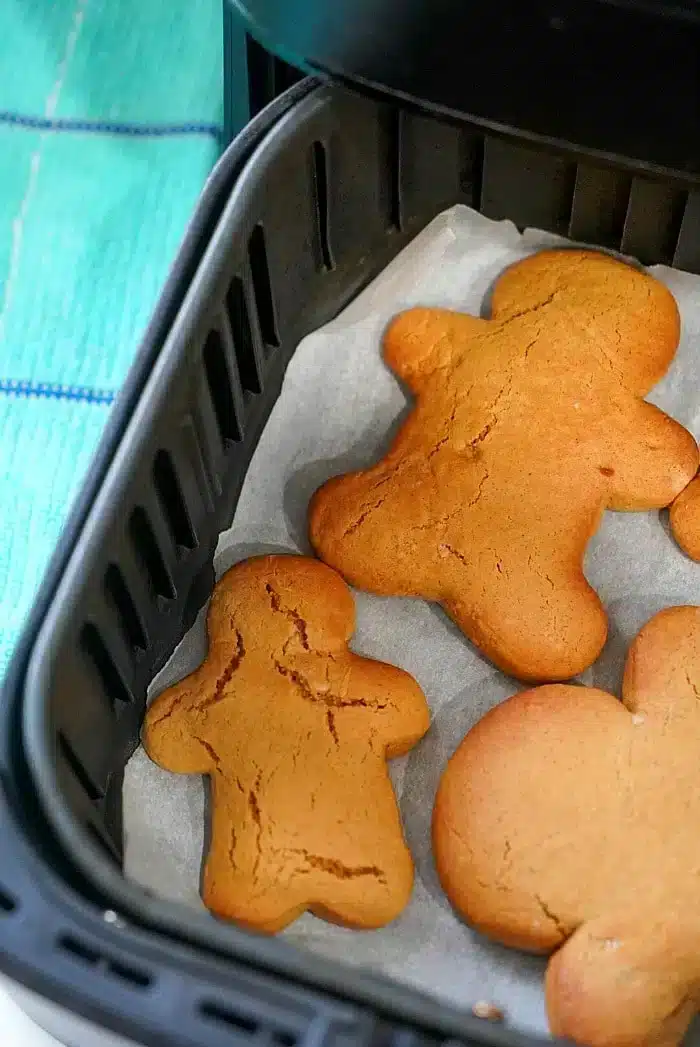 Best Parchment Paper
I mean you can use it for so many things in the oven of course. If you are using it on a baking sheet or want to cut it to fit your basket I would suggest this one. It is a bit pricier to have them already shaped with strips on the sides to use as handles.
The best parchment paper for air fryer would be these if I had to choose they are already shaped. They prevent foods from sticking to the bottom and falling thru the holes too. Do not use wax paper as the resign can melt on to your food and that would be a no go.
Whether you go with regular parchment paper and cut it or use the air fryer liners suggested above you will now be able to cook and bake everything!!
Want to see a few of my favorite things that I am totally obsessed with?? Take a peek and see how many you might already have…twinsies!
Looking for more easy family recipes and tips? LIKE The Typical Mom Facebook page?
Then sign up for my free newsletter, and follow me on Pinterest! 😉
***** If you LOVED this recipe give it 5 Stars below and let everyone know what you thought about it. 😉