THIS is how to cook chicken in an air fryer perfectly! Fresh legs, thighs, wings and chicken breast instructions as well as how to cook air fryer frozen chicken too. Get cooking and enjoy.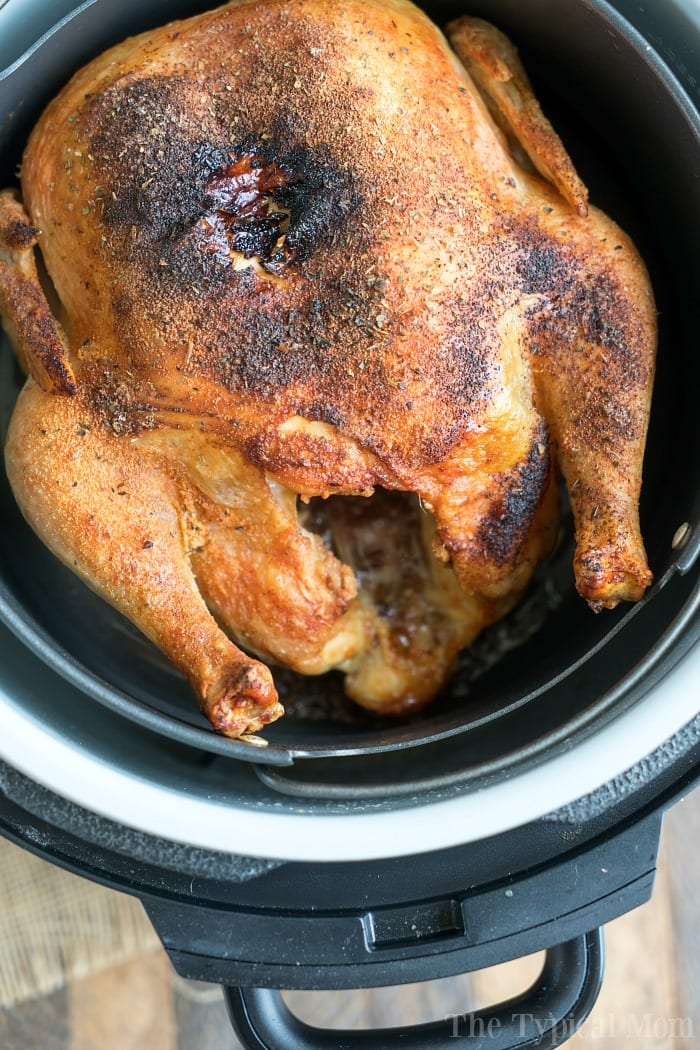 I will include information for a traditional size as well as a Foodi. There isn't a lot of difference of how to cook chicken in air fryer, other than how much you can fit at one time. Then enjoy all our easy air fryer recipes throughout the next week. (affiliate links present, originally published 6/21)
How Long to Cook Chicken in Air Fryer
Whether you are looking for a low carb keto dinner idea, or just want to make a nutritious meal for your family these tips will be helpful. I always recommend cooking from fresh. Cook time depends on how big your bird or pieces are. We are talking from 12 minutes to 45 minutes though.
That isn't always possible if you're in a rush, or forget to defrost your meat in the morning. We will help you understand how to cook those methods as well because….I have done that myself, often! Let's start with an easy one, air fryer frozen chicken tenders… my kids make these themselves!
FIRST – You should sign up for my free newsletter so you get new posts emailed to you twice a week and never miss out on anything! If you love air fryer recipes too, here are some resources to start with: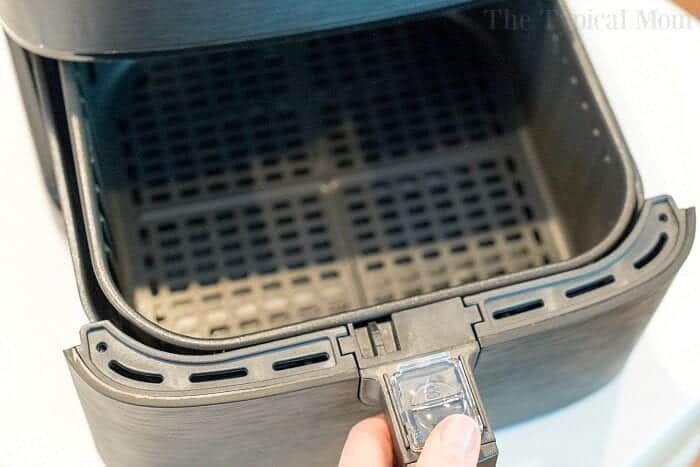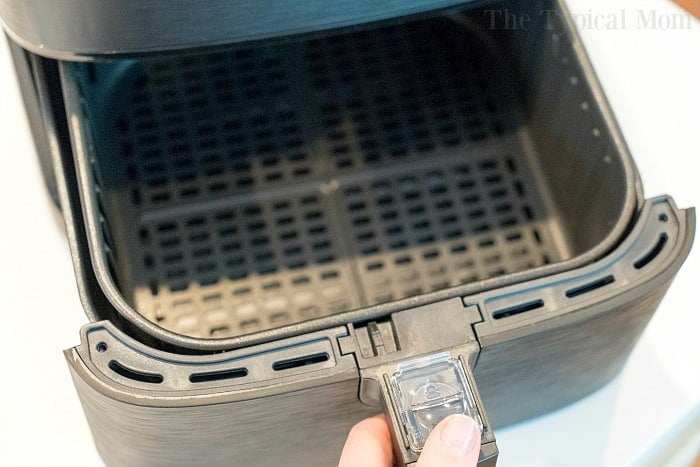 How to Cook Chicken in Ninja Foodi
You can see this above, air fryer whole chicken can be done in a Foodi. A "regular" unit would need a really small bird to get this done.
When reheating chicken in air fryer there are a few tips too you should remember. Many times you have leftovers and this comes in really handy.
Let's begin with the most common part of the bird that kids love, drumsticks! You can cook them with a light sprinkle of salt and pepper, a light breading, or super crispy like Kentucky Fried Chicken!
How long to cook chicken legs in air fryer?
Chicken legs in air fryer are quite simple, and don't take very long. I often times use this bagged chicken breading mix to make things easier.

12 minutes is just about perfect to get the inside to the right temperature, and crisp the outside nicely.

If you want to cook it with the thigh, air fryer leg quarters will take closer to 25 min.
If you want a Ninja Foodi chicken legs specific recipe, you can pressure cook them first and then air fry at the end. That method is great too.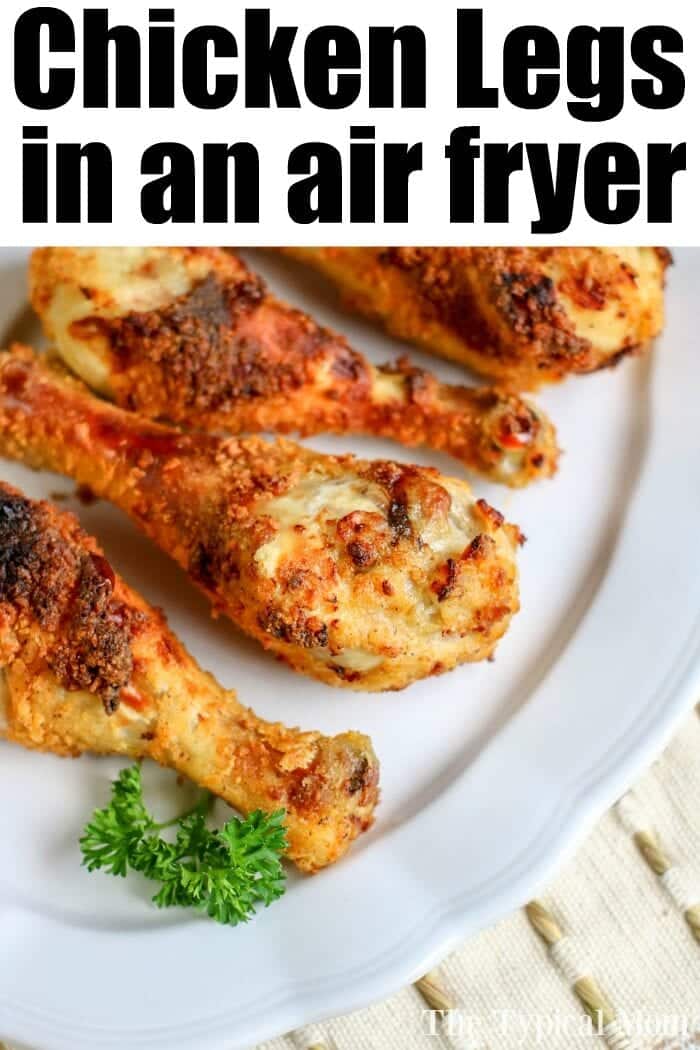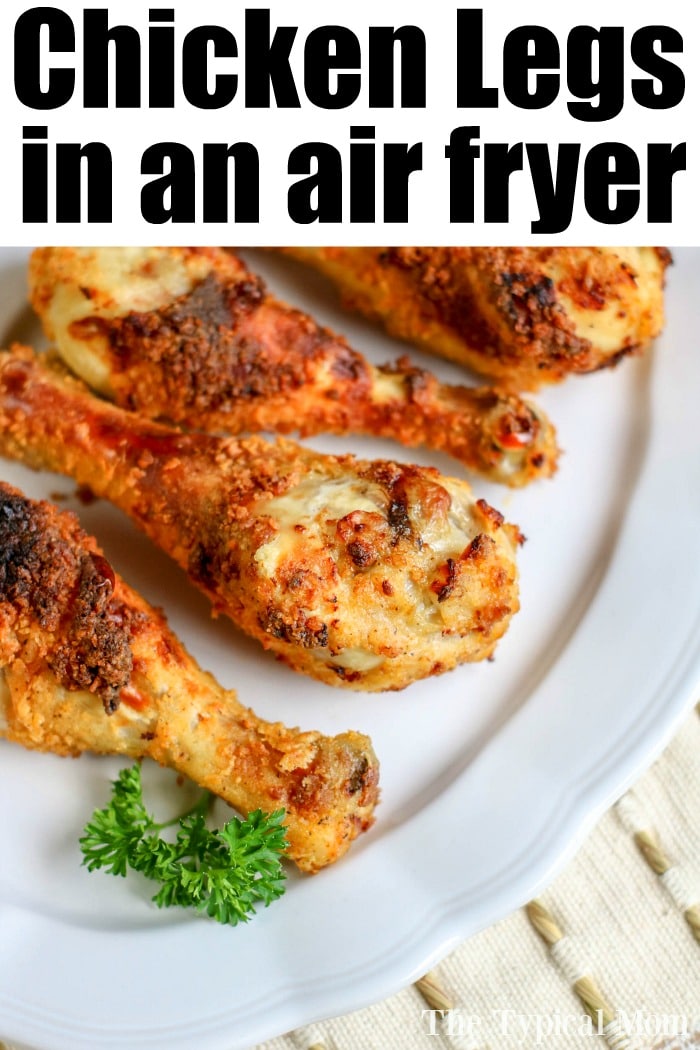 Now on to our favorite air fryer appetizer, wings! They are small bite sized bits of goodness with our favorite dry rub on the outside. You can then add sauce but we rarely do.
We have made many different versions of Ninja Foodi chicken wings using both methods but if you just have a Cosori, here are a couple.
How to cook chicken wings in an air fryer
Our favorite are these dry rub air fryer chicken wings for sure. With a sweet and savory flavor on the outside, it's just mouth watering. For spicy, use our firecracker chicken in air fryer recipe.
This lemon pepper chicken wings air fryer recipe is light and simple to make.
AND you can make the best frozen chicken wings in air fryer too!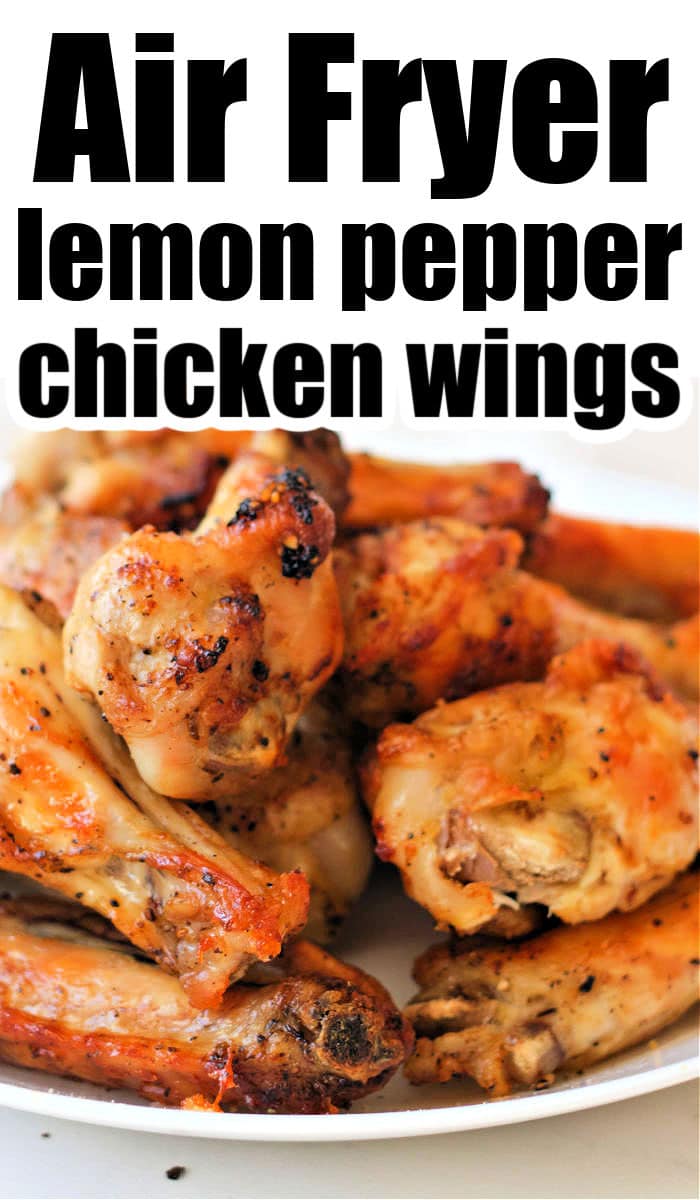 How to cook chicken strips in air fryer
You can do this several different ways. If you want to start from fresh and add coat in a breading flour mixture. Mix up Italian seasonings with breadcrumbs, dunk in flour, then dip in egg and coat in your mix.
Or you can just cook and toss in hot sauce at the end….it's all delish.
Ninja foodi chicken tenders wrapped with bacon are pretty darn amazing too. You don't always have to add breading though, especially if you want a low carb choice we have that for you too.
Try air fryer chicken tenders no breading some night. With just light seasoning and a sauce of your choice near the end, they're a healthier version.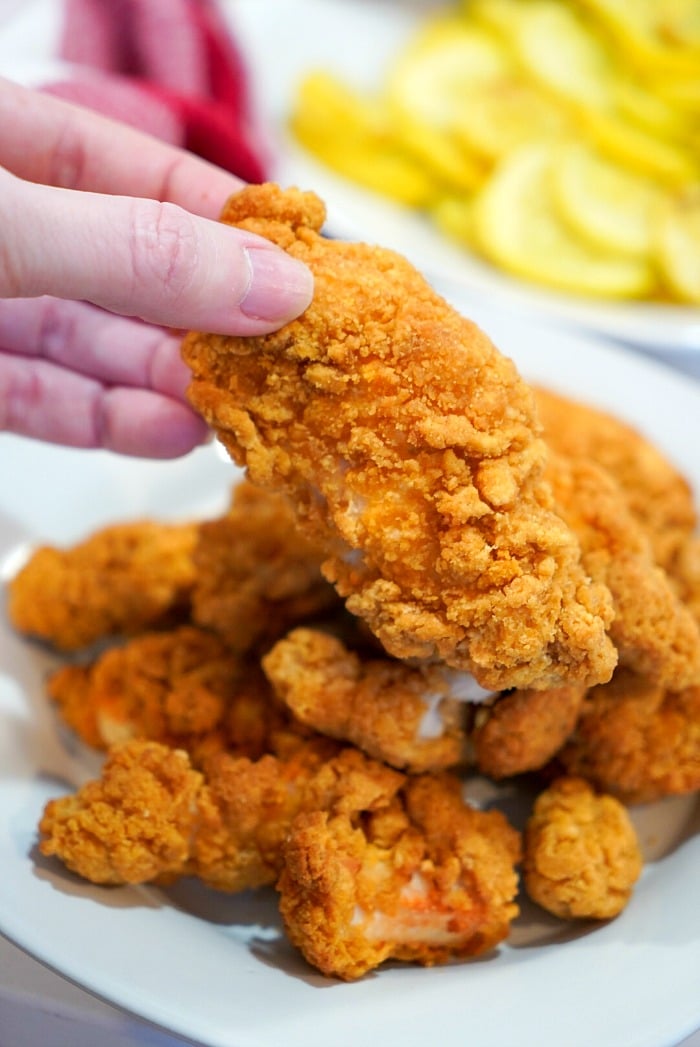 How to cook chicken breast in an air fryer
This one is probably the most commonly used pieces for everyone right? I suggest using boneless to cut down on the cook time AND it's easier to eat too. Here are a few air fryer chicken breast recipes we love.
Love crispy chicken skin, this is the way to get it in no time for sure. If you dice it up into bite size pieces you can make all sorts of things like air fryer teriyaki chicken, air fryer chicken cordon bleu or throw it in with some air fryer roasted potatoes.
Love Colonel Sanders??!! Try our KFC air fryer fried chicken breast cut into strips too. You can see how crunchy they get below and are out of this world with the seasonings.
Add a bit of sauce at the end and try Ninja Foodi chicken breast with bbq some night. Using both functions this comes out really good.
Want a bit of heat? Try air fryer stuffed chicken breast with cream cheese and jalapenos.
But remember I would share how to cook frozen food in air fryer too? Yep, here's air fryer frozen chicken breast instructions too.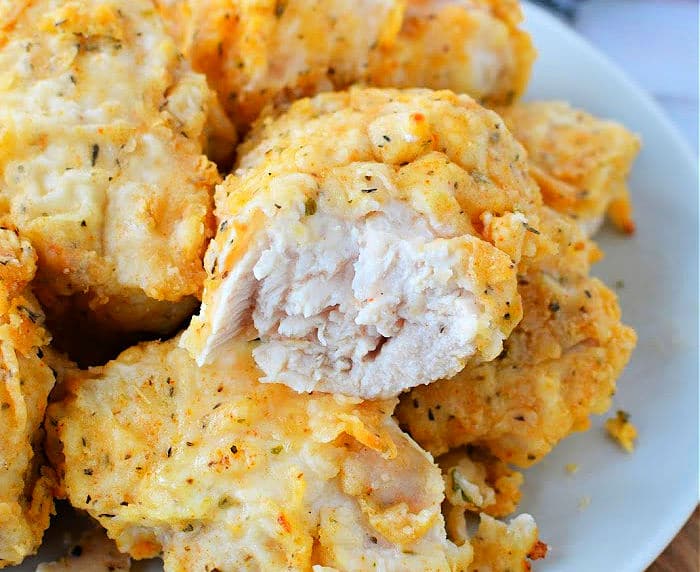 How long to cook chicken patties in air fryer
It really doesn't take that long. Follow our air fryer chicken patties instructions. Then load up your bun with lettuce, tomato and pickles for a quick meal.
How to cook chicken thighs in air fryer
We have done this several different ways. Using bone in chicken thighs you can leave off the breading and just season and cook. Use our general air fryer chicken thighs timing for that.
You can make marinated chicken in air fryer too though which adds a lot of flavor. Use teriyaki or lemon pepper chicken marinade if you like. We even have frozen chicken thighs in air fryer directions as well, of course.
How long to cook frozen chicken nuggets in air fryer
Now this is something my kids do a lot, next to corndogs in air fryer. You can microwave them to get soft and then crisp or just throw them right in. Read our air fryer frozen chicken nuggets post for that info.
How to cook chicken in air fryer
I hope this helped you answer all of those questions you had! There are a few tips to remember to keep it always tender and juicy.
Make sure you check that the internal temperature reaches the correct level before consuming.
When you air fry chicken you should flip the chicken over after half the cooking time.
Always spray basket with non stick cooking spray before adding food.
Spray both sides of the chicken to get it crispier at the end, I like olive oil spray personally.
This way you get absolutely delicious chicken recipes every single time.
Want to see a few of my favorite things that I am totally obsessed with?? Take a peek and see how many you might already have…twinsies!
Looking for more easy family recipes and tips? LIKE The Typical Mom Facebook page?
Then sign up for my free newsletter, and follow me on Pinterest! 😉
***** If you LOVED this recipe give it 5 Stars below and let everyone know what you thought about it. 😉