How to make roasted air fryer peppers and onons so they get tender with a bit of crisp on the edges. From jalapenos to cerrano and bell peppers, this is how bell peppers in air fryer done.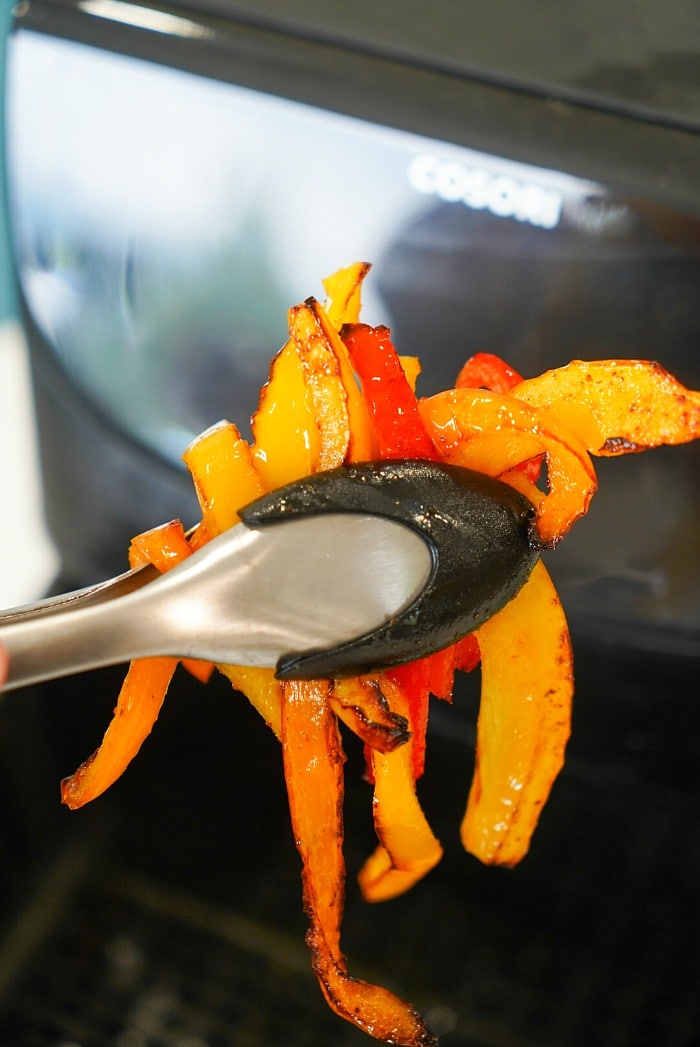 Air fryer peppers are the best in a stir fry, on burgers, or a simple side dish with dinner. Choose your favorite bell peppers colors and use our instructions to make this great air fryer recipe. (originally published 7/20, affiliate links present)
Air Fryer Bell Peppers
These go with all sorts of things. Served with fajitas with onions, as a healthy side dish or just as a low carb snack we love them any way. Want them spicy? No problem, just add a bit of chili powder or dry Sriracha into the mix and enjoy. The outside edges get crispy while the insides are perfectly tender. The best way to make them I tell you.
We serve these with so many things. Great with strips of beef or chicken added in there to make a batch of air fryer fajitas. Load them on top of a grilled burger for some texture and added flavor, I mean the list goes on and on…
FIRST – You should sign up for my free newsletter so you get new posts emailed to you twice a week and never miss out on anything! If you love air fryer recipes too, here are some resources to start with: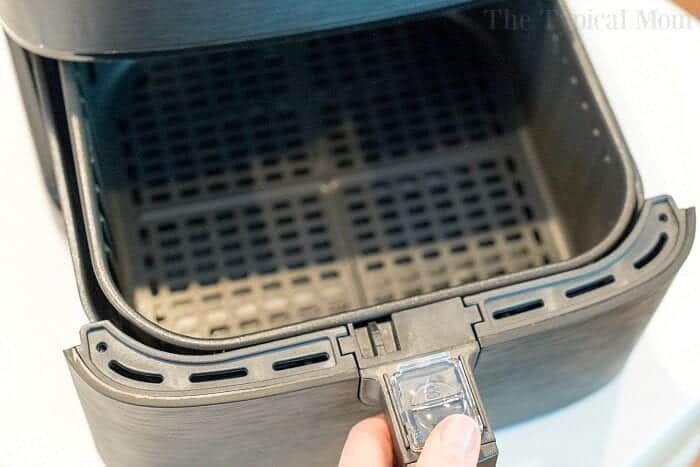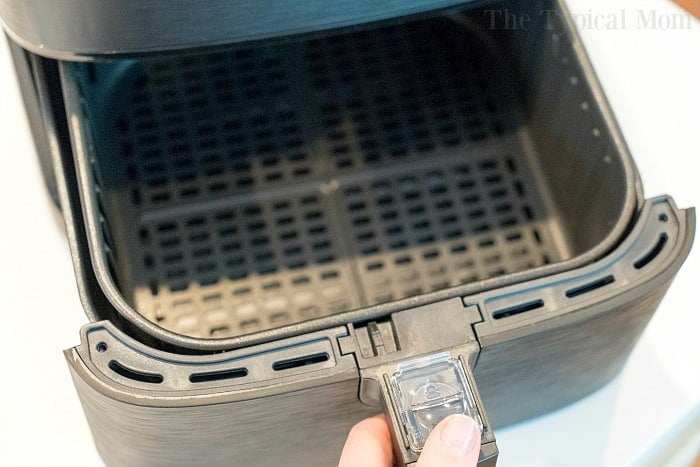 Bell Peppers in Air Fryer
I'm sure you know, but this is how to cut bell peppers if you need some tips. Here are a few other questions you might have before you get started:
Air Fryer Peppers and Onions
You can definitely slice yellow or white onions and throw those in there at the same time. A great duo together you can put on top of hamburgers or serve with dinner.
What is the difference between bell peppers?
Red and yellow are really just green peppers that have been allowed to ripen longer. Red peppers are fully ripened, and are sweeter in taste, so they demand a higher price sticker typically.
Why are green bell peppers cheaper?
It goes back to the previous question here, because they're unripened. Therefore they can be picked sooner and produce more in a shorter amount of time = cheapest bell pepper.
Are bell peppers good for you?
Yes! They're packed with vitamins and low in calories! An excellent source of vitamin A, vitamin C, and potassium, they also contain a healthy dose of fiber, folate, and iron.
What can I do with lots of bell peppers?
Slice them into strips, then air fry them like you see here or lay the strips out on cookie sheets covered with wax paper and freeze. Then transfer into freezer bags and use in recipes like stir fry or a simple side dish. If they are on sale I will buy a bunch to make this and a batch of green pepper jelly too.
I say choose whichever colors you prefer. Typically I will choose whatever is on sale because I'm cheap. 😉 This time I got 4 for $5 for yellow, red and orange peppers. I lucked out because green is usually the cheapest.
Peppers in Air Fryer
Choose whatever color you like for these. If you only like green, or the others are a lot more expensive then use all of those. It is fun to have a few colors though.
Bell peppers

if you wanted to roast jalapenos you could use this same recipe
Habanero or cerrano peppers would work too

Olive oil
Old Bay seasoning
Garlic salt
Onion powder
Beyond these seasonings you can add any others you think you might like. Red pepper flakes can add heat to them if you like.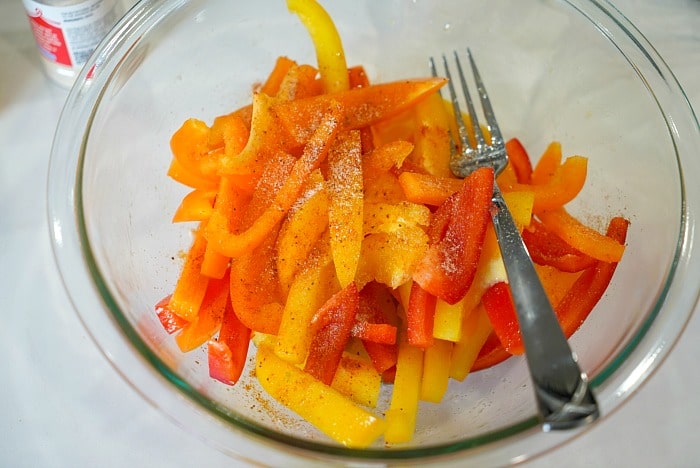 Ninja Foodi Bell Peppers
This literally takes about 15 minutes to make AND preheat your air fryer for 5 minutes. I think this step is important to get the right crisp and consistency on any food you make.
Another important piece to many recipes like this is to shake the basket halfway or 1/3 of the way through. For smaller items like this I like to shake every 5 minutes or so. This will give you the best result.
Remember the smaller slices you make the more tender/soft they will be.
I like them to stay a bit firm so they're a bit thicker around here.
This basically takes the place of blanching bell peppers because you throw them in as is and they get nice and tender, plus the flavors are a bit subdued.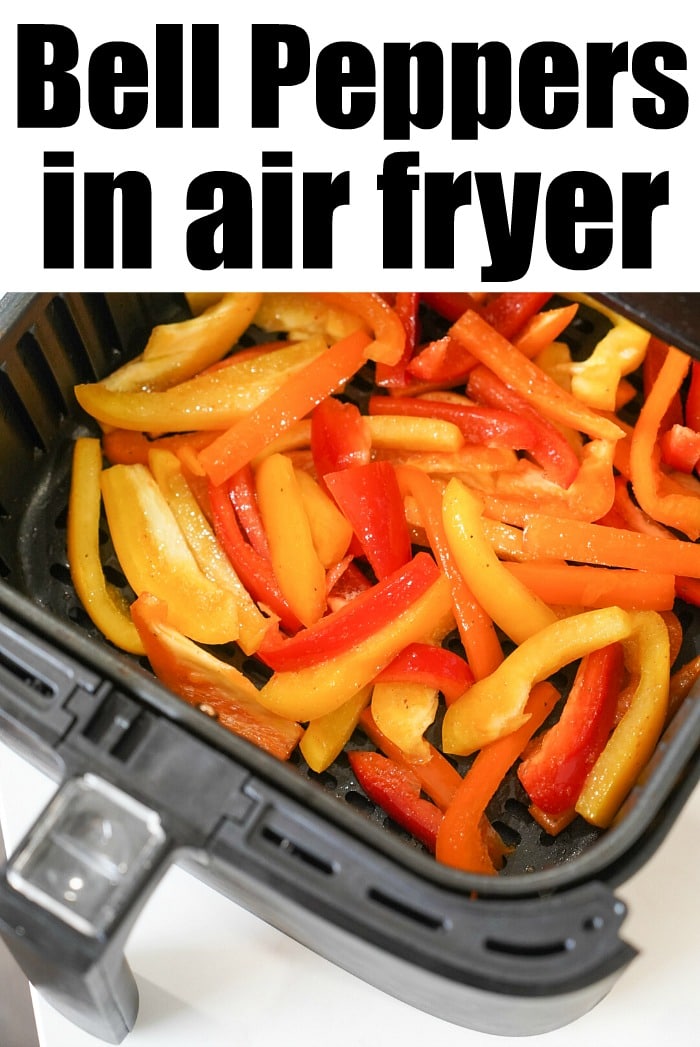 Air Fry Peppers
Here is a quick rundown but there is a printable recipe card at the bottom as well for your reference. Take a peek before you get started. 😉 Preheat air fryer to 400 degrees F. for 5 minutes.
Slice tops off bell peppers and remove seeds inside each one. Slice in half and then into strips. Put in a bowl and toss with olive oil and seasonings.
Pour coated peppers into air fryer basket and cook. Make sure to move pcs. around so they're overlapping the least amount possible.
Cook at 380 degrees F. for 12-15 minutes shaking every 5 minutes. Check after 12.
Remove once they're as tender and/or as browned as you'd like and enjoy immediately. For an alternative, you can also add meat and make air fryer fajitas too.
This is how ours looked after 12 minutes. I didn't want them soft and they were as brown as we'd like them but you could let them go for a few minutes more if you wanted.
Ninja Foodi Peppers
More hot air recipes to try that you'll love are:
Want to see a few of my favorite things that I am totally obsessed with?? Take a peek and see how many you might already have…twinsies!
Looking for more easy family recipes and tips? LIKE The Typical Mom Facebook page?
Then sign up for my free newsletter, and follow me on Pinterest! 😉
***** If you LOVED this recipe give it 5 Stars below and let everyone know what you thought about it. 😉
Air Fryer Peppers
How to make air fryer peppers so they get tender with a bit of crisp on the edges. From jalapenos to cerrano and bell peppers, this is how it's done.
Instructions
Preheat air fryer to 400 degrees F for 5 minutes.

Slice and discard tops of bell peppers as well as seeds inside.

Slice peppers into strips, the thinner they are the softer they will become.

Put them in a bowl with olive oil and seasonings, toss to coat.

Pour into air fryer basket and spread out so they're overlapping as little as possible.

Cook at 380 degrees F for 12 minutes flipping every 5 minutes.
Nutrition Facts
Air Fryer Peppers
Amount Per Serving (2 oz)
Calories 40
Calories from Fat 27
% Daily Value*
Fat 3g5%
Sodium 99mg4%
Potassium 126mg4%
Carbohydrates 4g1%
Protein 1g2%
Vitamin A 1863IU37%
Vitamin C 76mg92%
Calcium 4mg0%
Iron 1mg6%
* Percent Daily Values are based on a 2000 calorie diet.