17+ Air fryer chicken recipes no breading which means low carb keto friendly high protein dinner ideas with poultry you'll love. Using drumsticks, chicken thighs, breasts, leg quarters, wings and the whole bird we have them all.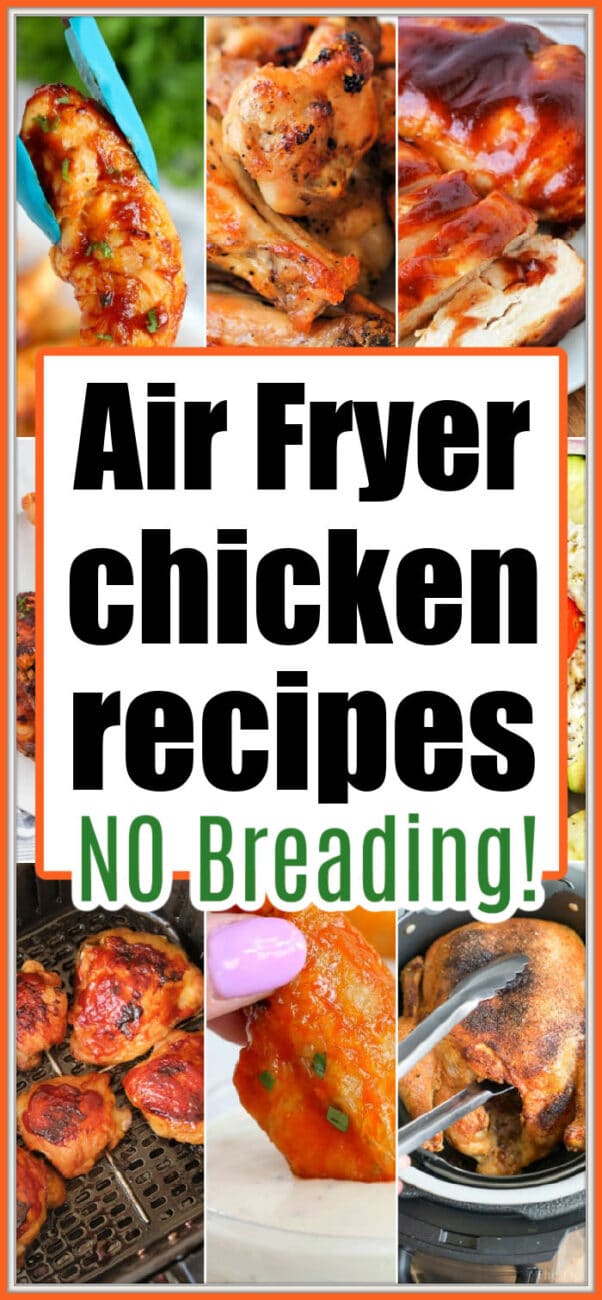 We have a bunch of healthy air fryer chicken recipes no breading for you today. You don't always need breadcrumbs to get the outside crispy crunchy. We'll show you how to get that same texture without the extra carbs. I promise you won't miss anything. Just one of our easy air fryer recipes on our site. (affiliate links present, originally published 2/22)
We have shared how to cook chicken in an air fryer so many different ways, this is specific to those without breadcrumbs though. Yes, you can still get a deliciously crispy chicken skin without any egg or coating. A bit of olive oil spray is key, and sauce…we will talk about that later.
Air Fryer Chicken No Breading
We eat a fair amount of poultry at home. It is my youngests favorite type of meat, it's healthy, and all in all it's always a win. I don't always have time, or even want, to go thru all the steps of dipping each piece into some sort of mix. On a Friday night I just wanna just throw it in there and have it come out yummy.
Let's start with breasts and a reminder that you can even reheat chicken tenders in air fryer so they taste just like fresh. Ok??!!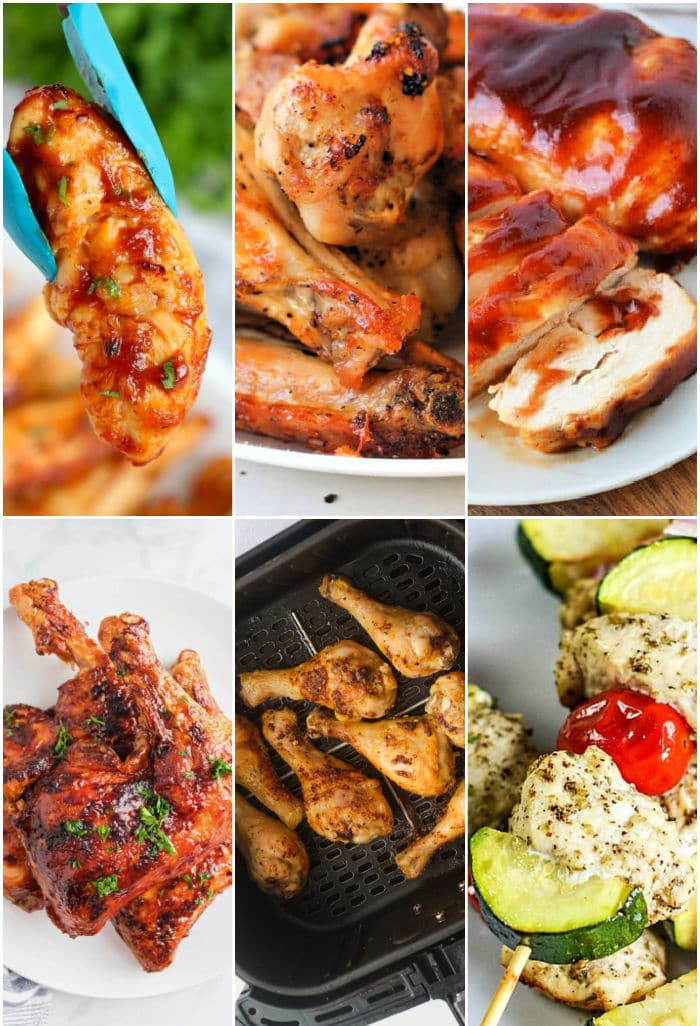 Air Fryer Chicken Breast No Breading
There are many ways to cook chicken breasts in air fryer. If you've been forgetful you can actually cook frozen chicken breasts in air fryer to perfection. With just a spray of oil and some salt and pepper your raw chicken will still come out tender and juicy.
Let's say you bought fresh though or defrosted the night before. There are tons of options in that respect. You can slice them thinner so they're kinda' like air fryer frozen chicken tenders but without the caloric outside layer. See them above on the top left? Just cook on a lower temp. and then brush with your favorite bbq sauce to serve.
Ninja Foodi Chicken Recipes No Breading
That is all there is to making air fryer chicken tenders no breading y'all. Kids love these because even though they don't look the same as the unhealthy version they're still finger food and messy fingers always means smiles. My kids love air fryer boneless wings (which actually are chunks of breasts) as a quick snack.
Want juicy chicken breast meat with vegetables at the same time? Us too! For that give our air fryer chicken and vegetables, air fryer fajitas a try, or air fryer chicken kabobs. You can find more air fryer chicken breast recipes under 30 minutes here, breaded and not.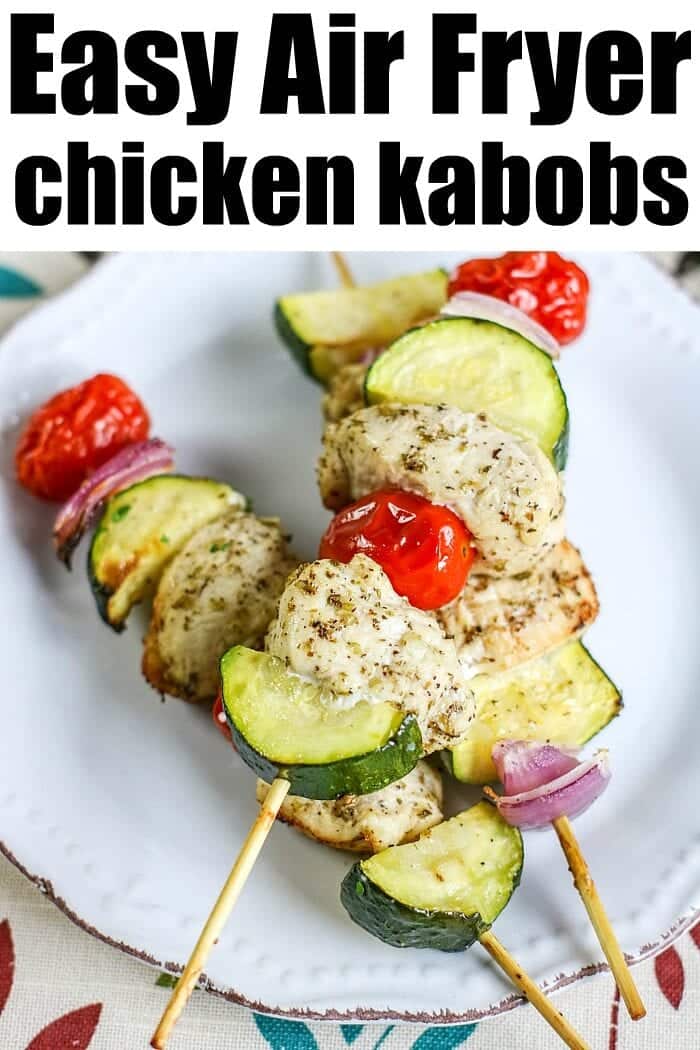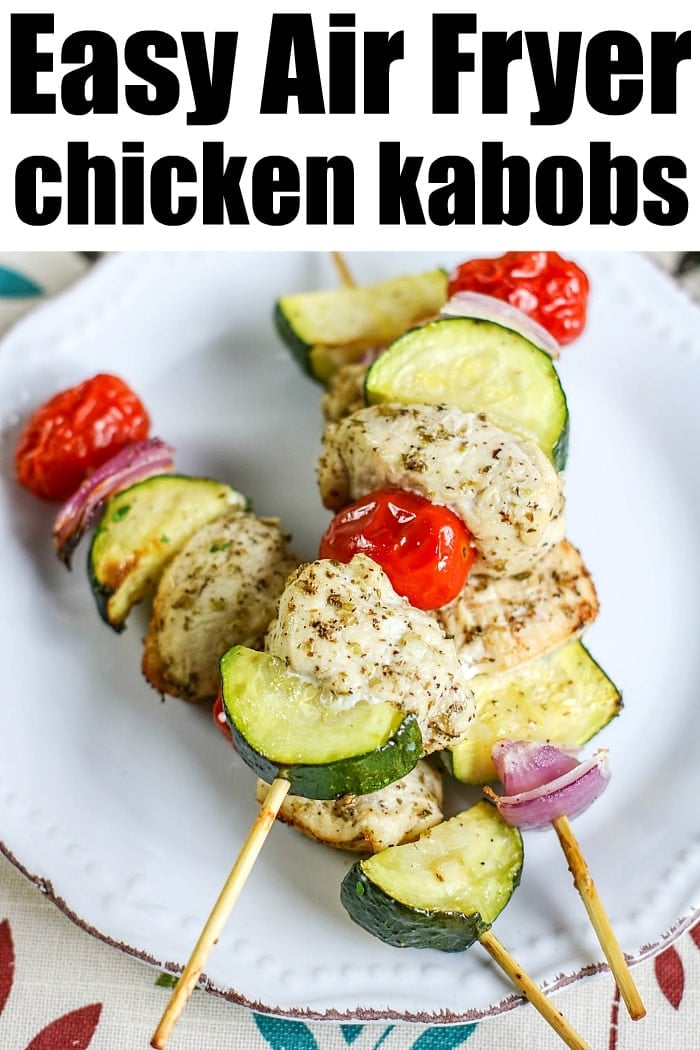 Air Fryer Chicken Wings No Breading
Ok let's move on to the "funnest" part of the bird shall we? I mean who doesn't love these babies as a snack or appetizer. Heck we have had it for dinner before with a side of air fryer bread. Done! I mean talk about easy. Ok so I don't always use fresh from the store, often times I just grab a bag out of the freezer.
And no I don't always remember to thaw them out, surprise surprise right? It happens, don't tell me I am the only one because I know you'd be lying. 😉
You have to try this so when you have these same moments you'll know it works well and can have confidence saving dinnertime at 4 p.m. After you follow the air fryer frozen chicken wings you just season them with your favorite shaker or brush some chicken wing sauces on the top.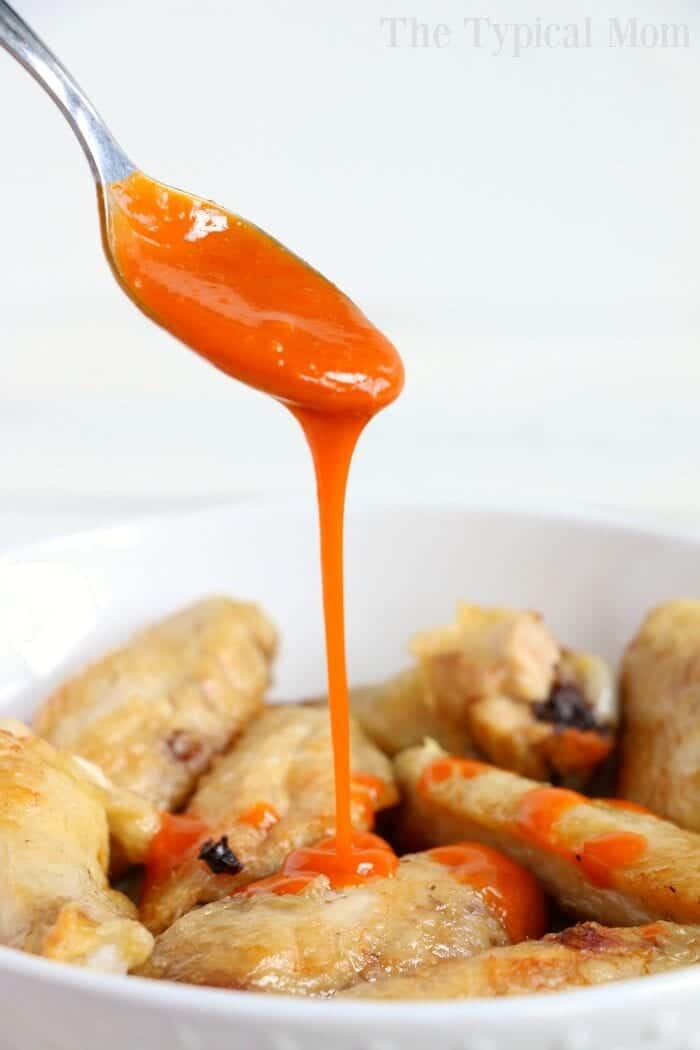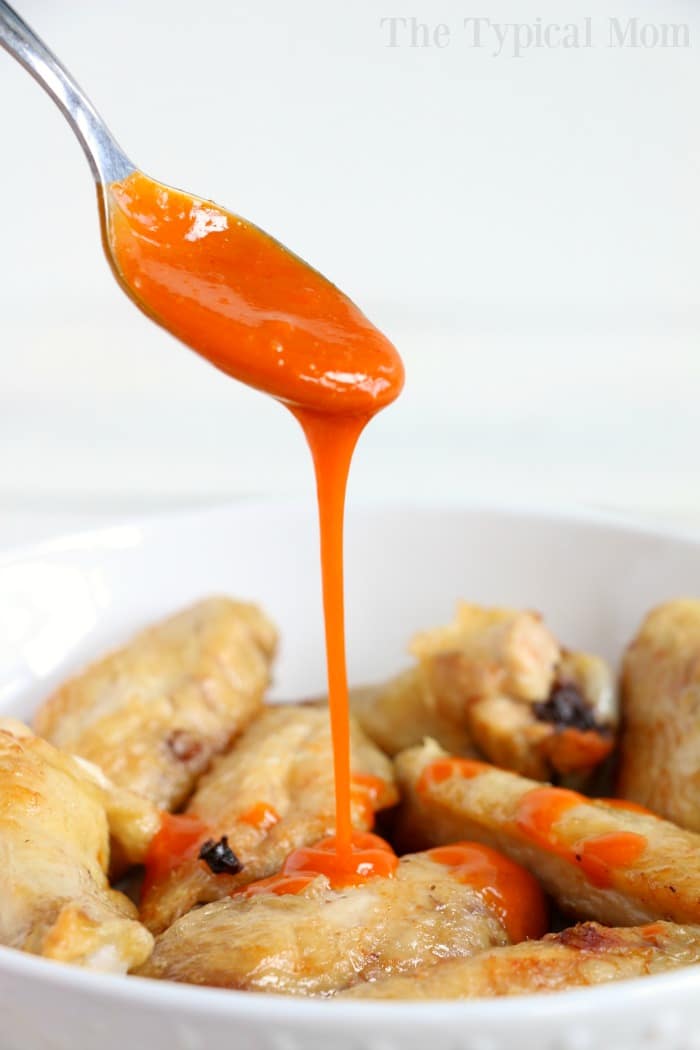 Other flavor varieties if defrosted would be our air fryer lemon pepper chicken wings or for heat give our crispy hot wings in air fryer recipes.
I would say above and beyond any other I make air fryer wings dry rub here. The mixture is easy to throw together and has a bit of heat but more sweetness to it. Just coat the outside after you dry the skins off real well. A little olive oil will get it to stick nicely. Lay in a single layer and let them go!
Air Fryer Chicken Thighs No Breading
I have two options for you here. Once again, if they are right out of the freezer you'd need to follow our air fryer frozen chicken thighs directions. A lower temperature for a bit longer will do the trick. Add sauce at the end for flavor and moisture and serve!
If they are fresh or defrosted you can make our very simple air fryer chicken thighs that just has seasonings on the outside. With meal prep they're still done in under 20 minutes. As easy as possible. Add a sauce too though for tons of flavor like air fryer pesto chicken does.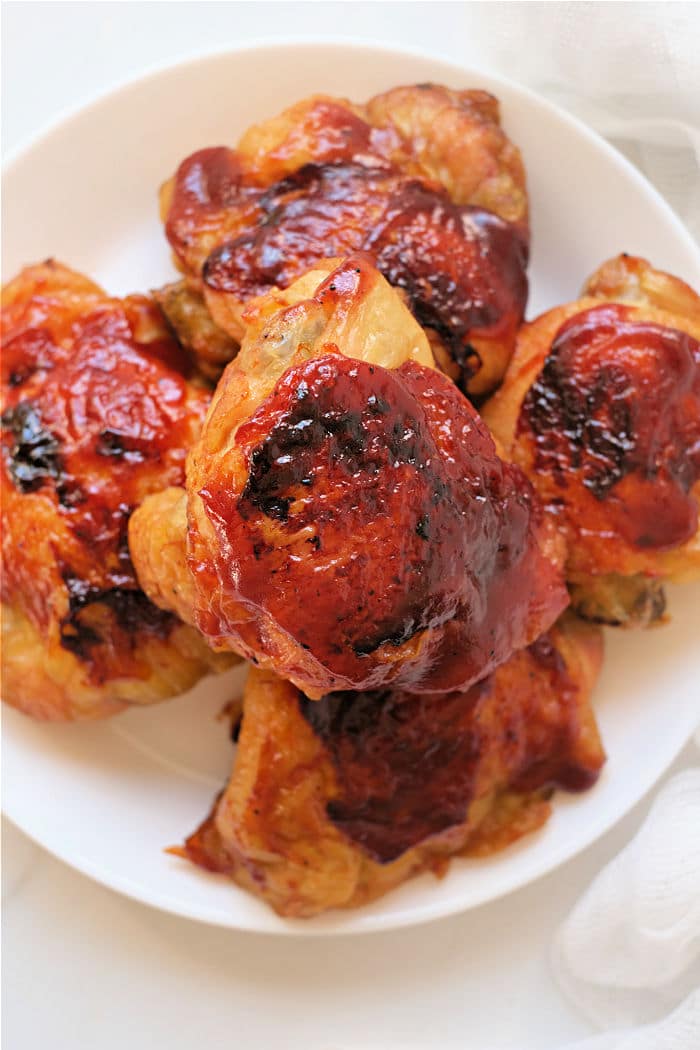 One that would fall into any or all of these categories would be how to cook a whole chicken in air fryer. This takes the longest but is the easiest. Tastes just like rotisserie from the store, I take that back because it is way better. The fact that it is fresh right of the "oven" helps, and you can add your favorite spices.
Air Fryer Chicken Legs No Breading
These might be your kids' favorite pieces though right? You might not always want air fryer fried chicken so here is a simple way of just adding your favorite poultry seasoning or dry rub of choice. Remember to always preheat your air fryer so the cook time and temperature remains steady the entire time.
With any pieces you should always check the internal meat temperature to ensure the middle reaches 165 degrees F with a meat thermometer before consuming. I highly recommend you remove the meat and then check as it will not be accurate if it is still in the hot air fryer basket.
Adding a sauce on the outside should be done once it's at temp. Then there are tons of possibilities from bottled to homemade like our mustard chicken.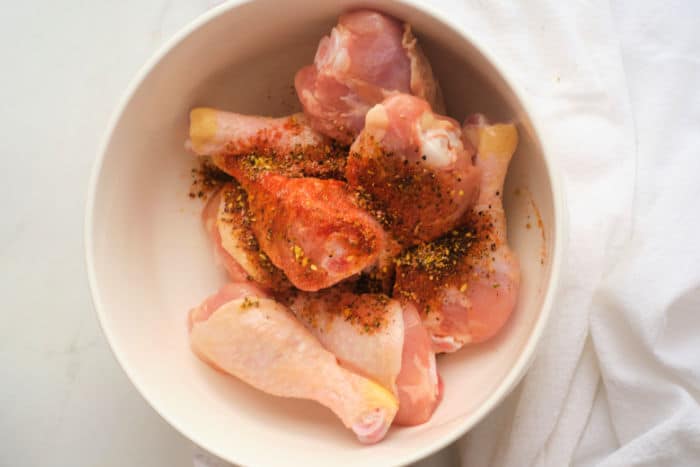 Crispy Chicken Skin No Breading
You could use our favorite dry rub for fish here. We use it on all other kinds of meat too because it's sweet and savory with a touch of cayenne pepper and brown sugar. Everyone loves it. Another tip when air frying and adding anything to the outside.
Make sure you lay meat on a wad of paper towels and press down to remove all of the moisture on the skin. This will do two things; allow the seasonings to stick well and ensure the skin will come out as crispy as possible. In the basket it should not overlap at all to get the hot air to circulate properly.
About 8 drumsticks should fit snugly at once. Yes if you cooked chicken drumsticks in oven you could fit a lot more but the cook time is way longer.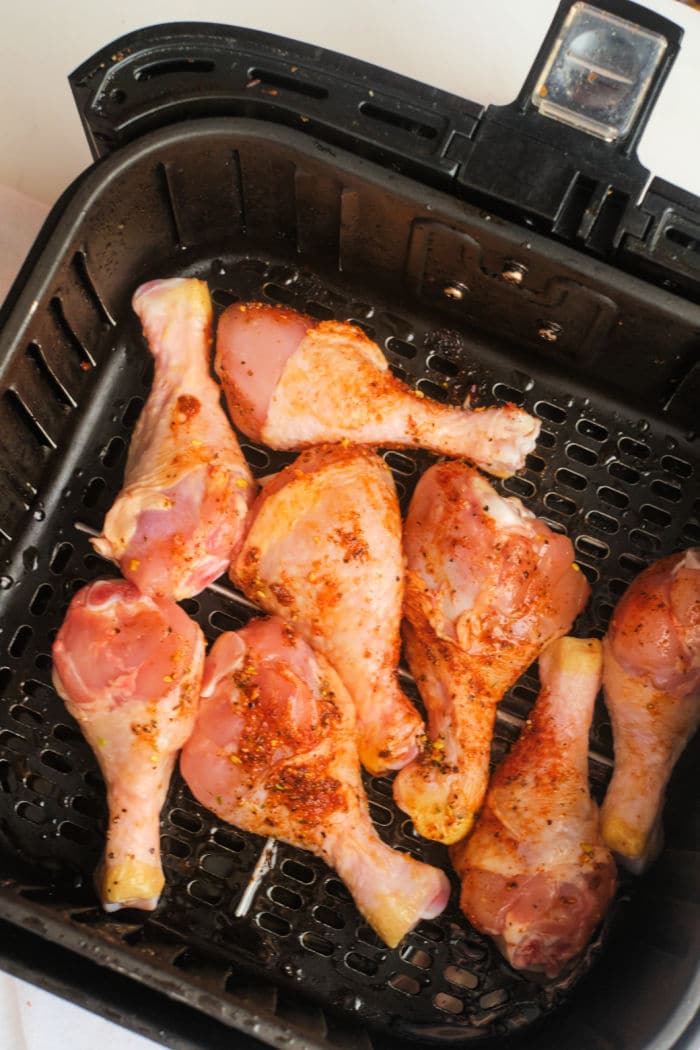 Crispy Chicken No Breading
Eat as is or brush your favorite sauce like bbq or our homemade teriyaki sauce on top. In fact we have a bunch of ideas when it comes to making teriyaki chicken recipes. If you want to pair any of these with a healthy side dish I would suggest our cabbage steaks or maybe some cornbread.
You can jump to recipe at the bottom to try the legs you see here. If you want to follow one of the others just click on the blue links you see above. Those will take you to the other directions you may want to follow. Nutritional information will vary depending on the weight and size of your pieces.
Refer to your packaging for the most accurate information on that. Make it any other way(s) in your house we should know about? Let us know so we can try!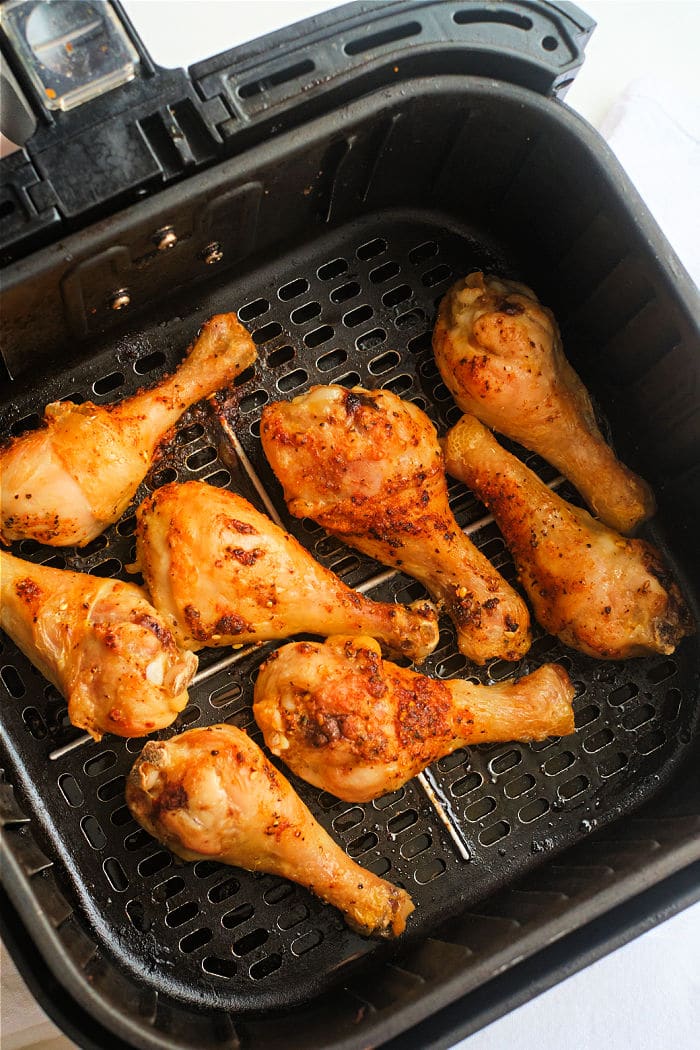 Last but not least you can use ground chicken too! Mix with some binding, onions and buffalo sauce is great too. If you're up to using that, try our buffalo air fryer chicken meatballs too.
Want to see a few of my favorite things that I am totally obsessed with?? Take a peek and see how many you might already have…twinsies!
Looking for more easy family recipes and tips? LIKE The Typical Mom Facebook page?
Then sign up for my free newsletter, and follow me on Pinterest! 😉
***** If you LOVED this recipe give it 5 Stars below and let everyone know what you thought about it. 😉
Air Fryer Chicken Recipe No Breading
17+ Air fryer chicken recipes no breading with breasts, legs, thighs, and wings which means low carb keto friendly high protein dinner.
Instructions
Melt butter. Lay chicken legs on paper towels and pat down to eliminate moisture from outside.

Preheat air fryer to 350 f. for 5 minutes. Drizzle butter over the legs. In a small dish mix together seasonings and rub on each drumstick to coat.

Spray inside of air fryer basket with olive oil and lay legs inside without overlapping.

Air Fry for about 20 minutes flipping over after minute 10. Cooking time will vary depending on how large/thick they are. Remove when internal temp in thickest part is 170 F or above.
Nutrition Facts
Air Fryer Chicken Recipe No Breading
Amount Per Serving (2 oz)
Calories 311
Calories from Fat 216
% Daily Value*
Fat 24g37%
Cholesterol 130mg43%
Sodium 240mg10%
Potassium 270mg8%
Carbohydrates 1g0%
Protein 21g42%
Vitamin A 304IU6%
Vitamin C 1mg1%
Calcium 15mg2%
Iron 1mg6%
* Percent Daily Values are based on a 2000 calorie diet.