53+ Air Fryer healthy recipes are here for you to enjoy. Cook chicken, air fryer vegetables, seafood, even vegetarian meals in your air crisp machine.
When you think of air fryer healthy recipes you might think….boring and bland, not anymore. This list is full of the best easy inspiring dinners full of flavor without the added fat. Made in under 30 minutes and as crispy as a deep fryer you won't feel like you're missing out at all anymore. One of many easy air fryer recipe ideas on our site.
Top 10 Healthy Air Fryer Recipes
Ok so we went way beyond that here. You may have tried a baked potato or air fryer sweet potato and stopped right there. What else can you pair with your dinner that isn't packed with fat? OH the possibilities y'all. I use this baby for everything nowadays, like every single day.
Since the beginning of the year, as most of us do, I vowed to eat foods that were better for me. I am big on texture though so if I could skip the fat but make it seem like I wasn't giving up on the YUM that would sure help. Here's a list of our favorites, we will continue to add more as time goes on too.
We have made your favorites healthier….like Air Fryer Frozen Chicken Wings. These not only make a great meal for day one but you can reheat chicken wings in air fryer the next day too.
This is probably one of the foods you heard was outstanding in this machine. Trying to cut down on fat and calories so you thought you couldn't enjoy them anymore? Wrong! You can with these with no breading, still tastes like fried food but without the added fat and calories.
Healthy Air Fryer Recipes for Beginners
We did a roundup of Ninja foodi healthy recipes but some of those need a pressure cooker. You don't have to cut out all the sweets either, all in moderation remember. If you see something you have just got to try, make half a batch and save the rest.
You can serve these over rice, by themselves or better yet fill tortillas for tacos. Lower in calories because there are no breadcrumbs used it is a meal I make weekly.
This oatmeal breakfast is fast and simple to make for the perfect comfort food. This nutritious oat recipe is done in 20 minutes from start to finish. Plus it is easy to customize by simply adding whatever you're craving!
Breakfast Casserole Air fryer Frittata
This Breakfast Casserole is quick and easy to make with veggies, cheese and optional sausage or potatoes. It's perfect for meal prep breakfasts or to serve for a crowd. However you slice it, this healthy meal will be a hit!
Easy Breakfast Potatoes
No muss no fuss! If you're looking for the best tasty and easy breakfast recipe? If so, you have to make the best crispy breakfast potatoes! They're amazing with a side of fruit and your favorite tea.
Air Fryer Frozen Chicken Tenderloins have no breading and are super low carb but high in protein. Paired with air fryer broccolini it is a low fat meal.
Low Calorie Air Fryer Recipes
This breakfast recipe is like having avocado toast without the bread! Plus the toppings are endless which means it's super versatile for all kinds of hungry guests. All you need is avocados, eggs, and your favorite seasonings!
You can bake air fryer Bagel Bites in the morning
All you need to make this easy air fryer breakfast is Greek yogurt and flour! Butter and sprinkle some everything bagel seasoning on top for the win. Don't those ingredients sound like the most delicious meal to start your day?
This air fryer recipe for rainbow decorated donuts are fun and easy to make especially with the "secret" shortcut. They're delicious, cute and colorful, and just perfect for any celebration like a child's birthday party!
Healthy Air Fryer Frozen Hash Browns
Air frying is the easiest fuss-free way to make crispy hash browns. The best part is there's no thawing required. Simply pop your frozen hash browns in the air fryer basket! No oil is needed just pop them in an airfryer!
I mean there are so many ways to cook potatoes in Ninja Foodi or your Cosori friends. Diced, shredded, left whole, in chunks, wedges, just keep it going…..and try it.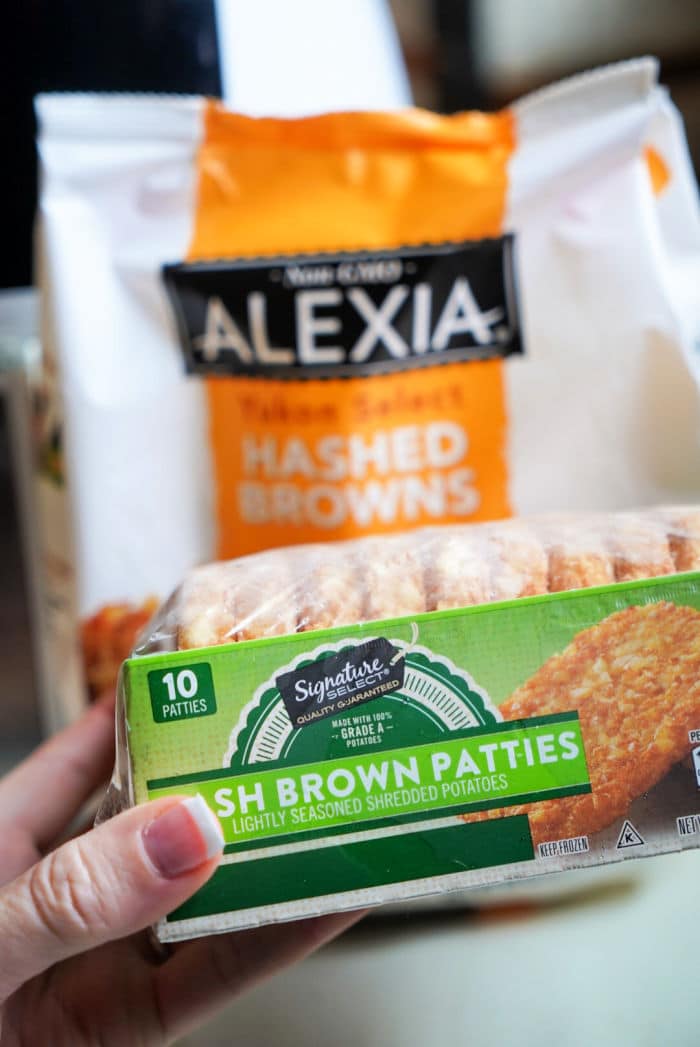 Healthy Air Fryer Recipes Vegetarian
Let's talk about a few that you can enjoy in the morning and have some yummy heat to them. That is right, you can make air fryer frozen taquitos of course but homemade is always better and usually healthier.
This dish is great for an easy on the go breakfast! I like to make a big batch and just reheat one or two as needed. I like to use flour tortillas because the texture is better than corn in my opinion. However you can use corn if you want!
Have you ever tried shishito peppers? They are really delicious, especially when air fried with a little soy sauce or teriyaki sauce. They only take about 10 minutes to cook too! Serve them with any main course or a healthy vegetable snack.
Vegetable Air Fryer Recipes
Add a little spice to your life! To your veggies that is, with the best easy recipe for asparagus with chipotle seasoning (or leave plain) and a little olive oil. Asparagus is a favorite of mine with any main meal.
The sweet and salty combination of sweet potato fries is always a pleasure at the dinner table. Plus they're packed with nutrients like vitamin A. That's why this recipe is a weekly staple in my house!
This easy roasted carrots recipe is the perfect healthy and delicious side dish for busy evenings. You can make them sweet and savory with some butter and a bit of sprinkled brown sugar. Even your kids will love these. Here's how to make it for your family!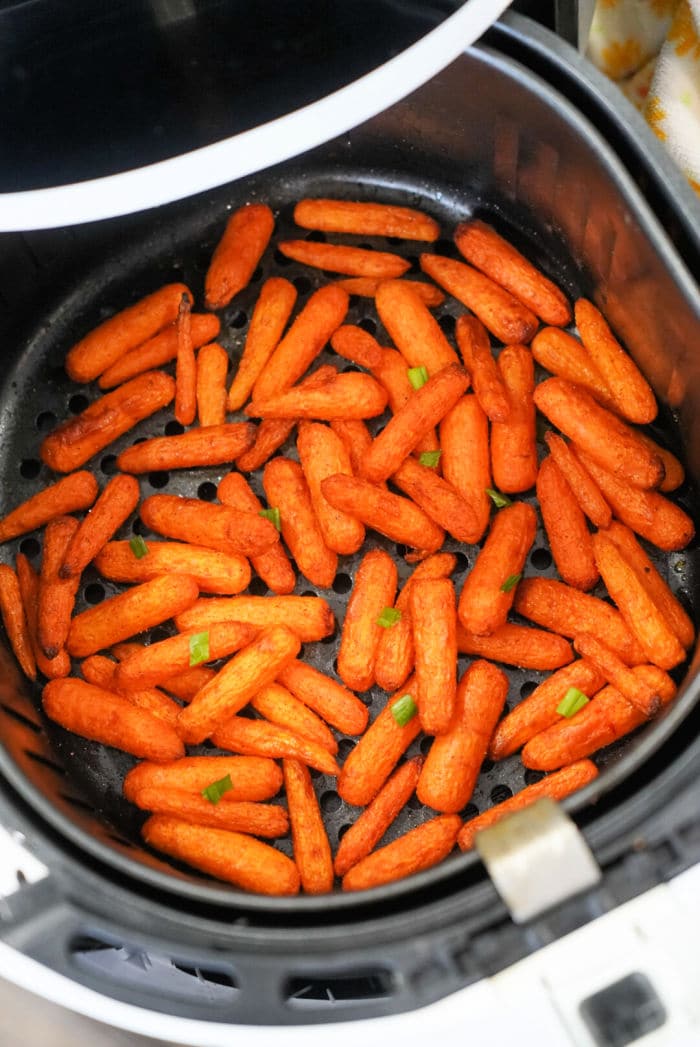 Healthy Recipes Air Fryer
You can follow any of our Ninja Foodi healthy recipes as well but some of those use the pressure cook function. If you don't have that just focus on these to air crisp galore!
For a lunch appetizer with so much flavor, broccolini with lemon and parmesan will knock your socks off. Crisp stalks of broccoli come out cooked to perfection. They're slightly charred when air frying just the way I like it.
All you need to make these zucchini chips is panko bread crumbs, grated Parmesan cheese, zucchini, egg, and seasoning- that's it! It's the perfect side dish for lunch. Have them with a sloppy Joe or cheeseburger, yum!
I just adore stuffed mushrooms because they are always a crowd pleaser. Plus they're so simple to adjust to make them however you want. This Stuffed Mushroom recipe is vegetarian as is, but you can add cooked meat of your liking for extra protein. Easily double or triple the portion sizes for a larger crowd.
Air Fryer Healthy Snacks
All you need to make easy crispy beet chips is 4 medium beetroots peeled and thinly sliced, 2 tbsp olive oil, ¼ tsp smoked paprika, and ½ tsp salt. You'll love them too because they're super tasty and such a healthy appetizer any day of the week!
If you've never tried kale chips, now's the time to try! Kale is so super nutritious and when cooked to perfection in your air fryer they're crazy delicious too. It's one of the best snacks to have between meals.
Brussels sprouts wrapped in bacon is the perfect flavor combination of vegetables and salty bacon. Get your veggies and protein in one tasty bite! Plus they're low in carbs and high in protein which is perfect for keto diets.
Lunches
Use your favorite fish and a bit of batter for crunchy fish bites. It's just amazing for any everyday lunch or main meal. That's because it's crispy on the outside and juicy on the inside. They are way healthier than air fryer frozen fish sticks out of the box and processed for sure.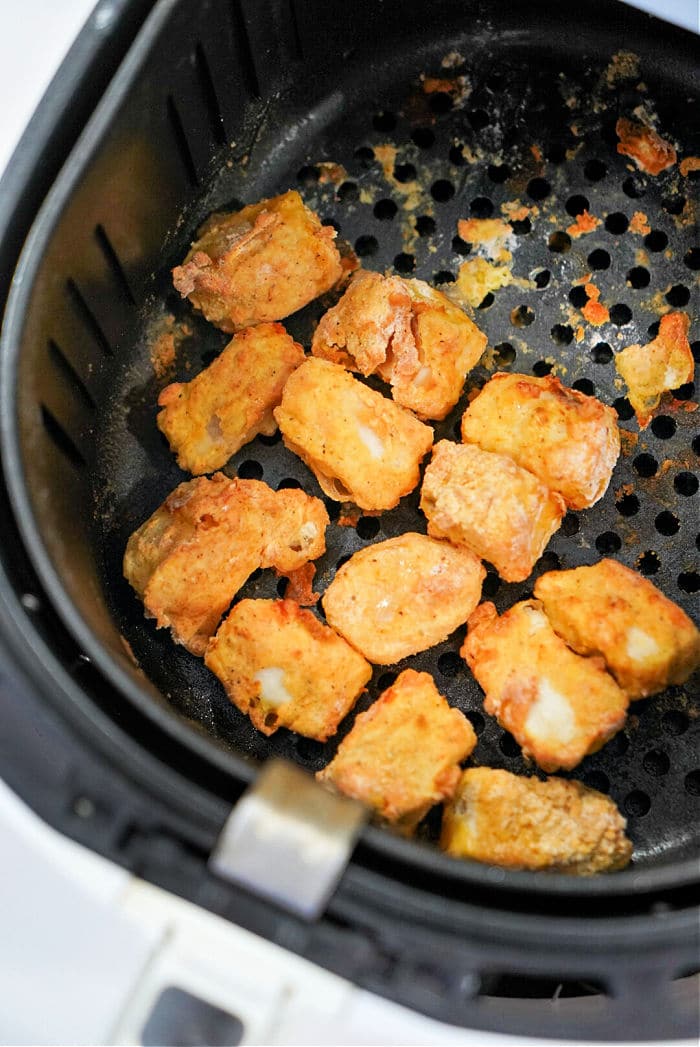 Healthy Air Fryer Fish Recipes
We eat a lot of air fryer fish for sure so we have a lot to choose from in that regard. Choose your favorite swimmer in the sea, lightly bread it and throw it in there. In only a few minutes it will be fork tender with a bit of crisp. OR leave it naked with a sauce like our air fryer teriyaki salmon.
Easy Air Fryer walleye
This is a prized fish in the land of 10,000 lakes! That's because it's light, mild-flavored, wonderfully flaky. I love how it's not too fussy to prepare. Especially when you opt for a cracker crumb coating of your choosing like pork rinds.
Why should you try cauliflower steaks? There's a million reasons! Here's a few though: They're Gluten Free, need Less than 5 Ingredients, takes Less than 5 Minutes to Prep, Flavorful, Dairy Free, Plant Based, Nut Free, and soy free.
Healthy Air Fryer Butternut Squash
You will adore this dish because it's crisp yet tender! The best part is that it's lightly caramelized and cooks in just 15 minutes. So if you're looking for a delicious gluten-free, WFPB, paleo, whole30, vegan main check out this recipe for simple butternut squash!
Love heat? Try Air Fryer Hot Wings
If you love chicken wings that are slightly spicy, salty, with the crispy texture of perfectly cooked skin this is the dish for you. I adore serving up this recipe with a homemade ranch or blue cheese dressing on the side. They're always a crowd pleaser for game parties and get-togethers.
I mean we have a ton of other options too if you want them more mild. I would say that our air fryer dry rub chicken wings are the most popular though.
Ninja Air Fryer Healthy Recipes
A light one is next, and something we had in Hawaii on vacation. I tinkered with it and now it tastes just as I remember, but a lot cheaper to make myself of course.
Air Fryer Mahi Mahi can be Parmesan Crusted or lightly seasoned
You will love this easy meal because it's ready in under 10 minutes! This hand-breaded Parmesan-Crusted Tilapia is just so easy and so mouthwatering. You don't even have to thaw the frozen fish fillets! Simply put the fish fillets on a baking pan while preheating your air fryer and measuring your ingredients.
Wait until you taste these healthy Cajun chicken strips air fried to perfection. The crust is made of cornflakes and cornmeal for extra crispiness and flavor. Plus it's infused with knock your socks off Cajun spices. I like to serve it with remoulade for dipping.
Do you have leftovers often? If so then you're going to adore these flaky pockets filled with leftover mashed potatoes, peas and spices. It's absolutely perfect for any main meal and these are great because they are packed with nutrition and absent of cooking oil!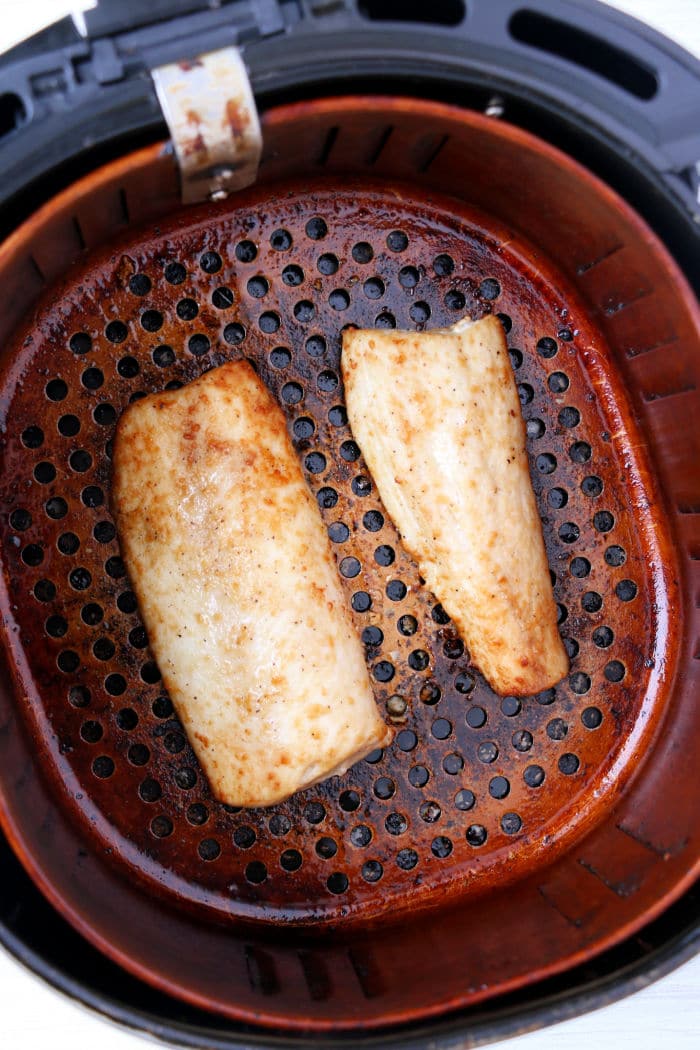 Low Fat Meals in Air Fryer
Yes, you can actually now cook Air Fryer Turkey Legs
So you might ask, "Can I use an air fryer for cooking turkey legs?" YES! You definitely can, and you should because this meal is the best! It's easy, fuss-free, and fast to cook turkey legs in an air fryer. Furthermore they are crispy on the outside and tender on the inside.
In this healthy salmon recipe the fish is browned to perfection while the vegetables are cooked to a crisp! And what you get is a rich-tasting salmon, tender potatoes, crispy broccoli, and perfect asparagus. That's why this dish tastes like it came straight from a restaurant.
You will fall in love with simple beef fajitas that come out tender and juicy in the air fryer. The skirt steak with crispy fresh peppers and sweet roasted onions is what to expect from this amazing recipe. They are my all time favorite Mexican meals. You could use shrimp instead too. Serve it with tortillas and top it with cheese or sour cream!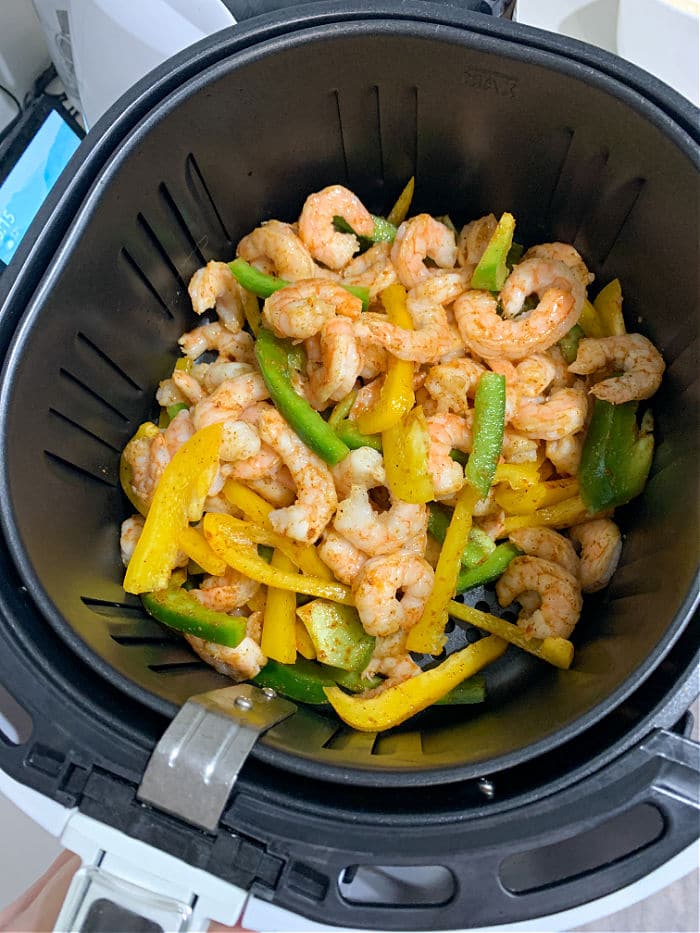 Pair this dish with a salad and a fresh juice drink to enjoy every sumptuous bite of this balanced and delicious meal. Perfectly prepared Cod that's cooked to perfection so it's nice and simple to make. Try Chili-Lime Cod for tacos for a healthy meal on busy weeknights! And everyone will love it.
These plant based lentil sliders are the perfect healthy recipe for spring BBQs, picnics, and parties. Plus they are the best homemade veggie burger around. I made these for my kids and they devoured them! Best of all they're cheap to make, very nutritious and super tasty.
Healthy Air Fryer Chicken Recipes
When you cook bone in fresh or frozen chicken thighs in the air fryer they turn out so super crispy. You get a low carb mouthwatering crispy skin too. They're done in 35 minutes, effortless to cook, plus you can switch up the marinade any way you like.
The best Turkey meatballs are ready in only 8 minutes! They're so delicious when flavoured with pesto and parmesan cheese. These tasty meatballs make an amazing main meal dinner dish. Serve them with dip, salad, or your favourite pasta.
Healthy Air Fryer Tilapia
Make this Tilapia for a quick and easy dinner meal that everyone will devour. This white fish is nutritious, light, and fresh. It's great with almost anything like soup, salad, rice, vegetables, potatoes, and more.
Talk about easy and healthy, eggplant can be lightly breaded and fried into chips kinda'. Made in the air fryer for a low carb way to satisfy your cheesy craving! This is a delicious way to enjoy eggplant and you can interchange the dips to serve with from marinara to ranch dressing.
You can enjoy some bbq Air Fryer Chicken Tenders with no breading
This easy barbecue chicken tenders meal is so fast and simple. You only need 2 ingredients and it takes less than 5-minutes to prepare in the oven, frying pan, or air fryer. The best part is there's no breadcrumbs but tons of flavor.
Pretty much all of our air fryer chicken recipes no breading are healthy, gluten-free, kid-friendly, and keto-approved.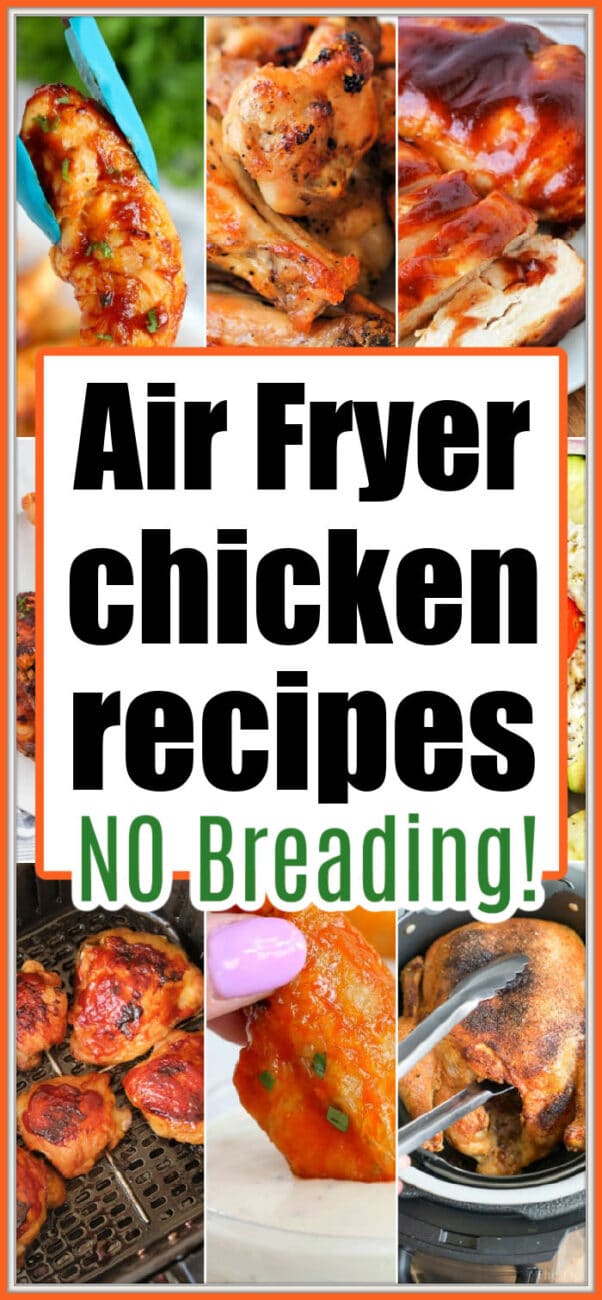 Heart Healthy Air Fryer Recipes
Ok now something for the kiddos, try homemade chicken nuggets with ground chicken. Air fry instead of fry them to get the crispy you want. Far less calories and fat with the same great taste.
Air Fryer Chicken Kabobs and vegetables
You will adore cooking ground lamb because it is extremely quick, simple, and affordable. Plus these kebabs are amazing for BBQs, picnics, pool parties, and more. Such an easy meal that's also low carb, gluten-free, dairy-free, and Whole30.
There are just a few ingredients needed for this easy recipe and you probably already have them in the kitchen. Butternut squash is packed with vitamins and minerals especially high in vitamins A, B6, and C, folate, magnesium, fiber, and potassium.
Try some Air Fried Salmon
What do you need for easy air fryer Salmon? Just get yourself 4 salmon fillets between 4 and 6 ounces each. Other ingredients include brown sugar, ginger, sesame seeds, and a few more.
How do you make perfectly cooked steaks in less than 15 minutes? This air fryer steak dish is so simple just about anyone can do it! The air fryer recipe only takes about 12 minutes to get your steak completely well done. There's no need to turn the steaks over halfway through either.
Air Fryer Spinach makes a great snack or side with Frozen chicken breasts in air fryer
This fast and simple dinner dish with chicken breasts is packed with flavor. Top with some feta-cheese and spinach chips on the side and OMG. It is definitely restaurant quality and takes only minutes to prep. Pair it with veggies, potatoes, zucchini, cauliflower, and more for the best main meal.
Air Fryer Pork Tenderloin With Gravy
This juicy pork tenderloin comes with a mouthwatering creamy gravy on the side making it a perfect main dish. It's perfect with salads, green beans, or roasted vegetables. Also if you're a red wine lover like myself, I recommend a light or medium-bodied red wine.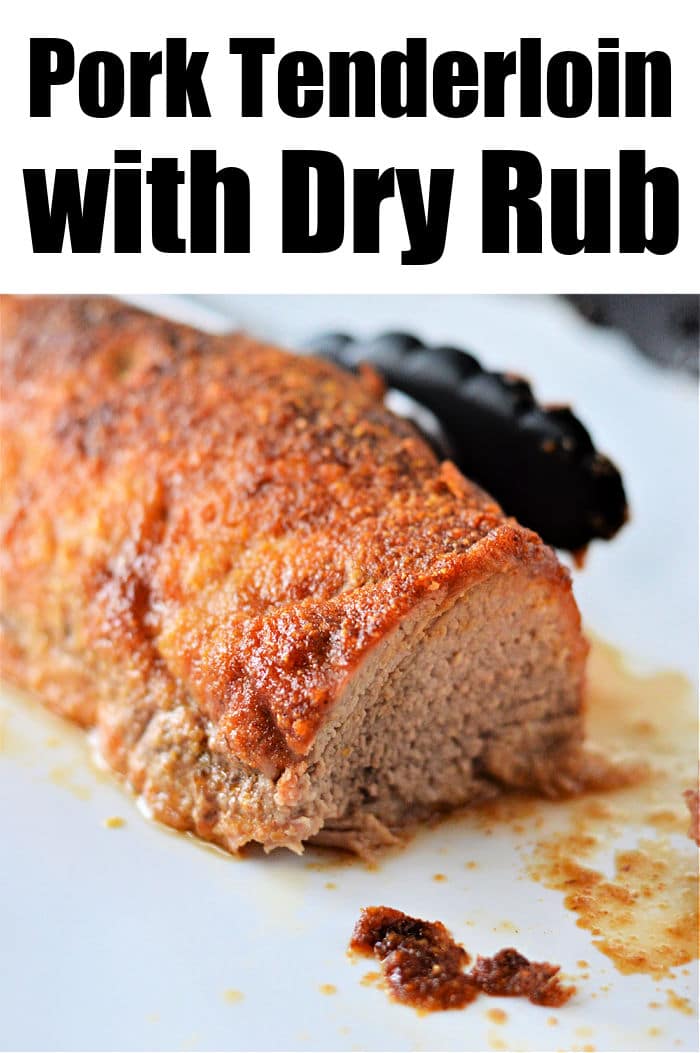 Healthy Meals in Air Fryer
What Is Peri Peri Chicken? It's a delicious meal that can be made with all kinds of poultry cuts. You just marinate it with this homemade spicy South African spice mix! It has mouthwatering flavors with just the right amount of kick!
Desserts
Individual portions of Apple Crisps are very simple to make for a healthy dessert that will satisfy your late-night cravings. This recipe has no refined sugars and a world moving crumb topping made with oats and whole-wheat flour. Try serving it warm with a top of greek yoghurt, ice cream or whipped cream.
Ditch the deep fried for healthy air baked for a healthier sweet treat. Banana fritters are amazing plus they're vegetarian and gluten free!
Fall in love with pears with this beautiful and easy dessert to enjoy any day of the week. Amazing for a nutritious sweet treat or breakfast when served with granola, chocolate chips, and yogurt.
Why should you make simple cinnamon bananas? There's no added sugar, it's an easy recipe, only 4 ingredients are needed, amazing flavors, and it's a healthy kid friendly dessert!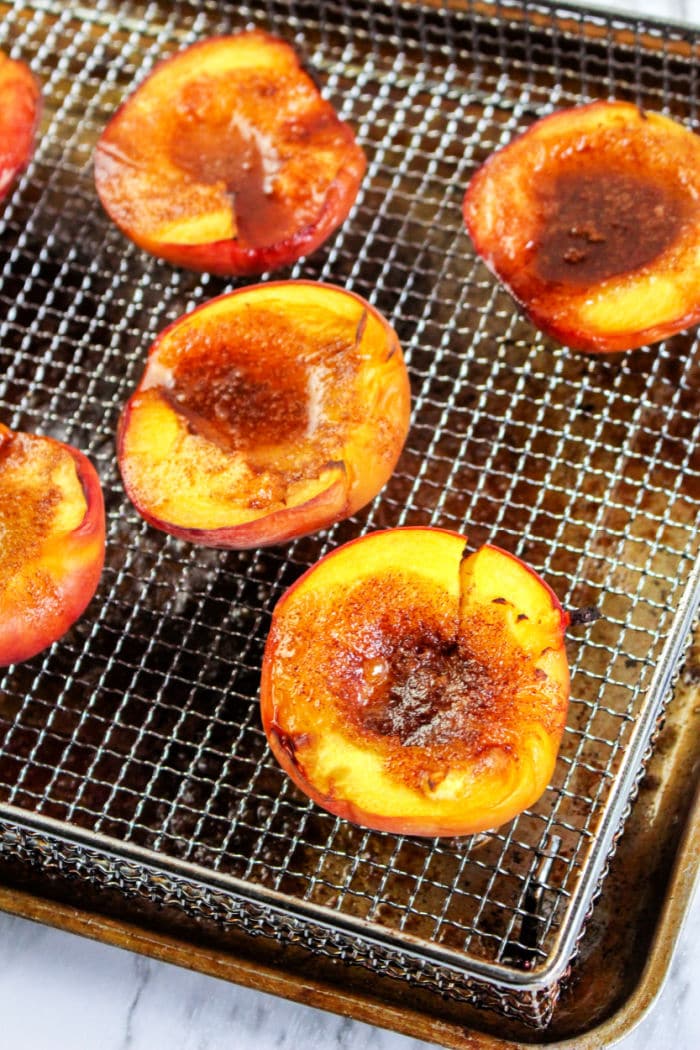 These air fried peaches or nectarines are fast, simple and decadent. Caramelized nectarines make a heavenly dessert for when you are trying to eat healthy. Try it with some sugar free ice cream or yogurt!
That is right, we have a few different ways you can air fry fruit as a healthy dessert idea too.
Healthy Air Fryer Desserts
We don't forget the most common thing kids love though. With a sprinkle of cinnamon and sugar you too can make a bag of chips with fruit that kids just love.
When you make air fryer apple chips you get thinly sliced fruit that's lightly spiced with cinnamon and pleasantly crisp. Using your air fryer is the best way to make dried apples too because they're low calorie and nutritious for everyone.
This healthy apricot apple dumplings recipe combines the fruity taste of apples and apricot with warm fall flavours. These dumplings are cozy and warm with crispy puff pastry. Learn how simple it is to make dumplings with puff pastry with this delicious dessert.
Want to see a few of my favorite things that I am totally obsessed with?? Take a peek and see how many you might already have…twinsies!
Looking for more easy family recipes and tips? LIKE The Typical Mom Facebook page?
Then sign up for my free newsletter, and follow me on Pinterest! 😉
***** If you LOVED this recipe give it 5 Stars below and let everyone know what you thought about it. 😉
Air Fryer Healthy Recipes
53 air fryer healthy recipes to make for snacks, dinner, breakfast and dessert. Easy for beginners to make.
Instructions
Remove the cores from your apples, then slice them very thin using a mandolin. Spray inside of air fryer basket with non stick basket, lay apples inside trying to overlap them the least amount possible.

Sprinkle the outsides lightly with cinnamon sugar mixture. Set to 300 degrees F and cook for 10 min. total. Flip pieces after 5 minutes.

Allow to cool and harden before eating. ** Open basket after 1 minute and if slices are flying around in the basket you can place a metal rack or trivet on top of them to avoid that from happening.
Nutrition Facts
Air Fryer Healthy Recipes
Amount Per Serving (1 oz)
Calories 32
Calories from Fat 1
% Daily Value*
Fat 0.1g0%
Polyunsaturated Fat 0.03g
Monounsaturated Fat 0.01g
Sodium 1mg0%
Potassium 65mg2%
Carbohydrates 8g3%
Protein 0.2g0%
Vitamin A 33IU1%
Vitamin C 3mg4%
Calcium 4mg0%
Iron 0.1mg1%
* Percent Daily Values are based on a 2000 calorie diet.