If you're looking for how to cook carrots and easy recipes, you won't want to miss out on these great options. Cooking carrots is a breeze both sweet and savory from air fryer carrots to in a pressure cooker, on the stovetop and more.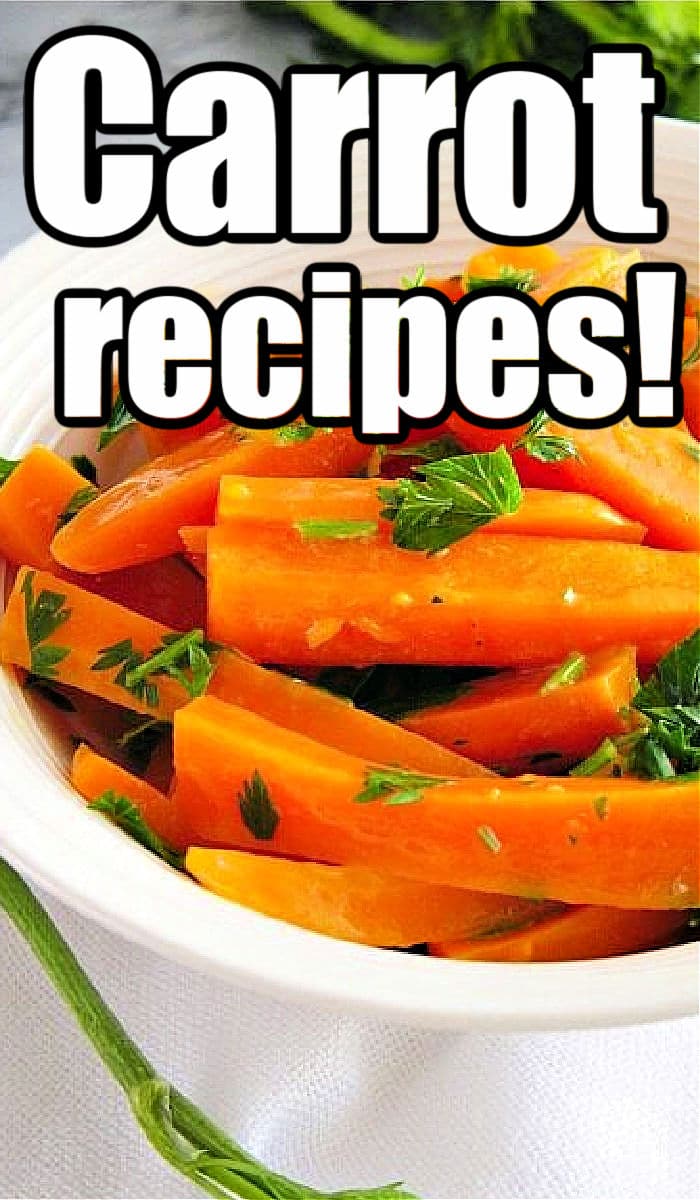 We will help you understand how long to cook carrots in a variety of ways as well as several easy carrot recipes to take you out of your side dish rut. There are so many ways that you can alter the taste and look than just chopping them up and adding them to a salad. (affiliate links present, originally published 5/21)
How Long Does it Take to Cook Carrots
That depends on how large they are and what cooking method you are using. It can range from 5-30 minutes if you make something like our Carrot Casserole. Under high pressure using an Instant Pot is fastest where as grilled or kept whole in the oven take the longest.
How to Boil Carrots
Peel and chop the carrots into small pieces, unless using bagged already prepped baby versions. Place them in a pot of boiling water and cook for 5-10 minutes, or until they are tender to your liking. Larger pieces will take longer of course. Salting the water is nice for added flavor unless making sweet later.
If you love carrots, here are a bunch of new recipes to try this summer. You're going to love all of these amazing options. From lunch to dinner and even dessert, try this wide variety of meals.
How to Roast Carrots in the Oven
Start off by preheating the oven to 400 degrees F or 200 C. Peel and chop them into small pieces. Toss in a bowl with a drizzle of extra virgin olive oil, salt, and pepper. Then spread them in a single layer on a baking sheet lined with non stick foil or parchment paper. Roast for 20-25 minutes, or until they are tender, golden brown and slightly caramelized.
How to Steam Carrots
Pressure Cooker Carrots work out great in your Instant Pot or Ninja Foodi machine. If you want to use a pot on your stovetop you would need to peel and chop them into large bite size pieces. Place sliced carrots in a steamer basket over a pot of boiling water and steam for 5-10 minutes, or until they are tender as you would like. Add butter to melt on top and enjoy.
How to Saute Carrots
Peel outsides with a vegetable peeler and cut carrots into thin rounds. Heat a small amount of olive oil or butter in a pan over medium high heat. Add slices and cook, stirring occasionally, for 5 to 7 minutes, or until tender and slightly browned.
How to Cook Carrots in the Microwave
You CAN actually microwave carrots and they turn out oh so well. All you need is a microwave safe bowl and plate to do it! Need a quick healthy snack but want them cooked and not raw?
This is a great kitchen hack you should take advantage of for sure. Sprinkle on some brown sugar and butter for savory or garlic salt for savoury.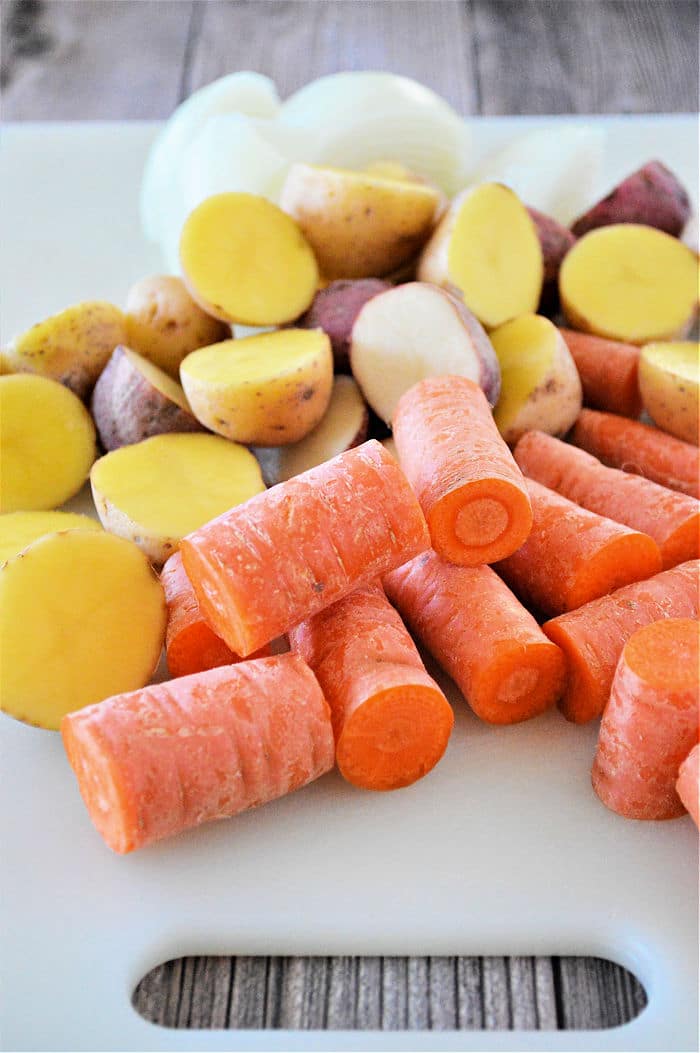 What is the Best Way to Eat Carrots
There are so many options but I love easy prep SO we are going to start with these babies right? You can use "original" and cut yourself or already peeled baby. Glazed carrots would use brown sugar, honey or maple syrup and savory would use garlic, salt and pepper instead.
Some recipes are better off with the small ones. It is less work on your part for sure but in a stew or stroganoff I will opt for the larger versions. Shredded there are even more possibilities. From baking a cake with them, to throwing some in our veggie muffins the possibilities are endless.
What can I do with all these carrots
If you find them on sale and buy a ton you can literally make them into something new all week long, every night. Shred for muffins or you can slice thin or as thick as you want. Of course the larger chunks you have the longer it will take to get tender. If you're making a slow cooker stew though you want to prepare carrots larger.
Nobody wants disintegrated vegetables in their bites. Larger will maintain it's flavor and provide the dish more texture for Instant Pot chicken and vegetables too.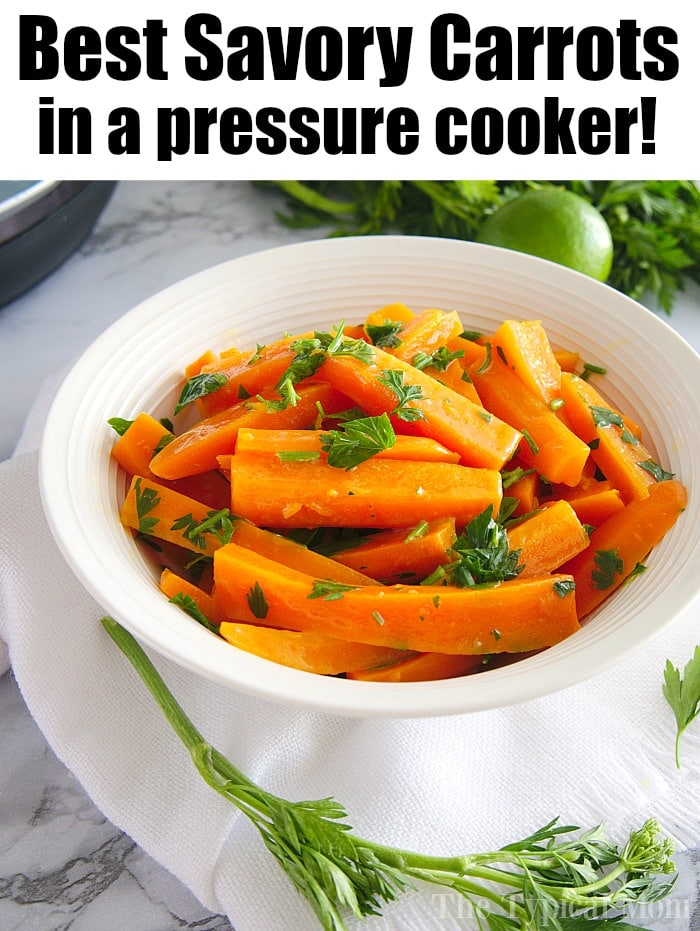 Easy Carrot Recipes
These are just a few simple recipes that you can enjoy making! Oven Roasted Carrots are simple. Just your veggies and seasonings really, all you need is a baking sheet. If you're needing your stovetop for making other recipes, your oven will do the trick in cooking them up quickly!
Easy Carrot Soup we make in a pressure cooker is always a winner winner for dinner too for more veggies in your diet. You can make, chill and let little ones eat it too as it becomes the consistency of baby food when cooled.
Have you ever had a giant bowl of this orange soup? If not, you're missing out! It's creamy, hearty meal packed with beta carotene.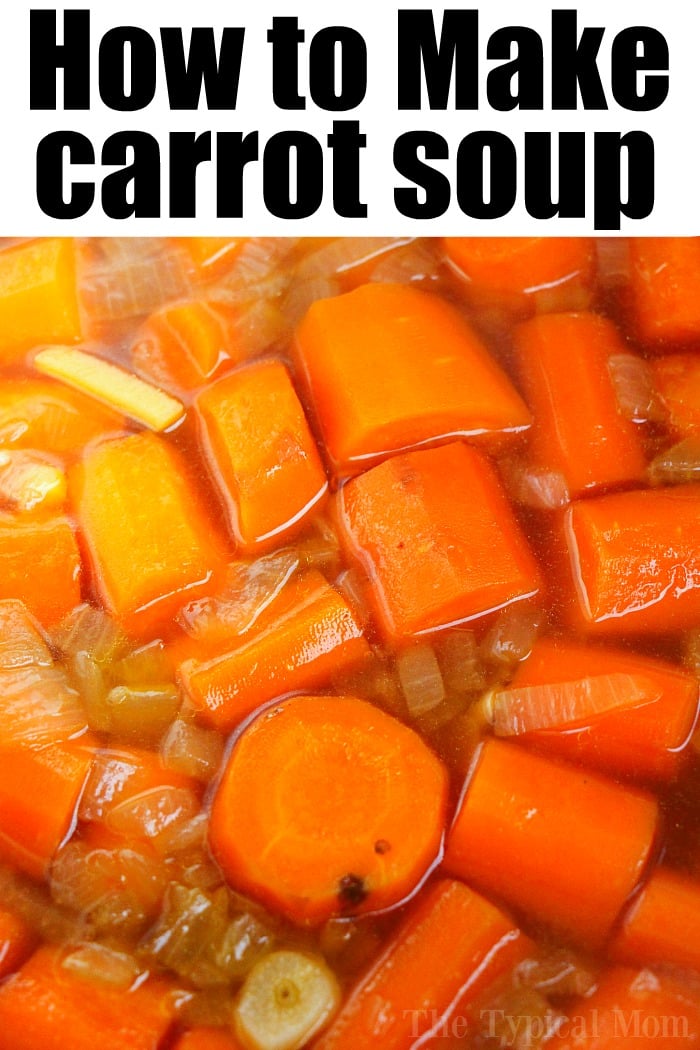 Sweet Carrot Recipes
Cracker Barrel Baby Carrots are the bomb. Everyone knows that brown sugar Cracker Barrel makes the best home cooked tasting meals. Grab some melted butter and try this recipe. This shows you how to make them honey glazed perfectly.
Herb Roasted Vegetables can be done in your air fryer too! Make just air fryer carrots or a mix. Cooking up some carrots with other vegetables is a great way to get a delicious side dish. Cook the carrots up with some sweet potatoes or squash and you're certain to love the taste.
Head out to your garden this summer and see what vegetables you have that are ready to be eaten.
Carrot cake can have less calories and fat than other treats and a great way to hide vegetables from little ones. Adds tons of moisture to breads and muffins too.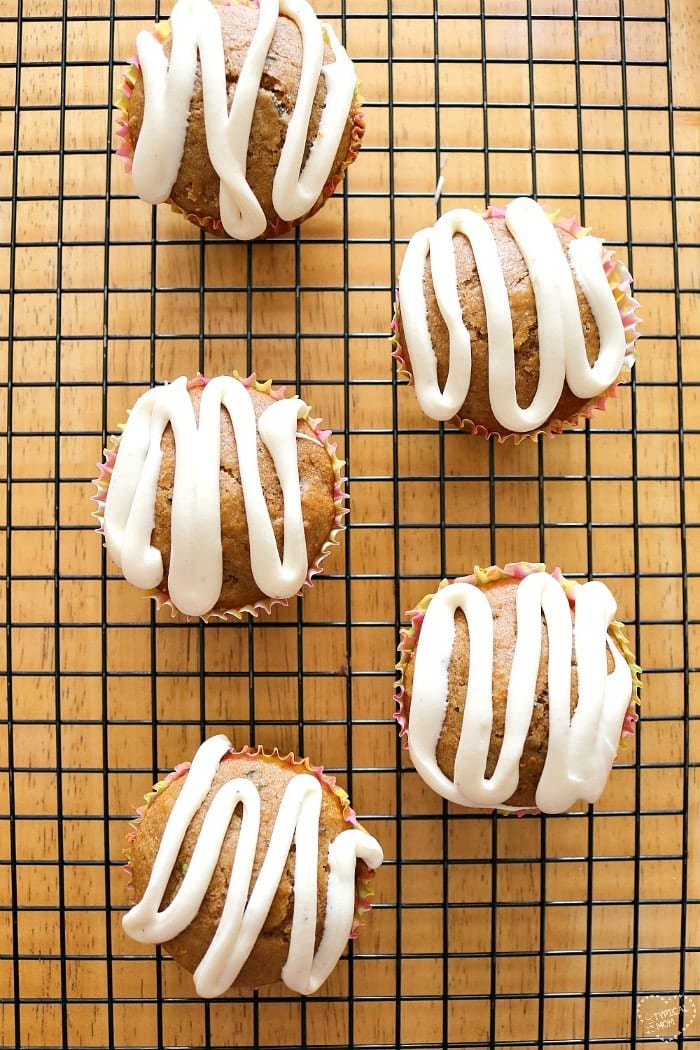 Recipes with Carrots
Candied Carrots can be done on the stovetop or slow cooker during the holidays. Sweet is the way to go especially if you want kids to enjoy them.
While some carrots are already pretty sweet on their own, making them glazed with a sprinkle of brown sugar sauteed with butter will add even a little bit more of that awesome flavor. Then try Parmesan Garlic Roasted Carrot Spirals for a great alternative to pasta when you want a low carb meal.
Think zoodles…but with carrots. It's like getting your dose of daily vegetables while tricking your brain into thinking you're eating some sort of pasta.
Carrot Salad, have you tried this yet? Great side dish that you could add all sorts of things into.
Skip the lettuce and just make a salad out of carrots. Trust me on this one..it's so good! You knew that there was going to have to be some sort of desserts on this list made from carrots, right? Making up some carrot cake in an Instant Pot is a game changer.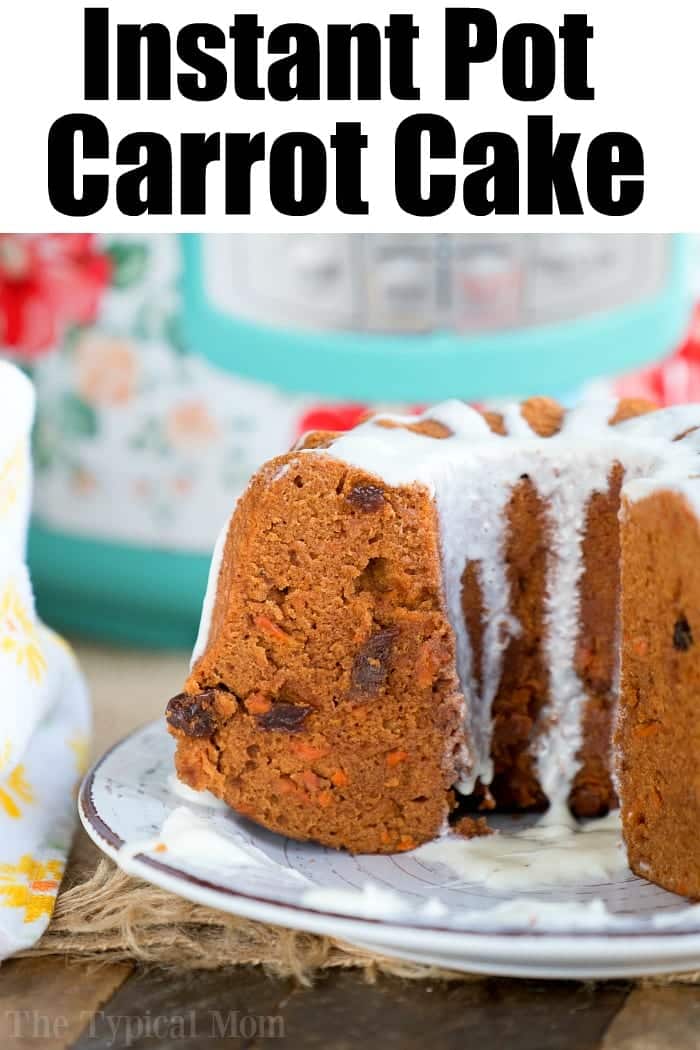 Simple Carrot Recipes
Orange Carrot Ginger Smoothie would be something new. I mean we love our copycat Orange Julius smoothie so…..
Starting off your day with natural sweetness inside a glass. it is always a good idea, but having a smoothie made with carrot and ginger?
So good! You just may not want any other smoothie after giving this recipe a try. Keto Carrot Pancakes, talk about a yummy breakfast idea.
Eating Keto doesn't have to feel like you're missing out. These pancakes are fluffy and yummy and full of carrots! Now you can sneak in some extra veggies to your kid's pancakes without them even knowing it. Carrot Mango Juice sounds amazing and great for your health.
Easy Carrot Recipes for Dinner
Have juice drinkers in your house? Give this sweet and savory carrot mango juice a try. It's a little bit sweet with a clean, crisp taste.
Just have a few minutes to get your veggies on the table? Let your pressure cooker do the work! In just a tiny amount of time, you can have perfectly cooked baby carrots seasoned with salt and pepper with your meal.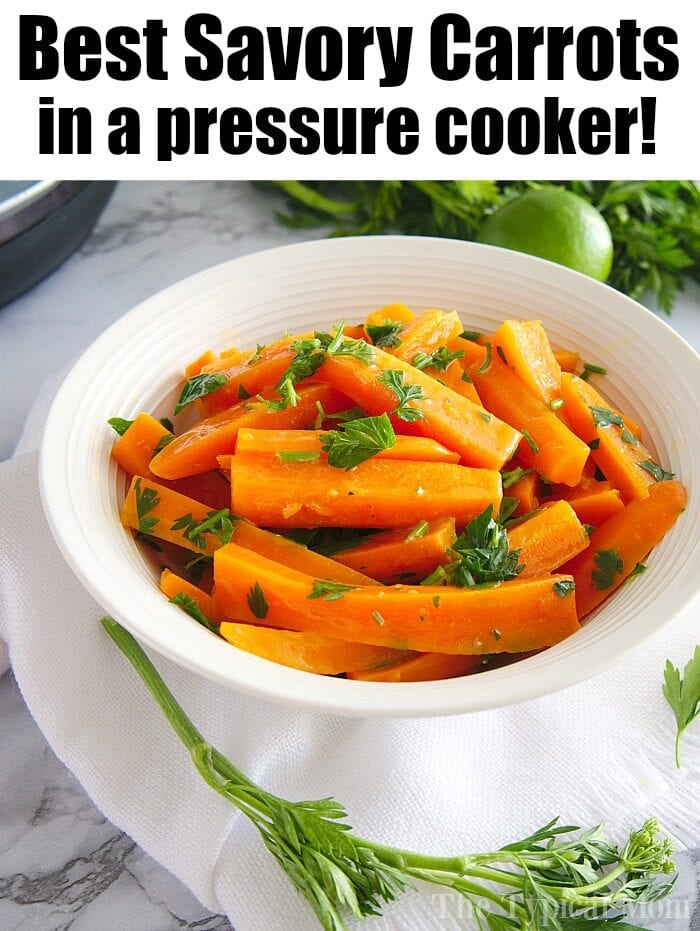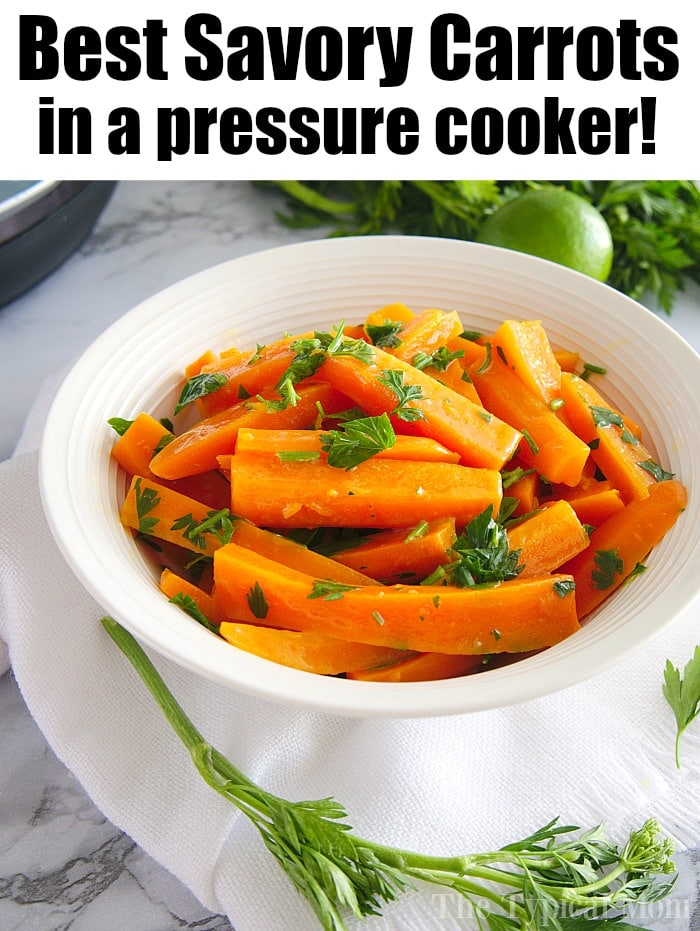 Healthy Recipes with Carrots
See how simple these carrot recipes can be? While you might be fine with eating raw carrots out of the bag and dipping them in dip, why not stretch those carrots and see what else they can be added to!
I love the flavor of this Thai Carrot soup! If you can add in a bit of fresh cilantro as a mix in or even as a garnishment on the top, you're going to be head over heels as well.
Carrot Recipes Side Dish
Just remember that cooking with these orange veggies isn't hard to do. Depending on how you like their texture, you can vary the cooking times a bit.
Some people like theirs to be a bit more crunchy so they want them on the raw side, while others like them to be mashable without any chew.
And when you can cook a lot of these recipes and let your appliances do the majority of the work, why not? It will just give you that much more time to either cook up the other parts of the meal or relax!
Do you have any easy carrot recipes to share?
Want to see a few of my favorite things that I am totally obsessed with?? Take a peek and see how many you might already have…twinsies!
Looking for more easy family recipes and tips? LIKE The Typical Mom Facebook page?
Then sign up for my free newsletter, and follow me on Pinterest! 😉
***** If you LOVED this recipe give it 5 Stars below and let everyone know what you thought about it. 😉
How to Cook Carrots
How to cook carrots to tender perfectly on the stove, sauted, roasted, pressure cooked or microwaved explained here.
Instructions
In a microwave safe bowl add water, sliced carrot chunks with butter and seasonings on top.

Set small plate on top to seal top to steam them. Microwave on regular, high, setting for 4 minutes. Check to see if they are fork tender to your liking. If not add 1 more minute covered and check again.
Nutrition Facts
How to Cook Carrots
Amount Per Serving (1 oz)
Calories 75
Calories from Fat 54
% Daily Value*
Fat 6g9%
Cholesterol 15mg5%
Sodium 88mg4%
Potassium 197mg6%
Carbohydrates 6g2%
Protein 1g2%
Vitamin A 10366IU207%
Vitamin C 4mg5%
Calcium 22mg2%
Iron 0.2mg1%
* Percent Daily Values are based on a 2000 calorie diet.