How to get stain out of white shirt is the question right? Especially when it is your favorite, this is how to clean white clothing easily.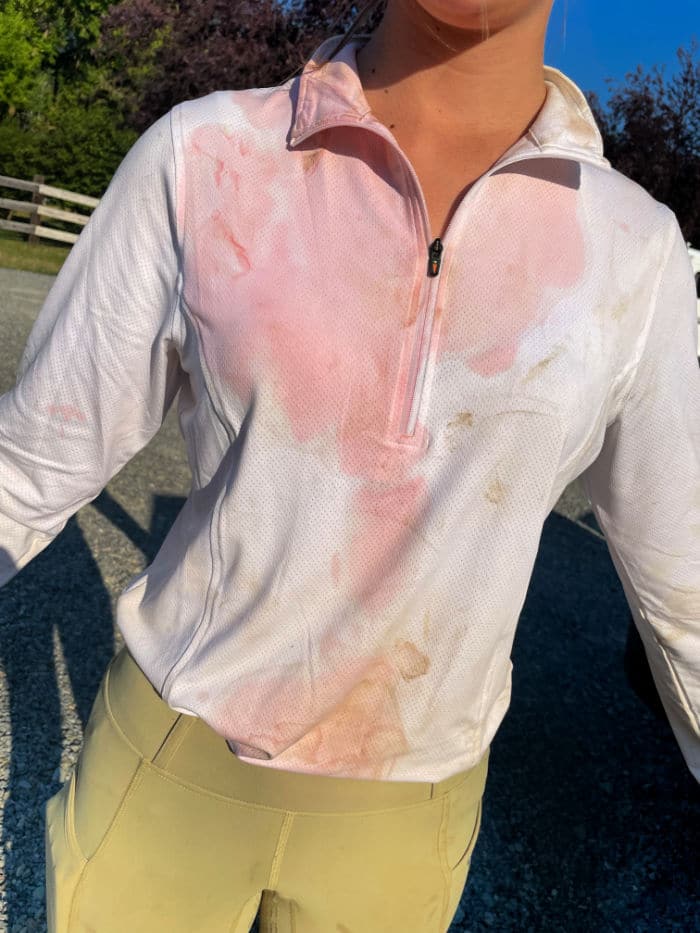 I have three girls so how to get stain out of white shirt has been tested a lot. Sometimes old fashioned methods are really the best so we're taking it way back to share this method with all of you. Stained white clothes will worry you no more when you have this cheap handy item on hand. 😉 (affiliate links present, originally published 6/21)
How to Get Stains off White Shirt
I wish the picture up above was on purpose, like she did this so that we could write this post…but it wasn't. BUT when I saw it I thought it was the perfect time to test, test, and share if Grandma's cleaning hack did really work on something this bad! Amazingly enough…it did y'all.
Why would I buy an expensive very bright white shirt for my teenagers?? Because it is a requirement when you enter many horseback riding competitions. Otherwise I never would……
How to Get Stains out of Almost Anything
That is right, part of their attire for riding are light khaki breeches, a white dress shirt of sorts, black riding jacket and of course their boots and helmet. They only wear these shirts during these moments, this time there was a Powerade catastrophe of sorts…..
It was almost 100 degrees outside that day, she was taking a drink and the horse she was holding pulled her in the other directions. Whammo, she was a total mess. Of course with horses there was also grime and their slobber all over their shirts and pants as well so it was a double whammy of yuck.
With a $45 shirt x 2 girls you've gotta' find a way to get the stains out or else you'd be totally broke….this is what worked like a charm.
Fels Naptha Bar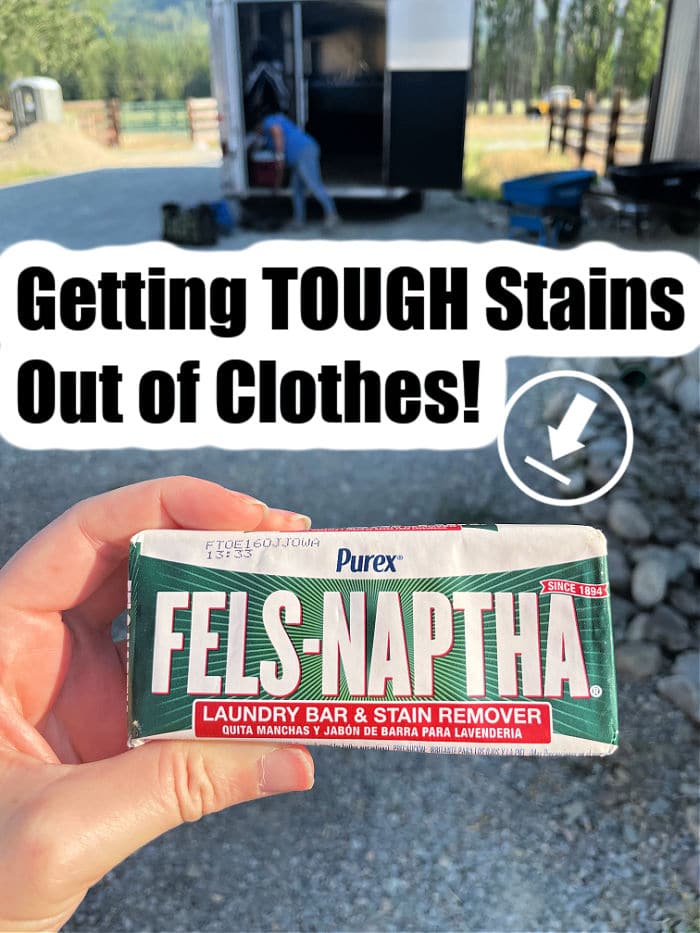 How to Get a Stain out of a White Shirt
This doesn't just work for white clothing either. When I got to them once their competition was over and saw the extent of the shirt and pants I was like ugghhhhh. Her trainer was like "oh wait, don't worry, this will work" and pulled out this bar.
Created in 1894 this orange bar has been around forever and people swear by it. I didn't doubt it but honestly hadn't seen it myself before so I thought I would give it a whirl over the Oxy Clean spray I normally would use.
Now this is the best laundry tip I use and share with others when disaster occurs with you or your kids.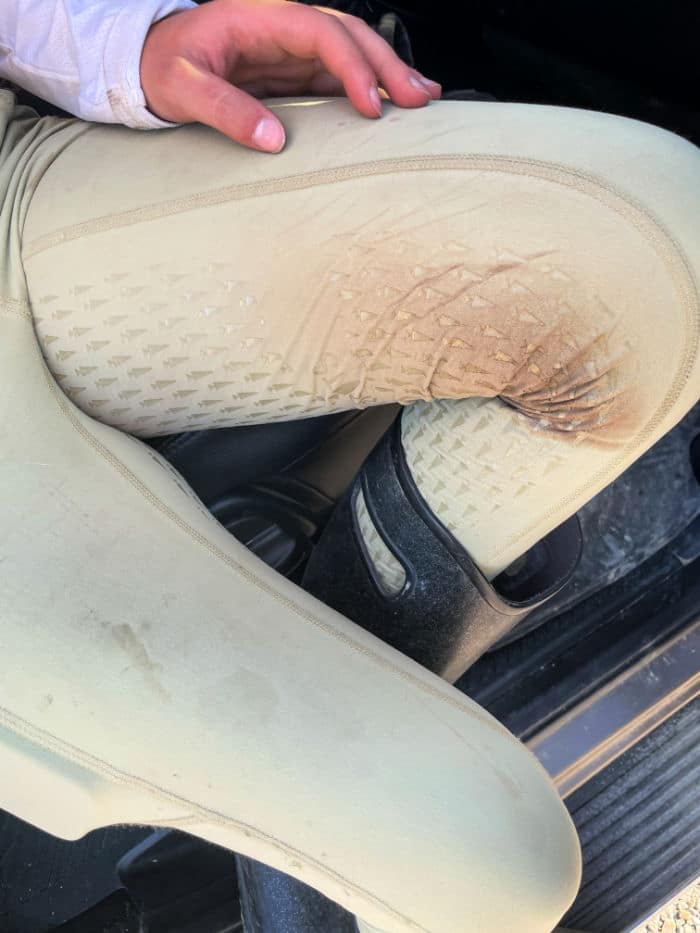 Their pants are almost as light and gather stains even quicker since they are sitting on a dirty saddle with their calves up against the animal all day long. Even with the "sticky" texture on the inside of the legs, the dirt and grime comes right off after you rub this baby on.
Fels Naptha Soap
Have you heard or used this stuff before?? You can find them at Walmart or order a bunch online here so you have them on hand when you need them. If you or your husband is in construction, it works well on their clothing as well. Mine uses a skid steer often when grading land and when he comes home he's a disaster. This does the trick.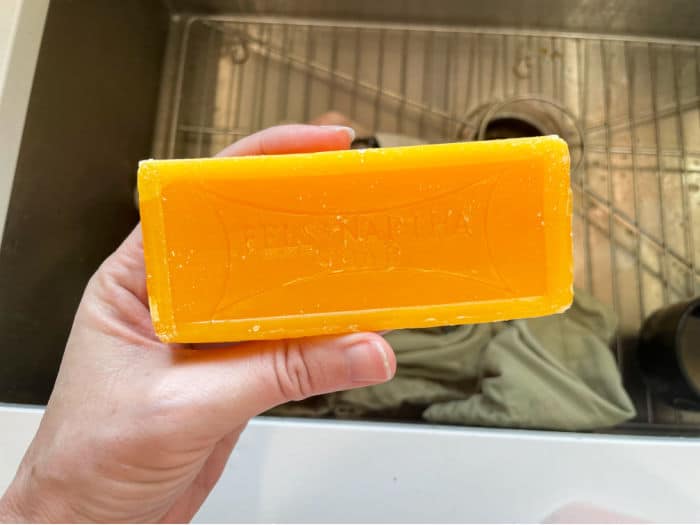 What does Fels Naptha remove?
All the things….. Stains are removed from white and colored clothing well, but you can also get blood out of clothes as well with this bar. Poison ivy resin on shirts and pants can be scrubbed off with this as well to make them good as new.
Is Fels Naptha a good stain remover
Yep, we are here to show you how well it works on the hardest to clean item, a white shirt. With a little water and a bit of scrubbing this bar on you too can get rid of hard to get rid of marks, dirt, and stains on just about anything. Use it alone or to pretreat stains before throwing them into the wash.
I do use a bit of detergent, or a pod really, in the wash as well as this. That should be noted when getting ready to use it for the first time, this is all that you do.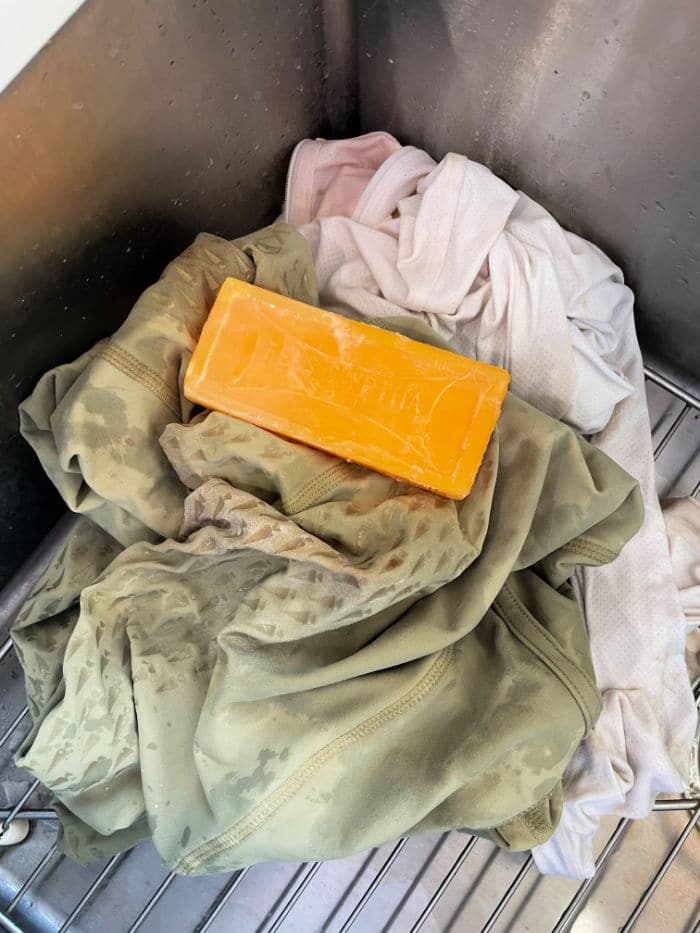 How to Use Fels Naptha
If you are working with jeans or tough materials, you could use a soft sponge for scrubbing. Since these are thinner I just used the bar and a little elbow grease myself. That is all you really need, even for something as bad as you see in the top photo.
Wet the clothing well with cold water.
Run bar under the water and rub to get it to lather up.
Rub the bar right over the stained area, sweat stains, on your piece. If it isn't lathering when rubbing, add more water to both.
Allow pieces to sit in the sink for a good 10 minutes, or put into a bucket with just a cup of cool water so it can soak.
Throw just the stained pieces into the washing machine on the delicate cycle with the regular amount of laundry detergent (or 1 pod) you'd use for a load. You can also shred a bit into the washer to boost it's effectiveness.
When done pull them out, the stains should be gone! If there is a bit left you can follow the same steps as before and wash once more before drying.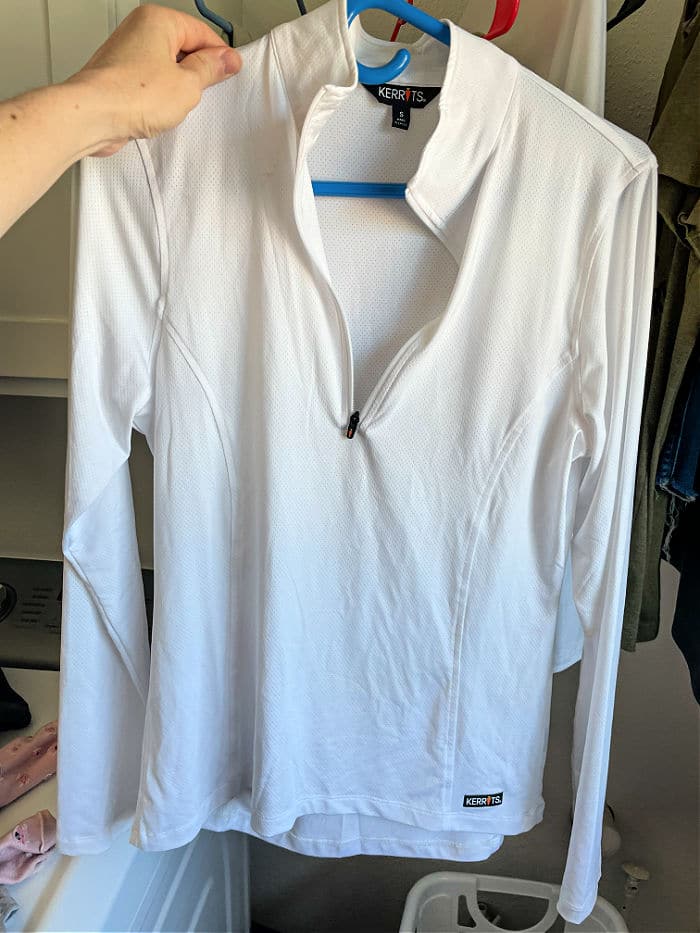 Fels Naptha Uses
Beyond using it on a shirt that happens to get a stain you can use it on all sorts of things including:
It will get out blood stains. For this I'd put some warm water into a bucket and use a cheese grater or knife to grate some of the bar into the mix. Stir to dissolve and let your underwear or other items soak for a good 15 minutes to 30 minutes.

this same method will work great for items with red wine on them.

Clean your carpet stains with this! Same as above, fill a bucket 1/4 of the way full with hot water. Grate about 1/4 c full and let it dissolve. Then use a scrub brush to get the stain out, then dry with paper towel and repeat if necessary.
Make sure after you use this that you wash your hands well with dish and/or hand soap to remove the oils. If not it will irritate your eyes if touched with some of the residue left on your skin.
Want to see a few of my favorite things that I am totally obsessed with?? Take a peek and see how many you might already have…twinsies!
Looking for more easy family recipes and tips? LIKE The Typical Mom Facebook page?
Then sign up for my free newsletter, and follow me on Pinterest! 😉
***** If you LOVED this recipe give it 5 Stars below and let everyone know what you thought about it. 😉