Best salmon dinner recipes with sides that are family friendly baked, smoked, cooked in air fryer with teriyaki, coated with our famous salmon dry rub or garlic butter.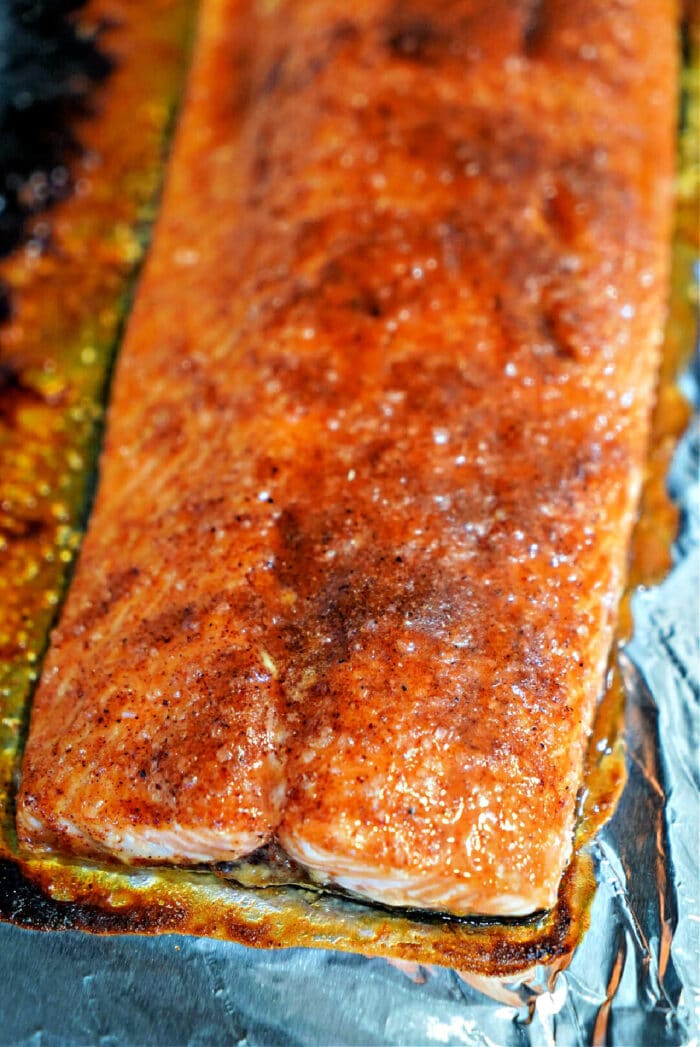 We eat a lot of fish recipes in our house. Even my kids love white and pink salmon recipes for dinner or even lunch time. Using a number of different cooking methods these are just a few of our favorite ways of making this so it is fork tender and full of flavor. (affiliate links present)
I will start with our favorite of them all above. We use a sheet pan with a sweet and savory rub and it always comes out perfect. It is best if you put this on the top rack with some roasted zucchini and squash on another so it all gets done around the same time.
What do you put on salmon to eat?
There are many delicious ways to prepare and serve this flaky fish in under 30 minutes. Here are some ideas for what you can put on it to make it taste even better: We will start with the easiest and most common; Lemon juice and dill: Squeeze fresh lemon juice over the fish and sprinkle with chopped fresh dill for a bright, fresh flavor.
Soy sauce and ginger: Mix together soy sauce, grated fresh ginger, and a bit of honey or brown sugar to make a sweet and savory glaze. Then you can bake as is or grill as a fun skewer recipe.
Garlic and butter: Melt butter in a pan and sauté minced garlic until fragrant. Spoon the garlic butter over the some salmon bites before serving.
Pesto: Spread a dollop of your favorite pesto (such as basil, sun-dried tomato, or roasted red pepper) over the top of the salmon for a burst of flavor.
Mango salsa: Combine diced mango, red onion, jalapeño, cilantro, and lime juice for a sweet and spicy salsa that pairs well with grilled salmon.
Mustard sauce with salmon is a great choice too if you want bold flavors, but easy and cheap to do.
Tzatziki sauce is another favorite: Serve salmon with a dollop of creamy fish sauce, made with Greek yogurt, cucumber, garlic, and dill
The top one was made in our air fryer which we love. Brush with teriyaki sauce (either store-bought or homemade) for a sweet and savory glaze that caramelizes as it cooks. The heat will cause it to thicken even more and become even sweeter. You can also just drizzle some on after it is done for a lighter touch.
What is the best kind of salmon fillet?
There are several types of available in the market, and the best kind depends on your personal preferences and the recipe you are making. Here are some of the most common types of filets:
Atlantic salmon: Atlantic is the most widely available type of salmon and has a mild flavor and a medium-firm texture. We share how long to bake salmon at 400 here.
Coho salmon: Coho has a delicate, buttery flavor and a firm texture. It is a popular choice for grilling and broiling.
Chinook salmon: Chinook (also known as king salmon) has a rich, buttery flavor and a tender texture. It is a premium choice for baking or grilling our salmon kabobs.
Sockeye salmon: Sockeye has a deep red color and a robust flavor with a firm texture. It is often used for smoking or grilling.
Pink salmon: Pink has a milder flavor and a softer texture than other types of salmon. It is often used for canning or making salmon patties.
Ultimately, the best kind depends on your personal taste and the recipe you are making. If you are unsure which type to choose, ask your fishmonger for recommendations or try different varieties to find your favorite.
What goes with salmon for dinner?
Side dishes for salmon are versatile depending on your favorite flavors and ingredients. You can always drizzle on one of our salmon sauce recipes over the meat and roasted potatoes to make things easy. Here are some ideas for what to serve with salmon for dinner:
Roasted or steamed vegetables: Salmon pairs well with a variety of produce like roasted asparagus, steamed vegetables, broccoli, brussels sprouts, carrots, green beans, or zucchini.
Rice recipe or quinoa is always an easy one: Serve with a side of rice or quinoa for a hearty and healthy meal.
Salad: A fresh green salad with mixed greens, cherry tomatoes, cucumbers, and a light vinaigrette makes a great accompaniment to salmon.
Potatoes: Roasted or mashed potatoes are a classic side dish that pairs well with salmon.
Lemon or garlic butter sauce: A simple lemon or garlic butter sauce can be drizzled over the salmon to add flavor and moisture.
Fruit salsa: A sweet and spicy fruit salsa made with mango, pineapple, or peach adds a burst of flavor and color to your salmon dish.
Grilled or smoked corn: Serve salmon with grilled or roasted corn on the cob for a summery twist.
Remember that the best sides for salmon depend on your personal preferences, the occasion, and the flavor of your salmon dish. Don't be afraid to experiment with different flavors and ingredients to find your perfect match.
Salmon Dinner Ideas with Sides
There are several methods for cooking salmon, and the best way to cook it depends on your personal preferences and the recipe you are making. I will start with Traeger smoked salmon. If you love to cook outside especially during the summer this is the way to go. The flavor is amazing. Here are some popular other methods we have tried;
Baking: Preheat your oven to 375 degrees F. Place on a baking sheet and season with salt and pepper. Bake for 12-15 minutes or until the salmon is cooked through. Sprinkle on grated parmesan cheese if you like and enjoy.
Grilling: Preheat your grill to medium-high heat. Brush the with oil and season with salt and pepper. Grill for 3-4 minutes per side or until the center is cooked to your desired level of doneness. You can even grill frozen salmon fillets with foil too!
Pan Fried: Heat a skillet over medium-high heat. Add a small amount of olive oil to the skillet and place the fish skin-side down. Cook for 4-5 minutes or until the skin is crispy. Flip and cook for another 2-3 minutes or until the salmon is cooked to your desired level of doneness.
Poaching: Bring a pot of water to a simmer. Add herbs, lemon, and aromatics to the water. Add the filet and poach for 5-10 minutes or until it is cooked through.
Steaming: Place piece in a steamer basket and season with salt and pepper. Steam for 8-10 minutes or until the middle is cooked through.
No matter which method you choose, be careful not to overcook the salmon as it can become dry and tough. When the salmon is cooked, it should be opaque and flaky.
And did you know you could cook frozen fish of all kinds right out of the freezer without defrosting first? Yep, it is not only possible but also turns out incredibly delicious. You'd think it would dry out no matter what but if you cook it low and slow with a bit of moisture or sauce you will find like we did it is great.
I have done this a number of times and different ways so we could share that too. I would say that we most often make Instant Pot frozen salmon because it comes out the most tender and flaky. You then can add some teriyaki or olive oil salt and pepper for dinner.
If you really like texture though you might want some crispy on the edges. You won't get that in a pressure cooker, you will need to use our air fryer frozen salmon recipe instead. OMG that is great with teriyaki on top.
How to Save Leftover Cooked Salmon
When saving leftovers, make sure to store it properly to maintain its freshness and flavor. Always use safe food handling practices and discard any leftover salmon that has been sitting at room temperature for more than two hours. You can of course refrigerate it in an airtight container for up to three days.
Freeze it: Wrap the leftover salmon tightly in plastic wrap or aluminum foil and place it in a freezer-safe container. It can be stored in the freezer for up to three months.
Reheat it: To reheat the leftover salmon, place it in a skillet or on a baking sheet and warm it in the oven at 350°F (175°C) for 5-7 minutes or until heated through.
Use it in recipes: Use the leftover salmon in recipes such as salmon cakes, salmon salad, or pasta dishes. The leftover salmon can be flaked and mixed with other ingredients for a delicious and easy meal. You can serve it cold too in a salad or as a topping for crackers or bread.
6. Dill Salmon
We will share a unique recipe below with lemon and dill. If you don't have access to fresh herbs you can use dried. Of course the latter isn't the most ideal but we live in a small town so I get that it is not always accessible for affordable to find it.
Want to see a few of my favorite things that I am totally obsessed with?? Take a peek and see how many you might already have…twinsies!
Looking for more easy family recipes and tips? LIKE The Typical Mom Facebook page?
Then sign up for my free newsletter, and follow me on Pinterest! 😉
***** If you LOVED this recipe give it 5 Stars below and let everyone know what you thought about it. 😉
Salmon Dinner Recipes
Easy salmon dinner recipes with sides baked, cooked in an air fryer, grilled or steamed in a pressure cooker are here. This lemon dill salmon fillet is great.
Instructions
Preheat oven to 400 degrees F. In a small bowl, whisk together the olive oil, lemon juice, dill, salt, garlic powder and a pinch of pepper.

Place the salmon fillets in a baking dish. Pour the lemon and dill mixture over the salmon. Bake for 12-14 minutes, or until the salmon is cooked through.
Nutrition Facts
Salmon Dinner Recipes
Amount Per Serving (1 oz)
Calories 306
Calories from Fat 162
% Daily Value*
Fat 18g28%
Cholesterol 94mg31%
Sodium 75mg3%
Potassium 845mg24%
Carbohydrates 1g0%
Protein 34g68%
Vitamin A 84IU2%
Vitamin C 3mg4%
Calcium 21mg2%
Iron 1mg6%
* Percent Daily Values are based on a 2000 calorie diet.