Here are some adorably cute Easter desserts that are not only delicious but fun to set out for Easter brunch and when you have company over!! From cupcakes, to nests, a candy charcuterie board and Easter desserts in Spring colors. We love we have a bunch of treats everyone will love here.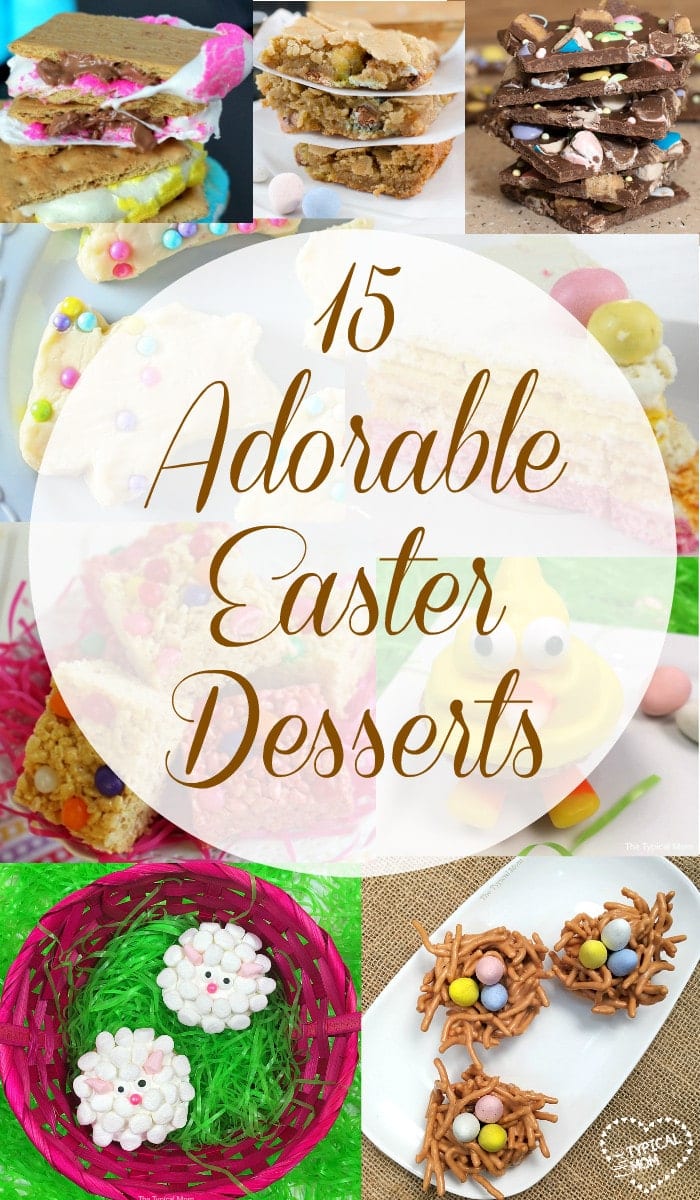 It's no secret that I love food art, especially when it comes to desserts! Any chance I get to create something fun out of food I will, and it's more likely my kids will try it that way too. Here are some cute Easter desserts I came up with so you an have some Easter food art fun this season too! (originally published 2/16, affiliate links present)
Easter Desserts
Spring is a great time to get in the kitchen and if you have kids let them help you! There are many no bake desserts we make like the one below that look like bird nests which are fun and really yummy to eat too. Hot cross buns aren't the only festive choices this time of year y'all, there are SO many more selections.
Jelly bean rice krispy treats are easy to do too and they can do all the mixing after you melt the marshmallows. Get creative. Dress up some cupcakes like sheep like we did, or bunnies…let your imagination go and decorate!
Let's start by showing you how to make homemade fudge. Add jelly beans for this time of year to make it colorful. One fun cut Easter desert is what we like to call butterscotch haystack nests….delicious and so cute!!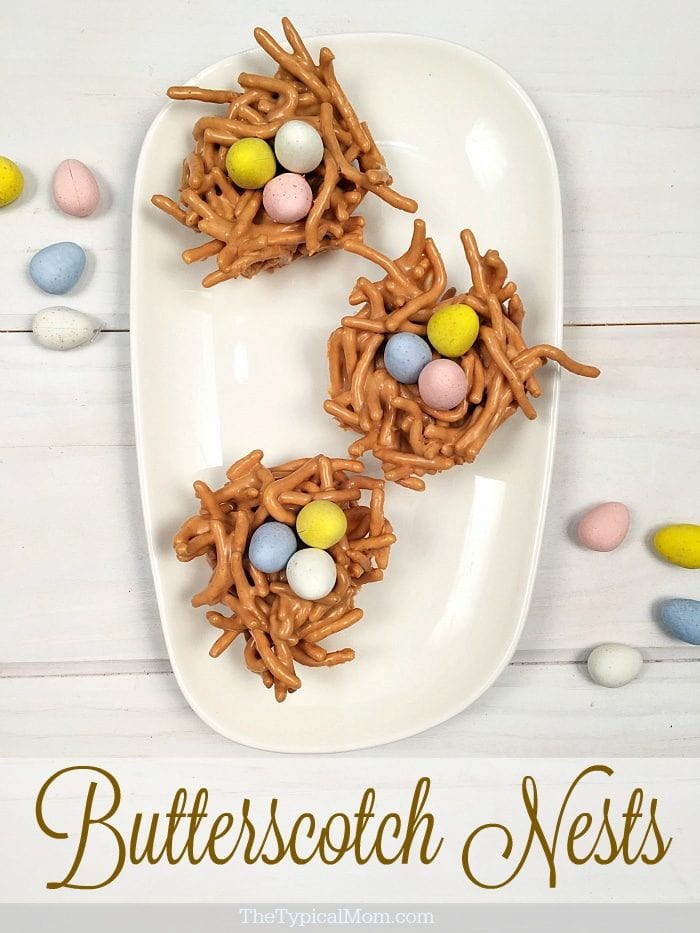 Popular Easter Desserts
Your kids can help you make and fill these hollow chocolate surprise Easter eggs one evening. You can fill the insides with things as simple as mini marshmallows, sprinkles or go all out with small toys. If you do choose the later let them know so they don't bite into something that isn't edible.
On the chocolate route you could make chocolate meringue cookies and shape into an abstract bunny. Just do a dollop on top with a larger one on the bottom for the body.
Another favorite of ours is sheep cupcakes….the kids love making these Easter cupcakes and they're so easy too!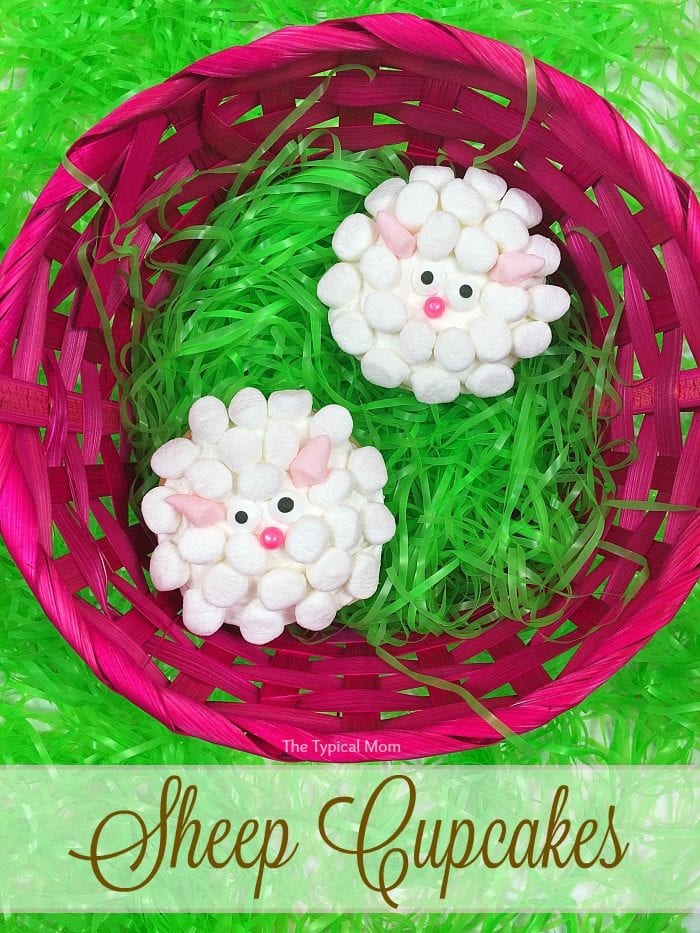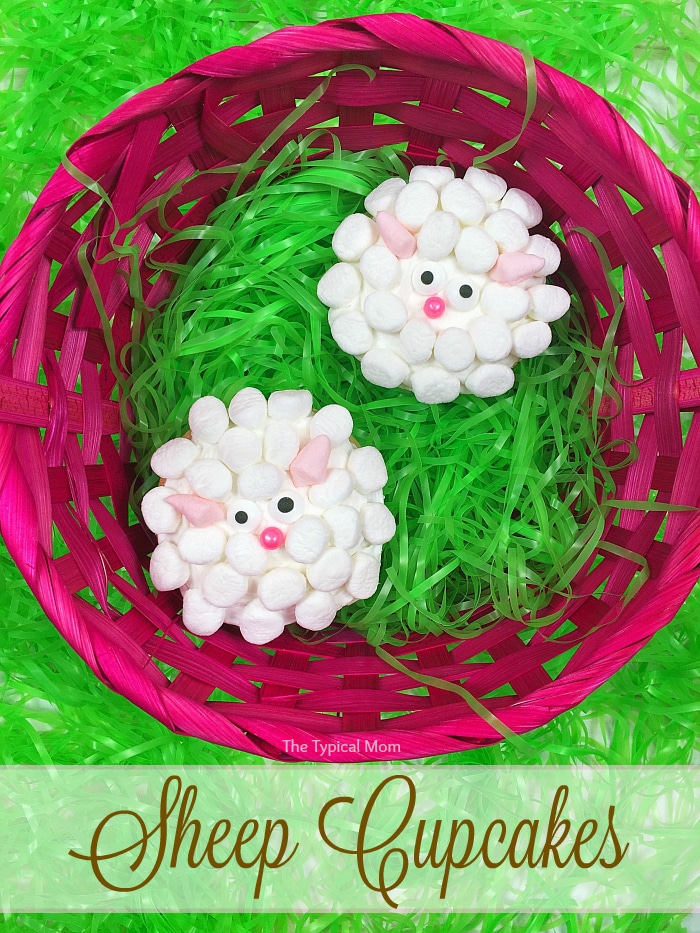 Of course you should always make things easy. If you're having a hectic holiday, skip the tedious decorating ideas and just make a bundt cake of your choice. Love coconut cake? Go with that island feel and just top with some chocolate eggs on top = makes it Eastery!
Have dietary restrictions? My husband does too so we have had to make a few tweaks to favorites of ours so he can enjoy them too. If you're in the same boat take a peek at our dairy free cookie recipes here.
No Bake Easter Desserts
Looking or really easy? Buy a frozen pound cake at the grocery store. Slice strawberries and lay on the top, sprinkle on chocolate chips and pastel colored sprinkles as an Easter treat. Seriously, anything goes y'all.
Small Easter Desserts
Looking for some more easy Easter desserts made with rainbow Rice Krispy Treats or maybe something that goes well with lemon curd? I mean you can make things really easy by buying ready made pie crust, curd already made and make a meringue pie that way.
Just make meringue and the rest is store bought. Here are a few more from our friends.
I know I said 15 but…………..I just kept making more to add to the list so we have more below….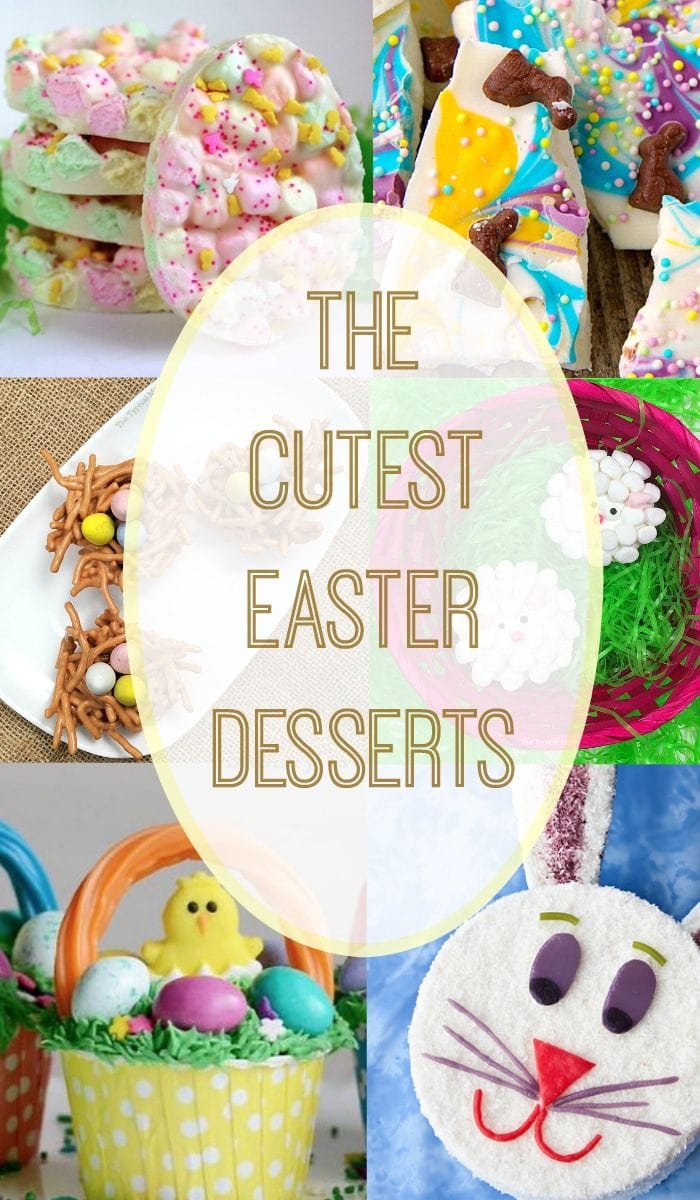 I will say that I am really into making things easier on everyone. Yes I love celebrating the holidays but my mom wasn't a homemade baker so I guess I never got into it big time. If I can use one of my boxed cake mix recipes and decorate the top for this Spring holiday it's a win.
Adorable Easter Dessert Recipes
Of course I have friends who are amazing at cake decorating so I wanted to include their creations as well so there was a broader selection for everyone involved. Another way to bake semi-homemade is to tweak Rhodes frozen bread dough. You can see one of them below. They came out so good without messing with yeast etc.
For a savory and sweet EASY dish you should try our easy Italian Easter bread recipe using ready made dough! So pretty right? You may have been served or seen this at a bakery with a hard boiled colored egg on top. Ours are more fun with a chocolate egg instead, and way easier using defrosted dough that is ready made!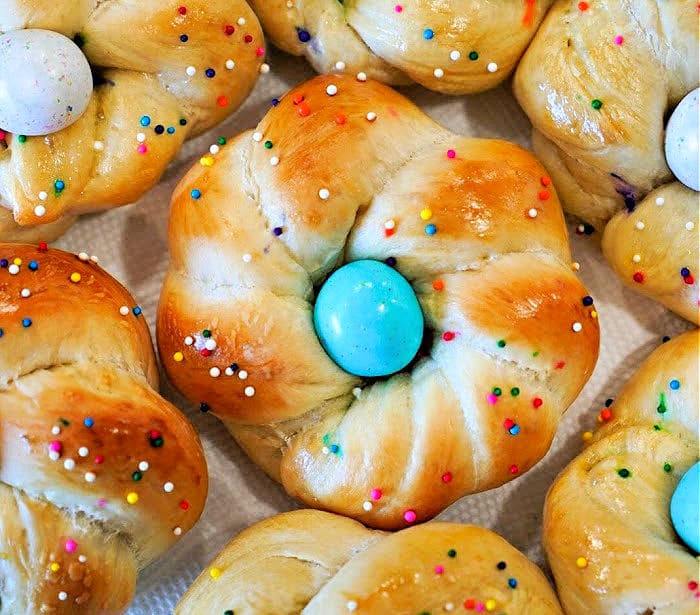 Desserts for Easter
Like I said, this list will continue to grow year after year because we are always creating new cutes. 😉 There are a few holidays I really love because it is a good excuse to all get together, this is one of them.
With a bit of time off school so we can travel a bit, and then have a fun few days with relatives, we look forward to it each year. Love planning and everything that goes along with it. I have a few free games you can download and print at home to save you a bit of money too.
If you too like to have a crowd around during this time you might want to enjoy a few of our holiday printables as well. A few that are specific to rabbits and bunnies would be our Easter bingo and Easter color by number pages. These are great to keep little ones busy and having a good time together so y'all can talk a bit. 😉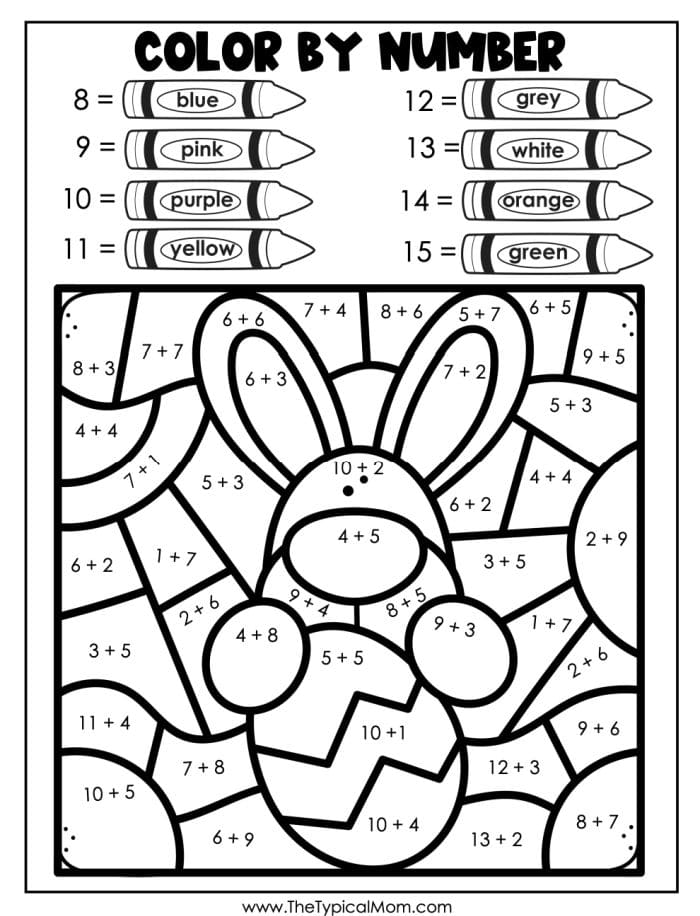 Ok, that was a lot!! Not that you need it but when we find new favorites I will continue listing down here below. If you have found something new, or have a family favorite recipe we should try leave us a message down below. Remember that you can easily save leftovers with airtight containers. Leave on the countertop for up to 3 days.
Want to see a few of my favorite things that I am totally obsessed with?? Take a peek and see how many you might already have…twinsies!
Looking for more easy family recipes and tips? LIKE The Typical Mom Facebook page?
Then sign up for my free newsletter, and follow me on Pinterest! 😉
***** If you LOVED this recipe give it 5 Stars below and let everyone know what you thought about it. 😉