These sheep cupcakes or Easter cupcakes are the cutest you've ever seen and so easy to make with your kids! Perfect dessert or for a boy or girl first birthday party. Here's how you make them and other fun Easter games and treat ideas too.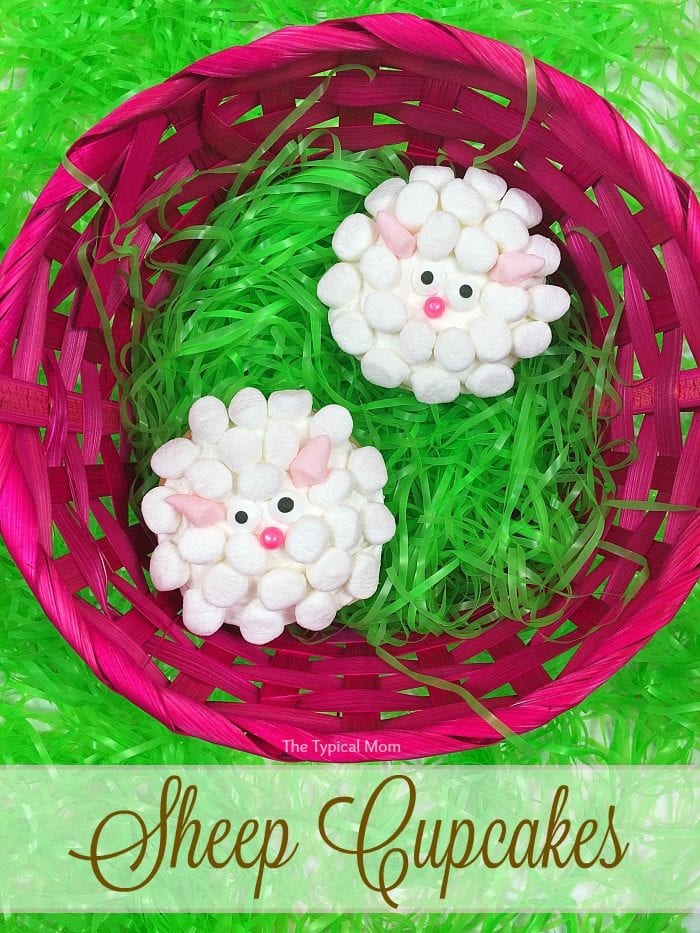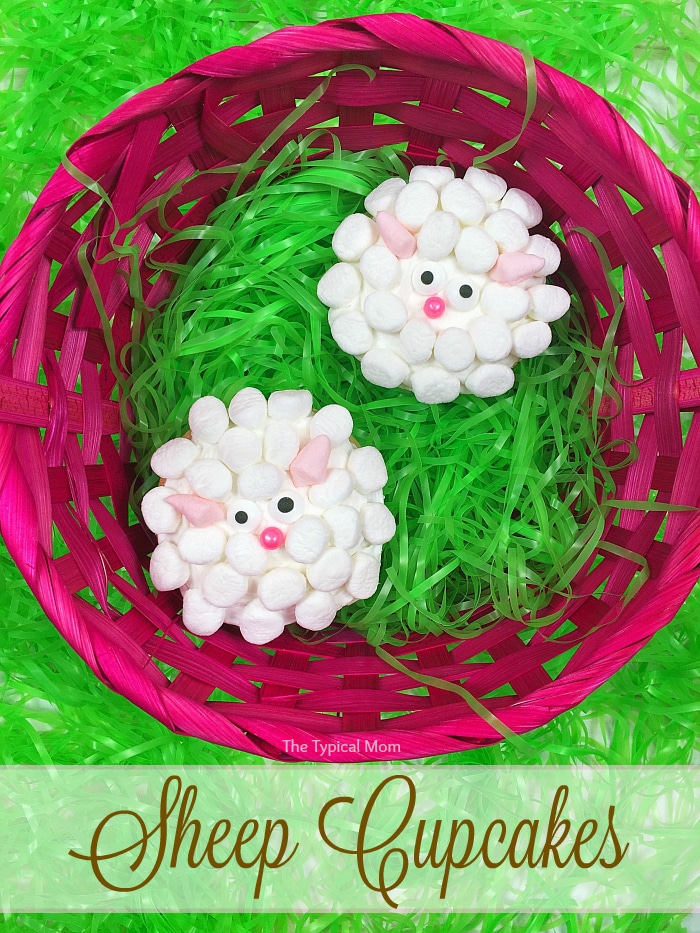 It's Easter time and why not do some food art and create sheep cupcakes for the occasion. Actually these are great as baby shower cupcakes or for a first Birthday too if you're having a gender neutral theme! They are so incredibly cute cupcakes kids can make Spring party, or just for fun on the weekends. Here is how you make these sheep cupcakes. (originally published 3/16, affiliate links present)
Easter Cupcakes
Awwwwww, I know right! It's fun to creative with desserts.
I am not a big bake from scratch kinda' person, except when it comes to my caramel bread pudding recipe.
I start with a cake mix to make the cupcake base and go from there once they're cooled. I chose a white cake mix this time but spice cake would be good too.
Lamb Chop Cupcakes
Remember this loved puppet back in the day, well you could say these look like that character too. Of course your kids wouldn't have any idea what or whom you were talking about but I do. 😉 When it comes to baking with kids and making Easter dessert ideas it needs to be easy, and fun.
You can bake all 18 out of the box or a small batch of air fryer cupcakes just so everyone gets one after dinner.
These fit the bill on both regards.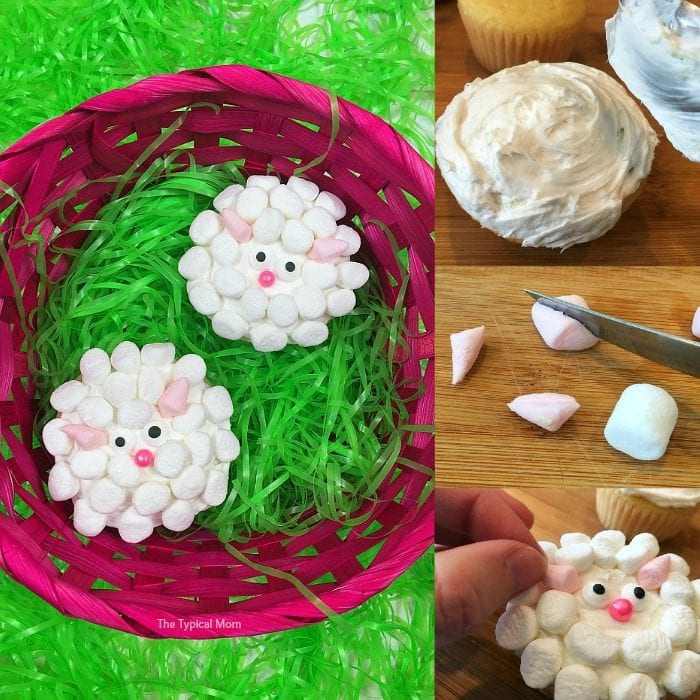 Sheep Marshmallow Cupcakes
I am going to show you several photos of how this was done AND the video above so there is no guess work here. We are all about EASY and fun around the holidays. Great for boys and girls to make and enjoy these, they're perfect for a first birthday party too.
A pretty gender neutral bit of cuteness really, there isn't anyway who doesn't just say "awwwwe" when they see these. You're going to start by just baking cupcakes as you normally would. I use boxed mix but that is up to you.
Cute Sheep Cupcakes
Allow them to completely cool and then add some frosting, like this. White is best so the other items can really stand out with the colors and all. Vanilla or cream cheese are usually my go tos. I don't really like the whipped variety because it isn't as thick and doesn't cover as well, just personal preference.
Now use mini marshmallows and slice them diagonally like you see here, these will be the ears. The fluff on the outside will be halved white marshmallows.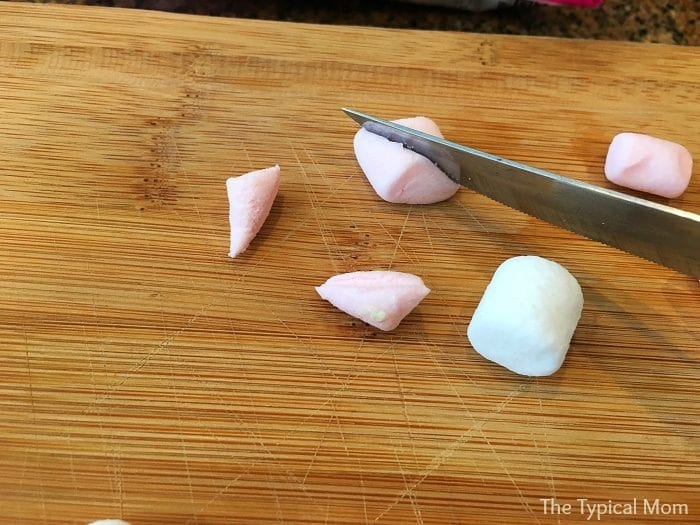 You could use whole mini marshmallows for the outsides but they will stick much better if they are in half and lay nicer as well.
Just a tip when spreading frosting and working with kids: have them use the back of a spoon to smooth it on instead of a knife. Not really for safety reasons per say but it is easier to maneuver it on this way. You can slice the pieces if kids are very young and the candy eyes come in the package already looking like this.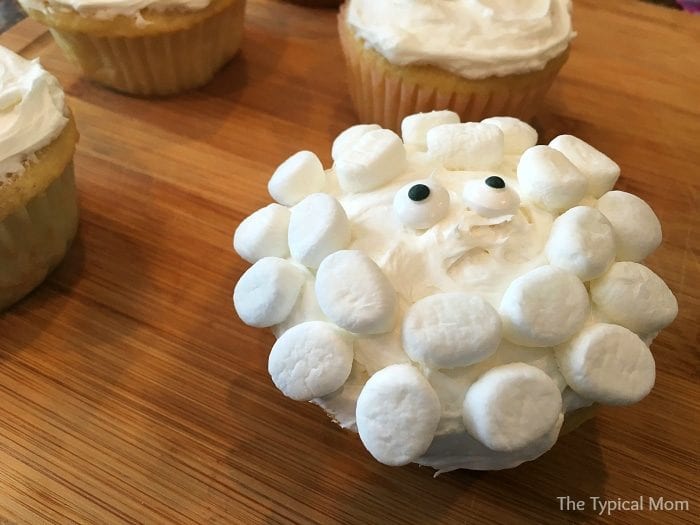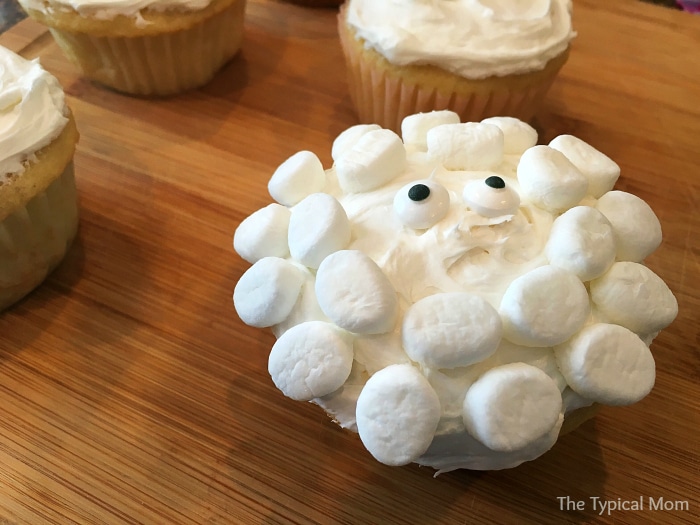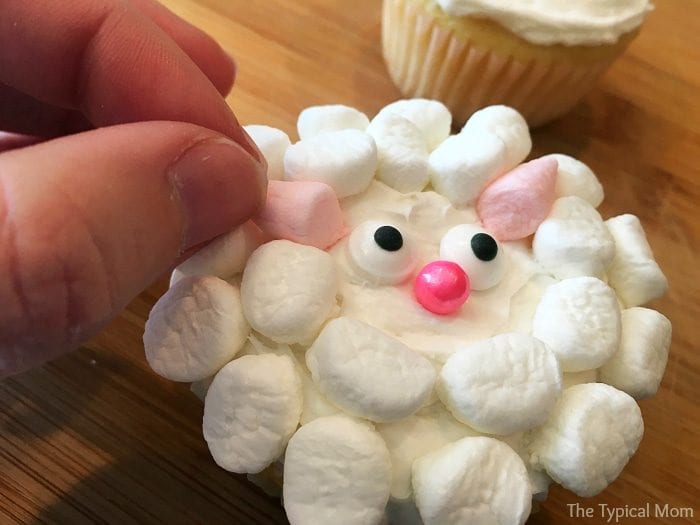 So here we go, this is what you're going to need. For the nose there are many options you could use. I thought a pink candy ball was perfect just because it was cute and well I have all girls. You could totally use blue if boys were making these with you to change things up a bit.
Easter Sheep cupcakes
Cake mix – or homemade cake mix
Ingredients to make cake batter
Cupcake liners
Small white and pink marshmallows
White frosting
Candy eyes – you can find the candy eyes here
Pink edible balls – pink or grey sixlet for the nose
I just layed them into a basket with grass and some filled Easter eggs around them for the big day which was a fun Easter treat for them.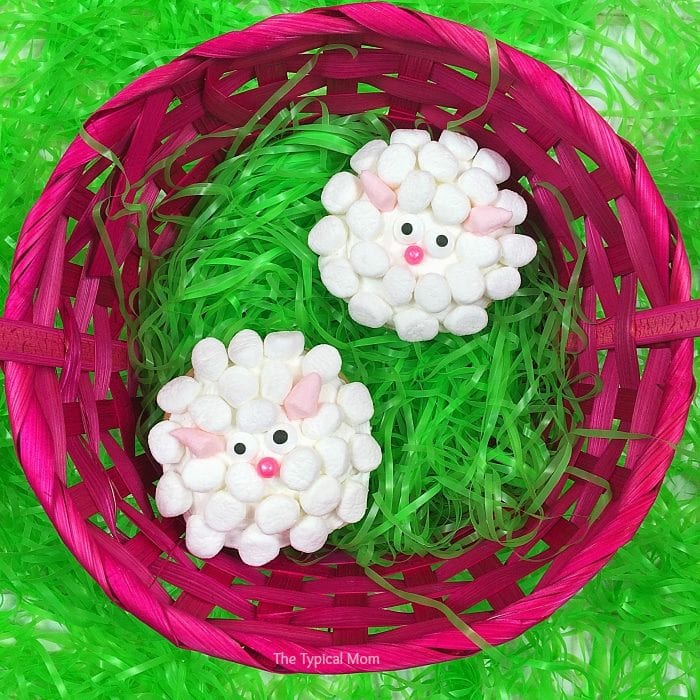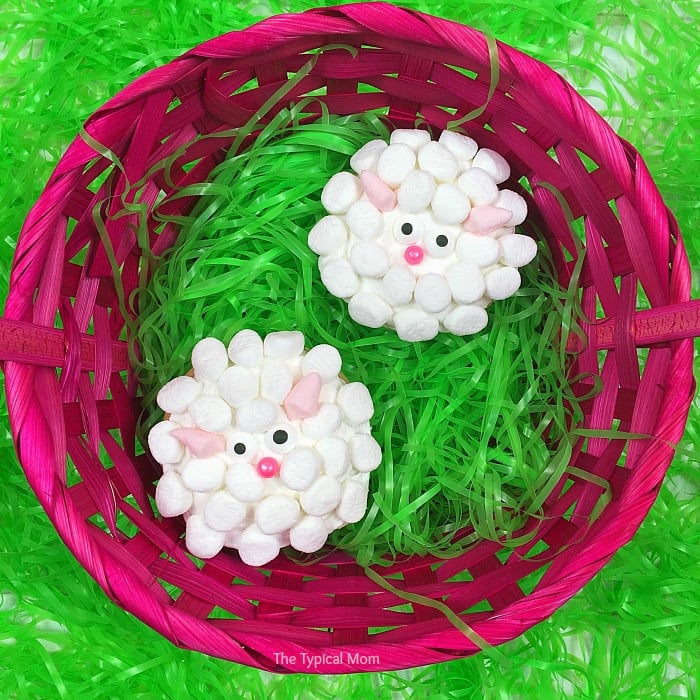 Easter cupcakes
Make a batch of cupcakes, or make just 6 cupcakes like this, and allow to cool
Start with the candy eyes
Put them in the middle of the cupcake and then put the white marshmallows cut in half around the outer edge
Working all the way around the cupcake from the outside in
Do a second row but leave a bit of room up near the eyes to put your pink ears.
Add a pink candy for the nose
Then fill in the white marshmallows as much as you desire.
How to make sheep cupcakes
They are so cute you could make a basket full of them next to their Easter basket as a surprise, or fill the basket with all the items you need to make them together. Bake the cupcakes ahead of time and give each child a plastic knife with their marshmallows so once they frost their cupcake they can see it transform into a cute sheep cupcake of their own!
Want to see a few of my favorite things that I am totally obsessed with?? Take a peek and see how many you might already have…twinsies!
Looking for more easy family recipes and tips? LIKE The Typical Mom Facebook page?
Then sign up for my free newsletter, and follow me on Pinterest! 😉
***** If you LOVED this recipe give it 5 Stars below and let everyone know what you thought about it. 😉
If you loved this one you should try making our ladybug cupcakes too and…..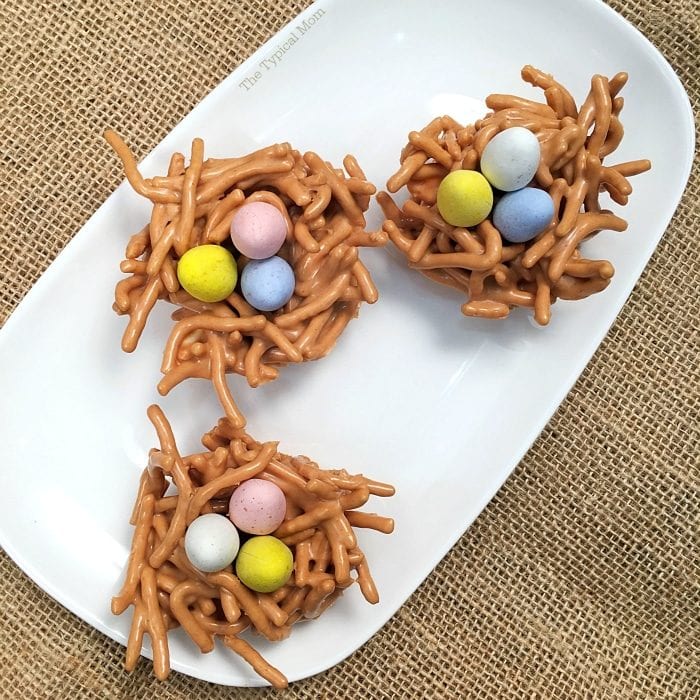 Sheep Cupcakes
Instructions
Bake and cool cupcakes completely. Use the back of a spoon to frost tops with white frosting.

Put 2 candy eyeballs on top of cupcake. Cut 1 pink mini marshmallow in half diagonally. Place on top right and left corners for ears.

Cut a white marshmallow in half and work in a circle around the far outside around the ears until covered. Then do the same thing in an inner circle until covered, and again until everything is covered other than space for a pink candy nose in the center.
Notes
Don't fill the muffin liners more than about 1/2 way full. You want the tops to be on the flatter side than stiff peaks.
Nutrition Facts
Sheep Cupcakes
Amount Per Serving (1 oz)
Calories 186
Calories from Fat 18
% Daily Value*
Fat 2g3%
Sodium 235mg10%
Potassium 17mg0%
Carbohydrates 42g14%
Protein 1g2%
Calcium 61mg6%
Iron 1mg6%
* Percent Daily Values are based on a 2000 calorie diet.
Having adults over for the occasion? Want to make them something special to go along with this "theme", make some air fryer lamb chops of course. 😉
Want to see a few of my favorite things that I am totally obsessed with?? Take a peek and see how many you might already have…twinsies!
Looking for more easy family recipes and tips? LIKE The Typical Mom Facebook page?
Then sign up for my free newsletter, and follow me on Pinterest! 😉
***** If you LOVED this recipe give it 5 Stars below and let everyone know what you thought about it. 😉