This is how to make a cute ladybug cupcake! They are so fun to make for birthdays or a baby shower. With a few ingredients you can transform a normal treat into an adorable ladybug complete with edible eyes and dots. Great idea when baking with kids.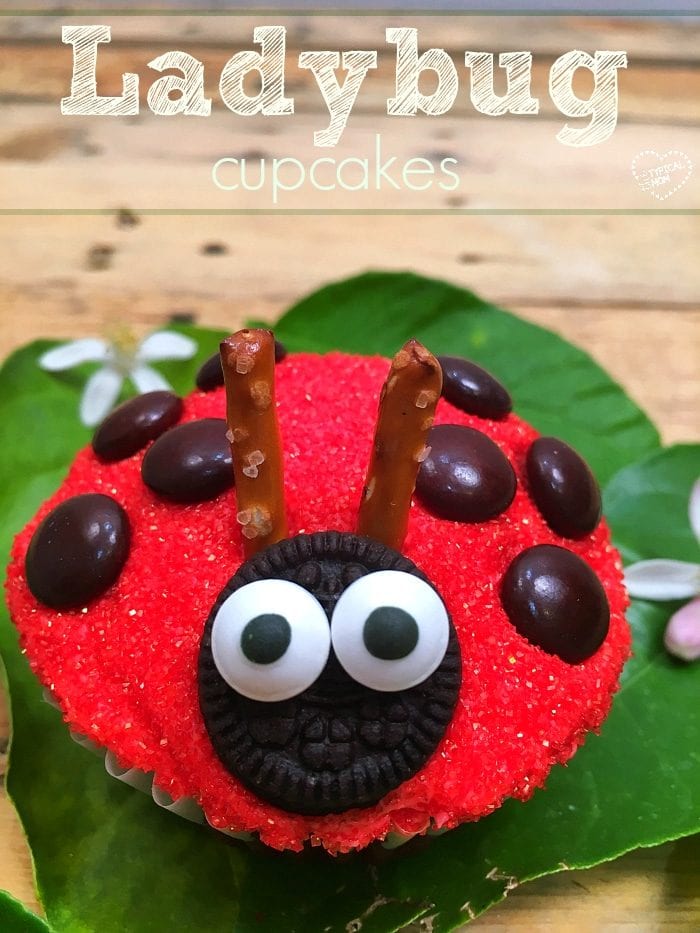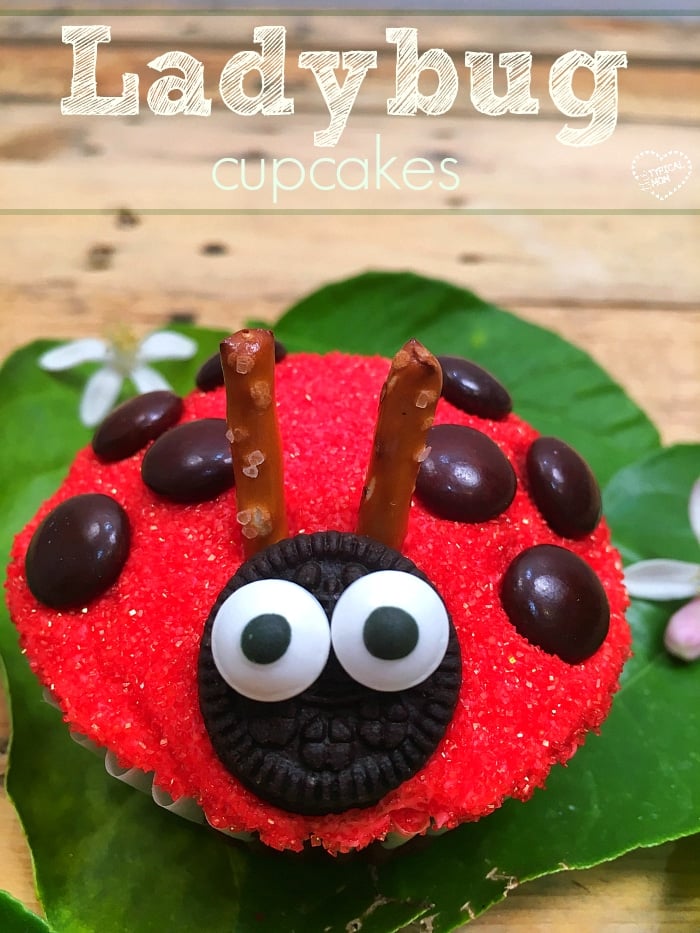 I have 3 girls and yes there is something about girls and their love for ladybugs. Ladybug cupcakes are also a cute theme for a first Birthday party! If you're looking for cute cupcakes, I have one for you here! (originally published 6/18)
Didn't these turn out adorable?? No it's not every day that my creations come out looking great but my girls loved this one. It's so easy too. Just use a boxed mix, bake in the oven or a few with our air fryer cupcakes instructions. Allow to cool and then let me show you how to make this ladybug cupcake.
Ladybug cupcake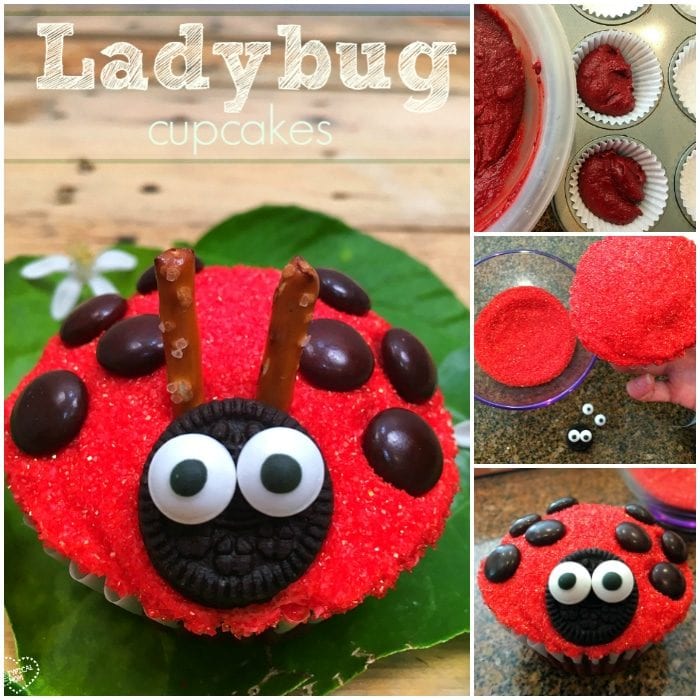 How to make ladybug cupcakes
This is what you're going to need to get started. Of course you can tweak it to your liking but this is what has worked out best in our experimenting.
Cake mix and ingredients to prepare batter as directed on box
Cupcake muffin cups
A cupcake pan
Fine red sprinkles – I used this red sanding sugar
M&Ms – I just picked out the brown ones, I don't recommend black icing dots as it stains
Light and fluffy frosting

you can dye it red using this if you want
or use red food coloring with white frosting

Stick pretzels
Use a small dish or bowl to dip the top like you see here to make it shiny red as the base of their body.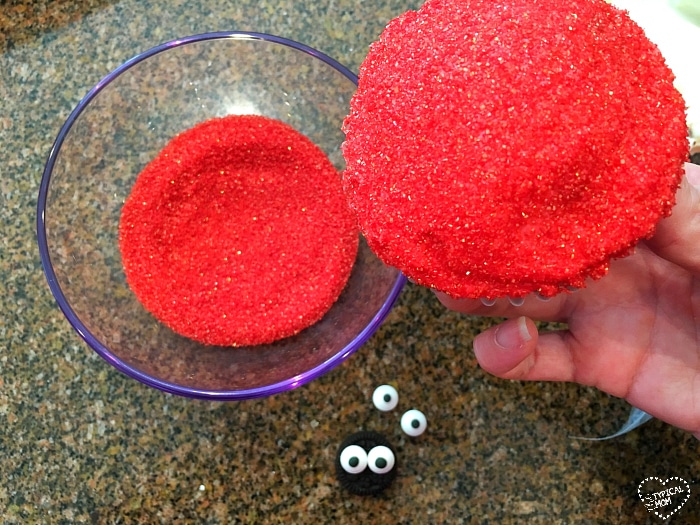 Ladybug cupcakes
Now I started by baking red velvet cupcakes using this cake mix . You can make some from scratch, but remember when I said I like EASY…..so we will go from there. 😉
Time needed: 15 minutes
Ladybug Cupcakes
Bake

Just use boxed or homemade yellow cake mix to make cupcakes. If you want a small batch, this is how to make 6 cupcakes. Allow them to cool completely before decorating.

Frost

Use the back of a spoon to frost the top with red frosting.

Coat

Pour red sugar or sprinkles into a bowl, turn frosted cupcake upside down and gently press on to the top so it's coated.

Add spots

Press brown candies on top for ladybug spots.

Finish decorating

Use a bit of frosting on back of candy eyes to stick on to a mini Oreo, then press that on to the front of the cupcake so it sticks in frosting. Break a pretzel stick in half and place on top of head for antennae.
Make a bunch for a birthday party or just a few on a rainy weekend to have fun together.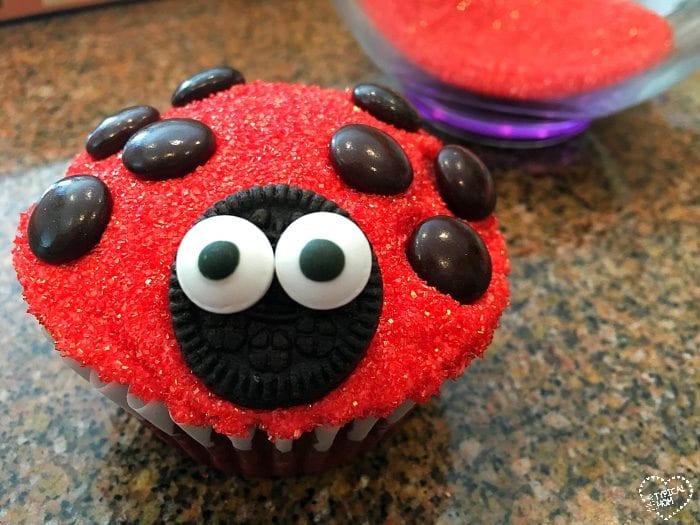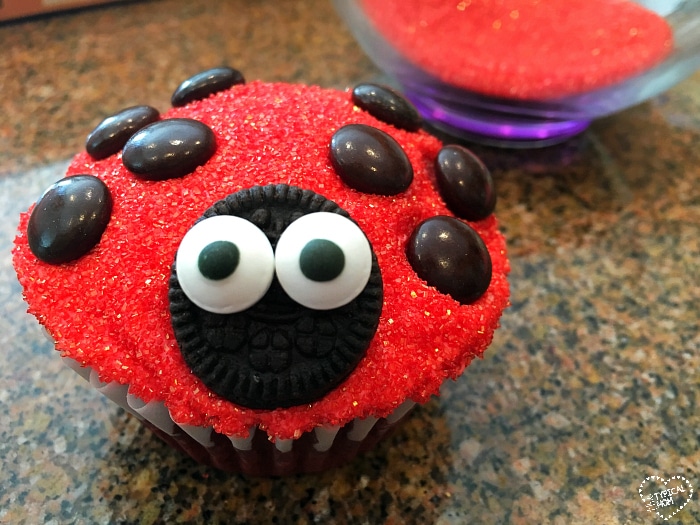 Lady Bug Chocolate Cupcakes
What are the most popular cupcakes?
Ones that are moist inside and cute or really pretty on the outside. At the end of the day they have to taste excellent though!
How do you decorate ladybug cupcakes?
We will show you how to do it right here! Use red frosting, sugar and candies to create the spots. The head we used a mini oreo and candy eyes with a pretzel for the antennae.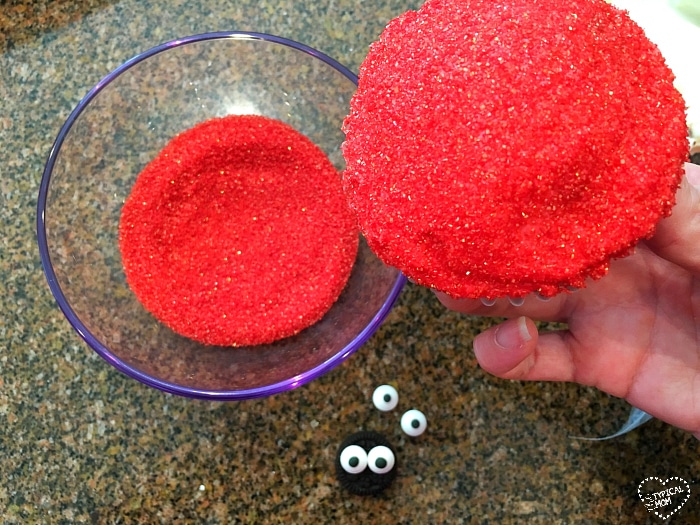 After you frost the cupcake turn it over and press gently into the bowl of red sprinkles to coat. Then just use a dab of white icing to stick the candy eyeballs to the front of the mini Oreo. Stick the brown chocolates on, break your pretzel in half and stick them in for antennae.
Here's a video showing how easy these ladybug cupcakes are to make!
If you're throwing a party this is a great and cheap activity to have the kids do too! Decorating cupcakes is cheap and always fun for girls and boys. Just have all the necessary items laid out on a table with the cupcakes already made.
You could make a few tables with different bug activities like this, use our insect coloring pages on another, and make ants on a log on another (cream cheese filled celery with raisins on top).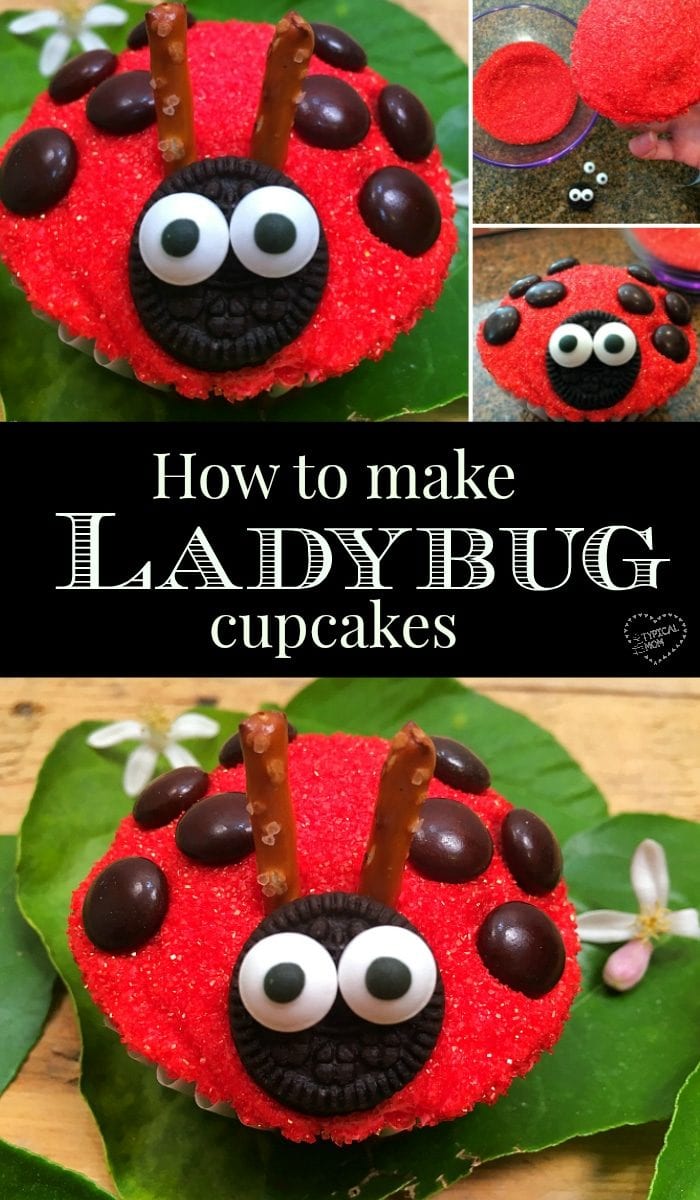 Ladybug Cupcakes Recipe
Have plastic spoons for them to spread the icing on easier. Show them how to scoop some frosting on to the BACK of the spoon. Smooth it on to the top of the cupcake. If you don't want to color the frosting it is okay.
A thick layer of red sprinkles should make it red enough. Though I did color mine so the color was quite brilliant.
Just have them use the tip of the handle of their spoon to get a little bit of frosting. Put some on the back of the head to attach it. Also use it on the back of each candy eye so it sticks to the Oreo head.
Attach the eyes before attaching the head, it will work better that way.
If you love these cute cupcakes check out my sheep cupcakes too. They're perfect for a baby shower, first birthday or Easter time! If you're throwing a ladybug birthday party these will be perfect, let me know how they turn out!