Here are some fun and easy garden ideas for kids including free printable garden markers you can design and use in your first fruit or vegetable garden! How to get seeds to grow quickly are shared which is really important when your gardening with kids who are impatient! Try this summer project this year.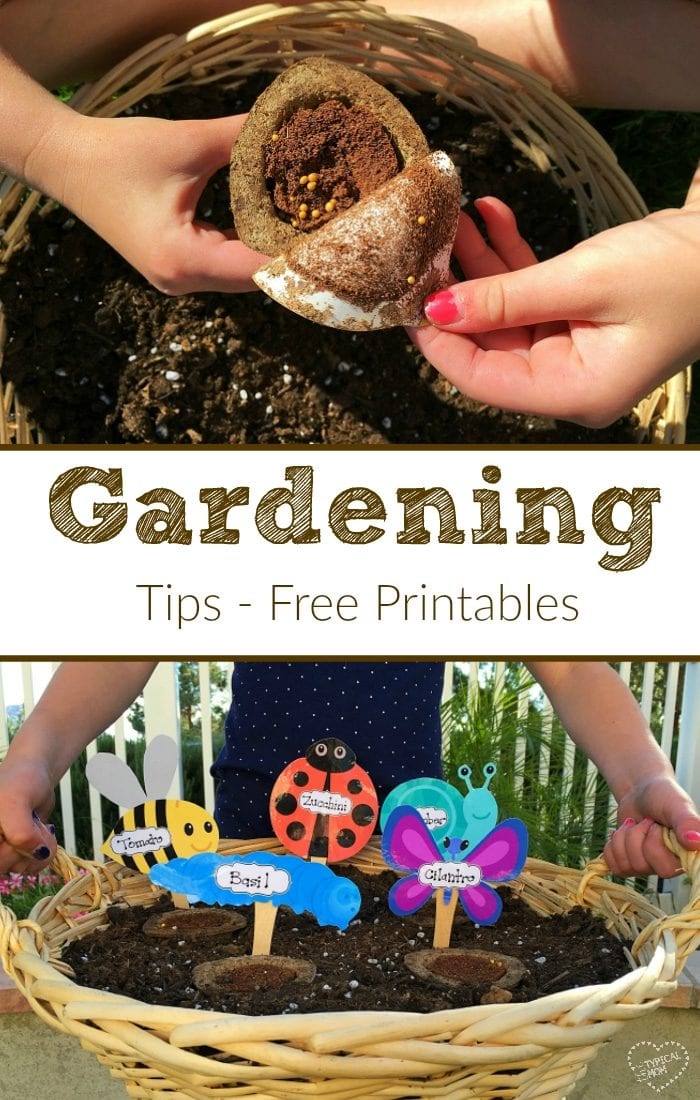 Do you enjoy gardening with kids and seeing their eyes light up when they plant a tiny seed and watch it grow into something wonderful?? That is so much fun….I still think it's fascinating at 40 years old! To make it more fun we like to repurpose containers when planting something new, and making sure we remember what we've planted using these printable garden markers you see here helps as well. Let us share a few of our favorite garden ideas for kids that we've tried and love doing together!  This post brought to you by Miracle-Gro Gro-ables. The content and opinions expressed below are that of The Typical Mom. (originally published 4/16)
It's a fun way to introduce your kids to gardening!! Just the right size for little ones, and the seeds themselves are SO easy for them to plant….let us show you what we mean. 😉
First we found a container that was just her size to start her seeds. Since we like to repurpose as often as possible we used her Easter basket since it had slats at the bottom that would work well for drainage.  
Once they sprout we plan to transfer them to a larger area (ideally they should be 24″ apart to reach their full potential) but to begin with all of her "friends" would be together and it would enhance the FUN factor for this first gardening experience. 😉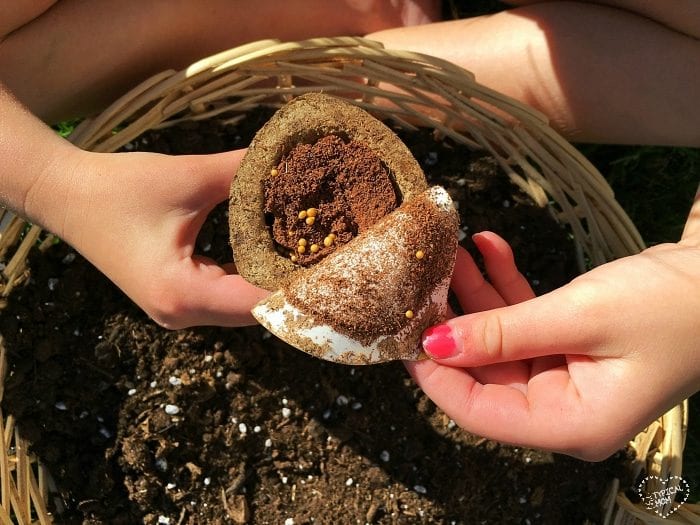 It is easier for little hands to get a grip on something a bit larger than teeny tiny seeds so starting with a Gro-ables Project like this is perfect for a first gardening experience! For that matter I'm all about EASY and having all you need in one convenient container is like they read my mind when it comes to gardening with kids. All you do is just plop the little seed pot container you see here in potting mix, water, and it is GUARANTEED  to grow!!
I admit that I do NOT have a green thumb and if I planted veggies with my kids and nothing happened the first time I also guarantee they would never do it with me again…..so this is fabulous. lol
If you have a sand shovel that is perfect for them to dig a hole large enough for the Miracle-Gro Gro-ables , just make sure that the potting mix is level to the top of your biodegradable container.
Next is a fun part so you can remember what you've planted. All you do it 

print out these garden signs

, or 

print out this page with other fun garden signs

.

If you have many things you're going to plant just go ahead and print them both! Use a pen to write what you've planted in the white area of each insect, then laminate the page(s) along with the popsicle sticks or tongue depressors you will be using as stakes.
Then cut the insect garden markers out and hot glue gun your signs to the top of the sticks and you're ready to use them!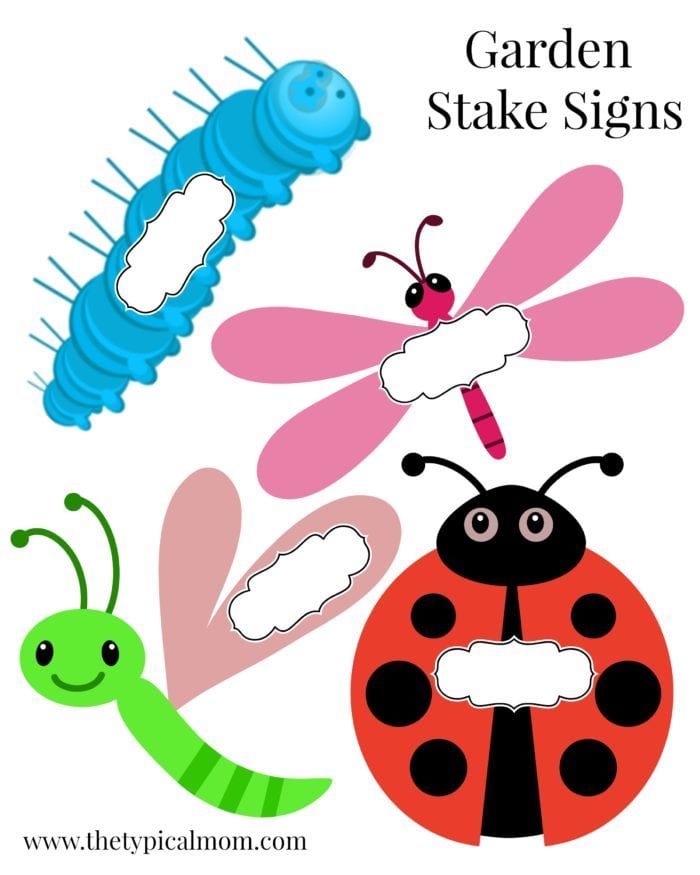 You may need to help cut, but it is a fun gardening idea for kids that will help everyone remember exactly what was planted! It looks pretty too and they will definitely want to show off  "their garden" to family and friends who come by.
I hope you enjoyed our garden ideas for kids…let us know how your first mini garden turns out!