Here are many ways of repurposing plastic containers in the kitchen, using them in the garden, and in the classroom for teaching purposes. Reusing containers are free and helps the environment by reusing them over and over again in useful ways, see what we use them for and try it in your home!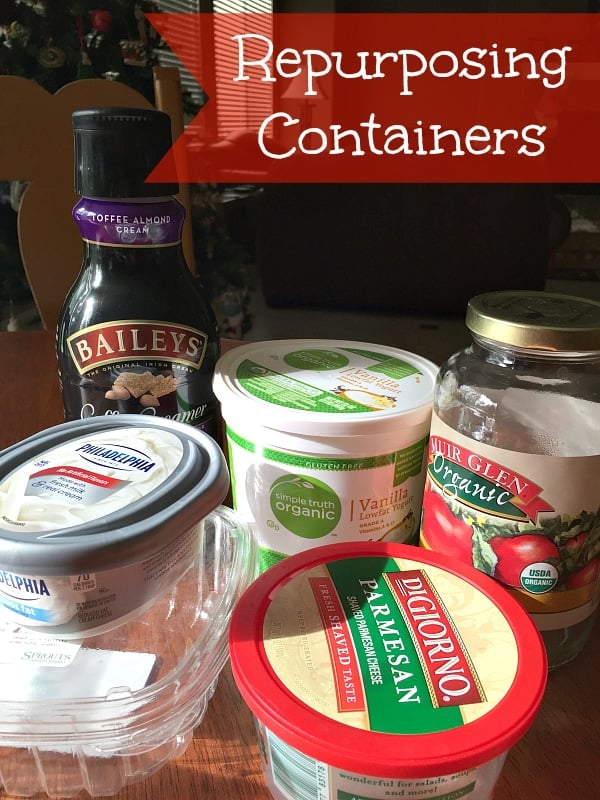 I am always trying to reuse what we would normally throw away. Less in the landfills and less money I have to shell out if I can reuse something instead of purchasing a new container for uses in the garden, playroom, and kitchen…..it's a win win!! Here are some uses I have for repurposing plastic containers, and one for a spaghetti jar too. 😉 (originally published 1/15)
Repurposing plastic containers
Free reusable containers – If there's a good lid on it like the parmesan and yogurt (even the cream cheese), it can be easily cleaned out and save yourself the $$ from buying new tupperware!
Saves money – You don't feel guilty throwing them away if they get too gross or you're out and about and don't want to carry it back with you You'll get a variety of sizes to use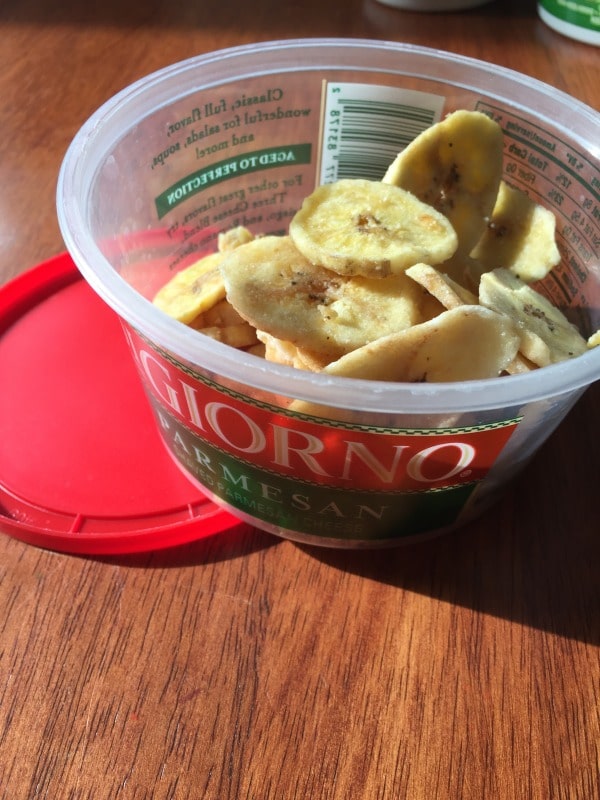 How to Repurpose Tupperware
Using small plastic containers for snacks

for the kids is a great repurposing idea – Fill them up with a mix of dried fruit, nuts, cereal, or whatever they like and throw it in your purse or diaper bag.
When they are done you won't feel guilty about throwing it away because you would've initially thrown it away anyway and you got an extra use out of it.
Flat containers like this one are great for toting around crayons

to bring to restaurants to keep kids busy at restaurants. They snap shut and are see thru, even big enough to throw one of those little spiral ringed notebooks and you have a "busy box"!!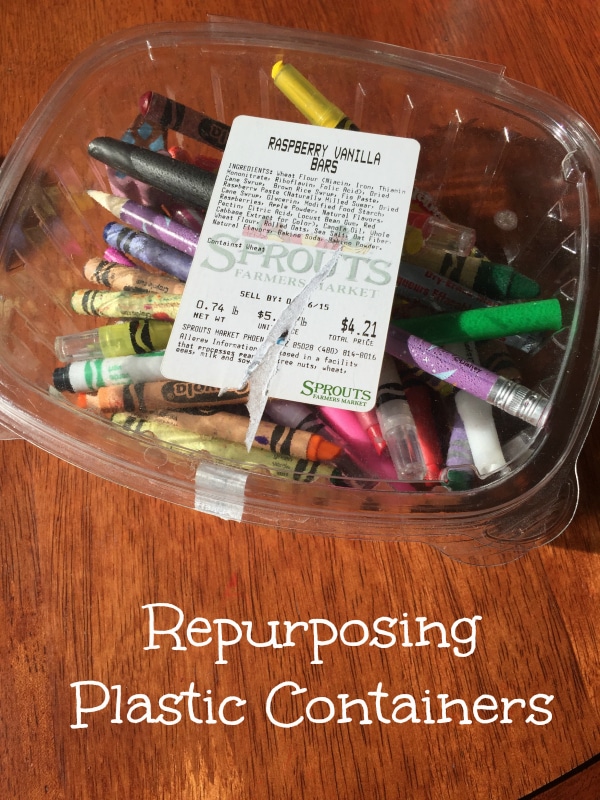 How to Reuse Plastic Containers
These two are great if you are planting

something – Whether it be a small plant that needs to be tended to alone before it gets bigger or just seeds you are planting, these are great to get them started.

Small enough but shallow
The spaghetti jar is good to grow something when you are teaching about the root system because you can see the roots right thru the jar as it grows!!
Here are some other gardening activities for kids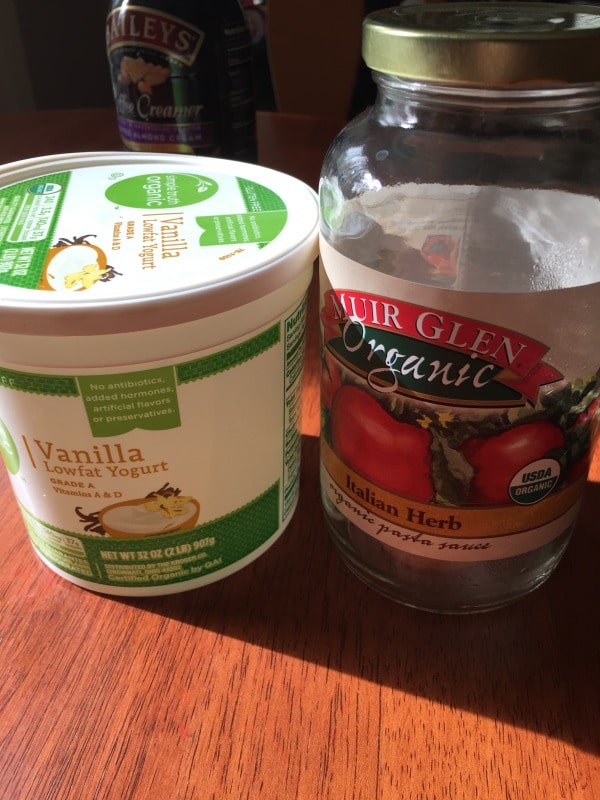 Ok, call me cheap but I have a hard time justifying the cost of cream cheese at at least $1 more per container just because it is in plastic.
When I can buy that one once, wash it out in the dishwasher and refill it with the container that is the same size. Every dollar counts in my opinion. These containers are great snack containers too!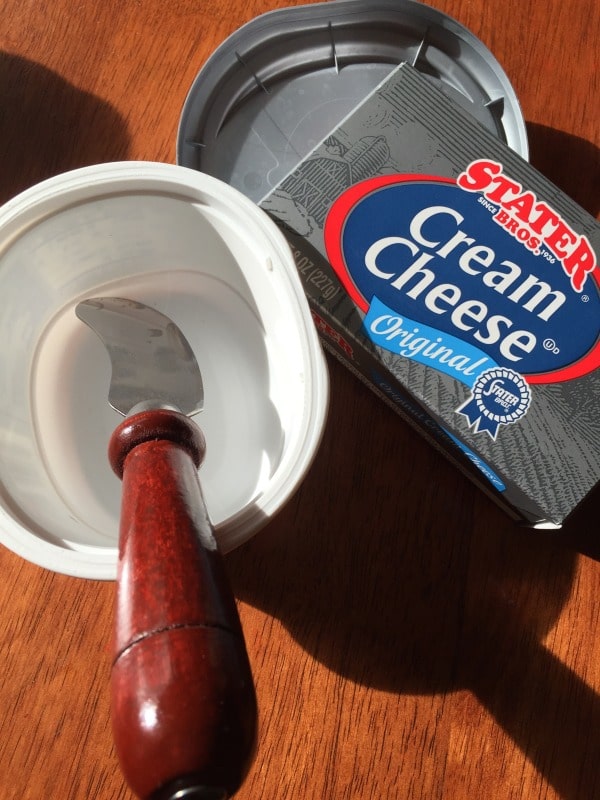 You know all those pesky packets we use….well using a shallow plastic container can contain them all and organize your shelves. I did this a while ago when I had this container but couldn't find the lid.
No sense in throwing away a perfectly good container……found a use for it and I've had this one for years holding my pouches that would normally clutter my shelves.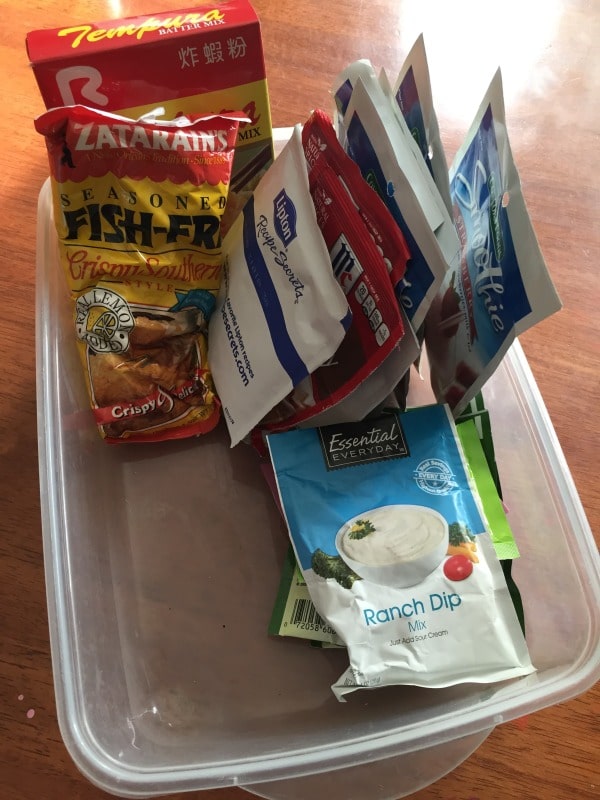 Reusing Plastic Containers
You can reuse them and make fun DIY lunchboxes out of them too for sure.
The best way I have found to repurpose is when we are saving money on our refill coffee "thing" for the Keurig!! My husband was trying to refill this every morning by pouring ground coffee out of the bag into this little refill container and of course it was messy……all on the inside of the sink!! My job=create an easier, cleaner way while still saving money using the refill container for our Keurig.

Just rinse out an empty creamer container, dry, and pour grounds in. Put top back on and it is a perfect container to refill!!