How long is frozen chicken good for in the freezer, how to package it to avoid freezer burn, how long it will last in a freezer without power, all the questions answered here for you!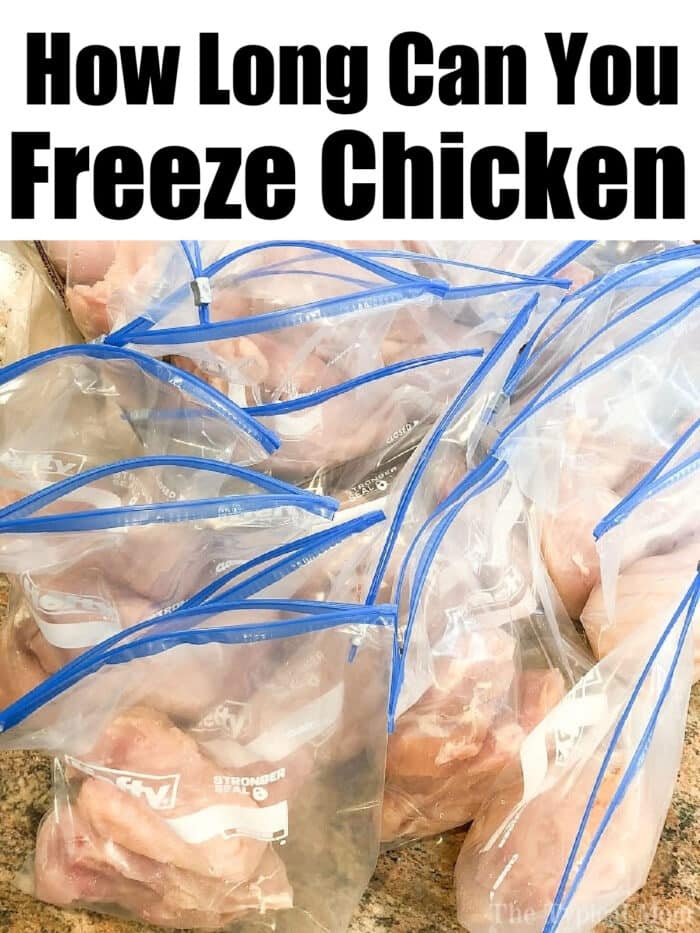 Wondering how long you can freeze chicken before it goes bad? We're here to help you store your meat properly so it tastes just as fresh months later vs. fresh right out of the package. Get ready to learn all about how to cook frozen chicken without defrosting it first! (affiliate links present)
How Long is Frozen Chicken Good For After Expiration Date
What is great about freezing chicken is that you can extend the shelf life / expiration date on that package up to almost a year! If packaged correctly time sort of stops right then and there. When you defrost chicken the texture and flavor goes right back to what it was on that day you first purchased it.
The great thing we will share with you here though is you don't have to thaw it at all, instead you can cook frozen meat to tender a number of different ways. I have done this in a slow cooker, Instant Pot, the oven, boiled and even on the grill. Once you understand how it is done you have a number of possibilities when it comes to making it fork tender and moist.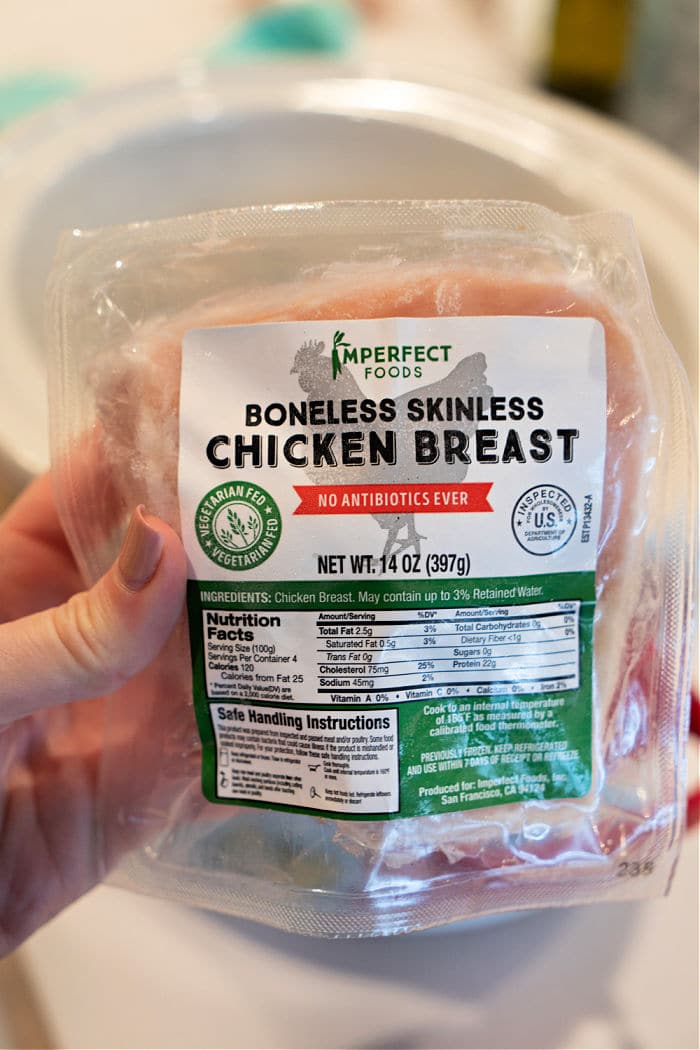 Yesterday we answered the question of; can you boil frozen chicken right out of the freezer for dinner? The answer to that one was yes!! That is just one of many ways you can cook poultry even if it is still rock hard. I have had many days where I forget to defrost meat the day before, and then dinnertime gets closer and closer.
Some methods take quite a while like if you were to boil a whole chicken right out of the freezer. We're talking a little over an hour to get that done BUT I will tell you that makes the most amazing soup ever too so there's that. No you won't get crispy skin this way but who cares in that case right? I will shred the meat and make tacos out of it like this too. 😉
How Long is Frozen Chicken Good For After Thawing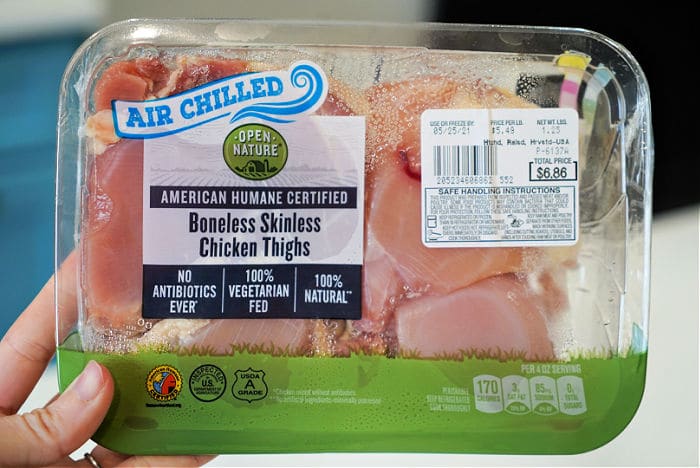 You do want to make sure that if you do have time to soften it beforehand it is done properly. First off you should never store chicken in the store bought package with plastic wrap, seen above. Always freeze raw chicken in freezer bags to prevent freezer burn, and makes it easier to defrost it later too.
If you don't have time to put into the fridge to soften you can sit bag in cool water and every 30 minutes you need to change that water so it stays cool. It is the best way to cook baked chicken in the oven for sure. It will take a lot less time and is the best texture too.
Make sure when you transfer it from the freezer to the fridge to defrost that it is in a sealed bag so the juices don't leak out.
Chicken pieces will typically take 24 hours while a whole bird takes closer to 48 hours.
After it has thawed chicken should be cooked within 48 hours
If you know you aren't going to have the energy to do much, just throw it in with a bottle of your favorite sauce to make Crockpot bbq chicken like this. Boneless skinless works best but anything work really.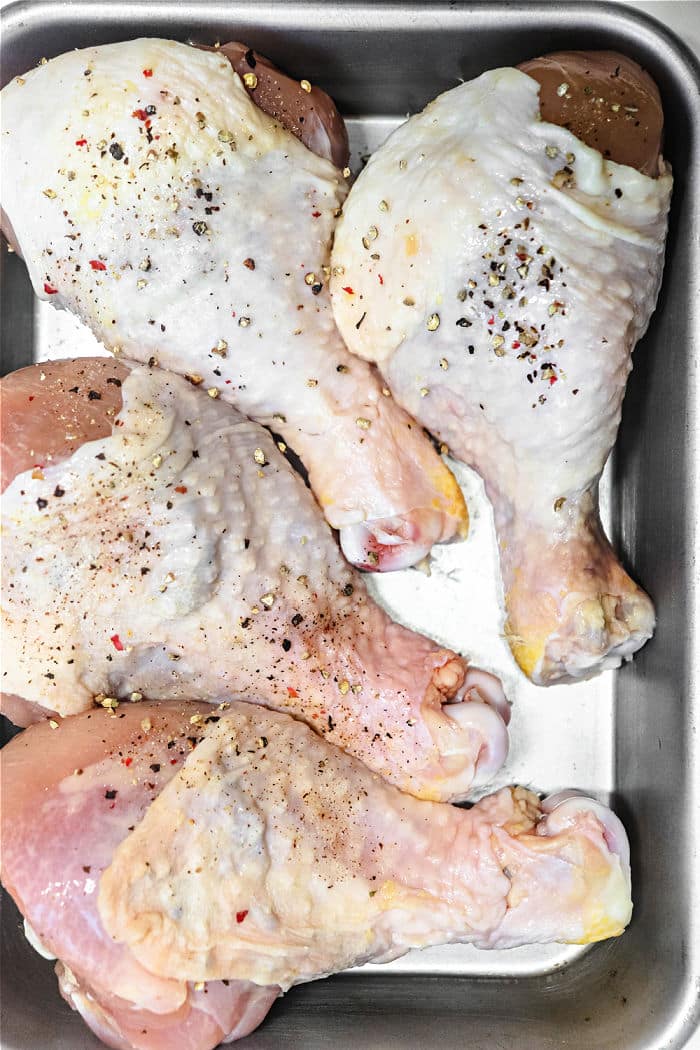 How Long Can You Freeze Chicken
Ok so here is the gist in a nutshell. If you buy meat in bulk like we do you want to buy it, store it, and avoid the store for as long as possible right? Let's go over how to package it up properly first before you throw it all in there. Best way is to use vacuum sealed bags, the less air the better. If you don't have those freezer Ziploc bags gallon size are second best.
Portion out your meat in the number of pieces you and your family are likely to eat in one sitting, so there is little to no waste. Once you store raw chicken in your bag (if you don't have a sealer) you will need to suck out the air yourself. Just zip 90% closed, then suck out the rest in that tiny space with your mouth, then seal tight.
Whole chicken can last – 1 year in freezer
Chicken pieces – 9 months frozen
How long will food last in a freezer without power
This depends on a few factors here. Okay so you have a power outage but don't want your frozen chicken thighs to get soft, first off KEEP IT CLOSED!! Do not open it, go out to dinner that night if you have to to avoid loosening that seal that is keeping in the cold. Hopefully yours is as full as possible, then it will stay cold longer.
2 days – 48 hours if it is inside of a full freezer
OR 1 day – 24 hours in a freezer that is only half way full with food.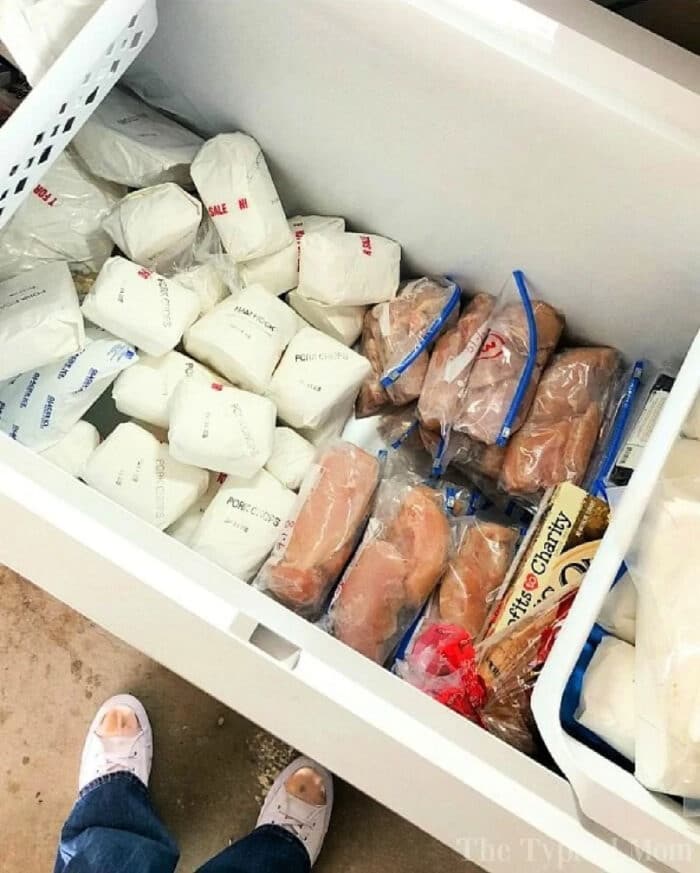 How long does vacuum sealed food last in freezer
Y'all if you do not have one of these they ARE worth the investment. You can extend the life of your frozen meat by 2-3x the storage time! That is right, if you suck ALL of the air out of your packages this way it will last 2-3 years before changing texture and going bad.
Another great thing beyond the length of time it will last this way is you totally avoid freezer burn with the lack of air. You can then choose to cook frozen chicken breast in air fryer right out of the package or thaw. If you cooked chicken beforehand like you see here and stored this way it would be safe to eat rather quickly.
Whether you boil frozen chicken thighs, bake or pressure cook you always need to have a meat thermometer handy to make sure you get the insides to a safe 165 degrees F internally.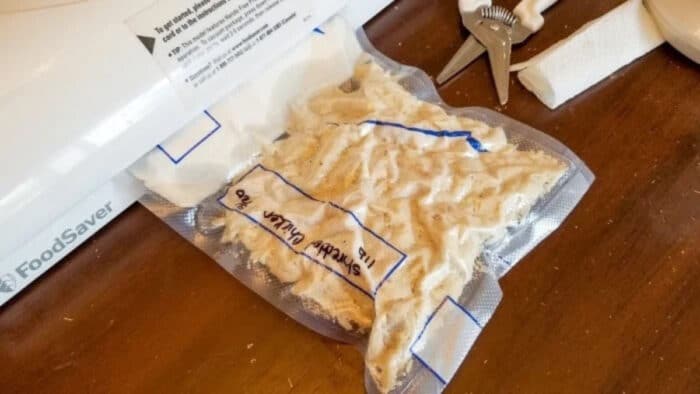 Want to see a few of my favorite things that I am totally obsessed with?? Take a peek and see how many you might already have…twinsies!
Looking for more easy family recipes and tips? LIKE The Typical Mom Facebook page?
Then sign up for my free newsletter, and follow me on Pinterest! 😉
***** If you LOVED this recipe give it 5 Stars below and let everyone know what you thought about it. 😉
How Long is Frozen Chicken Good For
How long is frozen chicken good for in the freezer, how to package it to avoid freezer burn, how long it will last in a freezer without power, and how to cook frozen chicken.
Instructions
Whole chicken can last – 1 year in freezer / Chicken pieces – will last 9 months frozen. When ready unwrap your package and separate your pieces. If stuck run cool water over the top and break them apart with your hands.

Preheat the oven to 360 degrees F. Place frozen chicken thighs in a casserole dish not be overlapping. Brush with a little olive oil to keep the chicken from drying out in the oven, sprinkle with salt and pepper.

Cover the dish with foil and place in the oven. Bake for 60 minutes or until the thighs are soft. If large you may need to increase to 80 minutes.

Remove foil, brush wit more olive oil and sprinkle with remaining seasonings. Put back in the oven uncovered for another 30 minutes or until thickest portion reaches 165 degrees F and skin is browned and crisped.
Nutrition Facts
How Long is Frozen Chicken Good For
Amount Per Serving (2 oz)
Calories 44
Calories from Fat 45
% Daily Value*
Fat 5g8%
Sodium 194mg8%
Potassium 10mg0%
Carbohydrates 1g0%
Protein 0.1g0%
Vitamin A 91IU2%
Vitamin C 0.05mg0%
Calcium 4mg0%
Iron 0.2mg1%
* Percent Daily Values are based on a 2000 calorie diet.