The recipe for slime is quite easy but there are also a ton of varieties and we have made many here on The Typical Mom. My kids are here to show you their favorite crunchy snow slime today and share other easy slime recipes too. This is the best way to make slime at home according to them!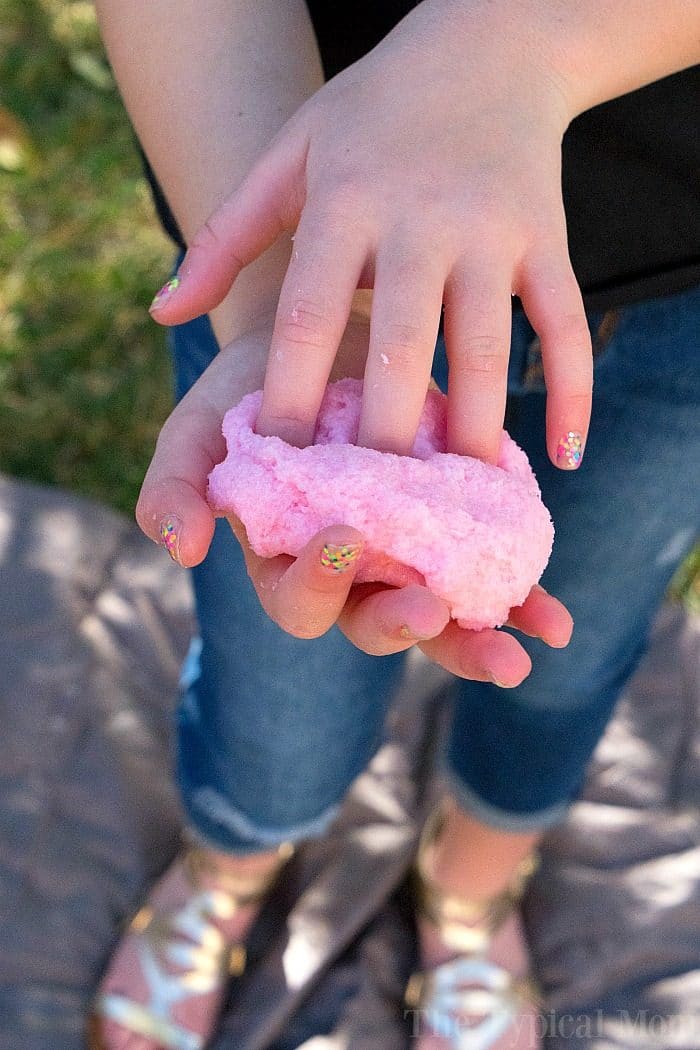 Ok so my kids are like all others and are obsessed with making slime at home, especially my youngest. She's always experimenting with the recipe for slime to make it crunchy or super soft or whatever else her imagination comes up with that day.
How do you make homemade slime
She started last year by making this slime with glue and went on to make an easy baking soda slime recipe as well as a fun edible slime recipe too! This time she wanted to make it crunch in her hands and found a fun way to do that.
She wanted to share how she made this one with all of you. We have many more listed on the best way to make slime page on our site too! You can see all the crunchiness when she pulls it out here.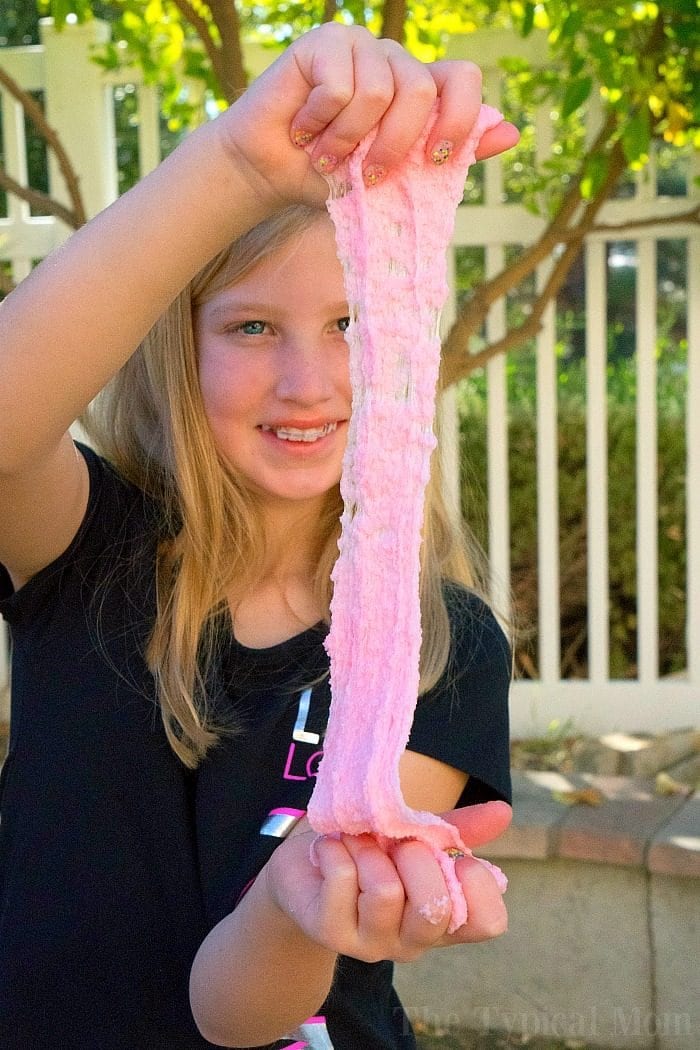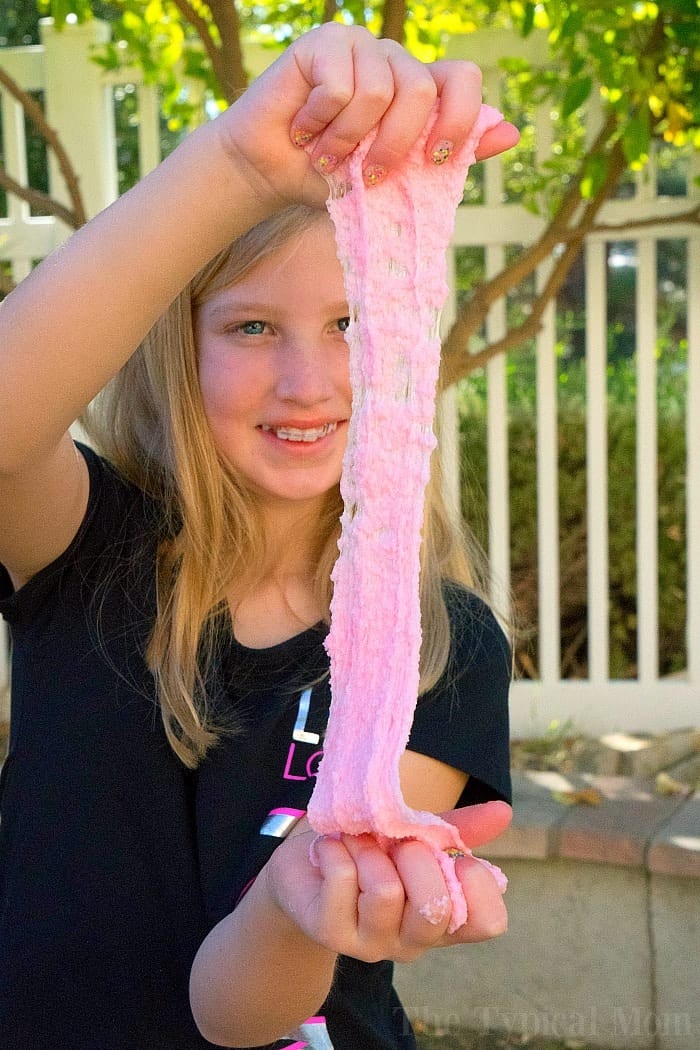 I will say I am not a huge fan myself as I don't really like touching the stuff but it gets her mind working and experimenting which I love. Also it is an activity she does with her sister and I like it when they work together on a project.
Of course with all the slime recipes we've made you usually can make it whatever color you want, and vary the texture and look by using white vs. clear glue. Clear tends to be more expensive.
Adding a variety of things can alter the shape, texture and look of the recipe for slime and it is endless and to what you can use.
Recipe for slime
As any experiment goes and children being involved you need to have parental guidance and you should read our safety disclaimer before trying any of our slime recipes.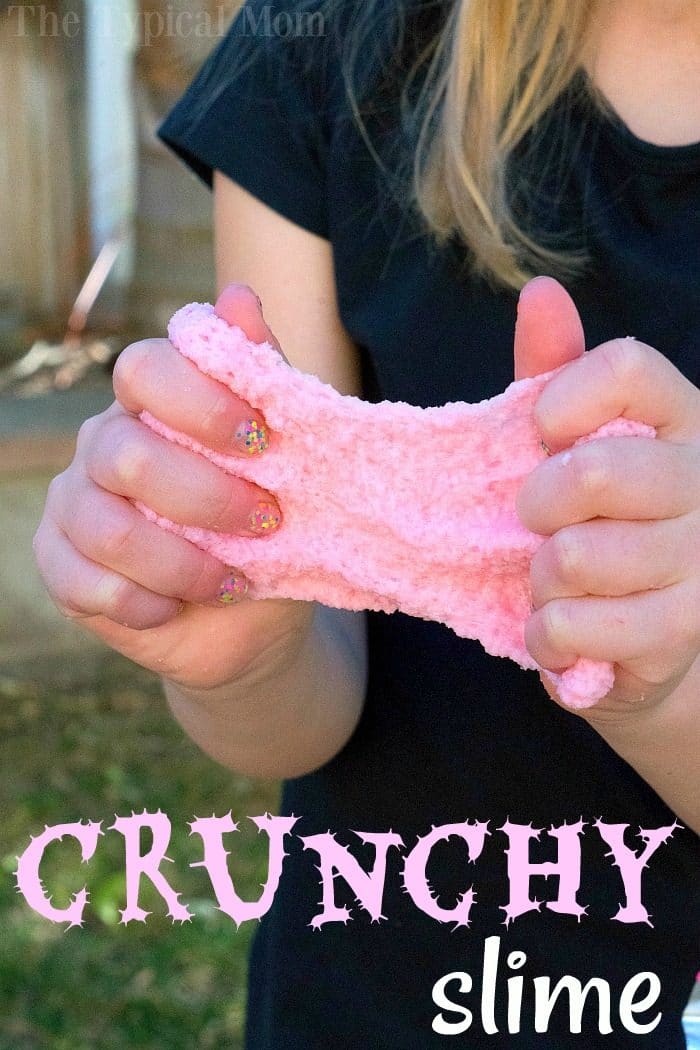 As I've said in our other slime recipe instructions it is an approximate amount and part of the fun of making slime is adding this and that until it comes out just the way you want it.
It is nice to have a guide as to how much of this and that you need. Mix following the directions below and then if you want it a bit crunchier add more snow. That makes it a bit stiffer. Add a bit more starch and so on and so forth.
What are the basic slime ingredients
For it to be crunchy.
1/2 bottle of clear glue
4 squirts of foaming hand soap
1.5 tbsp. liquid starch (we use Staflo)
1-3 tbsp. fake snow (if you want it crunchy, amt. depends on how crunchy you want it, this is the cheapest one I found)
Optional – food coloring 1-2 drops
Recipe for slime that is crunchy and colorful:
In a bowl mix together your glue and foaming hand soap
Add your liquid starch and stir well, it will begin to thicken
Once it is the desired consistency (if you want it a bit stiffer add 1/2 tbsp. of Staflo), add fake snow
Add 1 tbsp of fake snow at a time and mix well with hands until it is the desired "crunchiness"
Play!!
If you're looking for other recipes for slime try the links at the top of this post or these:
What do you think of the recipe for slime she came up with this time??
For more easy recipes, tips and free printables please LIKE The Typical Mom on Facebook and follow me on Pinterest! You can also sign up for my free weekly newsletter which is packed with goodies I know you'll love. 😉