If you are looking for some easy Superbowl Recipe Ideas to make for your super bowl party, here are a few great appetizer and crockpot recipes for a party!
Here are 4 great Superbowl recipe ideas you can make in the crockpot during your super bowl party. I've made for my family time and time again, & we love them! They are easy to throw together, inexpensive, feed about 5-6 (easy to adjust if you need to feed more) & are pretty healthy too!
Pressure cooker frozen meatballs
All you need are these 3 things!
1 pkg. Turkey or Beef frozen meatballs
1 jar Grape Jelly (any brand, med. jar)
1 jar Heinz Chili Sauce ( in aisle by ketchup )
Instructions:
Empty chili sauce & jelly into crockpot and mix. Add frozen meatballs, stir/coat, & cook on low for about about 4 hrs(if you're in a hurry just microwave meatballs so they're not frozen & throw them in for an hr. or two). You can serve this as an appetizer, serve for dinner with rice or butter noodles, or put meatballs in hoagie rolls!
Crockpot Chili
Ingredients:
1 can Kidney/Red beans
1 can Diced Tomatoes
1 small can Tomato Sauce
1 lb. Ground Beef or Turkey
1 pkg. Chili seasoning (any brand)
Instructions:
Cook ground beef or turkey, drain fat, & empty into crockpot. Empty all cans into crockpot over meat, including 1/2-1 can full of water (use less water if you like it thicker, more if you like chili thinner). Sprinkle contents of chili seasoning into crockpot and stir everything together. Cover and cook on low all day! If you only have half a day put it on high and stir a few times before serving. We cook rice in the rice cooker & serve the chili over that with cheese on top, cook potatoes and pour chili on the baked potato, or alone is great too!
Sweet Chicken – 2 recipes for this
Crockpot Orange Chicken
Just combine 1/2 jar BBQ sauce, 2 tablespoons soy sauce, and 1/2 cup of orange marmalade jam into crockpot, stir, add 3-4 chicken breasts and coat them (add more BBQ sauce if not fully coated). Cook on low for 3-4 hours. If you want to make appetizer bites just cube the chicken breasts prior to putting in the crockpot and cook for about 2-3 hrs. on low.
Sweet shredded chicken tacos
Ingredients:
3-4 boneless skinless Chicken Breasts
1 bottle Hawaiian BBQ Sauce (Target has their own brand, used others too)
1 small can of Pineapple Chunks
Instructions:
Place raw chicken breasts in bottom of crockpot, empty contents of BBQ sauce & can of pineapple chunks on top……cover!! That is it, literally. Let it cook on low all day & about 30 min-1 hr. before shred chicken & recover to let BBQ sauce fully marinate the chicken. If you're in a hurry just cook the chicken normally, shred, & put in sauce mixture for an hr. or two. I have served this over or with rice and it is delish!! Last time I used small flour tortillas, put shredded chicken and pineapple inside for soft tacos and topped them with spicy jack cheese!
BBQ Pulled Pork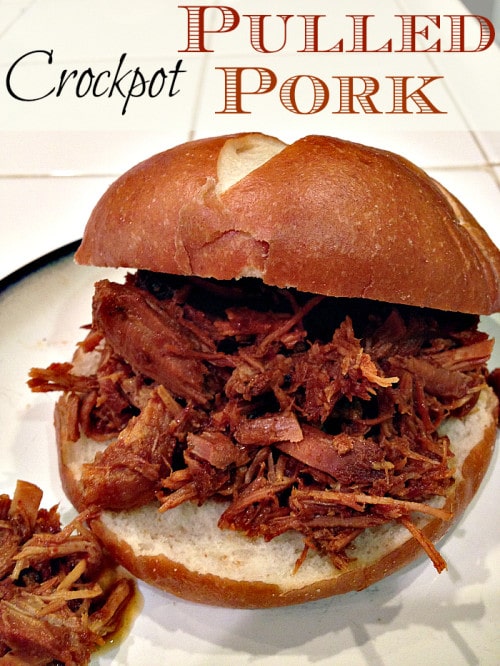 Ingredients:
3-5 lb. Pork Shoulder Roast
1/3 c. Apple Cider Vinegar
1/2 c. Ketchup
1/2 c. Brown Sugar
1 pkg. BBQ Pulled Pork seasoning (in packet in grocery store section with dry packets)
Instructions:
Depending on how large your family is choose a pork roast, trim the fat and put into the crockpot. Mix all ingredients above in a bowl & pour over the roast. Cook on low all day (8 hrs., this one really needs an entire day to cook). About an hr. before serving take the roast out and shred it well, put back into crockpot. This is great with rice, egg noodles, or made into soft tacos with small tortillas with cheddar or spicy jack cheese on top!!
If you're looking for a hearty meal that the kids would love too on Superbowl here are some easy Sloppy Joes!!
Here is another yummy Superbowl recipe you might like, great appetizer with salty and sweet weiners!!