Knott's Boysenberry Festival takes place in April each year and has amazing food there. Here's a review and recipe using their boysenberry bbq sauce.
This was our third trip to the Knott's Berry Farm Boysenberry Festival, it didn't disappoint! Of course we love the rides at Knott's Berry Farm and always get our fill! But when it comes to the this it is ALL about the food.
Each year we get the tasting card that comes with 6 different Boysenberry infused foods to try. Here's what to expect this year when you go. 😉 Special thanks goes out to Knott's for sponsoring our visit so we could share our experience with you.
Like I said, the tasting card at the Boysenberry Festival is the way to go. We were there all day and didn't need to buy any other food for the 5 of us. It was enough to feed us for lunch and dinner while we were there….and it came with TWO desserts.
The new favorite that wasn't on the card last year was their fry bread. I didn't know exactly what that was when we were in line but it ended up being the most delicious churro like donut we'd ever eaten.
Here are the 6 things you get to try at Knott's, all of them were fantastic!
The pizza had a cheesy sauce instead of red sauce that had a hint of boysenberry which was surprisingly really tasty.
Their meatballs we had the year before and are my oldest daughter's favorite of all time
Ravioli was amazing and I wanted a few more
Chicken wings are drenched in their Boysenberry BBQ sauce so you can't go wrong
and well I told you about the fry bread!
The panna cotta we got on our way out and it was really refreshing and the perfect way to end the day. We were STUFFED when we left.
Of course don't forget the rides, and get all your FunPix photos while you're there.
If you go to Knott's Berry Farm a lot is is well worth it to get one of their refillable cups too.
We did and for a one time fee you can bring it back time and time again for unlimited free refills which makes it nice when you're there all day and it's a hot one!
Another thing that is one of a kind and you can see at Knott's during their festival is a pie eating contest.
There are lots of other unique activities during the Boysenberry Festival at Knott's too including the ones above, live shows and of course Peanuts characters are dressed up for the occasion in Camp Snoopy.
The festival takes place April 1-23rd so there's plenty of time to enjoy the fun.
If you love their food as much as we do you can enjoy it at home too. We made some chicken, sausage, and peppers in a skillet with their Knott's Boysenberry BBQ Sauce tonight. Enjoy one of their yummy recipes below.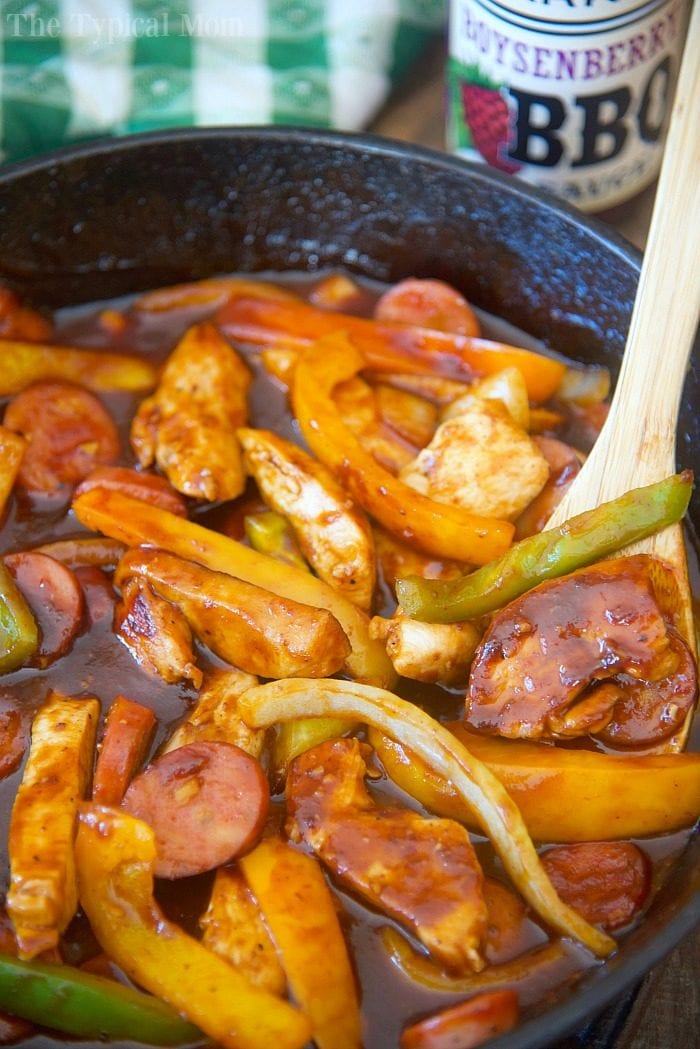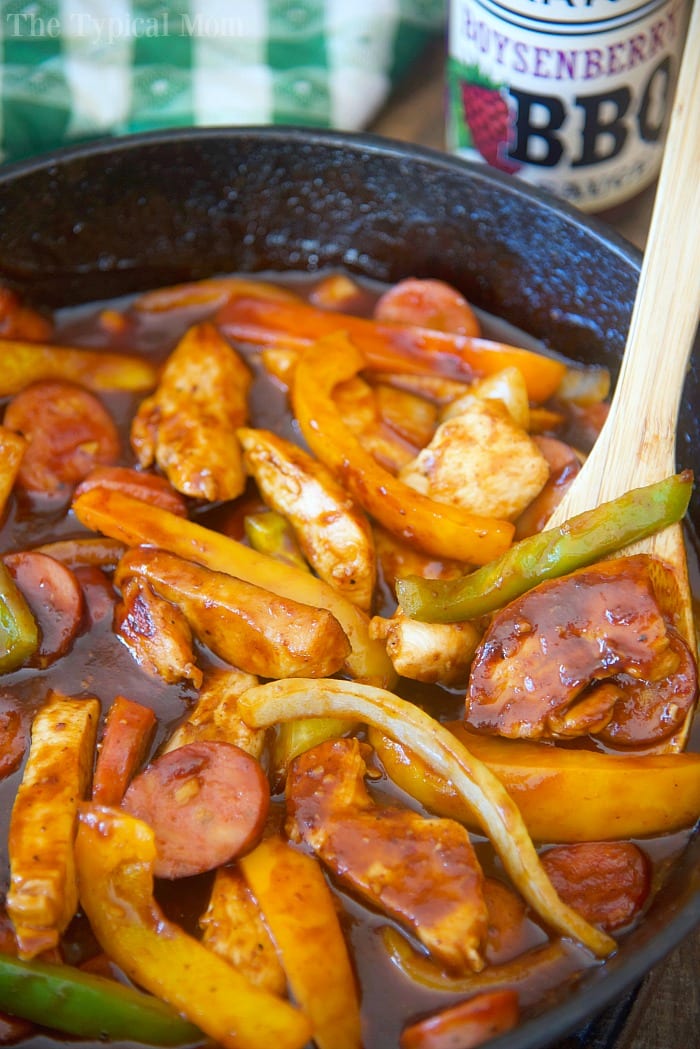 Boysenberry Chicken and Sausage
Incredible boysenberry chicken and sausage sandwich recipe that is packed with flavor and veggies! If you love Knott's Berry Farm Boysenberry Festival you will love this dish.
Ingredients
1

c

Knott's Berry Market Boysenberry BBQ Sauce

3

pcs

French baguette or rolls

1-2

boneless skinless chicken breasts

cut into strips or cubed into bite size pcs.

1

tbsp

minced garlic

2

tbsp

olive oil

2/3

c

onions

diced or sliced

1 1/2

c

bell peppers

any colors, cut into strips

3

slices

cheese

2

precooked sausage links
Instructions
In a skillet heat your olive oil (or butter) and garlic. Add your chicken and cook until chicken is no longer pink. Add sausage and half of your boysenberry bbq sauce and allow to simmer 2-3 minutes. Add bell pepper and onion slices to skillet along with the other half of your bbq sauce. Stir and simmer on low for about 5 minutes stirring intermittently so flavors really come out and peppers soften. Slice rolls / bread, add cheese, and spoon boysenberry bbq chicken and sausage in. Serve!
Nutrition Facts
Boysenberry Chicken and Sausage
Amount Per Serving (4 oz)
Calories 275
Calories from Fat 171
% Daily Value*
Fat 19g29%
Cholesterol 53mg18%
Sodium 222mg10%
Potassium 375mg11%
Carbohydrates 8g3%
Protein 16g32%
Vitamin A 2615IU52%
Vitamin C 98.3mg119%
Calcium 215mg22%
Iron 0.7mg4%
* Percent Daily Values are based on a 2000 calorie diet.