An easy and cheap way to make a half Birthday cake so you can celebrate half birthdays at your house, here is how you make one to celebrate.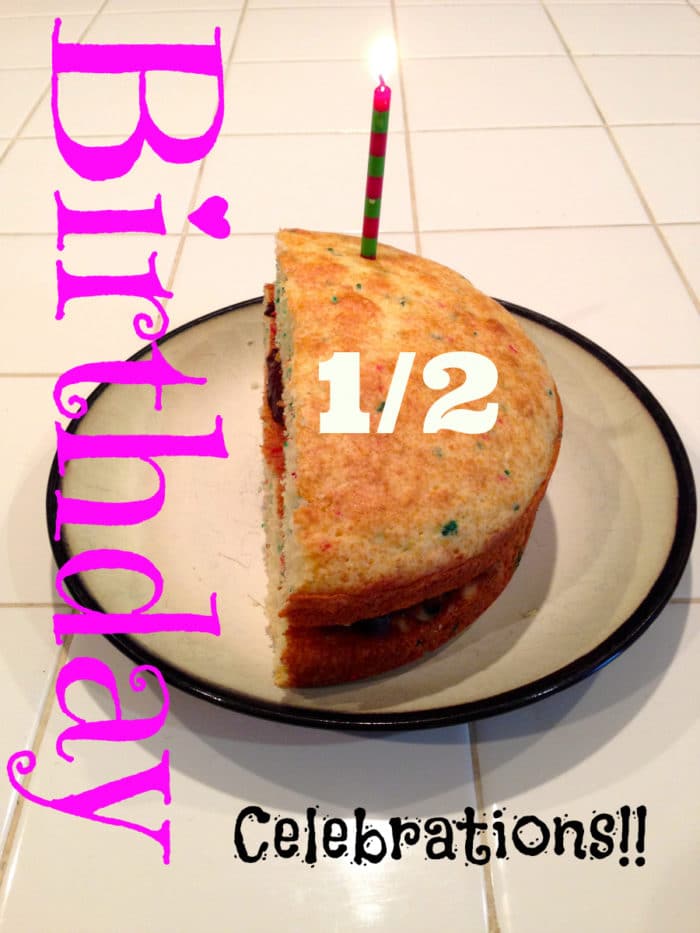 Have you ever just wanted to celebrate something, especially when your child's Birthday is so close to a holiday? Sometimes if they do it's overlooked. Well, a half Birthdays cake is a great way to celebrate your or your child's birth, just because! This is why we started this….. (originally published 1/14)
Half Birthday Cake Ideas
Whether you want to make one from a box, or homemade like our purple birthday cake this idea is just so much fun!
I have three girls, two of whom were born right before Thanksgiving, and one right before Xmas. I was bummed each year because amongst all the holiday hub bub was their Birthdays.
It just wasn't as fun or seemingly elaborate as the parties I threw for my 3rd daughter who's Birthday is in June. So, 1/2 birthdays emerged!
It is really cheap and the kids got a kick out of it. I always have at least one box of cake mix in the cupboard and a frosting I've found on sale and kept for "just in case times."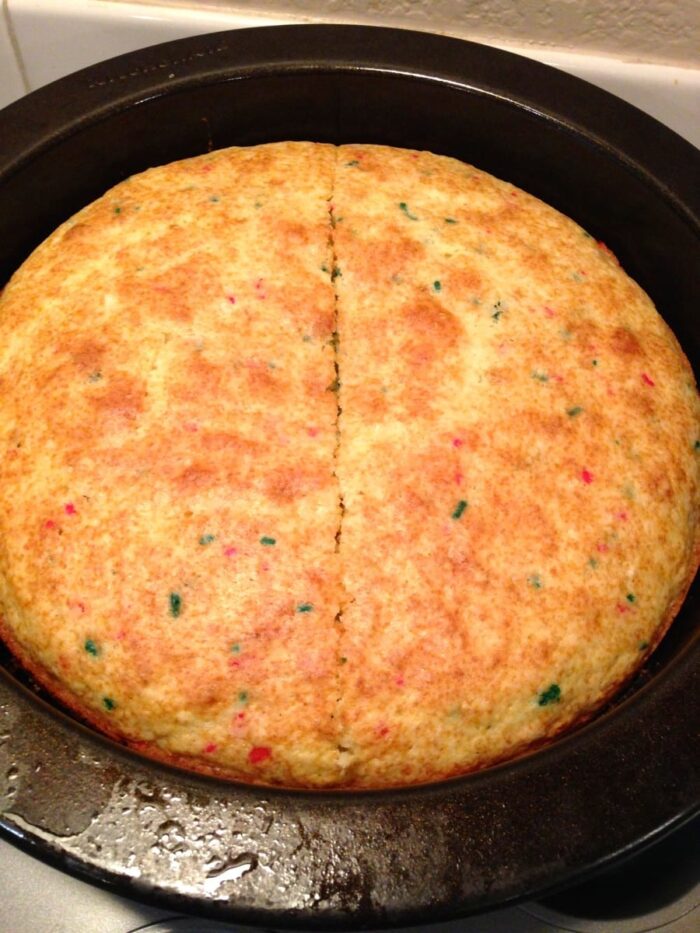 1/2 Birthday Cake
I put an alarm on my phone for the date of each child's 1/2 birthday, and just repeated that date to chime the day before it was to occur each year. This gives me time to grab something small from the dollar store, and make a you are special plate.
Just use a round cake pan (1 box makes this round cake pan plus about 4 cupcakes). When it is done let it cool a bit (make sure you spray pam on the bottom before baking), cut it in half and put one half upside down, frost the middle and put the other half on top….then you aren't wasting any cake.
This is one of the best presents for men too if you surprise them.
Then play some games together for the celebration:
So the frosting will go in the middle and on top of the 2nd half of a layer. You can then add sprinkles, a fun birthday cake topper of some kind or leave as is. Jump to recipe below and get started. Figure out when everyone in your house would be able to celebrate like this and surprise them year after year. They won't likely remember themselves
How to save leftover cake – You may have some left after you celebrate right? You want to keep them moist, that is key. The best way to do that is to eliminate all of the air around it, which makes sense. If you leave it on the same plate that is okay but cover with plastic wrap and down around the dessert itself, not just one side to the other.
If you add frosting to all sides you're more likely to keep it moist as well as you lock it inside. Then enjoy again the next day friends!
Want to see a few of my favorite things that I am totally obsessed with?? Take a peek and see how many you might already have…twinsies!
Looking for more easy family recipes and tips? LIKE The Typical Mom Facebook page?
Then sign up for my free newsletter, and follow me on Pinterest! 😉
***** If you LOVED this recipe give it 5 Stars below and let everyone know what you thought about it. 😉
Half Birthday Cake
How to make a half birthday cake for kids or an adult so you can celebrate twice a year.
Instructions
Mix ingredients necessary listed on the back of the cake mix to make batter. Preheat to necessary tempertaure (listed on back too).

Spray inside of 2 8" round cake pans. Pour half into one and half into the other. Bake for 28-32 minutes or until middle springs back when touched gently.

Put pans on top of a cooling rack until completely cooled. Carefully put a dinner plate on the top of the pan and flip over, it should slide out.

Use a sharp knife to cut it in half. Put a layer of frosting on one flat side of half of the cake. Pick up the other half and flip it over so that piece has the flat side facing down and on to the layer of frosting.

This will make 2 half birthday cakes made this way. frost the top and enjoy.
Nutrition Facts
Half Birthday Cake
Amount Per Serving (2 oz)
Calories 238
Calories from Fat 18
% Daily Value*
Fat 2g3%
Sodium 470mg20%
Potassium 30mg1%
Carbohydrates 53g18%
Protein 2g4%
Calcium 136mg14%
Iron 1mg6%
* Percent Daily Values are based on a 2000 calorie diet.
For more easy recipes, tips and crafts please LIKE The Typical Mom on Facebook and follow me on Pinterest! You can also sign up for my free weekly newsletter which is packed with goodies I know you'll love. 😉