There's something magical about a cake that's not just any ordinary color. It's a vibrant, stunning shade of purple bound to make a statement! Today, I'm here to share a recipe for a beautiful and delicious Purple Cake that's sure to wow your guests at any gathering. Whether it's a birthday cake, for a wedding, or just because, this color turns every holiday sweet and looks as amazing as it tastes.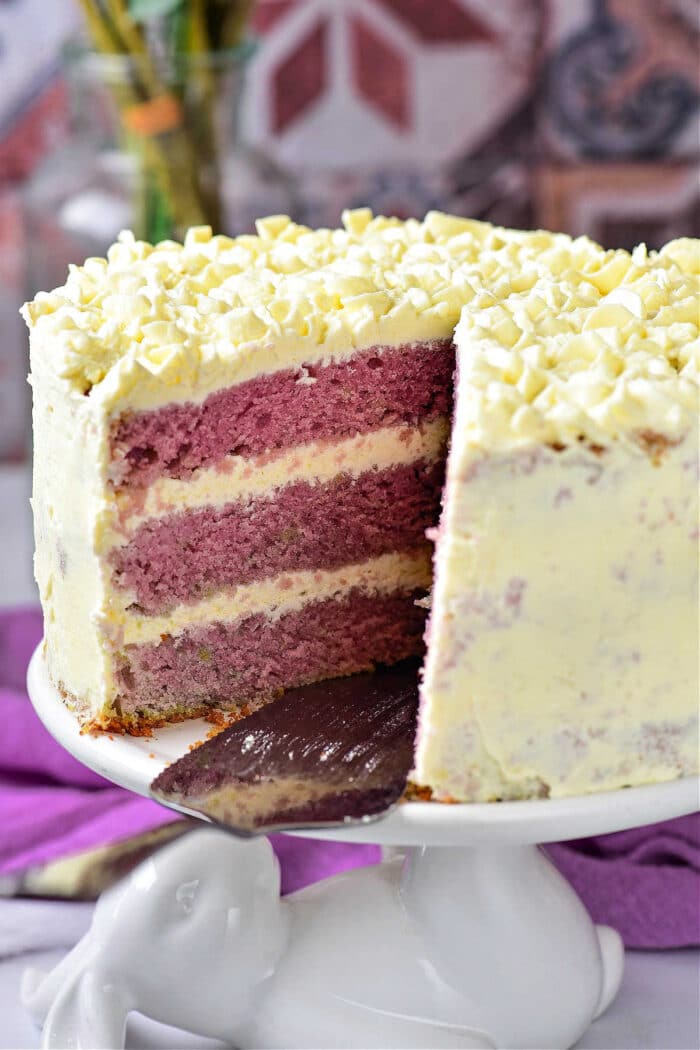 This cake is wonderfully moist and light, made with a blend of all purpose flour and almond flour for a subtle nutty flavor. The purple color comes from food coloring, and the cake is finished with a rich and creamy mascarpone buttercream frosting. This purple birthday cake is a fun and unique way to celebrate any occasion. Best of all, it's straightforward to make. (affiliate links present)
Purple Birthday Cake
For this recipe, you'll need some key ingredients. This includes eggs, sugar, all-purpose flour, almond flour, butter, and of course, purple food coloring. For the frosting, you'll be using mascarpone, butter, vanilla paste, and powdered sugar. If you only need to make a half a birthday cake, check out this post on how to do it!
When it comes to making this purple cake, remember to add the purple food coloring gradually. Start with a small amount and add more if you want a more intense color. Be careful, though – adding too much food coloring can give your cake a bitter taste. Just like with the surprise cake with a shape inside, the purple color is such a nice surprise!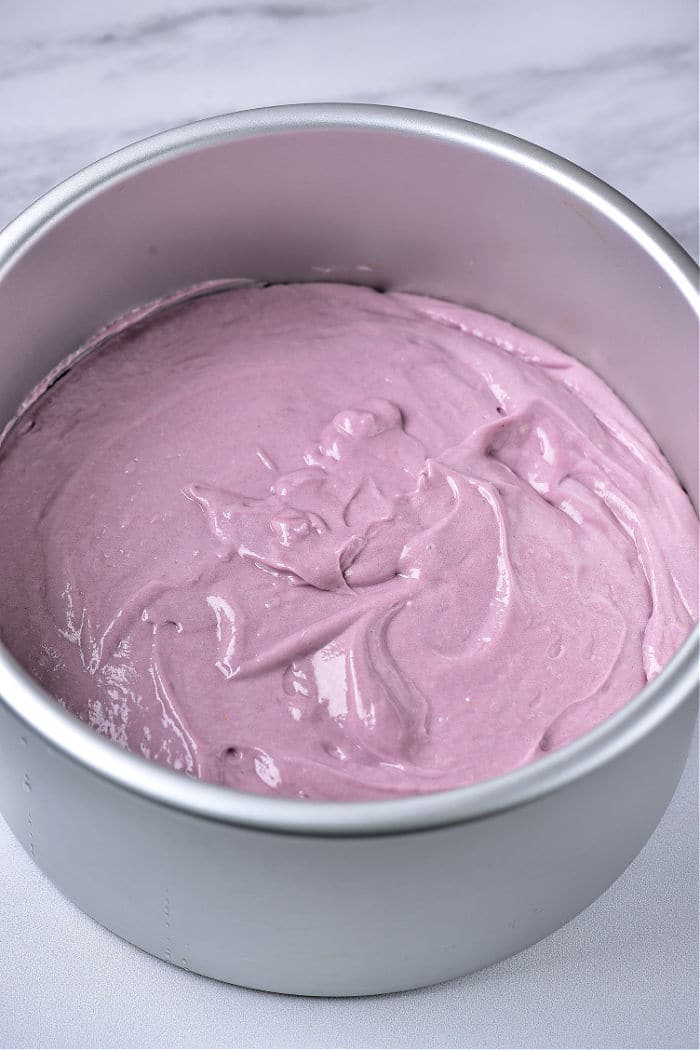 Purple Cake Idea
First, preheat your oven and prepare your cake batter by combining your dry ingredients and then your wet ingredients. Add your food coloring to achieve your desired shade of purple. Pour your cake batter into your baking dish and bake until it's cooked through and fluffy.
Purple Wedding Cake
Making a purple wedding cake using this recipe is a sure way to impress your guests. Not only is it visually stunning, but it also tastes amazing. With the light and moist 7 inch cake layers complemented by the rich and creamy mascarpone buttercream, it's a cake that people will talk about long after the wedding is over.
Buttercream
1 c mascarpone
1/2 c butter cold
1 tsp vanilla paste
1/2 c powdered sugar
To make this cake suitable for a wedding, consider adding some elegant decorations. Fresh flowers, delicate sugar paste decorations, or even white chocolate shards can all add to the visual appeal of your cake.
Purple Ombre Cake
You could certainly make each layer a slightly different hue than the other. Let it look like an ombre fading from a deep to a light shade throughout, that is fun too. How long does it take to bake a cake? We will discuss this shape and size below, if you want another refer to the link above.
Next, let your cake cool before cutting it into layers. Then prepare your mascarpone buttercream frosting and pipe it onto each layer of your cake. Make sure you allow your cake to set in the refrigerator before serving. Here are some extra tips on how to bake a purple cake journey:
When adding the food coloring to your cake batter, remember to add a little bit at a time. You can always add more if the color isn't as intense as you'd like, but it's much harder to fix if you've added too much.
Make sure you let your cake cool completely to room temperature before you try to cut it into layers. If the cake is still warm, it can crumble and fall apart.
If you add a thin layer of frosting it's called a crumb coat and can help keep crumbs out of the thicker coat.
Don't forget to let your cake set in the refrigerator after you've added the frosting. This helps the frosting firm up and makes the cake easier to slice.
And lastly, remember that practice makes perfect! The more you bake, the better you'll get at it.
If you have leftover cake, try making purple cake pops!
How do I make sure my cake is perfectly moist and fluffy?
One of the secrets to getting a moist and fluffy cake is the correct beating of the eggs with the sugar. You want to beat them until you get a fluffy white foam, and the volume should increase by 3 times or more. You could also make these into yummy cupcakes! But if you just need a few, try this recipe for small batch cupcakes.
Pink and Purple Cake
For a fun twist on this recipe, why not consider making a pink and purple cake? All you need to do is divide your cake batter into two portions and add purple food coloring to one portion and pink food coloring to the other.
Then layer the different colored cake layers with your mascarpone buttercream for a fun and colorful effect. This fun twist on a classic cake recipe not only makes for an aesthetically pleasing treat but also adds a layer of excitement to the baking process. Just like with the cake mix whoopie pies, they're multiple colors and just so much fun!
When it comes to frosting your cake, there are a few baking tips that can elevate your cake to new heights. The initial layer of frosting applied between each layer plays a crucial role in the cake's structure. This thin layer of buttercream serves a dual purpose.
How to Make a Layered Cake
It helps in securing the cake layers together and provides a smooth surface for the next step of decoration. This technique, commonly referred to as a crumb coat in baking circles, helps to seal in the crumbs, allowing you to create a flawless outer layer of frosting.
Making a purple cake is not just about baking a delicious cake – it's about creating a stunning visual masterpiece that will wow everyone who sees it. Whether you're celebrating a birthday, planning a wedding, or just want to try something new, this purple cake is sure to impress.
Remember, when baking, the most important thing is to have fun and enjoy the process. Even if your cake doesn't turn out perfectly the first time, don't worry! Baking is a journey, and every step is a learning experience. Plus, even a cake that didn't quite turn out as expected can still be delicious!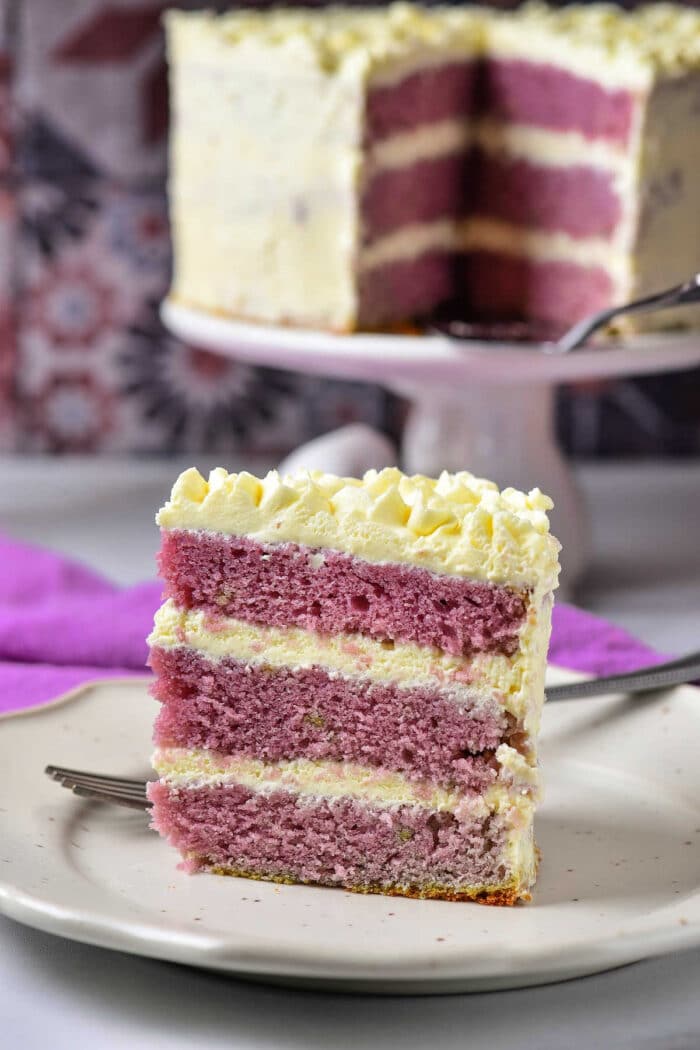 This purple cake is an excellent addition to any celebration or just because. It's a fun and unique twist on a classic cake that's sure to impress anyone who sees it. Plus, the creamy mascarpone frosting adds a rich and indulgent touch that makes this cake truly special. You can even make this into a Pink and Purple Cake by adding some pink food coloring to part of your batter.
Thank you for joining me on this colorful baking adventure, and I hope you enjoy making (and eating!) your purple cake as much as I do. Happy baking!
Want to see a few of my favorite things that I am totally obsessed with?? Take a peek and see how many you might already have…twinsies!
Looking for more easy family recipes and tips? LIKE The Typical Mom Facebook page?
Then sign up for my free newsletter, and follow me on Pinterest! 😉
***** If you LOVED this recipe give it 5 Stars below and let everyone know what you thought about it. 😉
Purple Cake
Instructions
Preheat the oven to 360 degrees F. In a bowl, mix all-purpose flour and almond flour. The almond flour will make the cake a little more moist and add a slight nutty flavor.

Beat eggs with sugar until you get a fluffy white foam. The mass should increase by 3 times or more when mixing. Add the flour mix to the egg bowl in small batches, mixing gently.

Pour in the melted but cooled butter and stir. The batter will shrink in size, but will still be very fluffy.

Add a small amount of food gel coloring. Keep in mind that food coloring must retain its color after baking, so professional pastry coloring is best. Powdered food coloring also stains the dough well. If you want a more intense color, add more gel. However, be aware that it can affect the taste (bitterness will appear).

Transfer the cake batter to a baking dish. It is not necessary to grease the bottom or walls of the baking dish – if not this will help it to become more airy and tall.

Bake the cake about 23 – 25 minutes. You can check readiness with a wooden skewer. Stick it in the center of the cake – if it comes out dry, the cake is completely baked and should immediately be taken out.

Let the cake cool in the pan for about half an hour, then use a knife to loosen from sides, remove outer ring if using a springform pan and transfer it to a wire rack to cool completely.

If you wish, you can wrap the cake in cling film and put it in the refrigerator overnight – the cake will become denser and will crumble less during cutting if you do this.

Cut the cake into 2-3 layers using a bread knife. Cover with foil to keep from drying out. Place the cold diced butter in a bowl. Add powdered sugar. Beat with a mixer until a fluffy mass is obtained, which will also become lighter. Add vanilla paste and beat for another 30 seconds.

Add mascarpone and mix until combined at low speed. Do not whip the mascarpone at high speed. It has a high fat content and can separate into butter and liquid if you do. Transfer the finished cream into a piping bag.

Lay down the first layer and apply the cream. Put on the next layer, spread cream on it, and put on the remaining layer. Finish decorating the top of the cake. Remove the remaining cream in the cold, as well as the cake. Leave for a few hours (2-3).

If you used a ring to layer and fill with cream; Carefully remove the metal ring and brush the sides of the cake. Place the cake in the refrigerator for another hour or two to set.
Nutrition Facts
Purple Cake
Amount Per Serving (1 oz)
Calories 97
Calories from Fat 45
% Daily Value*
Fat 5g8%
Cholesterol 62mg21%
Sodium 43mg2%
Potassium 25mg1%
Carbohydrates 11g4%
Protein 2g4%
Vitamin A 167IU3%
Calcium 12mg1%
Iron 0.5mg3%
* Percent Daily Values are based on a 2000 calorie diet.