Gingerbread cinnamon rolls are amazing on Christmas morning! There's nothing like homemade cinnamon rolls and adding gingerbread is so tasty.

I'll start by saying, I don't bake much from scratch. That is, except for Christmas time when I cook the German cookies my Grandmother always made and gingerbread cinnamon rolls. When you think of Winter time you must think of gingerbread, I seriously cannot get enough. (originally published 11/16)
Holiday Cinnamon Rolls
From our copycat Starbucks gingerbread loaf to this yummy recipe that is perfect for breakfast or a dessert it's just a great flavor. Let us know what you think!
Typically I like easy unless there is a significant difference between the taste of a semi store bought recipe and homemade, this is one of them (banana bread is too in my opinion).
We love baking anyway during the holidays and as of a few years ago we incorporated homemade cinnamon rolls into our yearly baking schedule, these gingerbread cinnamon rolls are a variety of our original version.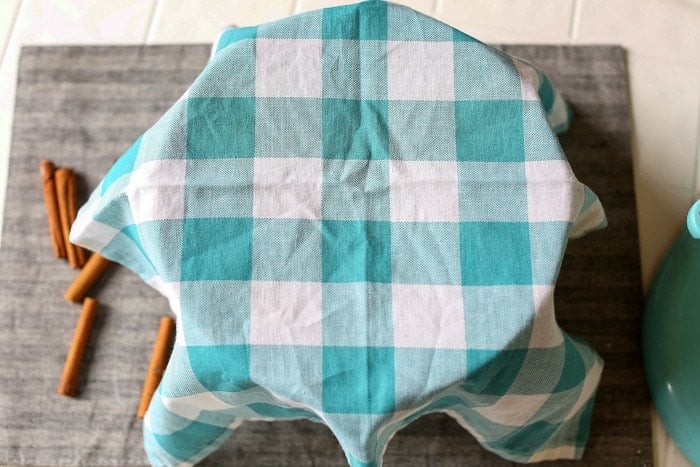 Homemade gingerbread cinnamon rolls
Flour

All purpose and whole wheat flour

Dry yeast
Milk
Butter
Egg
Sugar
Vanilla
Brown sugar
Lots of spices
Powdered sugar for icing
The key to making homemade sweet rolls turn out great is ensuring all pieces are the same thickness after you roll it up and cut it into pieces. If one is larger it will be undercooked.
Also, baking in a smaller dish allows all to bake a bit more evenly.
Our first year we made them in a 12×9 pan and although the outside ones were perfect the middle ones were gooey and underdone. The following years we instead used 2 square pans and that worked a lot better.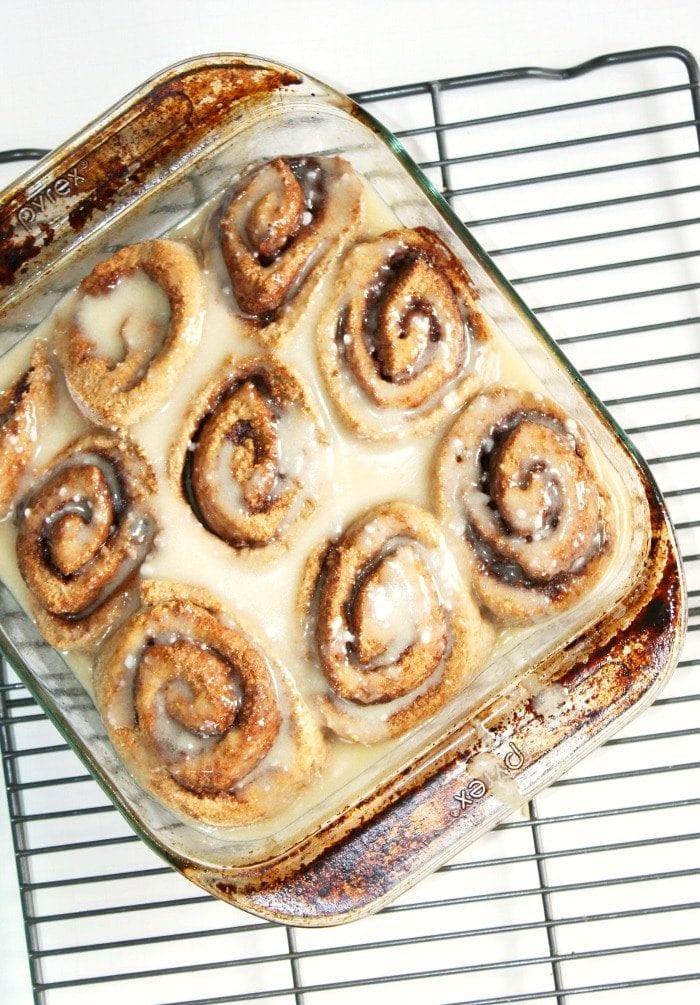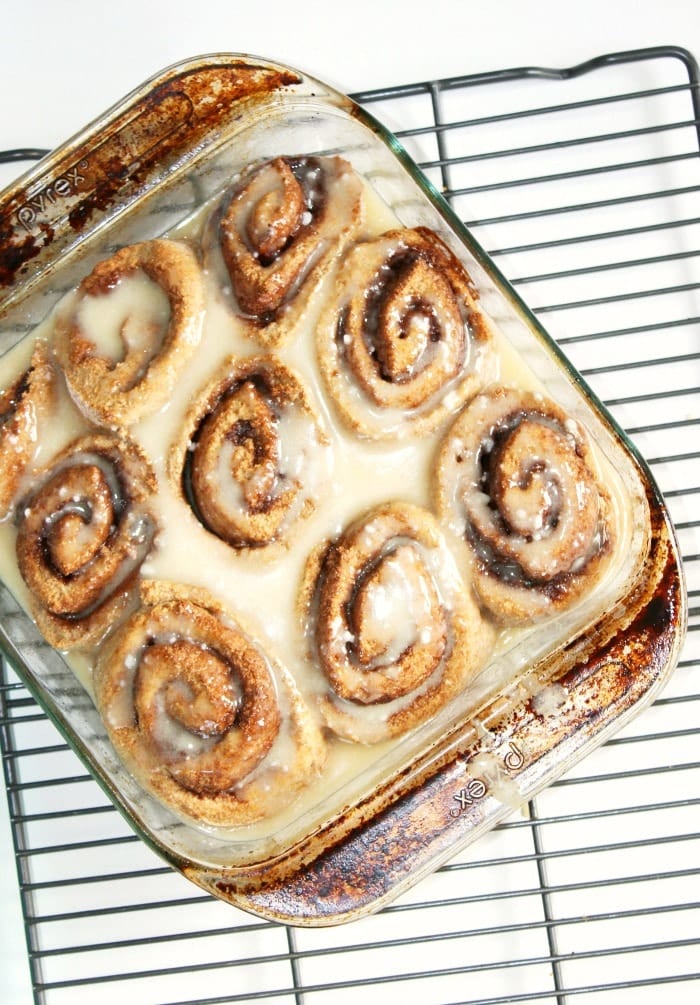 Christmas breakfast recipes
If you like to bake these gingerbread cinnamon rolls are fun to make. They are a perfect treat for Christmas morning and something you will remember year after year.
Another perfect thing to serve with this, especially during the holidays is our crockpot breakfast casserole!
Gingerbread cinnamon rolls
Delicious recipe for gingerbread cinnamon rolls. You have got to make this for Christmas breakfast or brunch, they are amazing!
Instructions
Warm milk a bit and add the yeast, stir and let it sit for about 5 minutes. It will start to bubble up, this shows your yeast is active.

Put your sugar, butter, salt, vanilla and egg in a bowl or mixer and mix well.

Then add in your yeast and milk mixture.Slowly begin to add your flour in to the wet mixture. I normally do about a ½ cup at a time.

Mix on low until the dough forms a ball in the center of bowl.Spray a bowl or rub with butter and place dough ball in center.

Cover the bowl with a tea towel and let set for 2-4 hours or until it doubles in size. Best to put in a warm area (we turn on the fireplace and set it in front).

When your dough is almost done, prepare your filling. Mix all your spices and sugars together and set aside. Leave butter out by itself.

Once the dough has risen, roll it out on a lightly floured surface, into a rectangle. Take your melted butter and spread over the top of the dough.

Then lightly sprinkle all the sugar and spice mix over the top. Tightly roll the dough up, and slice into about 9 pieces, or as many as you can get.

Let them rise in the greased pan you will bake in for around 30 minutes. I cover with a towel to keep from drying out.

Preheat oven to 350 degrees and bake for 20-25 minutes. Just make sure golden brown on top and cooked through (using 2 smaller pans instead of one large one allows them to bake more evenly, use 2 square instead of 1 12×9 and put on same rack if possible).

Lastly mix up your icing and pour it over the top of the rolls shortly after they come out of the oven! Serve and enjoy
Nutrition Facts
Gingerbread cinnamon rolls
Amount Per Serving
Calories 427
Calories from Fat 99
% Daily Value*
Fat 11g17%
Cholesterol 43mg14%
Sodium 104mg5%
Potassium 135mg4%
Carbohydrates 78g26%
Protein 5g10%
Vitamin A 345IU7%
Calcium 69mg7%
Iron 1.9mg11%
* Percent Daily Values are based on a 2000 calorie diet.
Wishing you and your family a happy holiday and lots of great memories for everyone in your household. 😉