This easy gingerbread pumpkin bundt cake is perfect for the holiday season! Moist spice cake drizzled with frosting and orange zest you will surely love!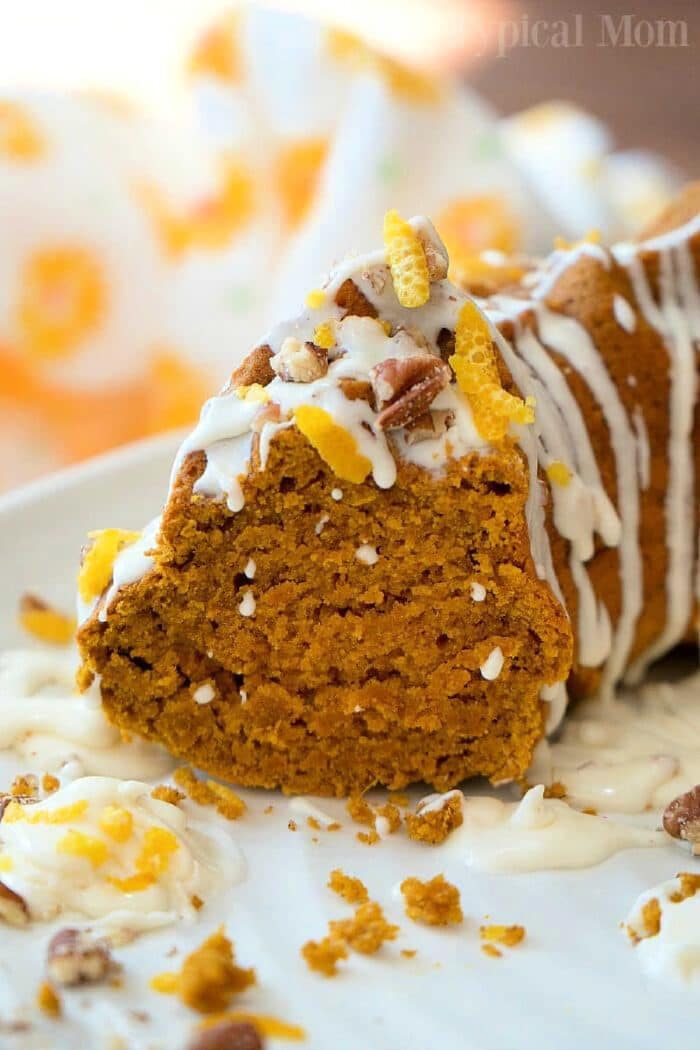 This easy gingerbread pumpkin bundt cake drizzled with icing, pecans, and a little orange zest. It's our favorite Christmas dessert that is not only pretty to serve guests but delicious as well. Sponsored by Braun MultiQuick 9. (originally published 3/18, affiliate links present)
Pumpkin Gingerbread Bundt Cake
For years I had made a cake mix pumpkin bundt cake for a quick and easy treat after dinner. Great if you are in a rush but if you want to go all out from scratch, homemade, you have got to try our pumpkin gingerbread bundt cake. It looks so pretty, and great this time of year.
Of course you can omit the pecans and/or the orange zest but it really does add such a great texture and flavor to your easy gingerbread pumpkin bundt cake. Combing two flavors like this is a game changer. We have done this same idea with ginger banana bread and it was such a hit!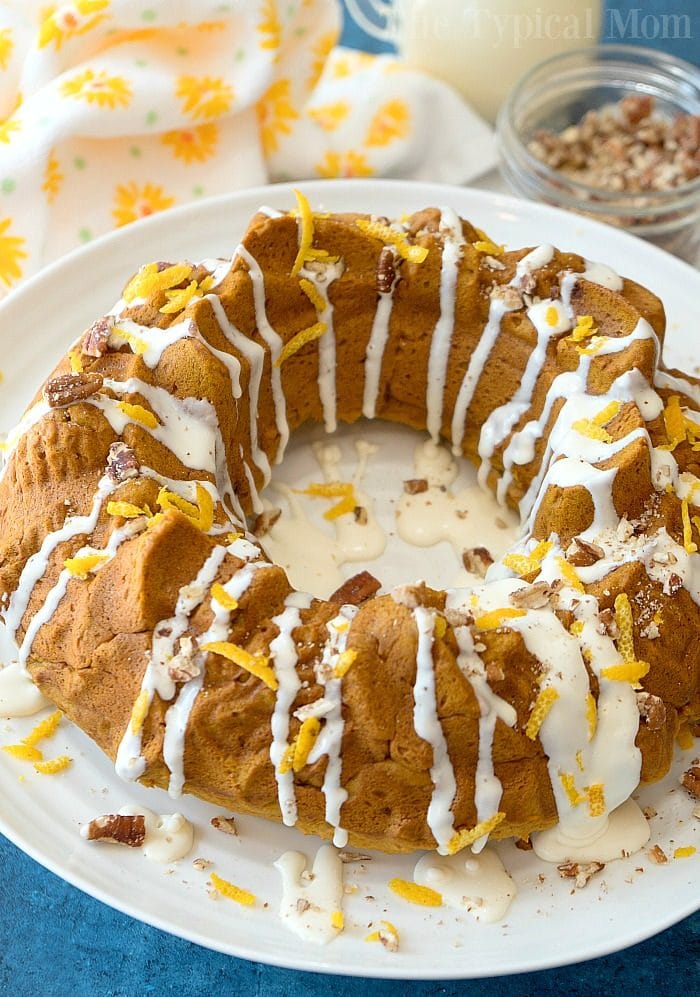 Gingerbread Bundt Cake
It looks really pretty with these colorful garnishes too…and that is always important when you have company over right!
Here's what makes it so easy! Having ONE device that can double, triple, or be used for more than three different appliances I am all over it!! You can chop whole nuts into crushed pieces to either fold inside the batter and/or sprinkle them on top.
Just put them in the bowl, pop this attachments on top and push the button. Done!
All of the toppings are of course optional but if you had two side by side with one that was "naked", this one would definitely be prettier. Gives it some extra sweetness too as gingerbread flavor as a whole can be more intense than others and I think needs some type of glaze or thick frosting on the top.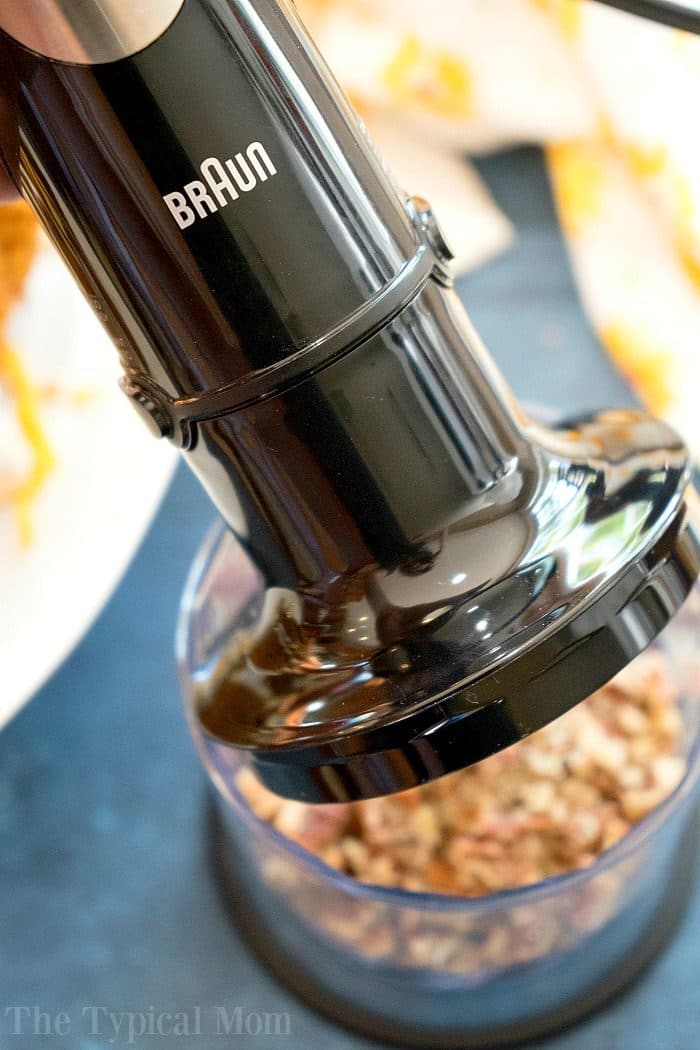 Gingerbread Pumpkin Cake
Then, there's a whisk attachment too! Used for mixing light things like whipping cream, egg whites, and simple cakes it is perfect. With the same touch of a button you can blend together the wet ingredients. This time we made this easy gingerbread pumpkin bundt cake recipe.
Just snap the whisk attachment on and put it in your bowl. As always you'll want to slowly integrate the dry ingredients in with your pumpkin egg mixture.
You can use a food processor that is larger or a blender if need be too, just like to share handy tips and things I love when I stumble across them. There are tons of different bundts you can buy too. I have a few that are embedded with different designs and I even have one with leaves and gingerbread men.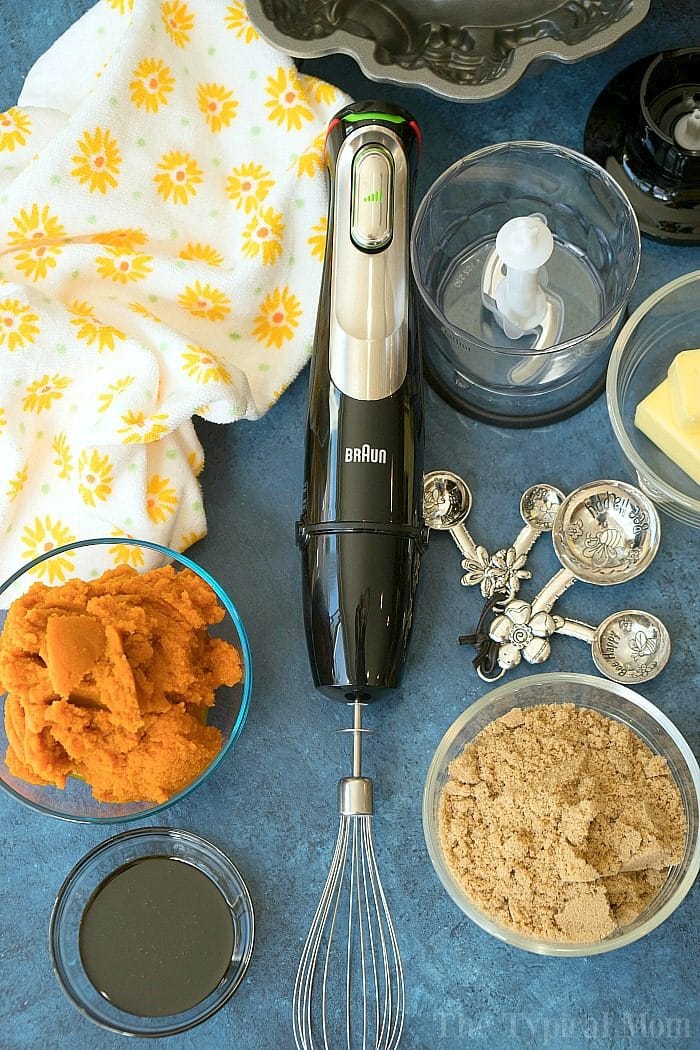 I like it for several reasons but one is that it only has one whisk rather than two which is great for less to wash. You only need to find one (yes things get misplaced often here) and it's easy to handle when I'm baking by myself.
PLUS with Braun's SmartSpeed technology you can adjust blending power without stopping using the simple squeeze of a button. Anything to make our hectic lives easier right??!!
Gingerbread Pumpkin Bread Recipe
Once your frosting is warm and slightly melted just drizzle it on top. Sprinkle your chopped pecans on top followed by some orange zest. You've got yourself a delicious fall dessert or brunch item! All the stuff on the top are optional of course but it does seem to need some extra sweetness I think.
If you're looking for a perfect holiday treat and simplicity in the kitchen these are definitely it! A great one to involve your kids in. You can make as directed below, into muffins or mini bundts too. The only difference would be the bake time for the three.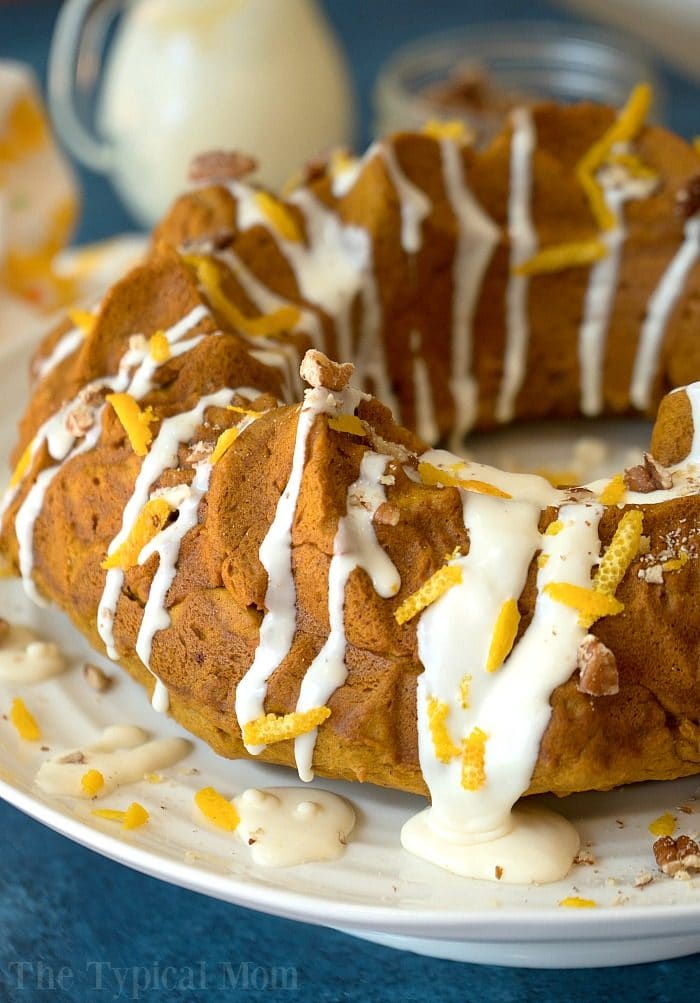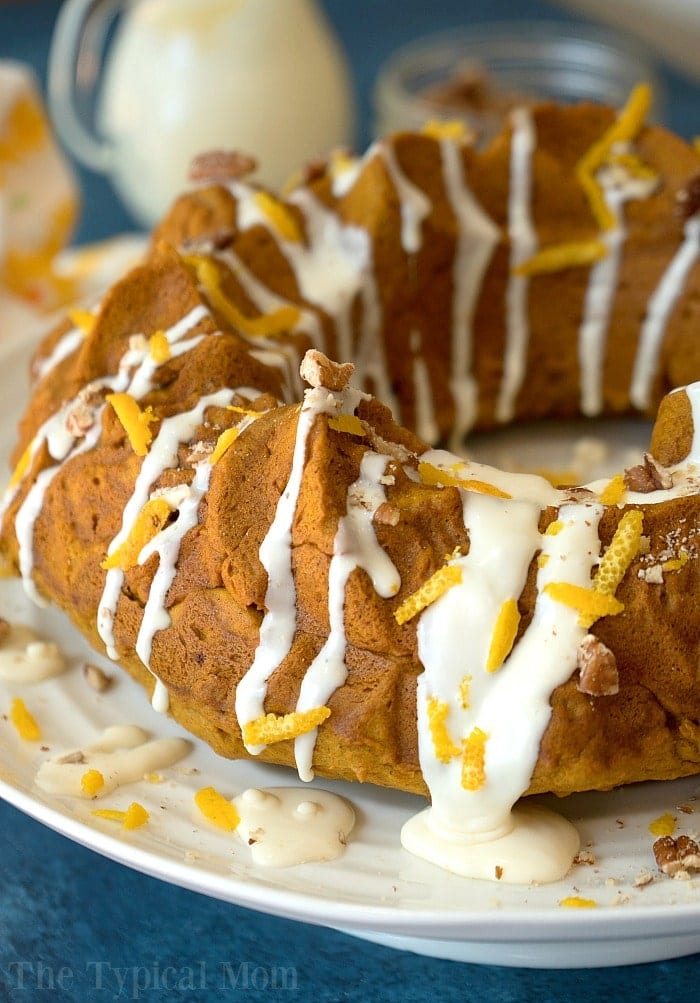 Pumpkin gingerbread cake
Spray a bit of non stick spray inside first so when it has cooled a bit when it is done, it will slide right out and not break apart. That would be a tragedy.
Bundt pan – I used this one

or make smaller Mini Pumpkin Bundt Cakes

Wire rack to cool completely
Large bowl
Pumpkin – or homemade pumpkin puree
Molasses
Ginger
Butter
Brown sugar
All-purpose flour – remember how to measure flour
Pecans
Eggs
Lots of spices
Vanilla or easy cream cheese frosting to drizzle on top

alternatively with water you can mix some powdered sugar together until thick and drizzle that over
How do you know when pumpkin bread is done?
The edges of the bread will begin to pull away from the sides of the pan. That is the first sign. Always use the toothpick test for doneness too. It should come out with just a few moist crumbs clinging to it. If you want to use a thermometer the internal temperature should be 190°F.
These pumpkin zucchini muffins get raving reviews as well as: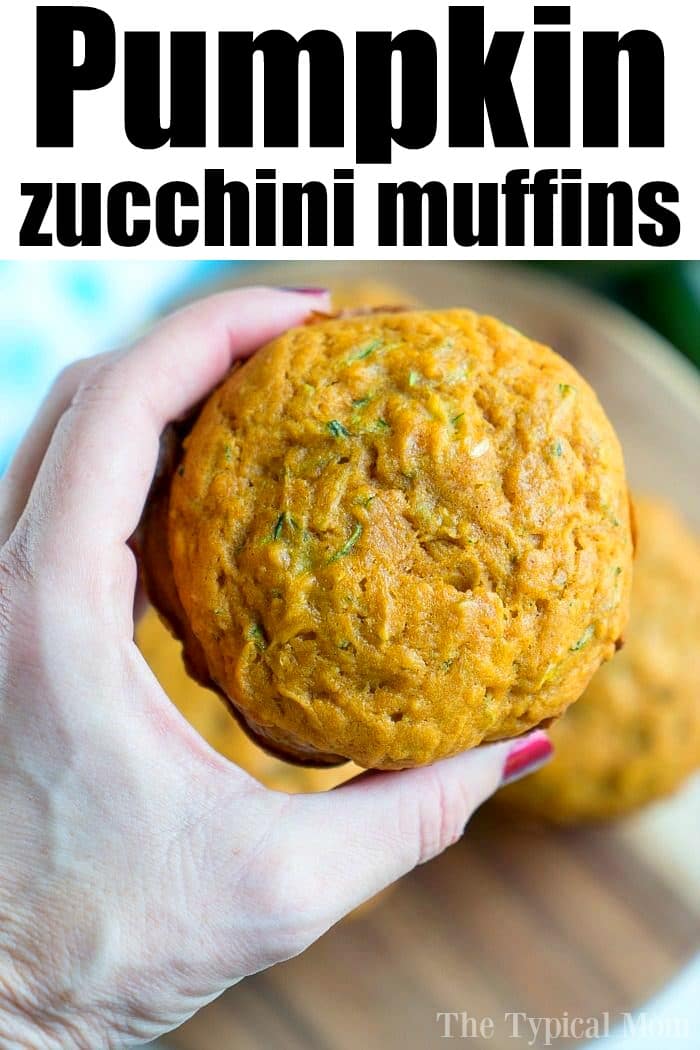 Pumpkin Bundt Cake
This can feed a crowd for brunch, remember to follow proper baking methods whether you are making this duo of flavors together or make our gingerbread dump cake too!
Combine dry ingredients such as flour, baking powder, baking soda, ginger etc in a bowl and mix well.
In a separate bowl mix together wet ingredients, slowly add flour mixture with your mixer on low speed.
When combined well pour into your bundt pan.
Put into preheated oven.
It will be done when a toothpick is inserted into the center and comes out clean.

do not overbake or it will be dry

After about 5 minutes in the pan, flip over on to a cooling rack so it doesn't continue to bake.
After you've enjoyed this pumpkin dessert, you should try these gingerbread cookies and rum bundt cake too! Want something easier??
Here's the printable recipe to follow.
Want to see a few of my favorite things that I am totally obsessed with?? Take a peek and see how many you might already have…twinsies!
Looking for more easy family recipes and tips? LIKE The Typical Mom Facebook page?
Then sign up for my free newsletter, and follow me on Pinterest! 😉
***** If you LOVED this recipe give it 5 Stars below and let everyone know what you thought about it. 😉
Easy Gingerbread Pumpkin Bundt Cake
This easy gingerbread pumpkin bundt cake is perfect for the holiday season! Moist spice cake drizzled with frosting and orange zest you will surely love!
Instructions
In one bowl add your flour, baking soda, and baking powder. Mix well.

In another bowl add all other ingredients except your orange zest and frosting. (if you love a bit of orange flavor inside your gingerbread then add 2 tbsp into your batter, then on top as well)

Use your Braun MultiQuick 9 Whisk Accessory on low speed to mix well.

Add flour mixture in slowly and mix well with a spoon until well blended.

Spray the inside of a bundt pan well with non stick spray.

Set your oven to 350 degrees and bake for 45 minutes or just until toothpick comes out clean, you do not want to over bake it.

Allow to cool and then carefully flip over on to a pie plate.

Melt vanilla icing for about 10 seconds in the microwave and drizzle on top.

Use the Braun MultiQuick 9 Chopper Accessory to chop your pecans into small pcs.

Add zest of an orange to the top of your gingerbread pumpkin bundt cake and serve!
Nutrition Facts
Easy Gingerbread Pumpkin Bundt Cake
Amount Per Serving (3 oz)
Calories 541
Calories from Fat 216
% Daily Value*
Fat 24g37%
Cholesterol 71mg24%
Sodium 247mg11%
Potassium 279mg8%
Carbohydrates 75g25%
Protein 5g10%
Vitamin A 450IU9%
Vitamin C 5.9mg7%
Calcium 91mg9%
Iron 2.2mg12%
* Percent Daily Values are based on a 2000 calorie diet.