Homemade cheesecake in muffin tins is a quick dessert that adults and kids love. Mini hand held treats with just 6 ingredients. Topped with fresh fruit or pie filling they are delicious.
Making cheesecake in muffin tins is really simple and easy to do. It's a fast way to create creamy cheesecakes in a quick and easy way. Using a muffin tin makes them the perfect size cheesecake! These mini cheesecakes are great for individual treats and are a fun way to cook a simple dessert for a crowd. (affiliate links present)
Mini Strawberry Cheesecake
I really like making muffin tin recipes because they bake so fast. We have even made dinners in these pans. Let's be honest, cheesecake isn't that hard to make but it does take time and patience. Using a lined muffin pan cuts down on the stress without interfering with the flavor.
Go further and use silicone baking cups for an even easier exit when they are done. Perfect quick easy dessert finger food bites your kids will go CRAZY over I tell you. Having people over? They'll think you're a genius when these are served, you can know just how simple they really were to create (and share the recipe with them).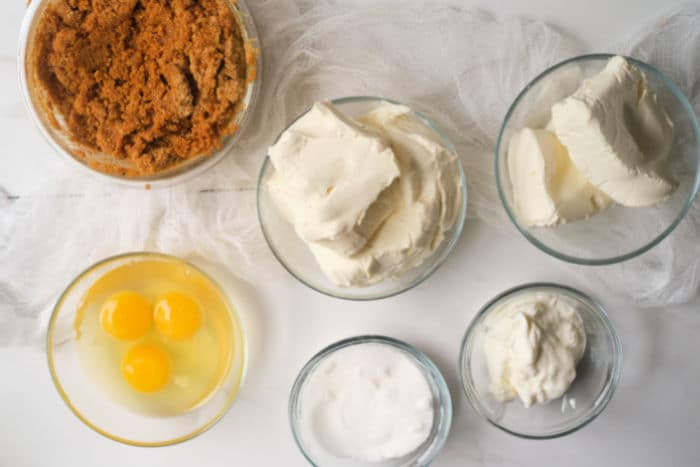 Mini Cherry Cheesecakes
Love cherry? Blueberry? Peach? Any are easy to do with a can of pie filling dolloped on top of each one!
If you're new to the cheesecake world, there are a few main tips and points to keep in mind. First of all, make certain that you put a cupcake liner in each of your muffin tin spaces. Silicone cups in your muffin tin is key to keeping them from sticking.
The other big tip is that you want to be certain that the cheesecakes are set and that you let them cool completely. This is to ensure that they're done baking and also is a clue on when to add on your toppings. I find that at room temperature these have the best flavor and taste.
Classic Mini Cheesecake Recipe
The first time that I whipped up this recipe, I was instantly in love. It was so simple to do and it was such an easy process compared to the massive cheesecakes that I've made in the past. NO cutting is necessary so each piece looks really pretty, especially if topped with fresh fruit or pie filling. 😉
My family agreed they were perfection as they happily grabbed their own. Super stoked that nobody had to share their piece. I even let them all add on their own unique toppings, that was something that they loved. I love blueberry everything while my "littlest" puts Cool Whip on everything. Both are winners in my mind.
Cherry Cheesecake in Muffin Tins
Speaking of toppings, let's chat about that for a minute. You can use pie fillings like cherries or apples like we did with cherry cheesecake egg rolls. Or use fresh options like blueberries. Chocolate chips and whipped cream are always a hit as were crushed-up vanilla wafers.
The kids used hot fudge and chocolate sauce to drizzle all over and even some caramel sauce, too. These can be topped with just about anything so it was pretty fun to create.
The Perfect Cheesecake
If you've ever made cheesecakes before, there's a good chance that you're used to the process. But just in case you're not, there are a few tips to keep in mind.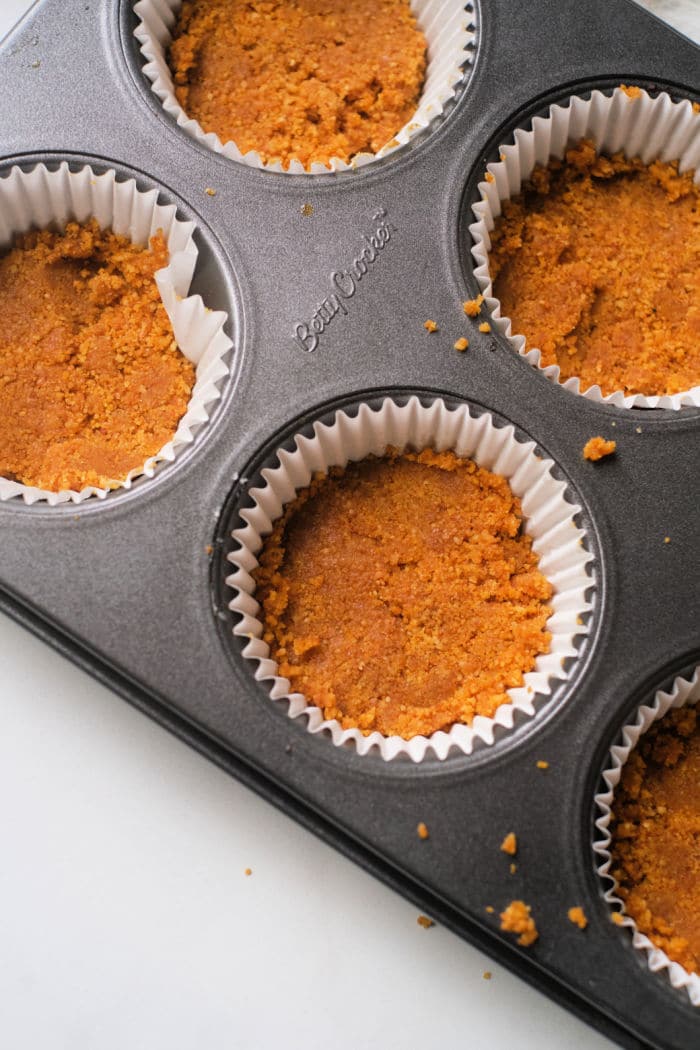 When a baking recipe calls for eggs, you're going to add the eggs in one at a time. It is best to add them at closer to room temperature too instead of right out of the fridge. Be certain to mix between each egg as well. I always have extra mixing bowls on hand because I tend to need them as the recipe goes along.
Don't forget that as you're making your cheesecake filling, you're going to want to scrape the sides of the bowl to keep mixing it all up. For extra flavoring, I like to add lemon juice as well as vanilla extract as well.
Last but not least, have fun making your own crusts. You can buy mini crusts at the store but I like to use my food processor and make my own.
How to Make Homemade Crust for Cheesecake
I'm always amazed at people that will spend a lot of money on a crust because homemade is so simple and easy to do. There are a couple of ways that I like to do the crusts and both are delicious and easy. All you really need is melted butter and crushed-up graham crackers or vanilla wafers are great too.
We even used Oreos for our Philadelphia cheesecake bars. I prefer the vanilla wafers like we used in our peanut butter and jelly cheesecake bars. The great part about using graham crackers is that you can change up the flavor. There are honey Grahams and cinnamon Grahams and they're both really great.
Storing Leftover Cheesecake
If you're lucky enough to have cheesecake leftover, you need to make certain that you're storing it so that you'll have the chance to eat it again. The best way to store your cheesecake is first allow all of them to cool completely. If they are warm at all and go straight into the fridge the steam will create a wetness on the top.
That means a weird texture when you take them out the next day, no good. Then put it into an airtight container and keep it in the fridge. This will keep it nice and cool and fresh and be simple and easy to enjoy. I would only put fruit on the ones you are enjoying at that time. Otherwise store it separately in a different bag or bowl with a lid.
I've made these little babies for family gatherings, picnics, and so many other fun functions as well. They have been such a huge hit that they are just my go to putluck dessert.
If you decide that you want to try and freeze your cheesecakes, you can easily do that too. Just be certain that you wrap them in saran wrap and then freeze them in the best bags for the freezer or storage containers also. You can never be too careful when it comes to freezing food because it will stay good as long as you freeze it right!
If you want to try a new different way, give our Instant Pot cheesecake a whirl.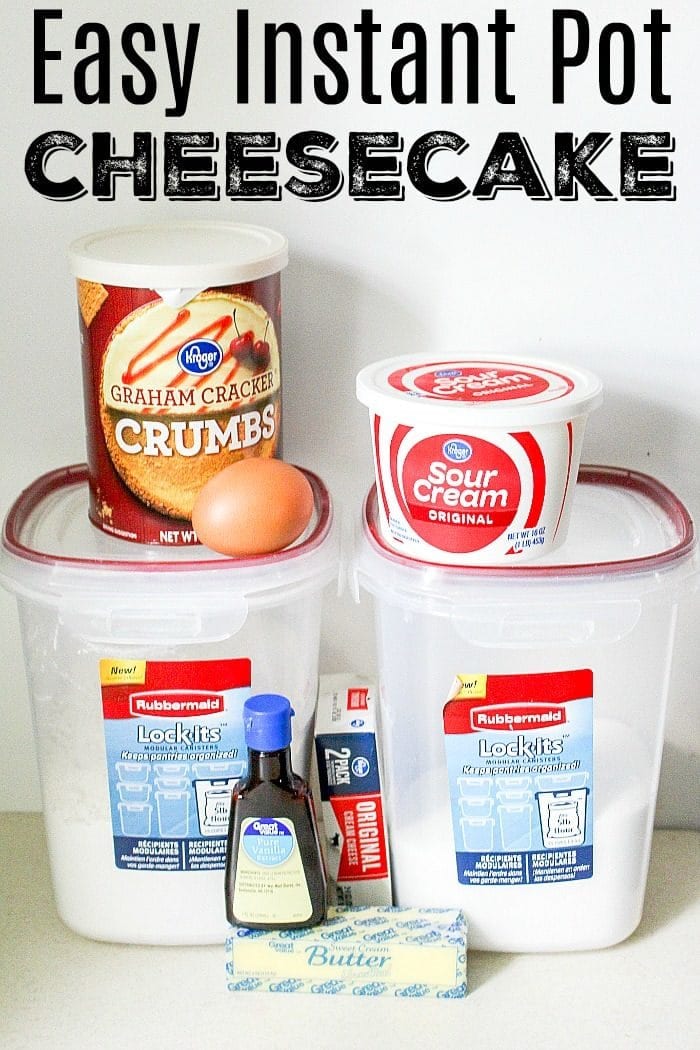 Cheesecake Bites
But wait we have made more with a similar simple filling but is NO bake so it's even easier if you want to try those. Let me share just a few of them we have loved in the past;
Our cherry cheesecake dip is similar to this, no baking required though, and you wouldn't even need the crust.
You can use refrigerated cinnamon rolls to create a cherry cheesecake monkey bread breakfast idea. That is out of this world delicious during the holidays for sure.
Have fun making this simple cheesecake recipe. It's a great way to have a small treat that will perfectly fill your bellies! Now that you know how to make cheesecake in muffin tins, you just might have found a new favorite dessert!
Want to see a few of my favorite things that I am totally obsessed with?? Take a peek and see how many you might already have…twinsies!
Looking for more easy family recipes and tips? LIKE The Typical Mom Facebook page?
Then sign up for my free newsletter, and follow me on Pinterest! 😉
***** If you LOVED this recipe give it 5 Stars below and let everyone know what you thought about it. 😉
Cheesecake in Muffin Tins
Homemade cheesecake in muffin tins is a quick dessert that adults and kids love. Mini hand held treats with just 6 ingredients.
Instructions
Mix graham cracker crumbs and melted butter in a bowl. In another bowl beat with a mixer all other ingredients.

Line muffin tin with silicone baking cups (ideally so they won't stick) and press crust into the bottom of each one.

Spoon cheesecake mixture on top of the crust base. Preheat oven to 300 degrees F and put pan in.

Bake for about 35 minutes until toothpick comes out clean.

Allow to fully cool before removing from wrappers. Serve with pie filling or fresh fruit and whipped cream on top.
Nutrition Facts
Cheesecake in Muffin Tins
Amount Per Serving (1 oz)
Calories 296
Calories from Fat 207
% Daily Value*
Fat 23g35%
Cholesterol 104mg35%
Sodium 278mg12%
Potassium 104mg3%
Carbohydrates 18g6%
Protein 5g10%
Vitamin A 814IU16%
Vitamin C 1mg1%
Calcium 66mg7%
Iron 1mg6%
* Percent Daily Values are based on a 2000 calorie diet.