I made pizza egg rolls the other day for dinner and they were so amazing that it was time for dessert!! Since we were on a roll and the other two were so good I thought cherry cheesecake egg rolls would be amazing, and they were!! You only need 3 ingredients to make this dessert or appetizer, let me share the recipe with you.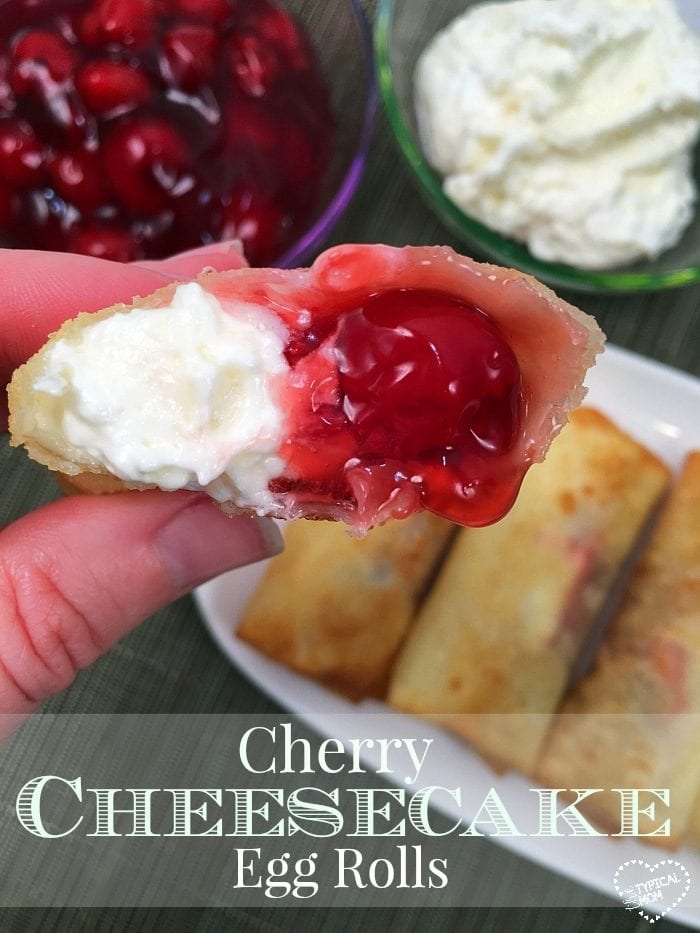 You will need a package of egg roll wrappers, a can of cherry pie filling, 1 tub of marshmallow fluff, and 1 pkg. of cream cheese. I used low fat cream cheese this time and it was still amazing so either one will do.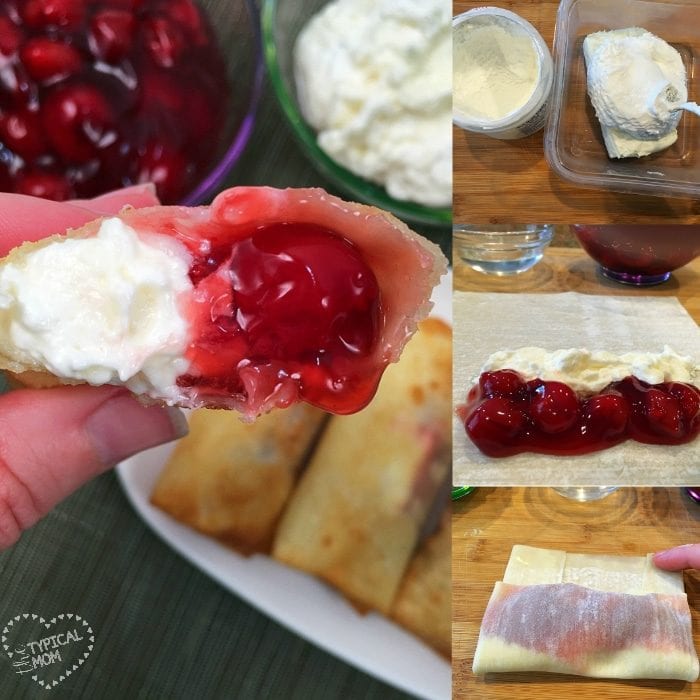 Get out a cutting board so you can put everything on it. Mix your room temperature pkg. of cream cheese with your tub of marshmallow creme and put your cherry pie filling in a bowl so you can begin filling. You will need a small cup of water too.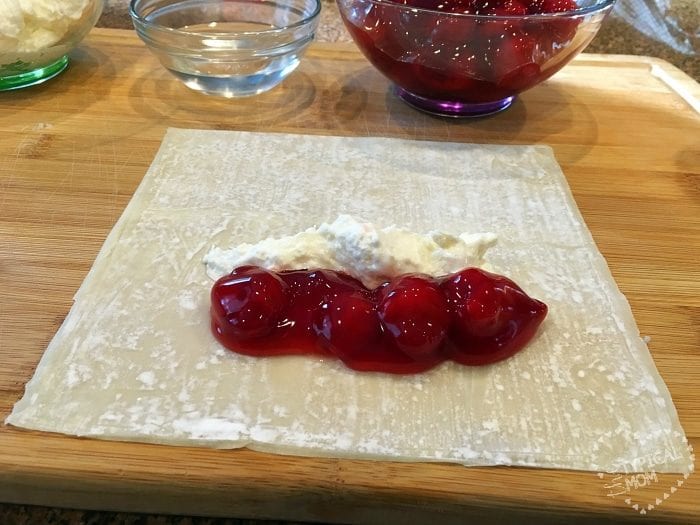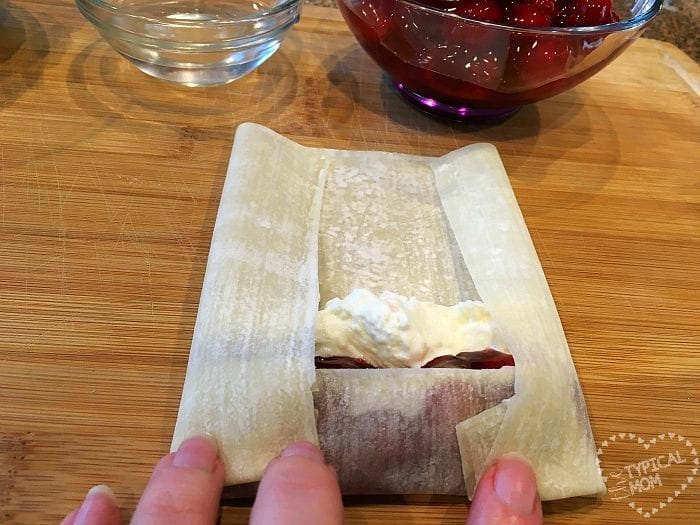 Put a bit of both fillings in like this on your egg roll wrapper. Then fold the end up and over and the sides in, then roll over once and put a bit of water at the end and roll it all the way over so the end sticks together and the filling won't come out. Here's the entire recipe:
Cherry cheesecake egg rolls
Cherry cheesecake egg rolls
Ingredients
1 pkg. cream cheese
1 tub. marshmallow fluff / creme
1 pkg. egg roll wrappers
water
1 can cherry or blueberry pie filling
Instructions
Mix together your cream cheese and marshmallow fluff until creamy. Lay out 1 egg roll wrapper and add 2 tsp. cream cheese mixture as well as 2 tbsp. pie filling mixture. Roll egg wrapper like a burrito. At end dab water across end of wrapper and fold over to create a "seal". Heat your oil. Test by putting a fingernail sized piece of egg roll wrapper into oil and if it begins to fry then oil is ready. Put cherry cheesecake egg rolls into oil, flip, and put on a paper towel when they are browned. Enjoy
6.6.15
https://temeculablogs.com/cherry-cheesecake-egg-rolls/
Make sure your oil is hot enough by dropping a little piece of egg roll in and see if it begins to fry but isn't too hot. Then put each one in until they are lightly browned. Here's a quick rundown showing you how easy they are to make:
You can use the rest of the cheesecake filling as a dip on the side. I'm telling you these cherry cheesecake egg rolls are an amazing dessert!! If you love these we made sloppy joe egg rolls too and they are really fun!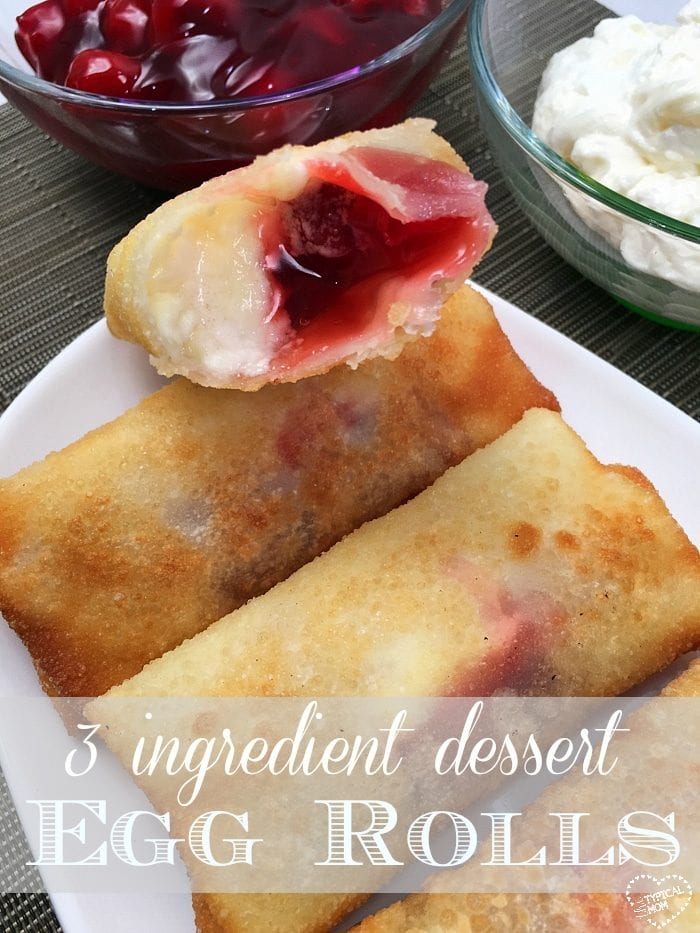 For more easy recipes, tips and crafts please LIKE The Typical Mom on Facebook and follow me on Pinterest! You can also sign up for my free weekly newsletter which is packed with goodies I know you'll love. 😉